For those who are looking to buy the Redmi 2, Xiaomi Malaysia has just reduced the pricing of it. The Redmi 2 was retailing at RM 449 when it launched in Malaysia.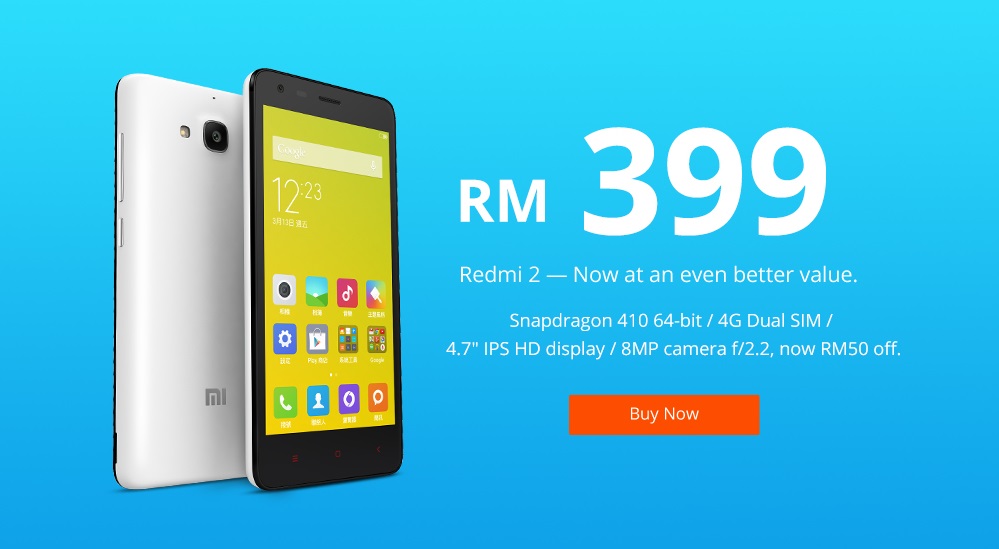 Starting today, you'll get to purchase the Redmi 2 for RM 399 here from Mi Malaysia Online Store. Could the price cut mean that Xiaomi Malaysia is preparing to bring in the Redmi 2 enhanced version?
The Redmi 2 was first announced with a 4.7″ IPS HD display, 1.2 GHz quad-core Qualcomm Snapdragon 410 processor with 1 GB of RAM and 8 GB expandable storage, 8 MP f/2.2 rear camera, 2 MP front camera and a 2,200 mAh battery.
The Redmi 2 Enhanced was announced back to February with 2 GB of RAM and 16 GB expandable storage. The rest of the specs are same as the original Redmi 2.
Meanwhile, Xiaomi Malaysia is now selling the Dark Grey version of Mi 4i as well. You can get it from here.