WWDC, Worldwide Developer Conference is one of the most anticipate annual press conference held by Apple in San Francisco, California. The press conference kicked off today (8th June) and Apple had announced new version of Mac OS, iOS and watchOS.
Mac OS X El Capitan

The new OS X El Capitan is a new version of OS X that refines the Mac experience and improves system performance. It comes with better window management, built-in apps and Spotlight search. Apple had also introduced Metal, the company's breakthrough graphics technology, accelerates Core Animation and Core Graphics to boost system-level rendering by up to 50 percent, and efficiency by up to 40 percent, resulting in faster graphics performance for everyday apps. Metal also takes full advantage of your CPU and GPU, delivering up to 10 times faster draw call performance for a richer, more fluid experience in games and pro apps.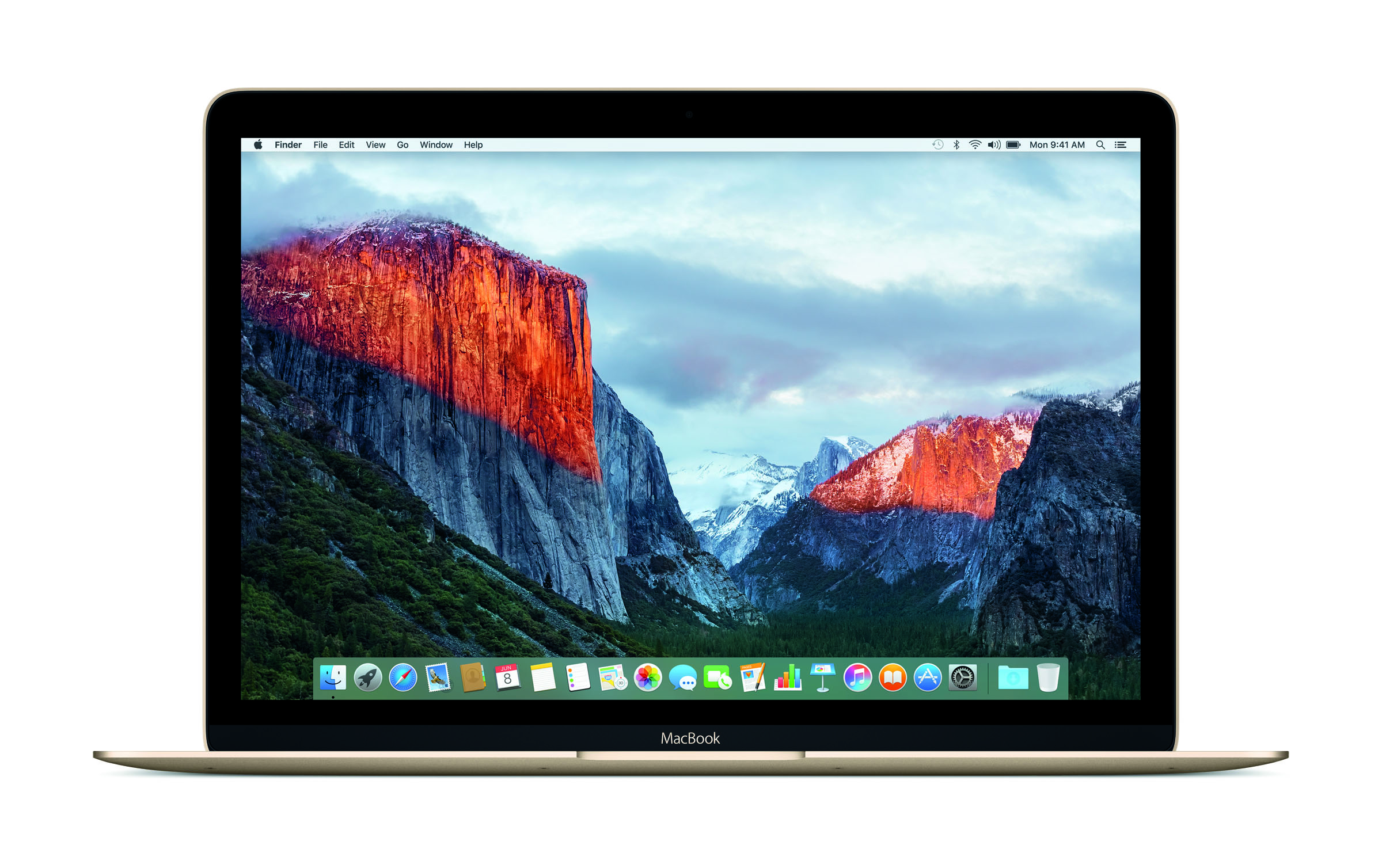 The new OS X El Capitan comes with the new system font, San Francisco. Mission Control has a cleaner design so you can find the window you need even faster. You can drag a window to the top of your screen to access the new Spaces Bar in Mission Control and create a new Space. And finally, the new Split View feature positions two app windows side-by-side for better multitasking experience.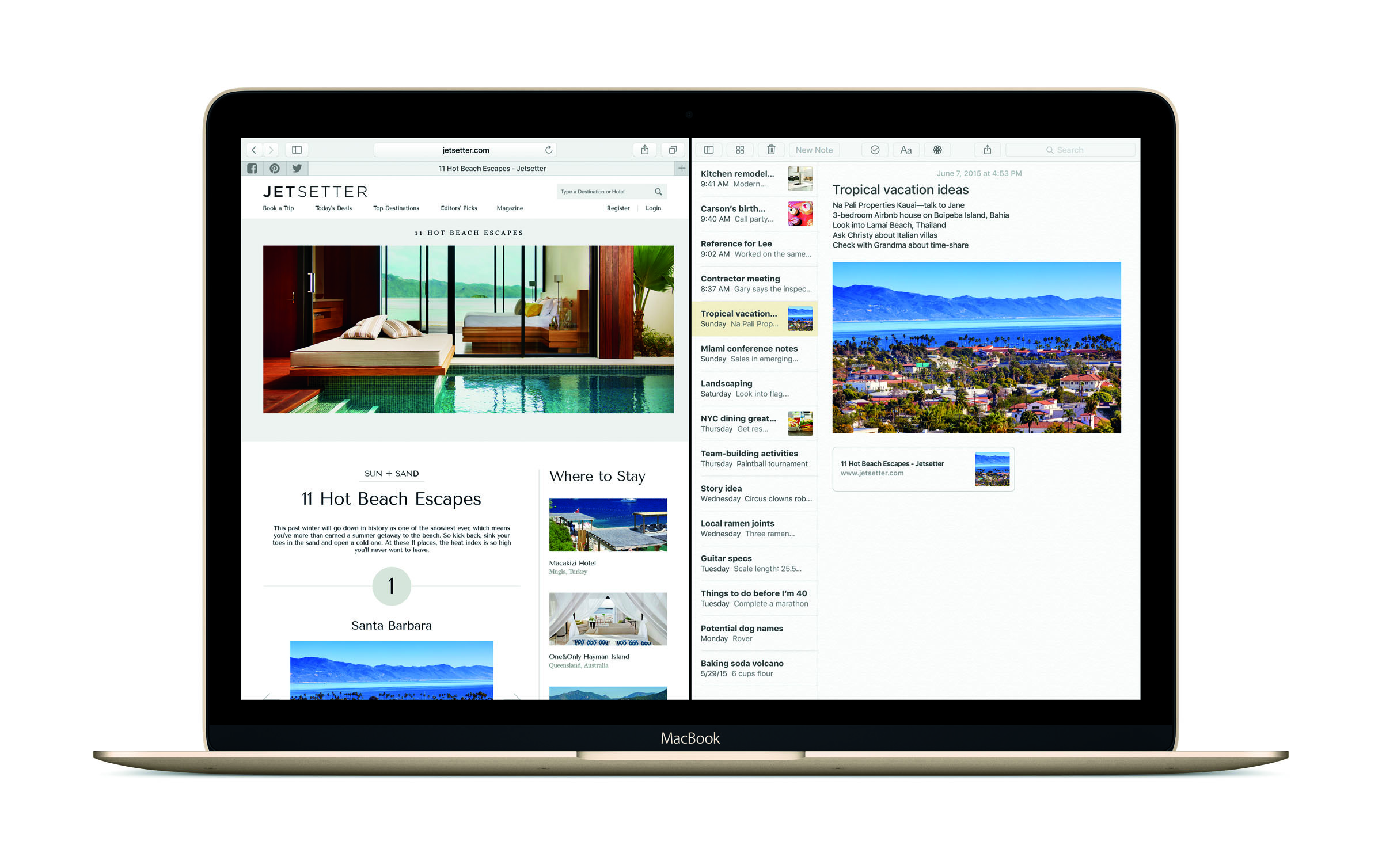 The built-in apps had also improved. Safari now features Pinned Sites and a new mute button to quickly silence browser audio from any tab. Mail comes with Smart Suggestions, which recognizes names or events in a Mail message and prompts you to add them to your contacts or calendar with a single click. You can now add locations to a single image or an entire Moment, and sort albums by date or title in Photos. You can access third-party editing extensions from Mac App Store directly within the Photos app.
As for the all-new Notes app, you can drag and drop photos, PDFs, videos and other files into notes, and add content directly from other apps, such as Safari or Maps, using the Share menu. You can also create checklists to help you keep track of important to-do items.
Spotlight is now smarter, generating results for even more topics. You can now resize the Spotlight window to display more results or move it anywhere on your desktop, and use natural language to find documents and files on your Mac.
The developer preview of OS X El Capitan is available to Mac Developer Program members starting today. Mac users can participate in the El Capitan Beta Program in July and download the final version for free from the Mac App Store this fall. To sign-up for the public beta, you can click here for more details.
iOS 9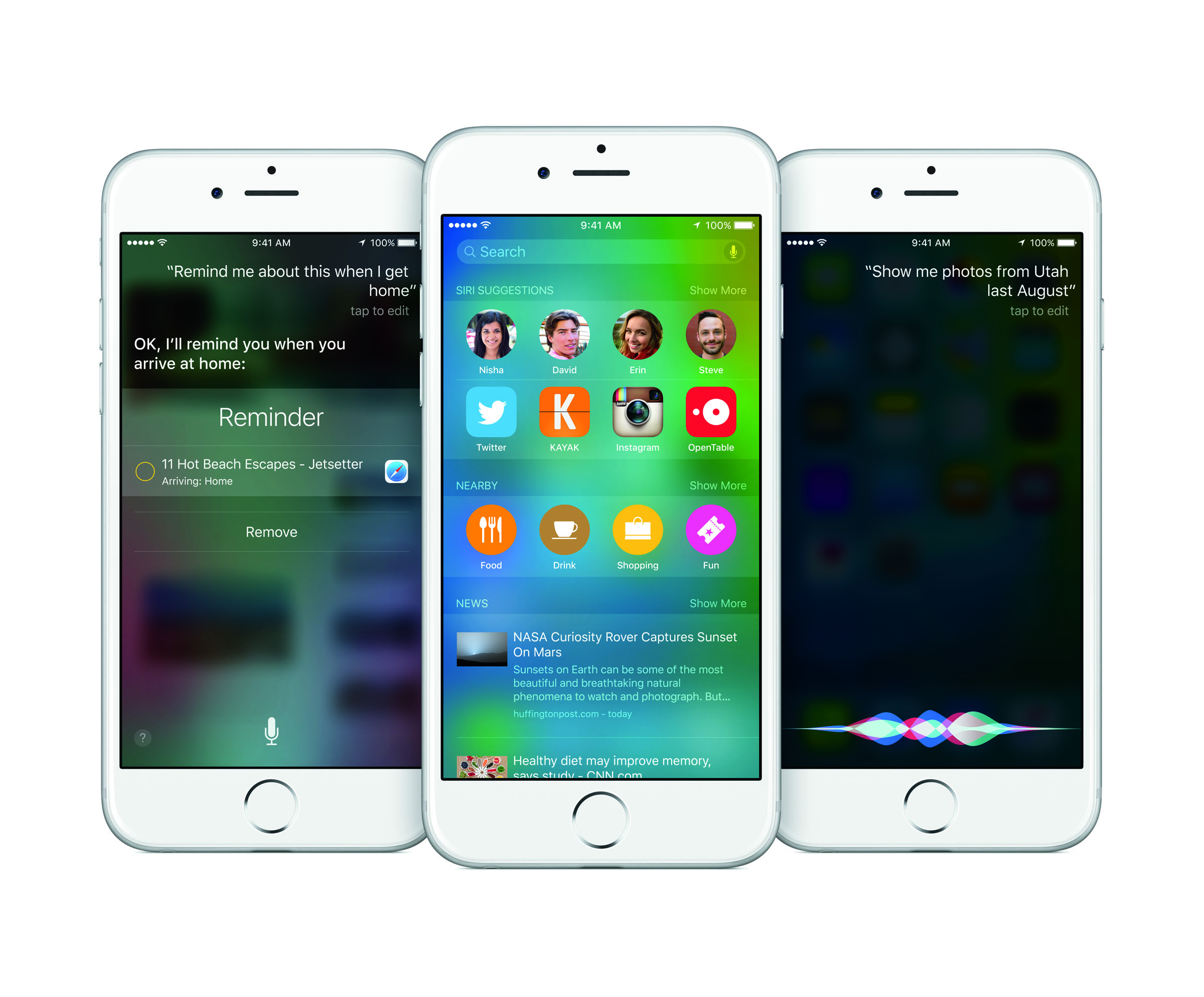 And let's move to iOS, the new iOS 9 comes with redesigned Siri. Proactive assistance presents the most relevant information without compromising users' privacy and suggests actions at a particular moment. It will automatically suggest apps to launch or people to contact based on usage patterns, and notifying you when you need to leave for appointments, taking into account traffic conditions.
When you plug in your headphones, it will display playback controls for your preferred app. Search now has a dedicated page, all you need to do is just swipe to the left of your homescreen. Typed search queries deliver more relevant results from more categories, including sports scores and schedules, videos and simple math calculations.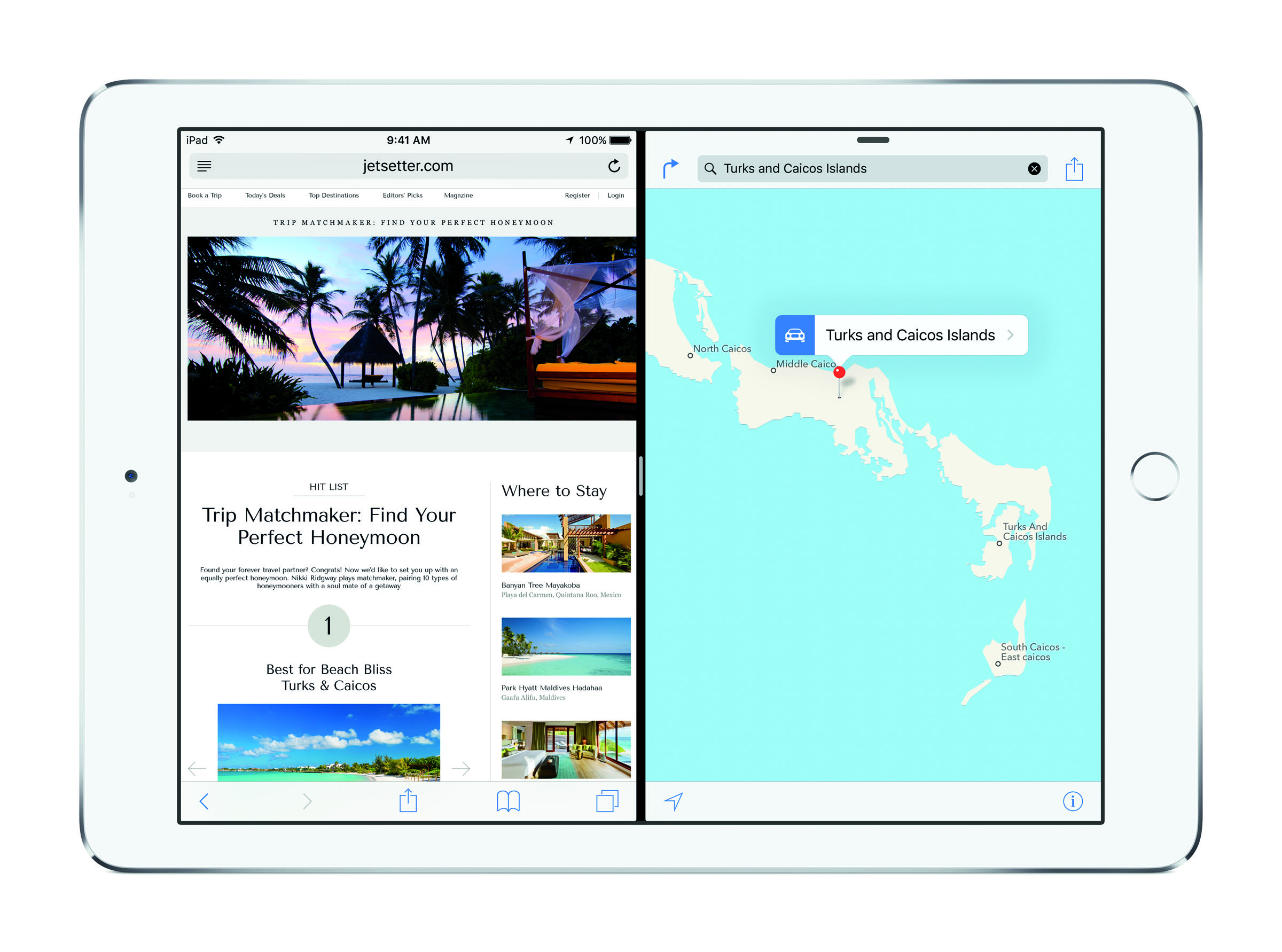 iOS 9 comes with a few features for iPad – multitasking. With a simple swipe, the new Slide Over feature lets you simultaneously work in a second app without leaving the first. And with a quick tap, you can access the new Split View feature so you can work in two apps at the same time, side-by-side. These new multitasking features are supported by built-in Apple apps, and APIs make it easy for third-party developers to add support into their own apps. Meanwhile, these multitasking features only available from iPad Air and iPad mini 2 or later, while the Split View feature will be available on iPad Air 2 only.
Apple has enhanced the typing experience on iPad with an all-new Shortcut Bar that displays actions tailored for the app you are in, and new Multi-Touch gestures make it even easier to select and edit text.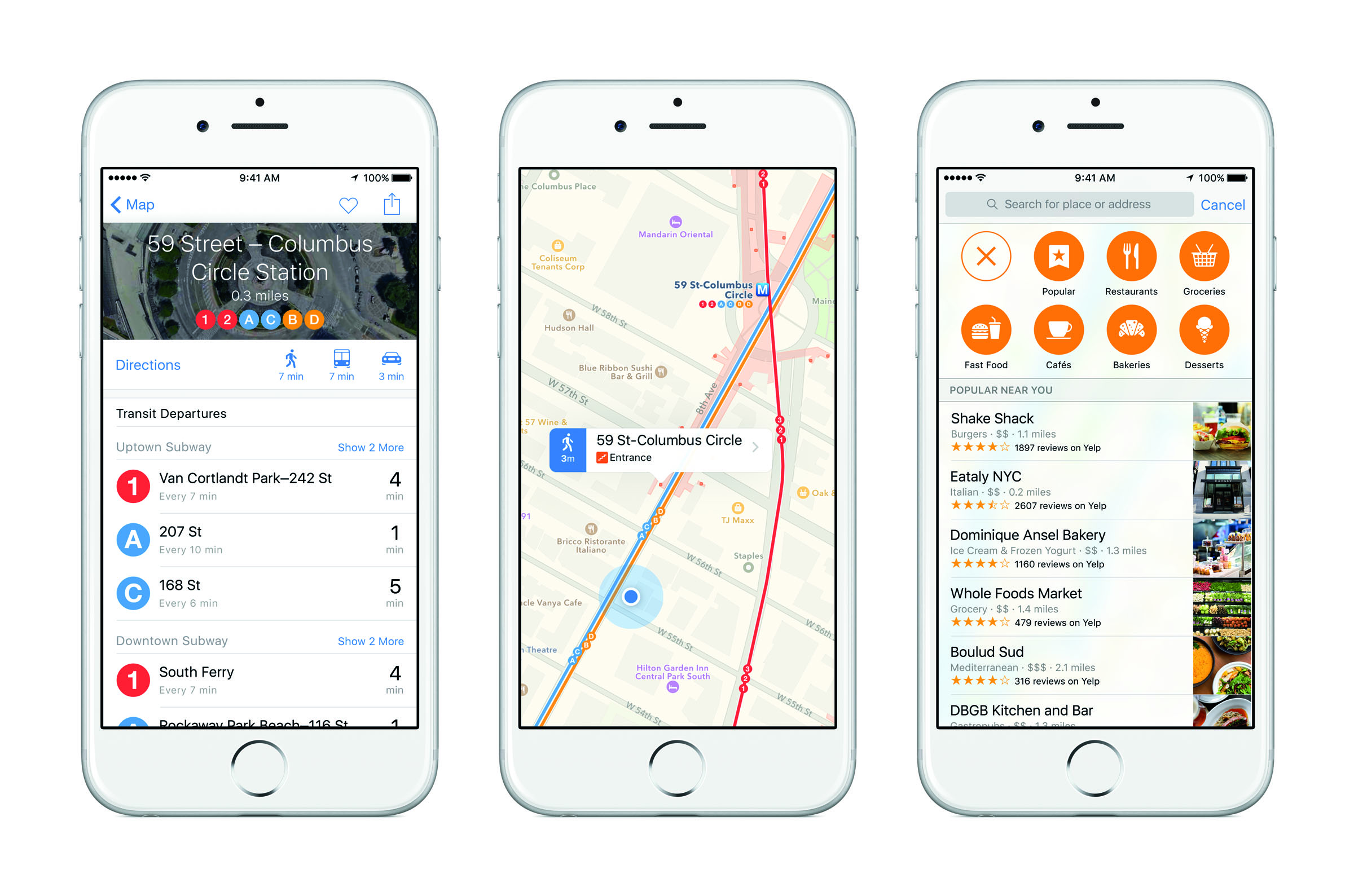 Built-in apps are now better in iOS 9. The redesigned Notes app allows you to raw a quick sketch using your finger, easily create checklists to keep track of your to-dos, or snap a photo directly in a note. Easily save important items to your notes directly from other apps, and keep them in sync across all your enabled devices with iCloud.
Maps adds support for metropolitan transit systems and schedules, and subway station entrances and exits are precisely mapped, providing every step of your trip. When you plan your trip, Maps can offer a combination of trains, subways, buses and walking, and with the new Nearby feature, quickly see what's around by searching for food, drinks, shopping and more.
Apple had also introduced the News app which delivers a reading experience that combines the rich, immersive design of a print magazine with the interactivity of digital media. News can learn your interests and suggest relevant content that's easily shareable with friends or saved for later. News delivers the best articles from a variety of publishers and over one million topics to help you personalize your reading experience, all presented in an elegant, uncluttered design. News is powered by the new Apple News Format, a digital publishing format supporting custom typography, galleries, audio, video and interactive animations, allowing publishers to create beautiful editorial layouts for iOS users.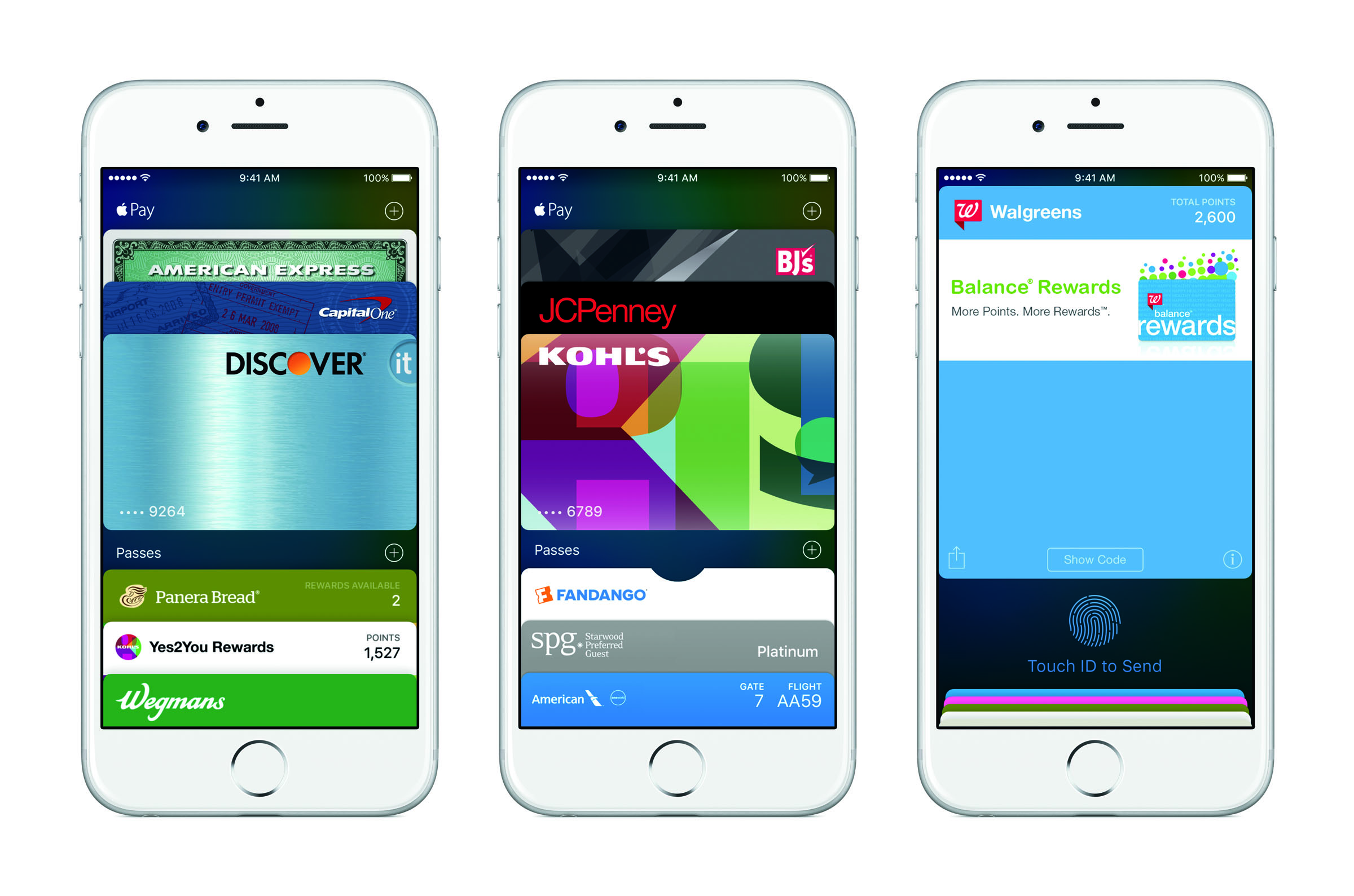 Apple Pays in iOS 9 adds support for Discover, rewards programs from merchants such and participating store-issued credit and debit cards. Shoppers will be able to manage their cards in the new Wallet app (previously named as Passbook). Apple Pay will also be available to users in the UK starting next month.
iOS 9 also comes with battery optimization and a low-power mode to help further extend battery life. Software updates require less space to install and an Install Later feature can perform updates to your device when it's not in use. The security features have been enhanced to keep your devices and Apple ID secure by strengthening the passcode that protects your devices and improving two-factor authentication by building it directly into iOS, making it harder for others to gain unauthorized access to your Apple ID.
The iOS 9 beta software and SDK are available immediately for iOS Developer Program members at here, and a public beta program will be available in July at here. iOS 9 will be available this fall as a free software update for iPhone 4s and later, iPod touch 5th generation, iPad 2 and later, iPad mini and later.
watchOS 2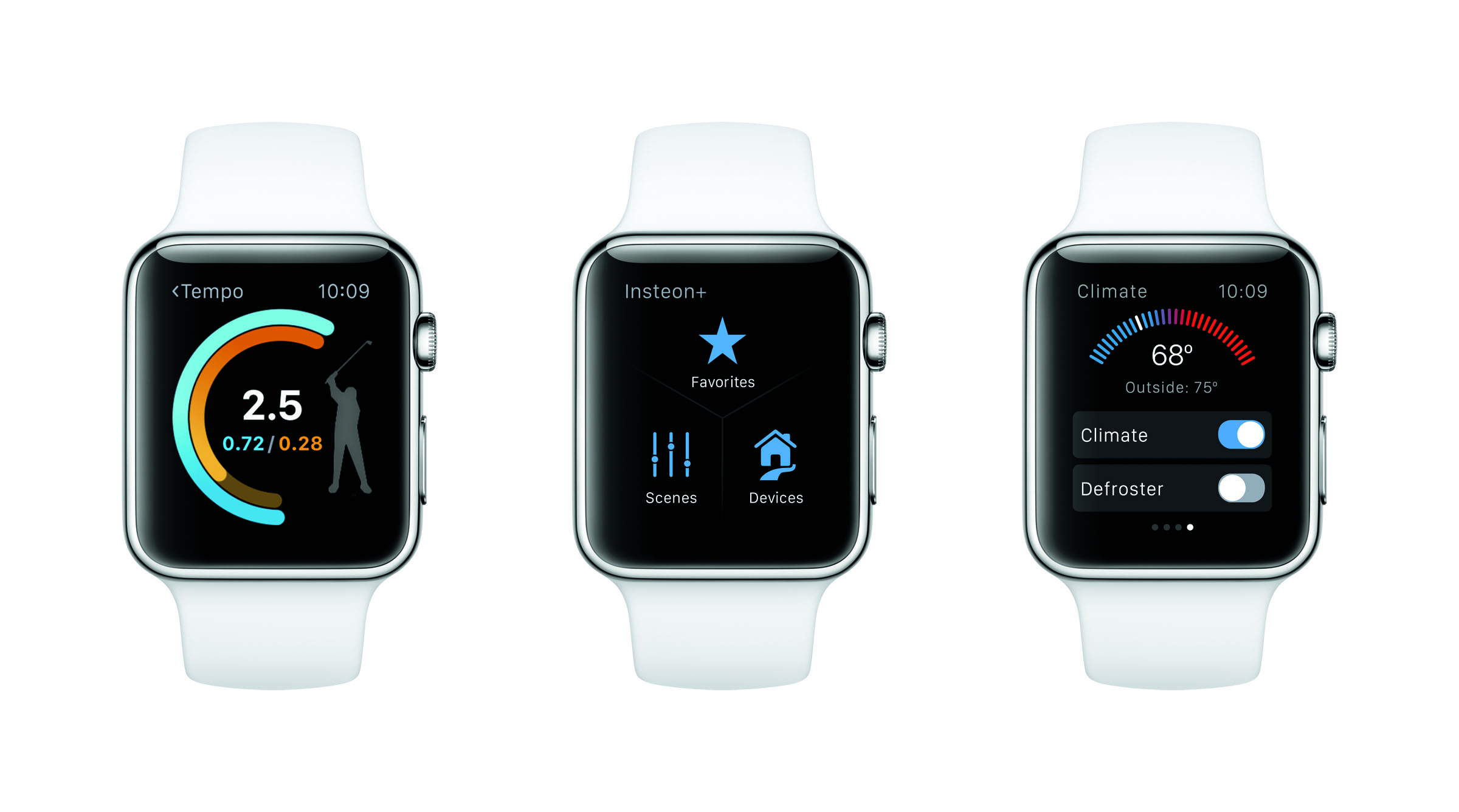 In watchOS 2, WatchKit now gives developers access to key hardware like the Digital Crown, Taptic Engine, heart rate sensor, accelerometer and microphone. New software APIs enable audio and video playback and animation, and with the ClockKit framework, developers can represent their data as complications on the watch face.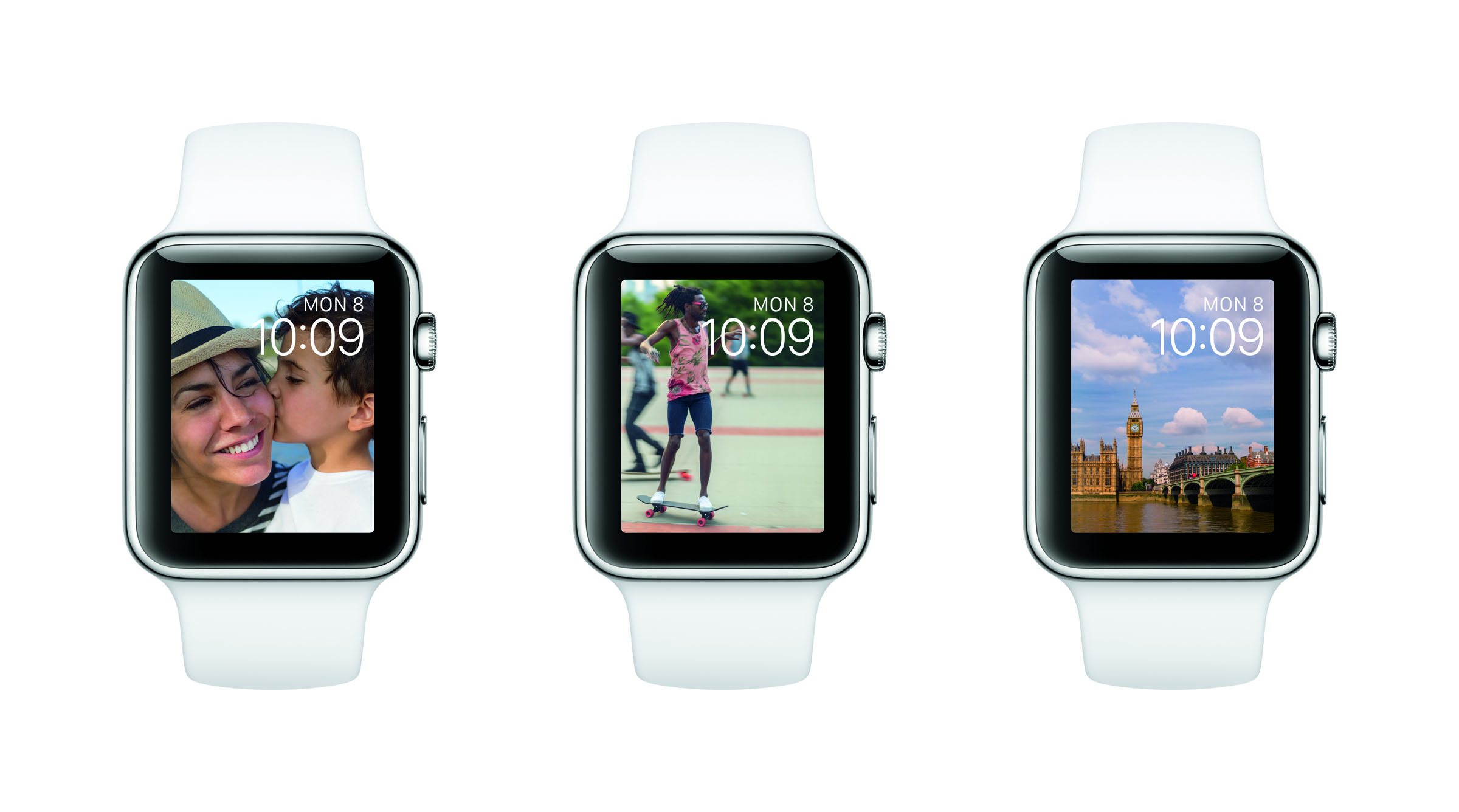 Additionally, watchOS 2 lets you turn your favorite photo into a new watch face or view pictures from your favorite photo album. With the Time-Lapse watch face, choose from a selection of time-lapse videos shot over 24 hours in iconic locations including New York City, London or Shanghai.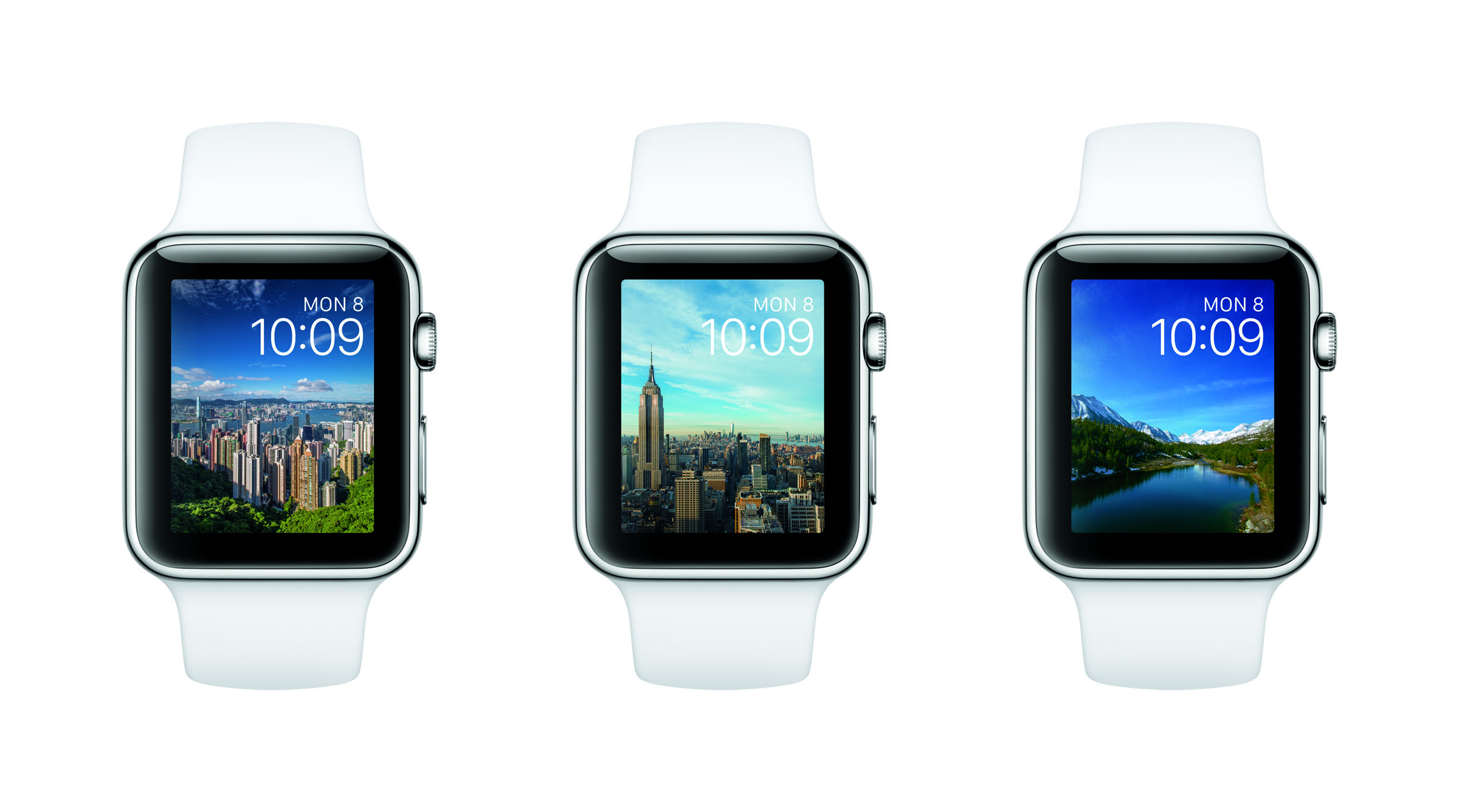 A new Time Travel feature lets users scroll with the Digital Crown to explore events in the future (and past) including upcoming meetings or activities, the temperature for the week, and information from third-party apps, such as upcoming flight information.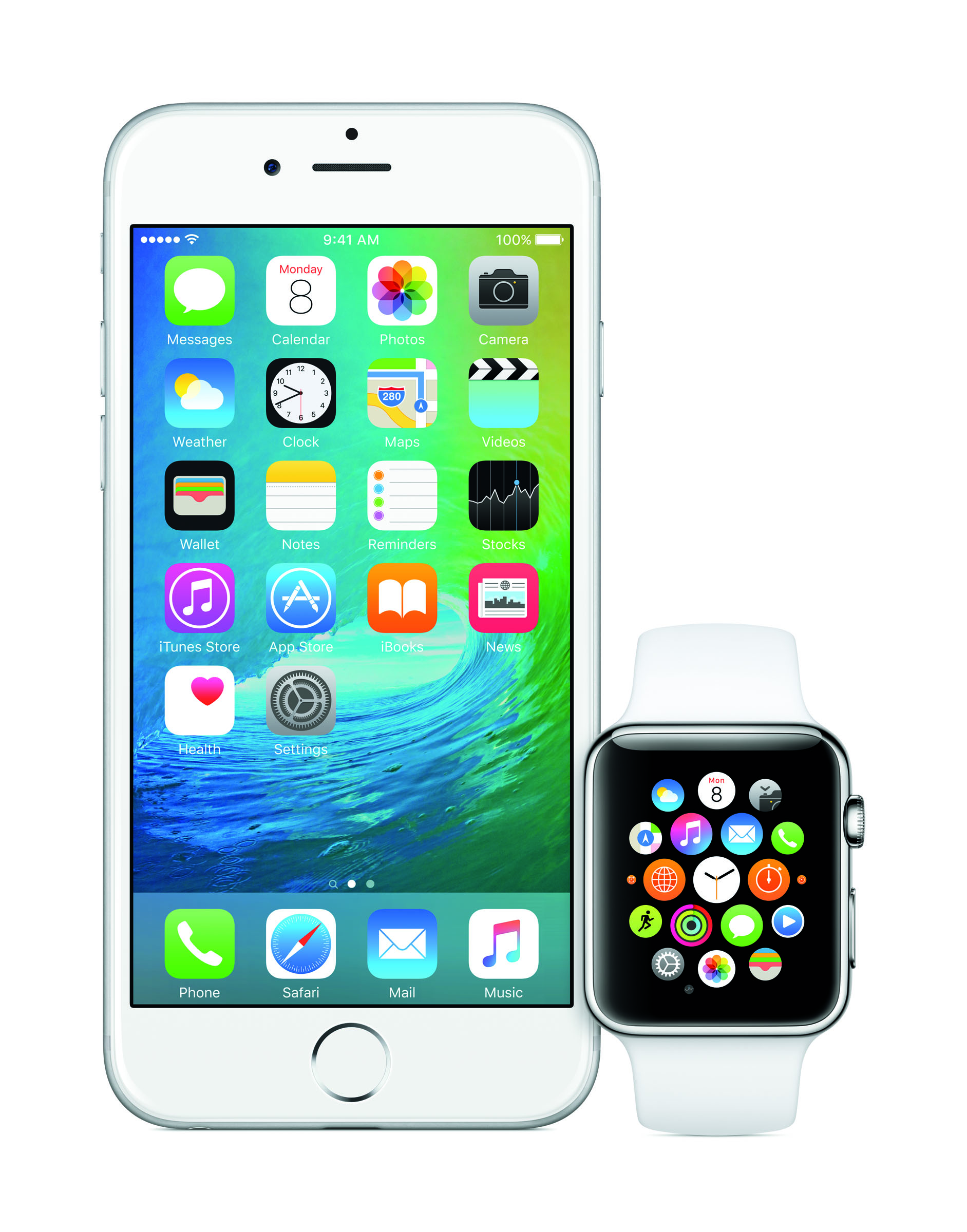 Other watchOS 2 features include:
Nightstand Mode, which transforms Apple Watch into a bedside alarm clock, with the Digital Crown and side button serving as snooze and off buttons for the alarm;
the ability to use merchant rewards and store-issued credit and debit cards with Apple Pay, which can be added to Wallet;
support for Transit in Maps, so you can view detailed transportation maps and schedules, including walking directions to the nearest stations with entrances and exits precisely mapped;
workouts from third-party fitness apps contributing to your all-day Move and Exercise goals;
Activation Lock, which lets users secure their Apple Watch with their Apple ID, preventing another user from wiping or activating the device if it is lost or stolen.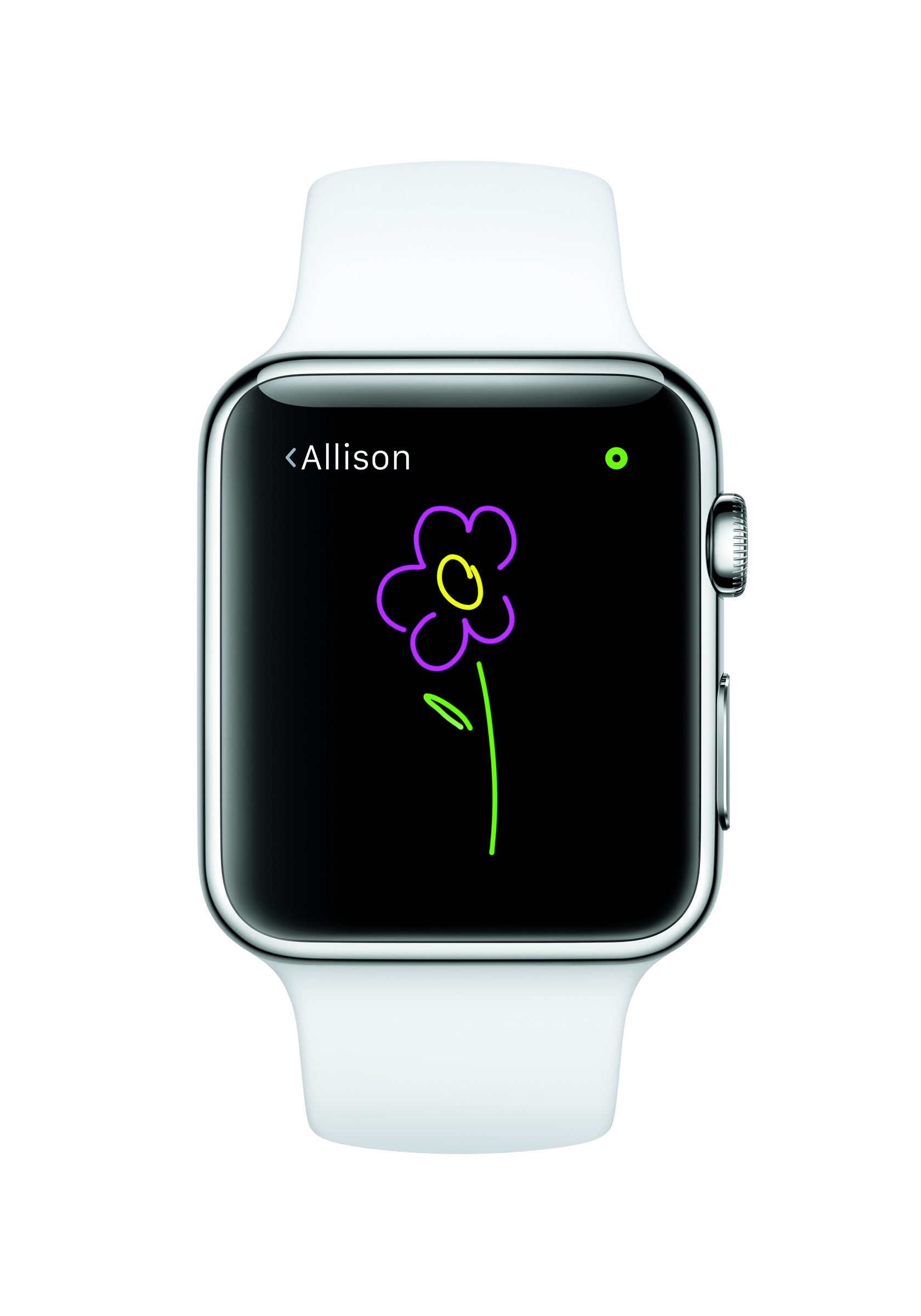 watchOS 2 will be available this fall as a free update to Apple Watch. Apple Watch requires iPhone® 5, iPhone 5c, iPhone 5s, iPhone 6 or iPhone 6 Plus running iOS 8.2 or later. The iOS 9 SDK beta including WatchKit for watchOS 2 is available immediately for iOS Developer Program members at here.
Apple Music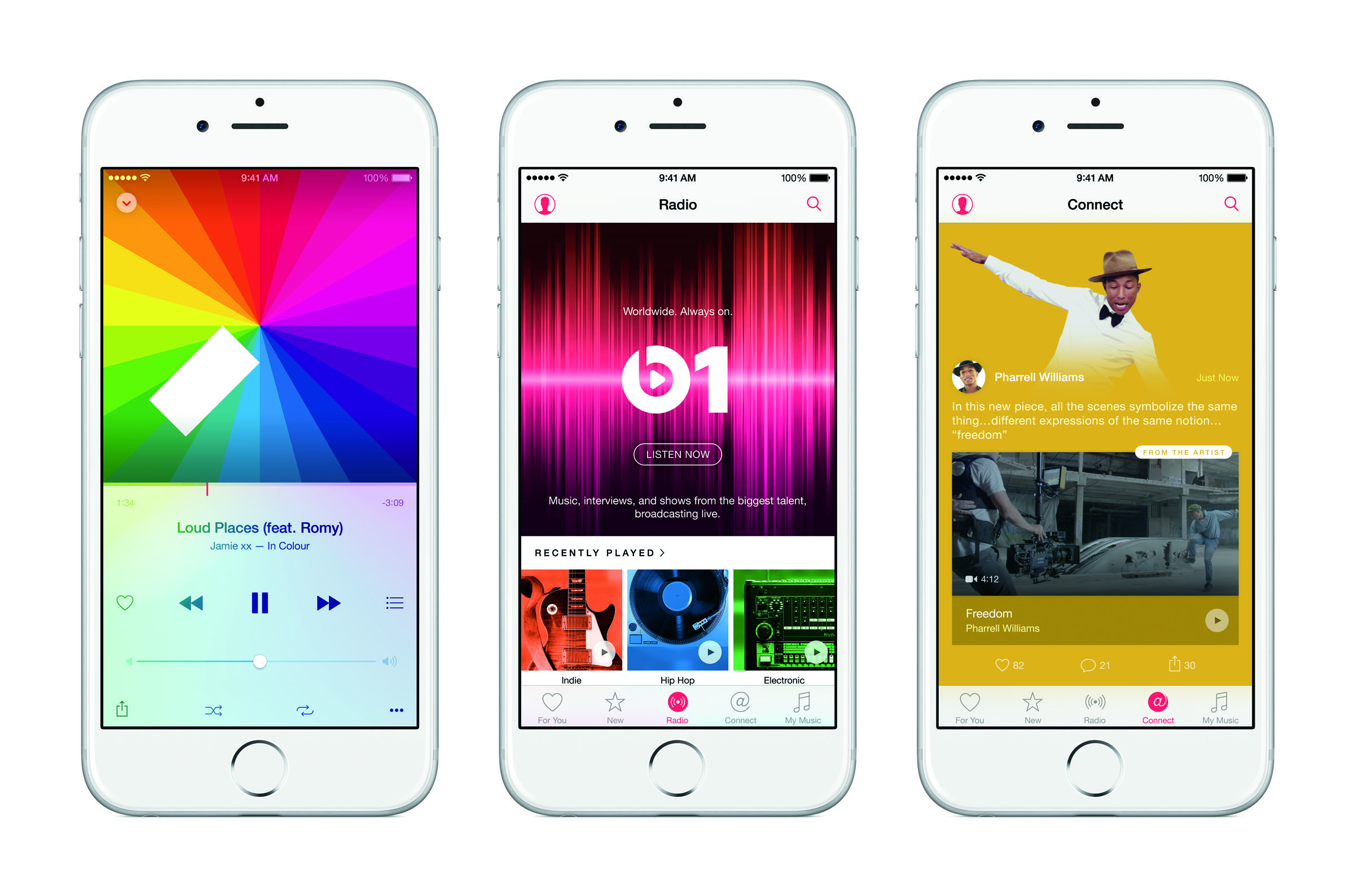 Last but not least, here comes the one that everybody been waiting for – Apple Music. Apple Music is a streaming music service, a pioneering worldwide live radio station from Apple broadcasting 24 hours a day and a great new way for music fans to connect with their favorite artists.
Apple has hired the most talented music experts from around the world, dedicated to creating the perfect playlists based on your preferences, and they become better curators the more you listen. The "For You" section of Apple Music provides a fresh mix of albums, new releases and playlists, which have been personalized just for you.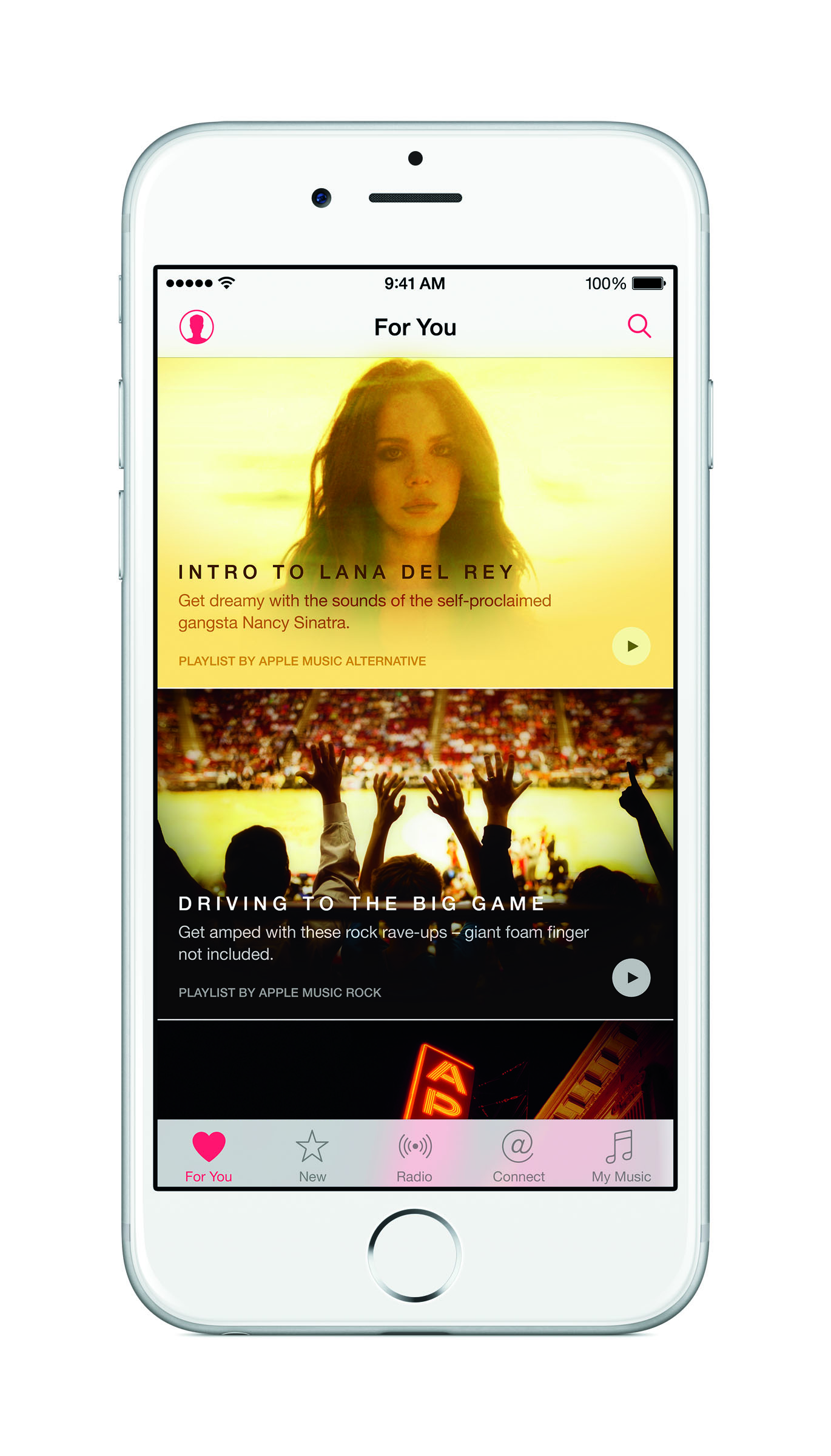 With Apple Music Connect, artists and fans now have an incredible way to connect with one another directly in Apple Music with Connect. Through Connect, artists can share lyrics, backstage photos, videos or even release their latest song directly to fans directly from their iPhone. Fans can comment on or like anything an artist has posted, and share it via Messages, Facebook, Twitter and email. And when you comment, the artist can respond directly to you.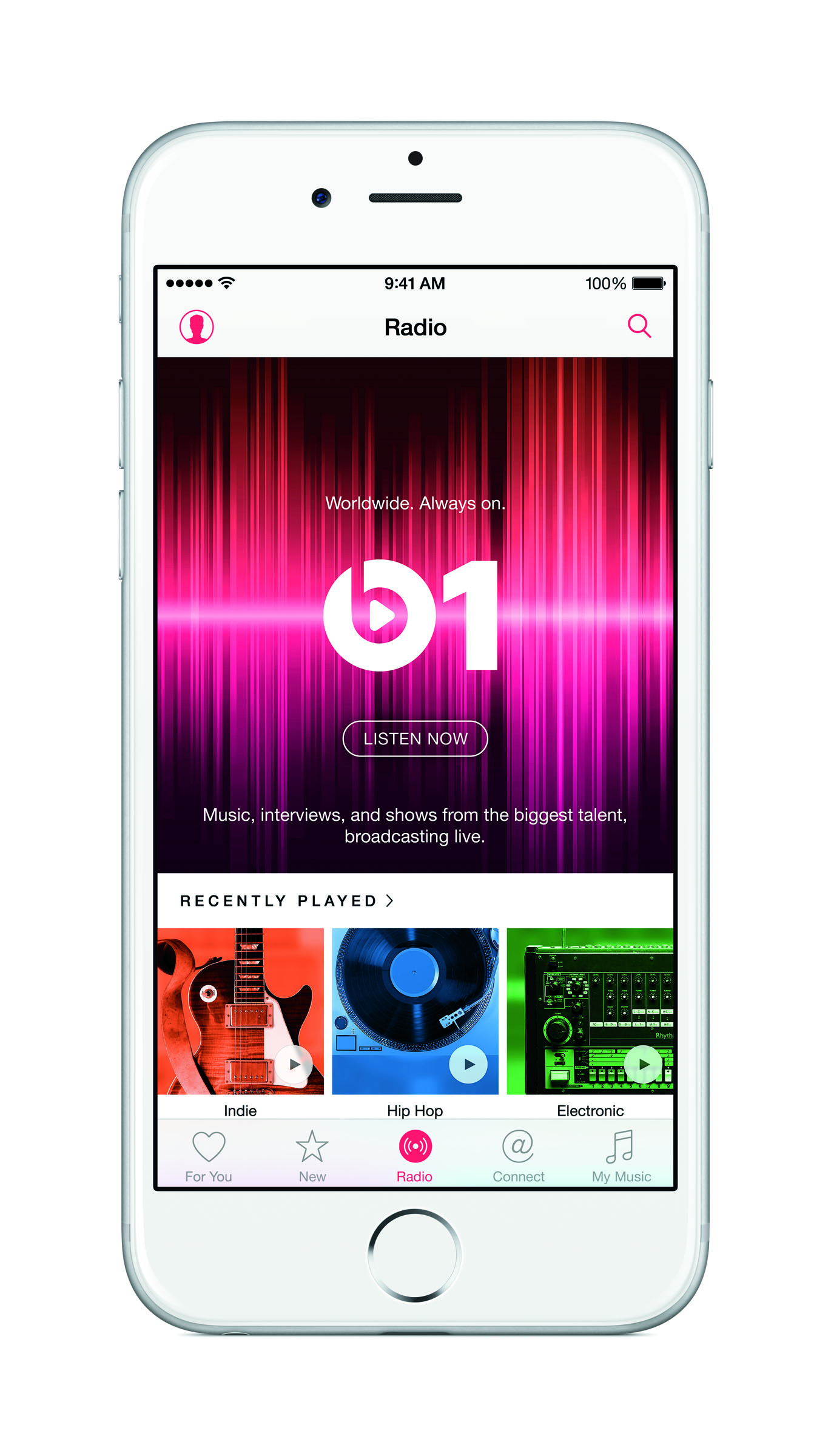 Apple has also announced Beats 1, the company's first ever live radio station. Beats 1 is a 24-hour listening experience led by influential DJs Zane Lowe in Los Angeles, Ebro Darden in New York and Julie Adenuga in London. Listeners around the globe will hear the same great programming at the same time. Exciting programs on Beats 1 will offer exclusive interviews, guest hosts and the best of what's going on in the world of music. Beats 1 will broadcast live to over 100 countries, yet there's no word whether Malaysia is included or not.
Apple Music will be available from 30th June with $9.99/month subscription fee. There will also be a family plan providing service for up to six family members available for just $14.99/month. As a celebration for the launch of Apple Music, music fans around the world are invited to a 3-month free membership.
Apple Music is available on your iPhone, iPad, iPod touch, Mac, and PC starting 30th June. It will be coming to Apple TV and Android phones this fall.