Sony has officially announced two new Xperias which have very impressive photography capabilites , the Xperia C5 Ultra and the Xperia M5. Both armed with dual SIM and 4G LTE support, both models are available for pre-order from 11street until 31st August. During the exclusive pre-order period, the first 200 customers will be getting additional goodies, which is either the SmartBand SWR10 or Sony Speaker SRS-BTV5 which are worth more than RM 250.
Besides that, you stand a chance to win an Xperia C5 Ultra Dual by participating the contest on 11street's Facebook page. To be among the first to get it in Malaysia, you can also join Sony Mobile Malaysia's LINE official account and answer a simple question to win a brand new Xperia C5 Ultra Dual or Xperia M5 Dual.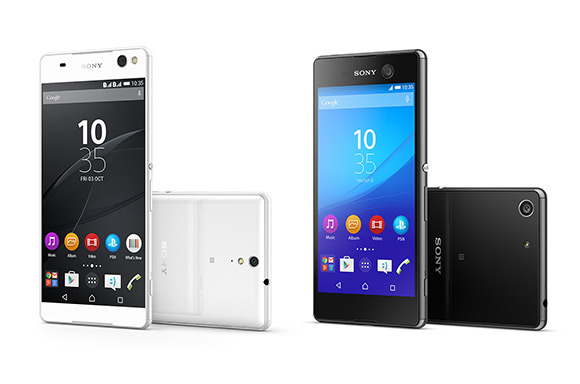 Shortly after announcing the Xperia C4, the Xperia C5 Ultra is bigger than its predecessor with a phablet sized 6″ Full HD display and it surprisingly comes with 13 MP cameras on both sides, making selfies and regular pictures on par. As for its specs, it retains the same 1.7 GHz MediaTek octa-core processor mated with a slightly lacking 2 GB of RAM and it also comes with 16 GB of storage. Good news for Instagram lovers, that this memory is expandable further with its microSD expansion slot.
Back to the camera, the Xperia C5 Ultra takes its PRO Selfie feature up a notch with a wider 22 mm view and a soft-LED flash light at the front. Despite its larger display, the Xperia C5 Ultra gets a near-borderless display which makes it easier to use one-handed no matter a leftie or a rightie. Powering the Xperia C5 Ultra is a 2,930 mAh capacity battery that's rated to last up to 2 days, providing an ample amount of use time
The Xperia M5 is a compact waterproof device with high-end aspirations. It gets a 5″ Full HD display and under the hood you'll find a 2.0 GHz octa-core MediaTek Helo X10 processor with a decent 3 GB of RAM. On-board it gets 16 GB of storage which thankfully is expandable via a microSD slot.
The front 13 MP shooter is similar with the one on the Xperia C5 Ultra but the rear gets an upgraded 21.5 MP Sony IMX230 sensor that supports Phase Detection Auto Focus (PDAF). Armed with this, you can capture moving objects with much greater clarity thanks to its 0.25 seconds focus time.
To maintain its incredibly slender 7.6 mm side profile, the Xperia M5 comes with a 2,600 mAh battery but oddly enough it also claims to be able to push up to 2 days of battery life.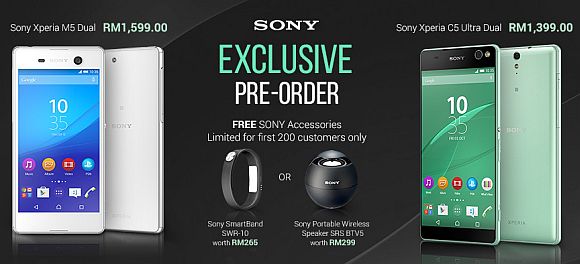 The Sony Xperia C5 Ultra Dual is officially priced at RM 1,399 and comes with a choice of White, Black and Mint colours. While the Sony Xperia M5 is priced at RM1,599 and it comes in Black, White and Gold. You are able to pre-order the devices on 11street.