Samsung announced the Galaxy S8 and S8+ last week in New York. Well, the company has announced that both devices will be available for pre-order from April 11th until April 13th, and even the prices for both devices have revealed as well.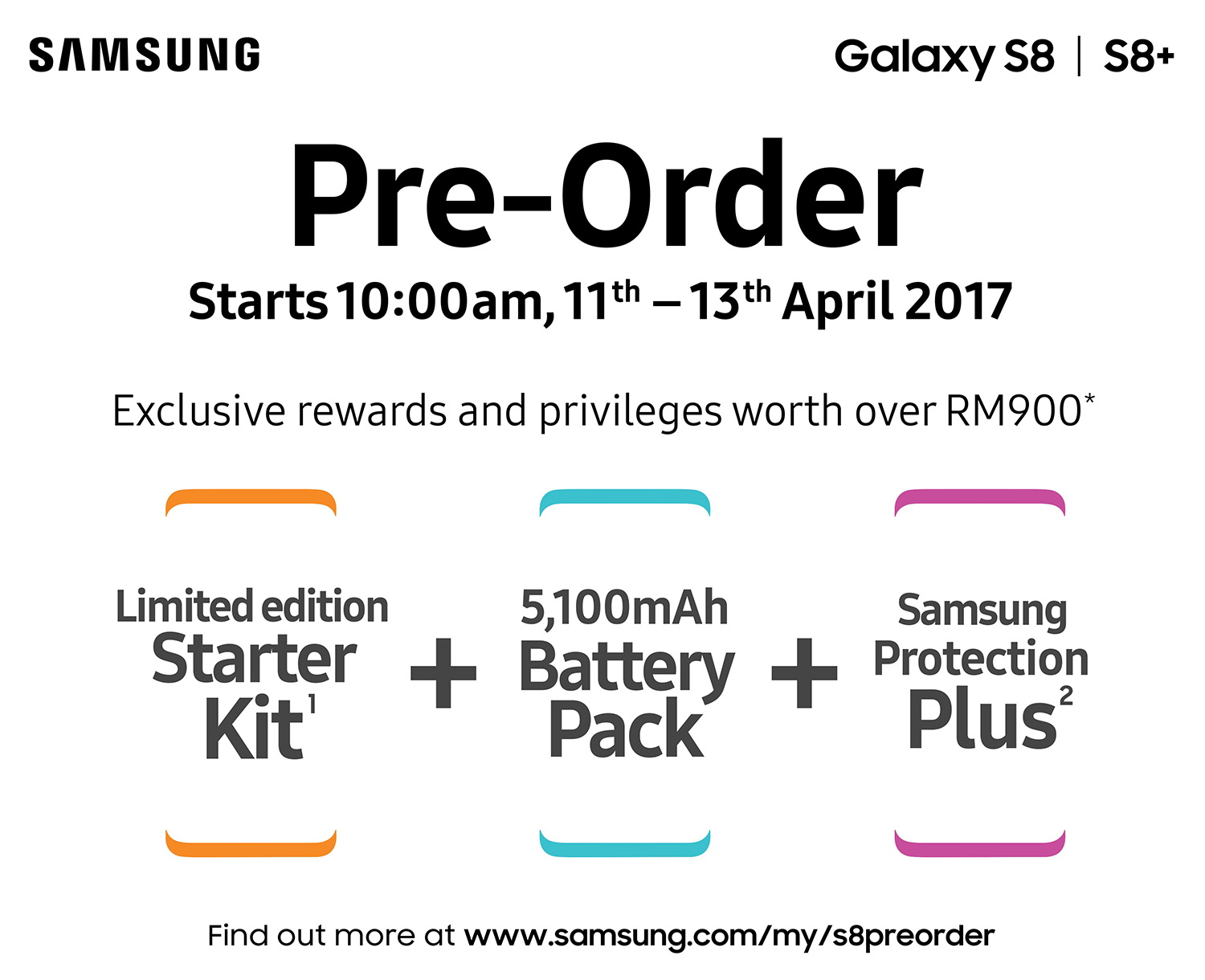 The Galaxy S8 will be priced at RM3,299, while the Galaxy S8+ will be priced at RM3,699. Yes, the S8 is more expensive than the iPhone 7 base model for the first time, but it offers more storage (64GB vs 32GB).
Duly note that this is a 3-day pre-order promotion, which will happen from 10:00 AM 11th April until 11:59 PM 13th April 2017. Those who placed their orders will receive a Limited Edition Starter Kit worth over RM900 that consists of a clear cover, a screen protector, a wireless charger stand, and a USB Type-C cable for a seamless mobile set up.
Additionally, Samsung Malaysia will also offer a free 5,100mAh battery pack and the Samsung Protection Plus, which covers mechanical and electrical breakdowns as well as accidental damage to help users prepare for the unexpected. With this extended service, users will receive a 1-year screen crack protection that allows for one-time replacement in a 12-month period for accidental damage claim; and an additional 1-year extended warranty.
To pre-order the Galaxy S8/S8+, please follow the steps below:
Visit here from 10:00 AM 11th April until 11:59 PM 13th April 2017.
Place a deposit of RM300 online via debit or credit card.
Select from the three color options – Midnight Black, Orchid Gray or Maple Gold.
Choose your preferred Samsung Experience Store to collect your brand new Galaxy S8 or S8+.
An email confirmation will be sent to the registered email address.
Collect your Galaxy S8 or S8+ on 4th May 2017, a day before everyone else gets their hands on this remarkable device at the official Malaysian launch!
That's been said, both Galaxy S8 and S8+ will be officially available for purchase in Malaysia on the 5th of May 2017. This pre-order promotion is valid while stocks last on a first-come-first-serve basis.