Introduction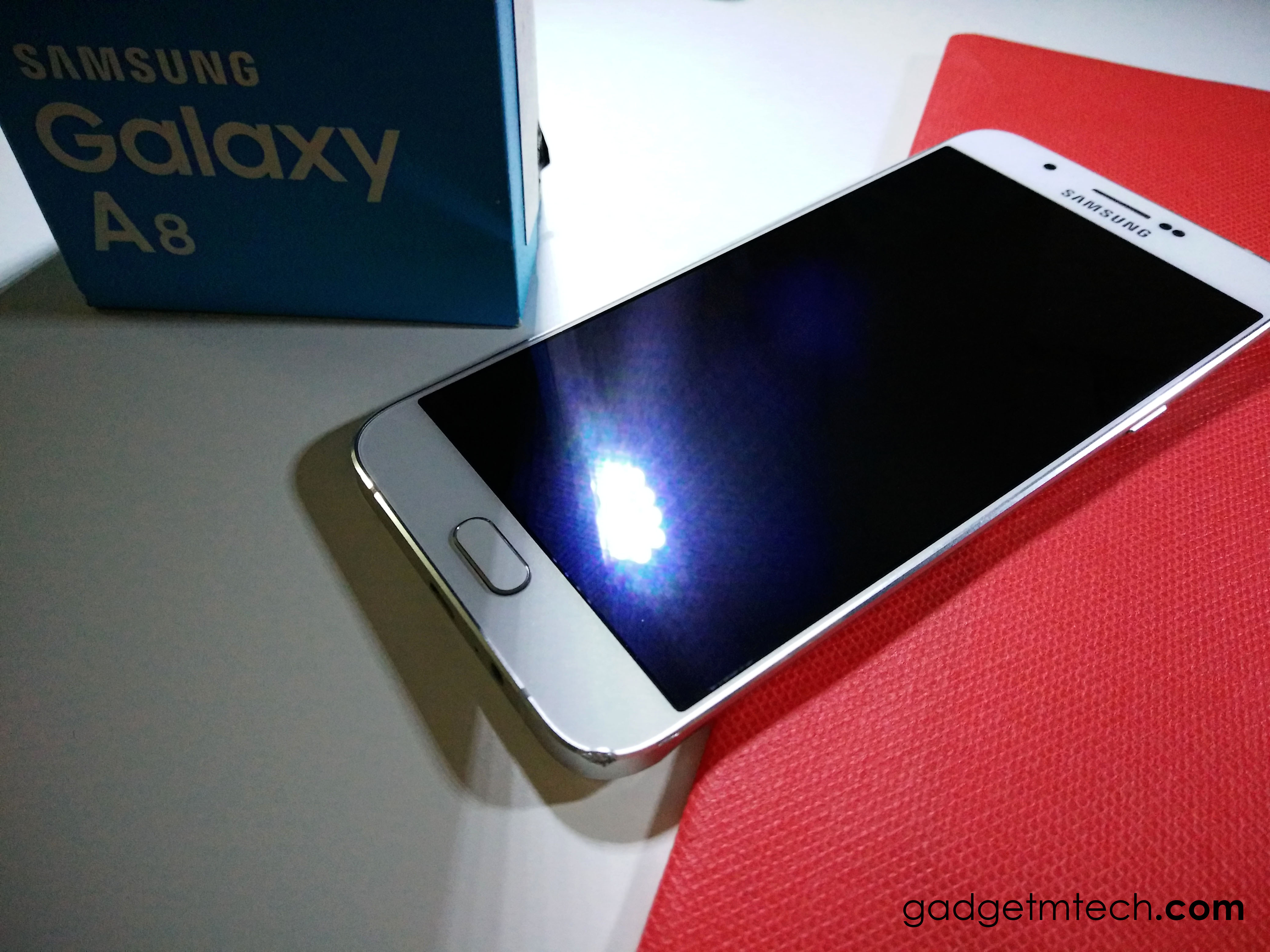 Samsung has had a few different product lines besides their flagship S series, like their mid-range 'A' series and their lower-end 'E' series. The A8 bucks the naming convention of only going with odd numbers, so should we expect a reboot of pre-established notions? Well let's find out.
Design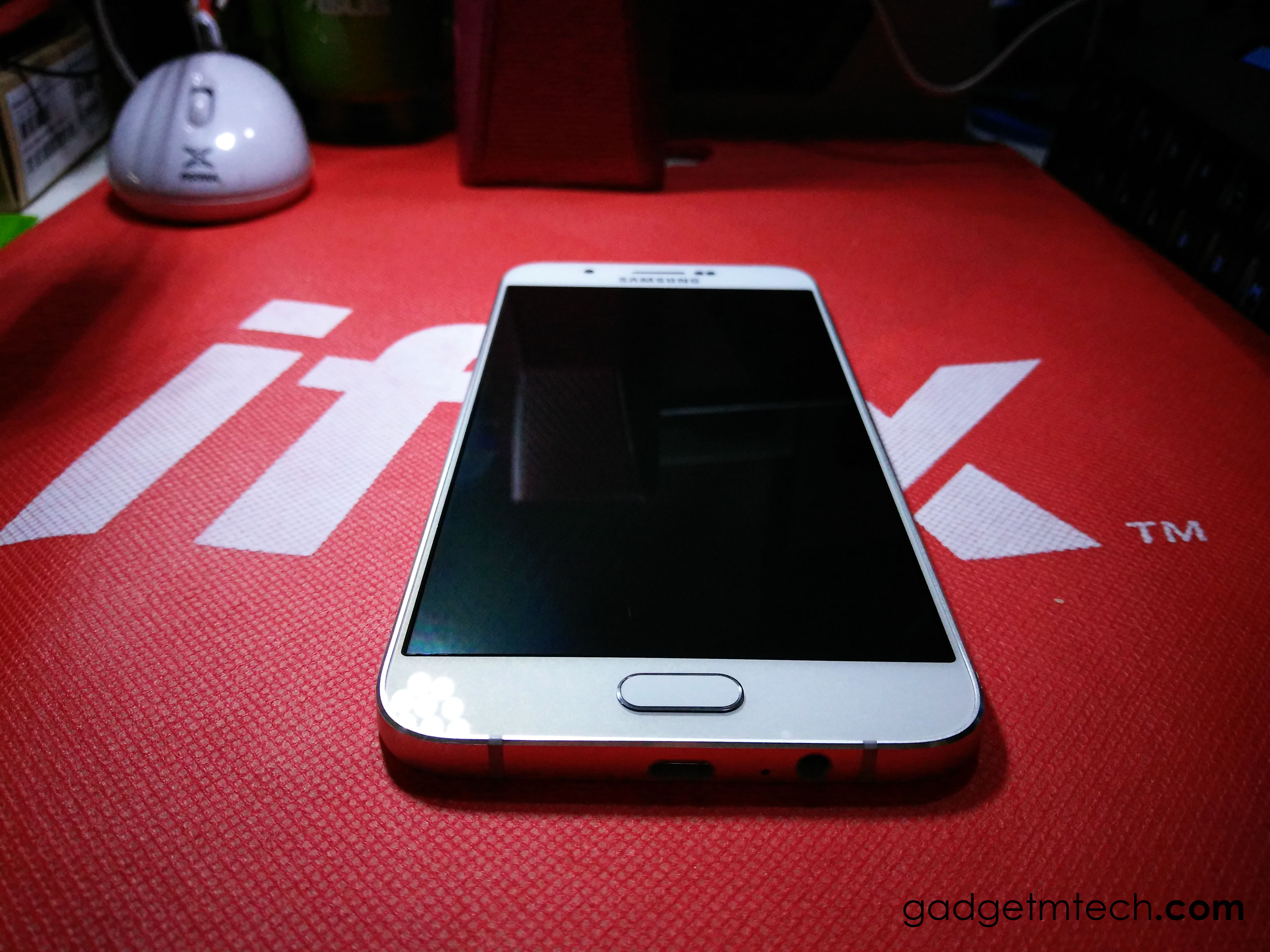 As seen with its predecessors, a core tenant of the Galaxy A series is it having a full metal unibody design, the A8 is fully keeping with the trend with its own metal unibody design. Chamfered edges go around the sleek metal frame while the body has been mostly rounded off along the corners and the back, the sole exception being that of the sides which feature some very obvious angles. This design gives the phone a nice premium feel to it, an added touch of class one might say.
By using its own Exynos chipset based on 20nm, Samsung has made the Galaxy A8 is their slimmest phone to date, with the device also being quite light, weighing in at a mere 151 grams, despite its metal construction.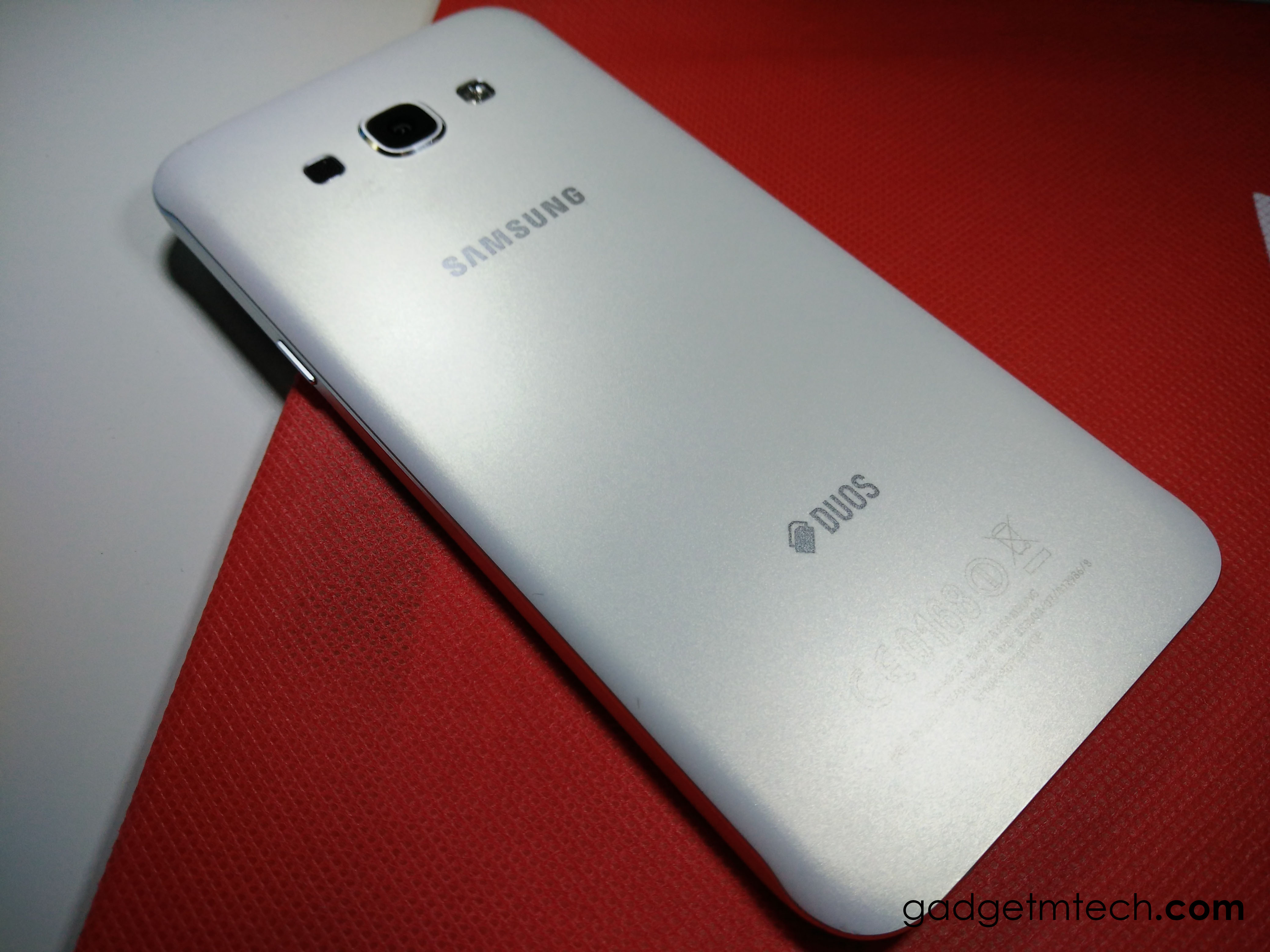 This might be a minor complaint but having such a design also ensures the battery can't be removed. I do know of people who used to bring along a spare battery for their Galaxy S3 and pop a new one in when one is low, but that is a thing of the past now.
Display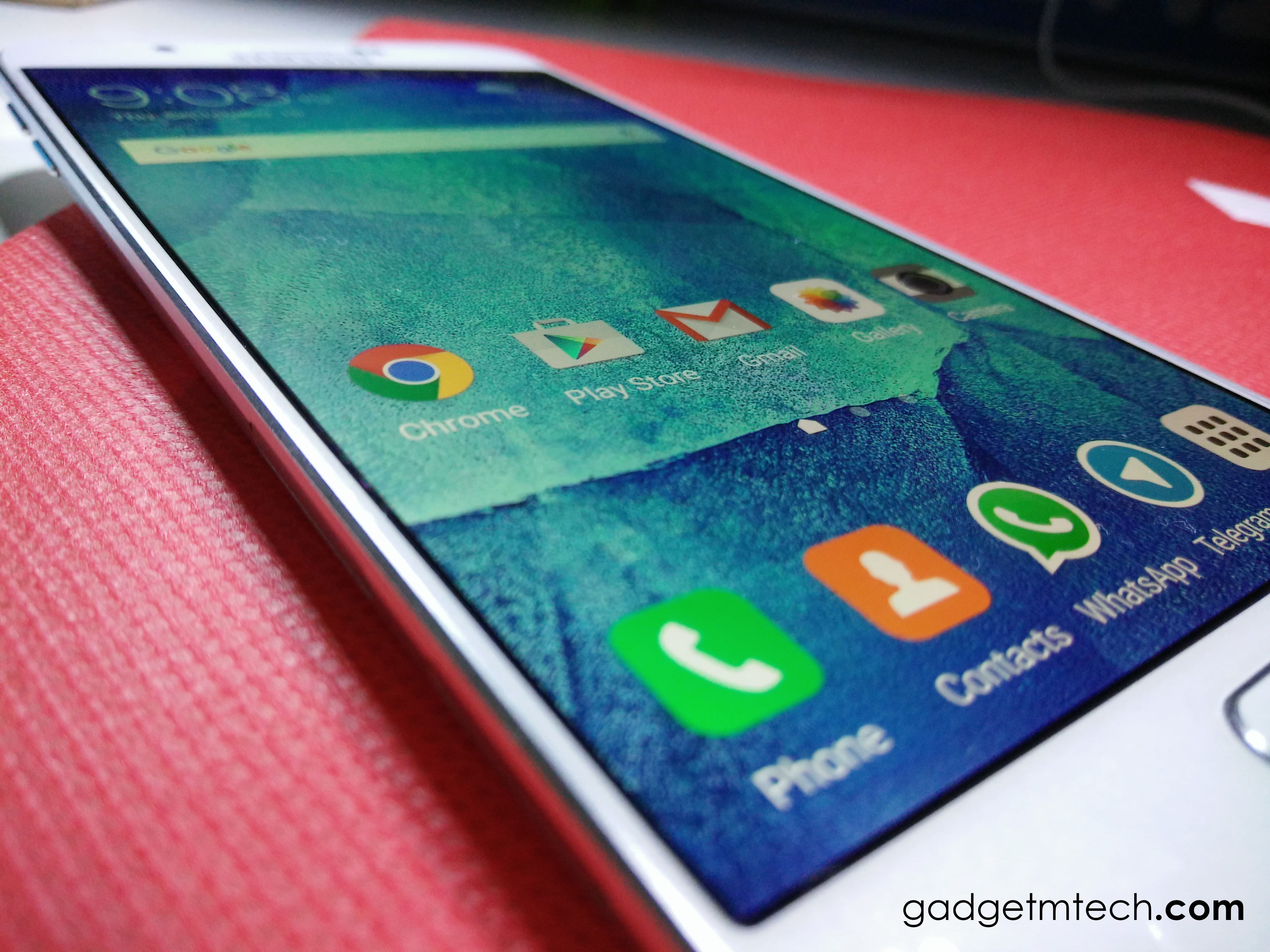 The Galaxy A8 comes with a 5.7-inch Super AMOLED display with Full HD resolution, producing a pixel density of 386 ppi. I find the display to be a great positive especially when watching videos and movies, with the images nice and crisp. All thanks to Samsung's Super AMOLED panels, the Galaxy A8 display offers great features like great viewing angles, high brightness, good outdoor visibility, and vibrant, saturated colors that make the elements pop off the screen.
While most people would be excited about Quad HD, due to the phone being mainly a mid-range contender 1080p is more than sufficient.
Overall, the phone's display is very sharp, allowing for a fantastic display experience when reading text, gaming or enjoying various other content.
Performance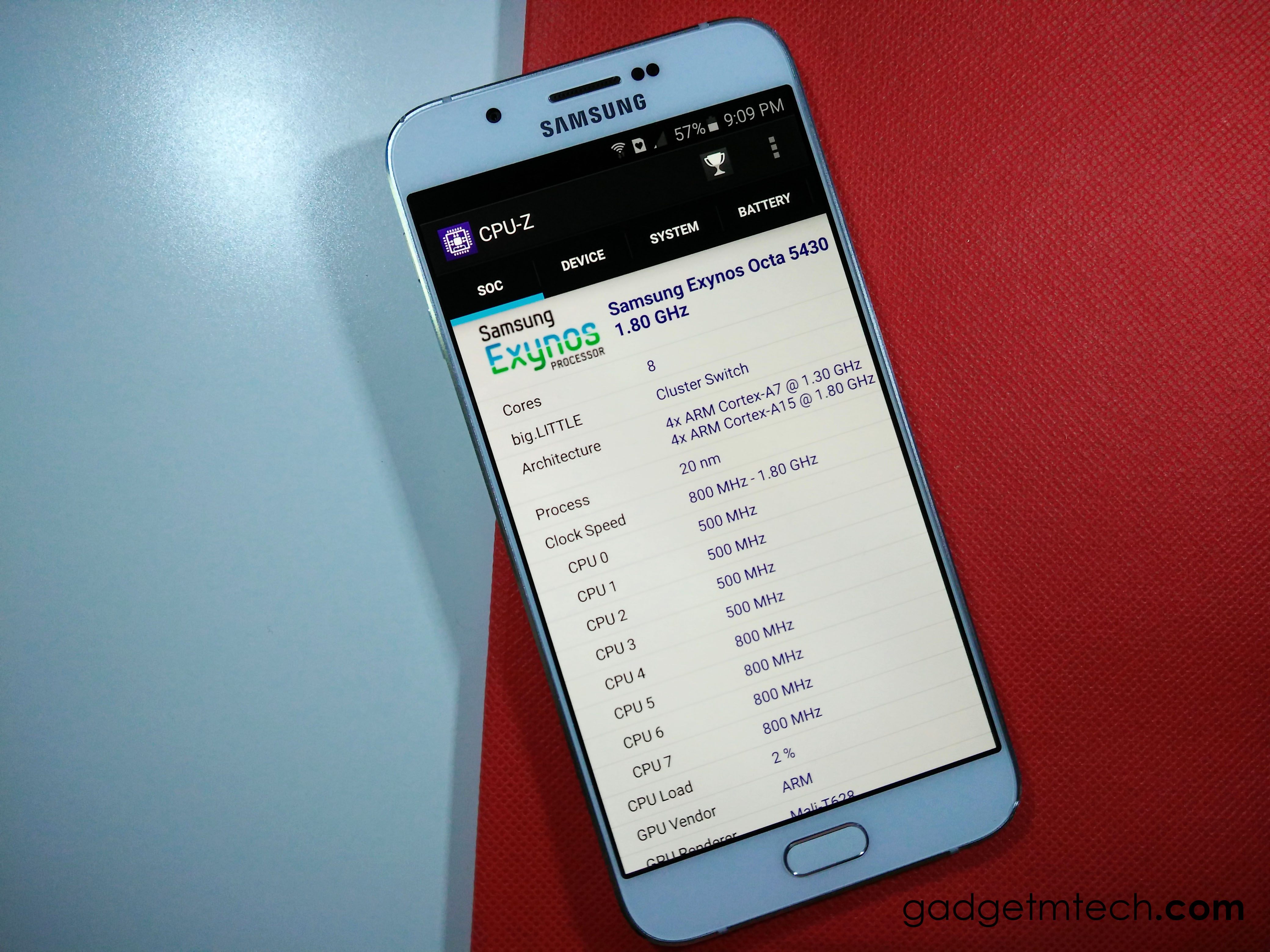 While some other markets have the Galaxy A8 pack an octa-core 64-bit Qualcomm Snapdragon 615 processor which is clocked at 1.5 GHz and backed by the Adreno 405 GPU mated to 2 GB of RAM. The Malaysian market should count its lucky stars as we received the Korean variant, which despite also offering just 2 GB RAM instead features Samsung's proprietary Exynos 5430 SoC processor. This means we get a more powerful smartphone to slightly make up for the low RAM.
Performance on a day to day basis was good, with everything running smoothly when browsing the web, multi-tasking, reading and even playing fast-paced mobile games like shooters and racing games.
However it is not without faults, as there have been the occasional home screen stutters, especially when scrolling in and out of the Flipboard homescreen. This is a little mitigated by being a software issue, having also been present in their flagship Galaxy S6 previously.
As a whole, the Galaxy A8 manages to handle its job well, having a solid level of performance in the mid-range market. But I still stand by my opinion that having slightly larger RAM, had it matched the 3 GB of RAM as seen in the Honor 6 Plus would have been perfect.
Hardware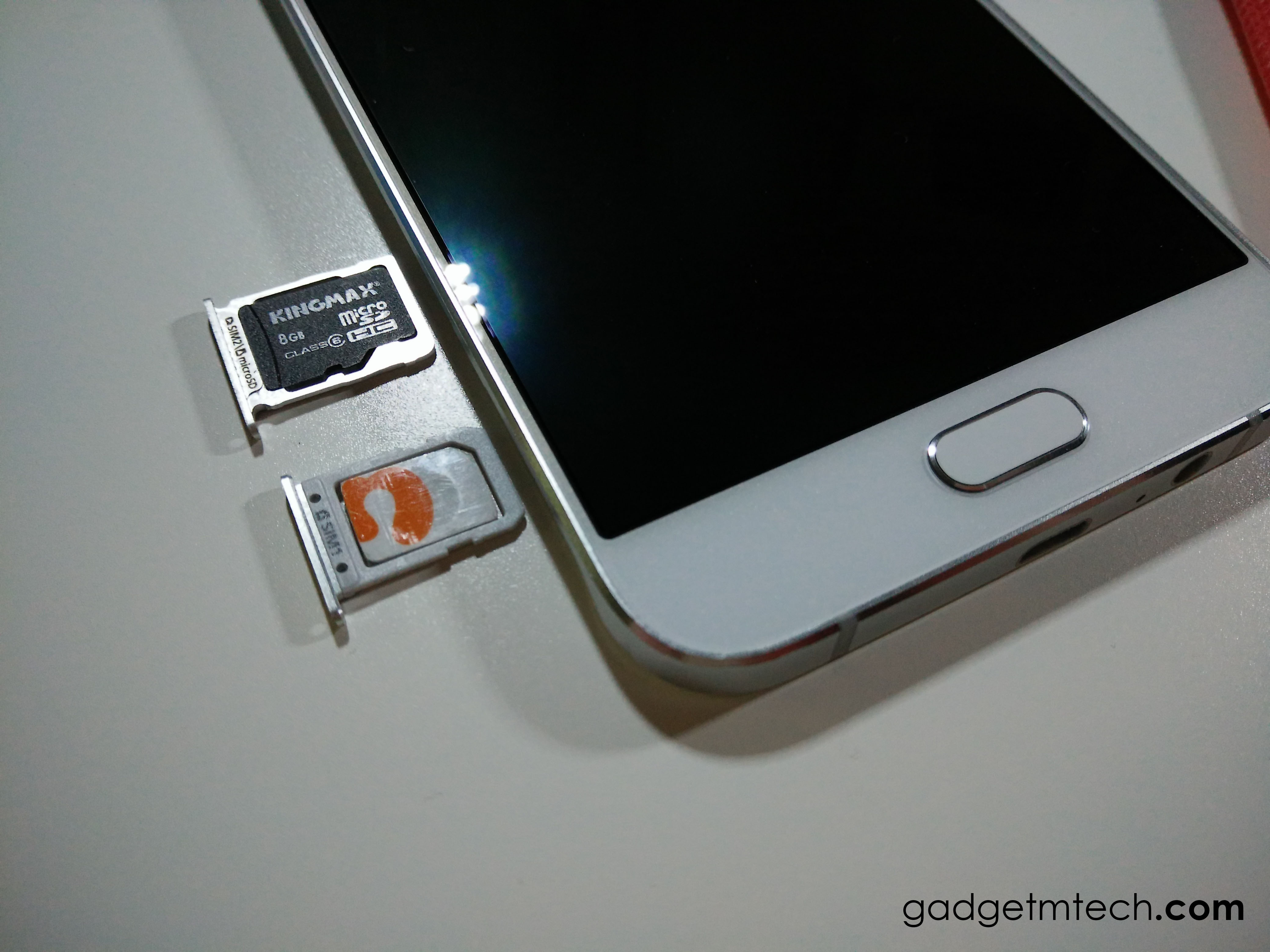 Coming with 16 GB or 32 GB of internal memory, which is expandable via the second SIM slot that fits a MicroSD card, by up to 128 GB. This hybrid second slot allows users the choice between having a secondary SIM or extra storage space. The device packs the standard array of connectivity options, 4G LTE being included of course but NFC connectivity is conspicuously absent.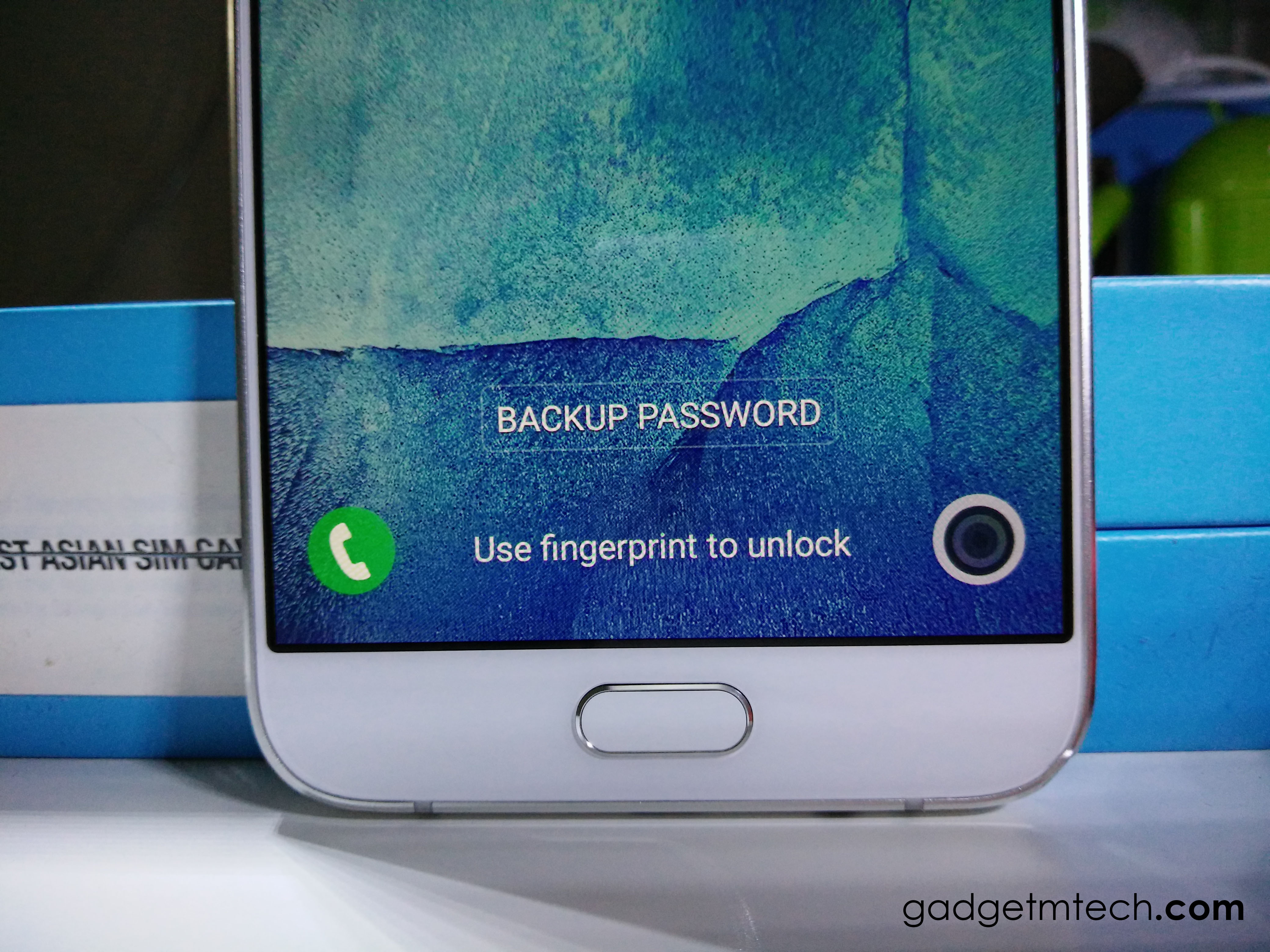 Integrated into the traditional Samsung home button is a fingerprint sensor, which works just as well it did on the flagship Galaxy S6, allowing for a quick and easy method of accessing the phone. By requiring a series of repeated presses until it completely captures your fingerprint, the setup process is eerily familiar to those who have used the S6. You have the option to store up to a maximum of four fingerprints at one time, just one short of a full hand but alas maybe next time.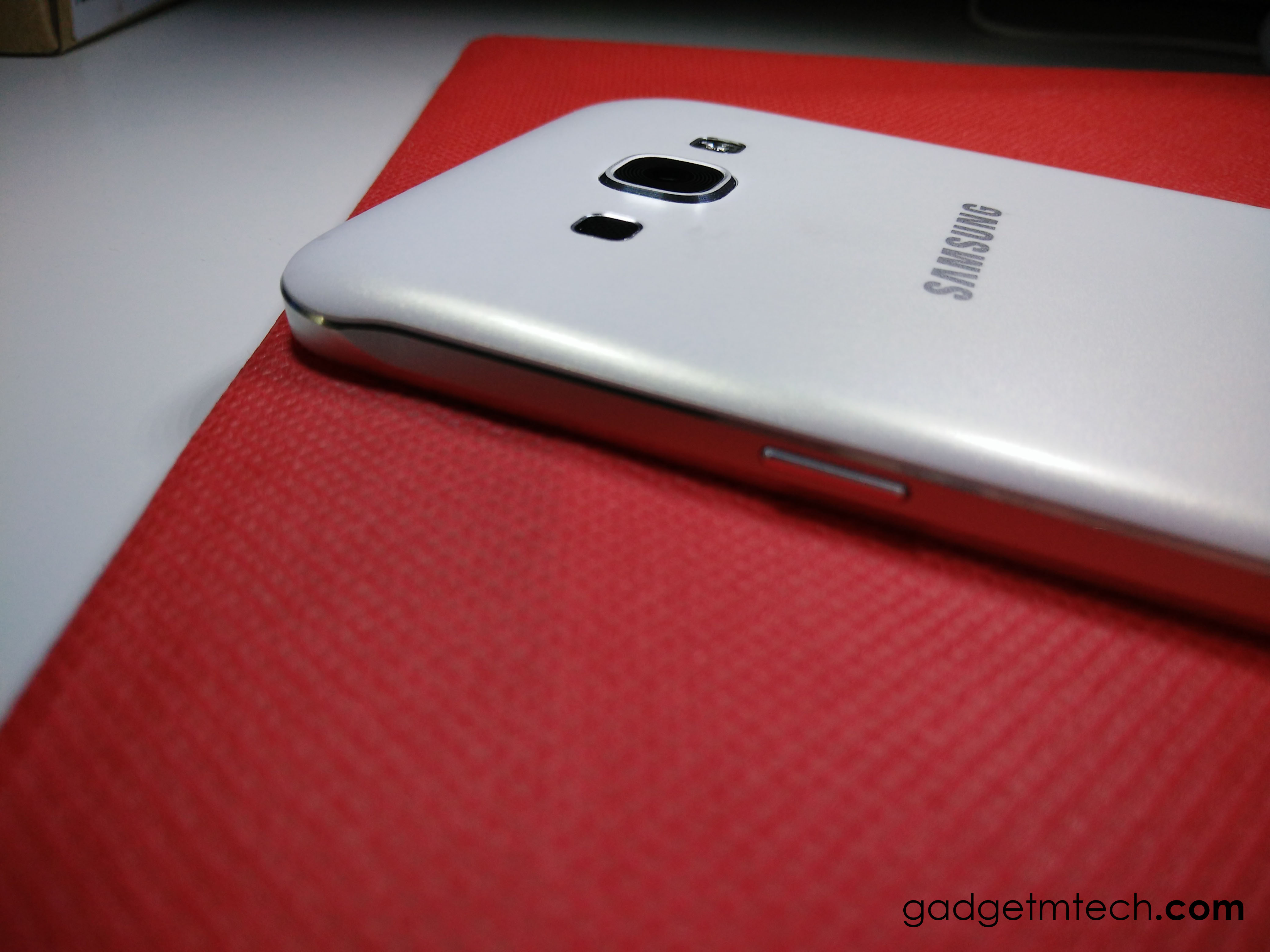 As for the speakers, sound quality from the rear mounted speaker isn't particularly impressive, as it is a tad soft and can be a bit difficult to hear in noisier environments like in public places. The whole experience of gaming or movie watching is somewhat lacking in the audio is department. Kinda goes without saying that due to its rear speaker layout, the sound also gets muffled when the device is placed on a flat surface. Surprisingly, the sound is pretty good and decent when plugging in a pair of earphones with the bass being a nice improvement from merely using the speaker.
Here's a fact that might shock you all despite being such a slim design, Samsung was able to pack a large 3,050 mAh battery inside the device thus making the battery life it provides really good. A very impressive aspect about this battery is when the device is in the idle state, often losing just 2 to 3% of battery when the device is kept without being charged overnight. In fact, I have left the device sitting idle on my desk for almost a full 24 hours, watching it only losing about 30% of its charge, possibly due to being connected to my home Wi-Fi. Despite dealing with a lot of gaming and YouTube videos watching, the device still allowed for up to 4 hours of screen-on time. With more casual usage such as browsing or normal reading, the A8 was able to reach 6 hours of continuous on-screen time.
All that plus the fact that the battery does not overheat easily, the battery life is very much a positive point in the A8.
Camera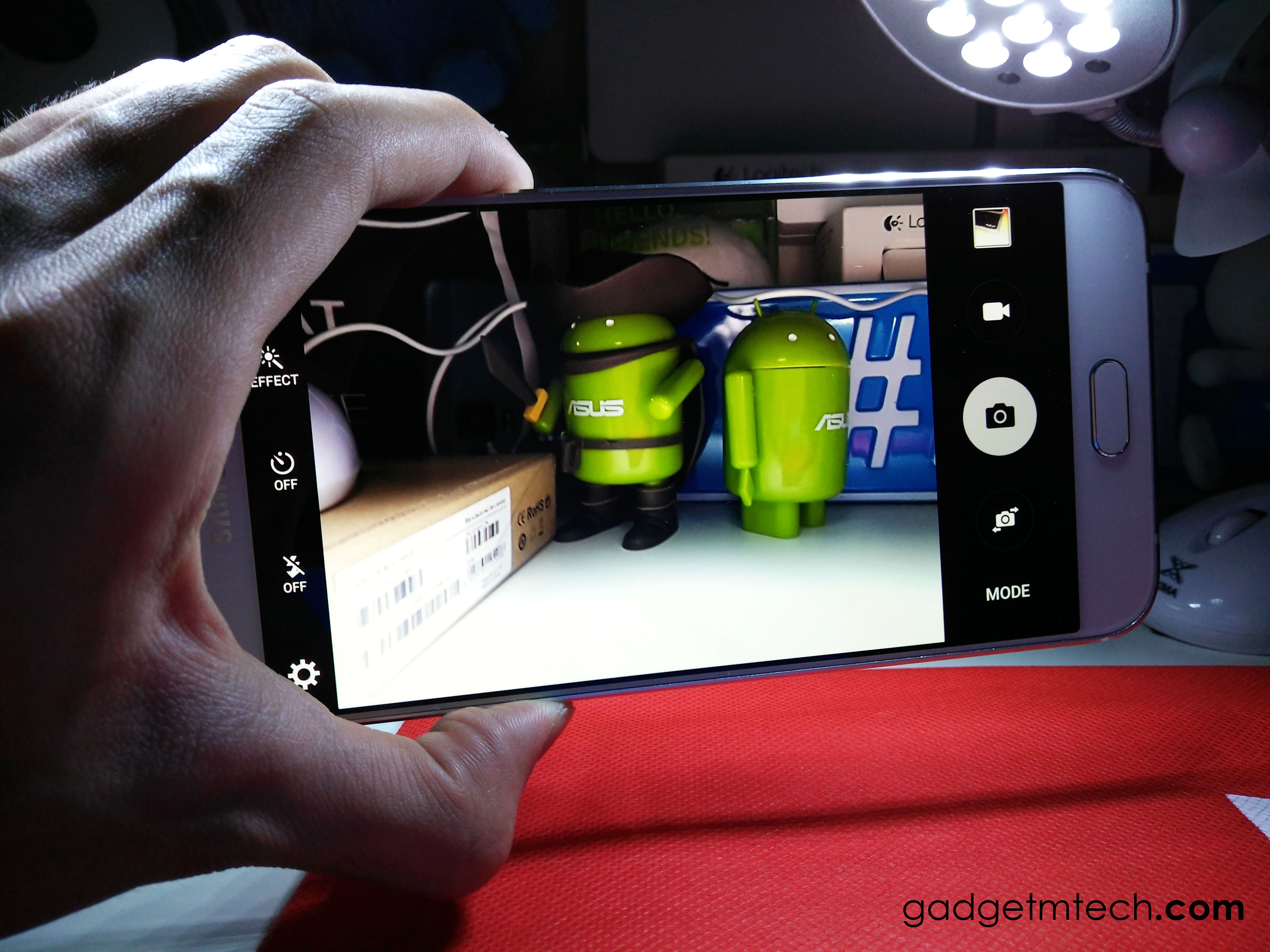 The primary camera is a 16 MP sensor with an f/1.9 aperture, as previously seen on the Galaxy S6. The sensor uses ISOCELL technology, but disappointingly there is no optical image stabilization available with the Galaxy A8. Just like the flagship mode, the camera is able to be quick-launched with a double tap of the home button even if the phone is locked. The front-facing selfie camera is a 5 MP unit with a wide angle lens that allows for some decent looking selfies should you decide to imitate Ellen DeGeneres' Oscars effort, a minor grip but the default beauty mode settings are a little too aggressive, achieving a natural looking image would require a little toning down of the settings.
UI on the camera itself is pretty much the same as what we saw previously on the S6. It's a much cleaner and more simplified UI especially when compared to the interface on older Samsung devices. There are only a few shooting modes are pre-loaded – including panorama, continuous shot, night, and Pro, which offers full manual controls and customization. Users do have the option to download other modes separately, so Instagram will have the delight of your creative and diverse work.
A major difference between the A8 and the S6 is the absence of HDR Auto, while the HDR toggle is buried deep within the rest of the shooting modes, slightly complicating the process between switching from HDR and Auto mode.
On the other hand, shutter speed is nice and quick. This makes it really easy to snap photos, and resulting in pretty good images. They're incredibly sharp and full of detail, especially so in above-average lighting conditions, resulting in minimal loss of clarity when zoomed in. Images are colorful and saturated which is par for the course for Samsung cameras these days, allowing for very bright and crisp images. Dynamic range provides good results in normal mode as it stands, but HDR, provided you sift through the settings, takes a step further and does a great job at introducing extra detail and color without allowing the images to appear overexposed or unnatural.
Despite the lack of OIS, the camera performs surprisingly well in low light conditions, and the f/1.9 aperture is the big game changer here. Images still exhibit a nice amount of color and sharpness despite the low light, and there's shockingly little noise reduction going on in post-production, all of which gives it a respectable level of detail.
Camera quality on the Galaxy A8 is certainly impressive especially so in average or above average light conditions, but its low light performance is nothing to sneeze at.
Software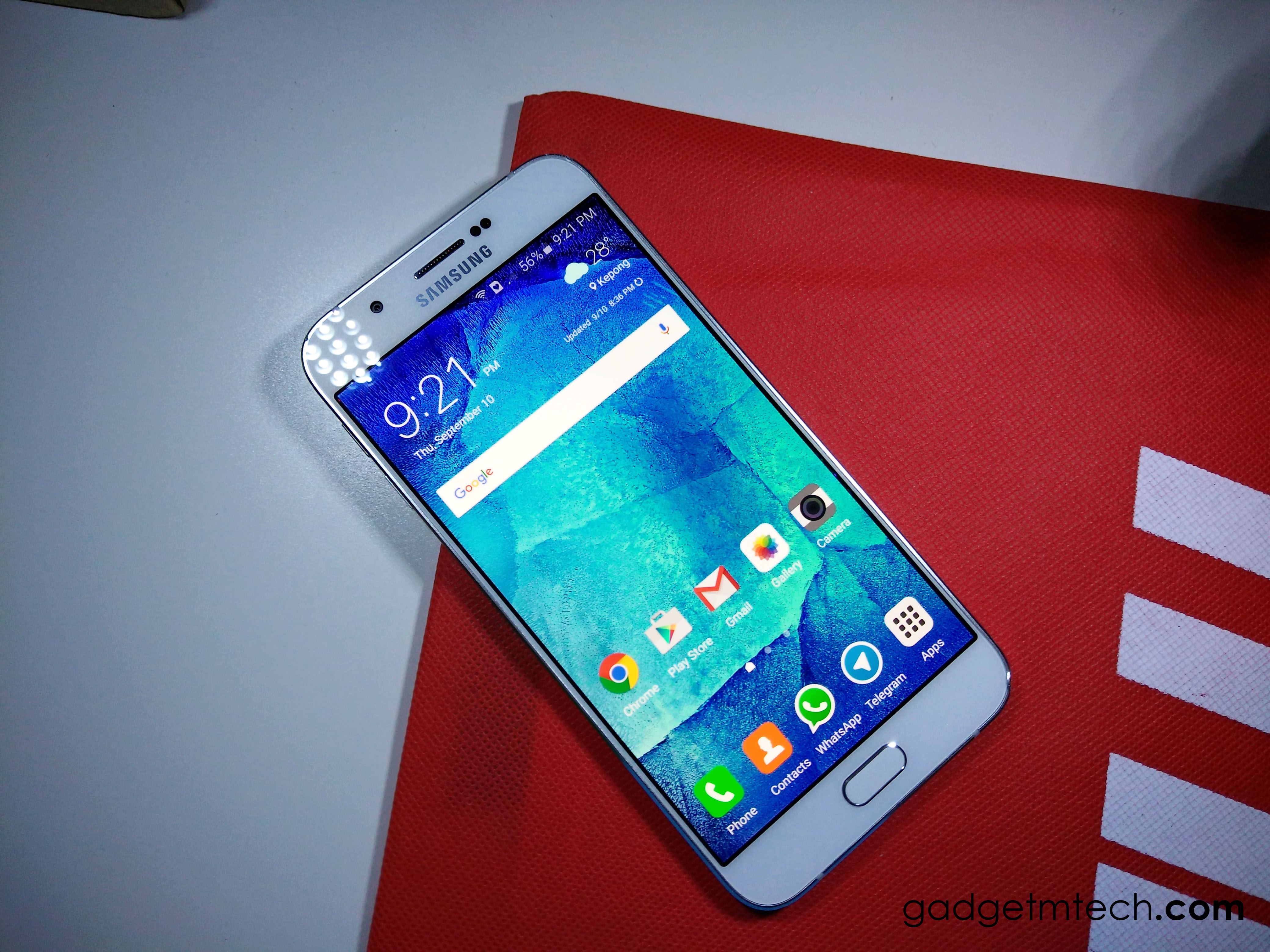 On the software side, the Galaxy A8 runs Android 5.1.1 Lollipop straight out of the box, with Samsung's typical TouchWiz interface being the cherry on the cake. The version of TouchWiz is leaner compared to the version that was first seen with the Galaxy S series flagships. So accordingly, there are a lot less unnecessary features and clutter on the device.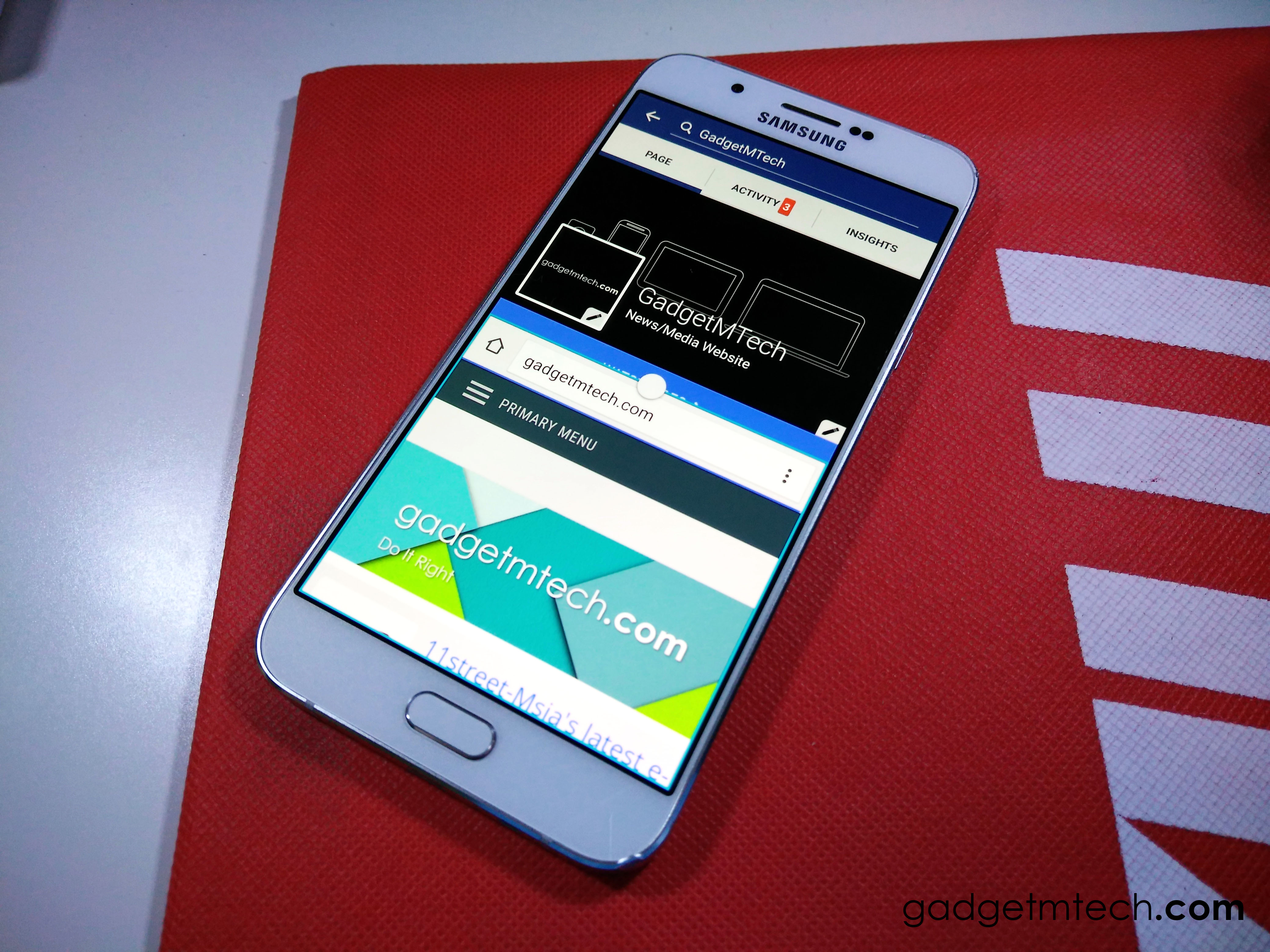 Many of Samsung's popular, and arguably useful features are also present. This includes the life-changing multi-window for split-screen multitasking, and smart gestures, like palm swipe to capture a screenshot or flipping the over the phone to mute phone calls and alarms which are both convenient as well as just cool.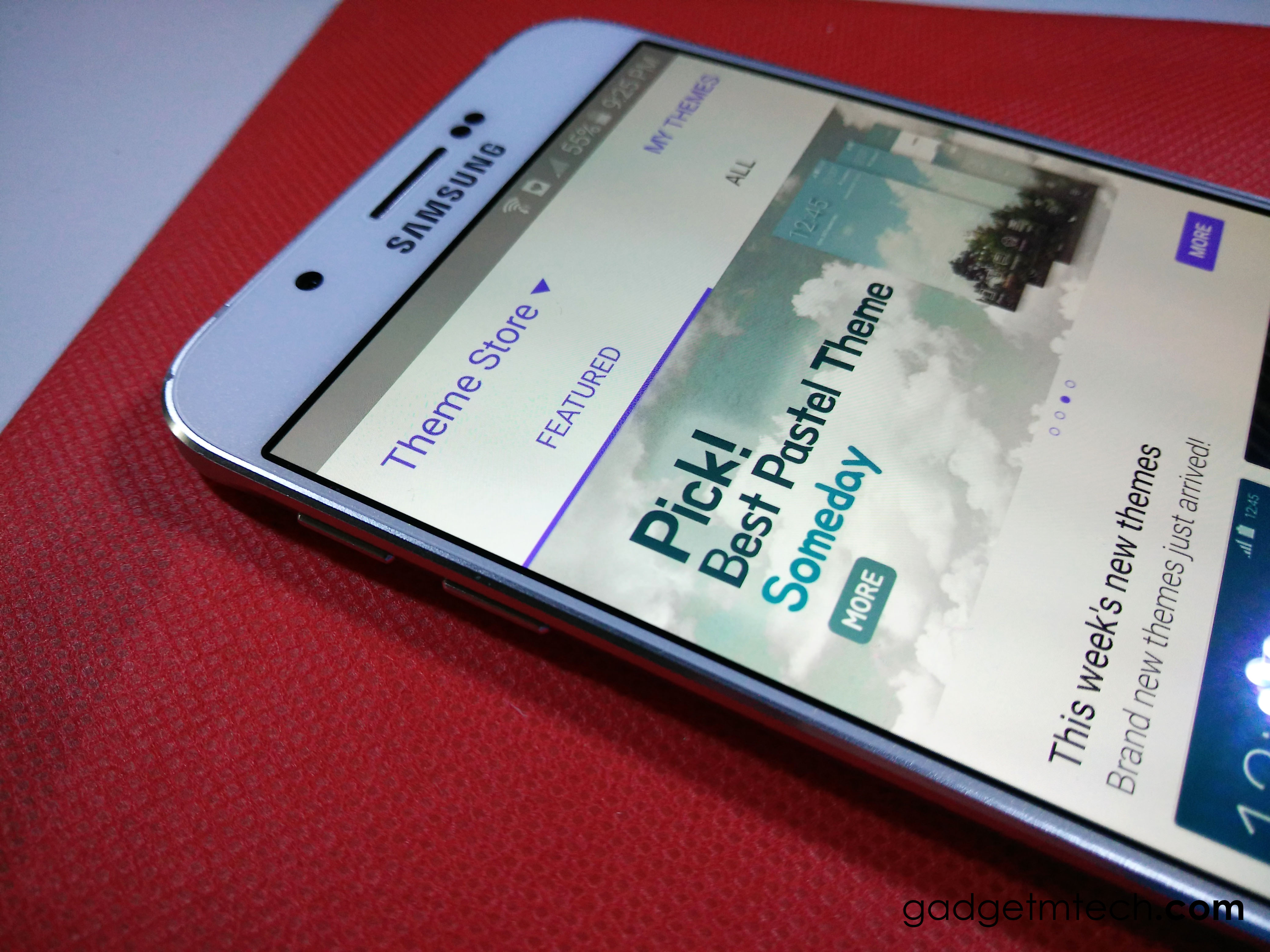 A8 also features the return of the theme engine that was debuted in the S6, which assists users change and customize the overall look of the UI to match his or her own tastes and moods. The theme store is constantly growing and compared to its early days is much larger and comprehensive. With such a wide variety of styles and themes available, there is a theme out there for everyone.
Nothing particularly noteworthy on the software end, as it feels more like an evolution of the S6's UI while removing the excess fat and making the whole interface more streamlined.
Pricing
Hearing all that, how much does the Galaxy A8 actually cost? Well it's retailing for about RM 1,888. Yikes, it's a bit on the pricier end of the spectrum. I personally feel that it should be in the RM 1,400 range due to the mid-level specs so a high price like that is a little shocking.
So, the pricing is definitely not one of its positive qualities by being a little overpriced.
Final Thoughts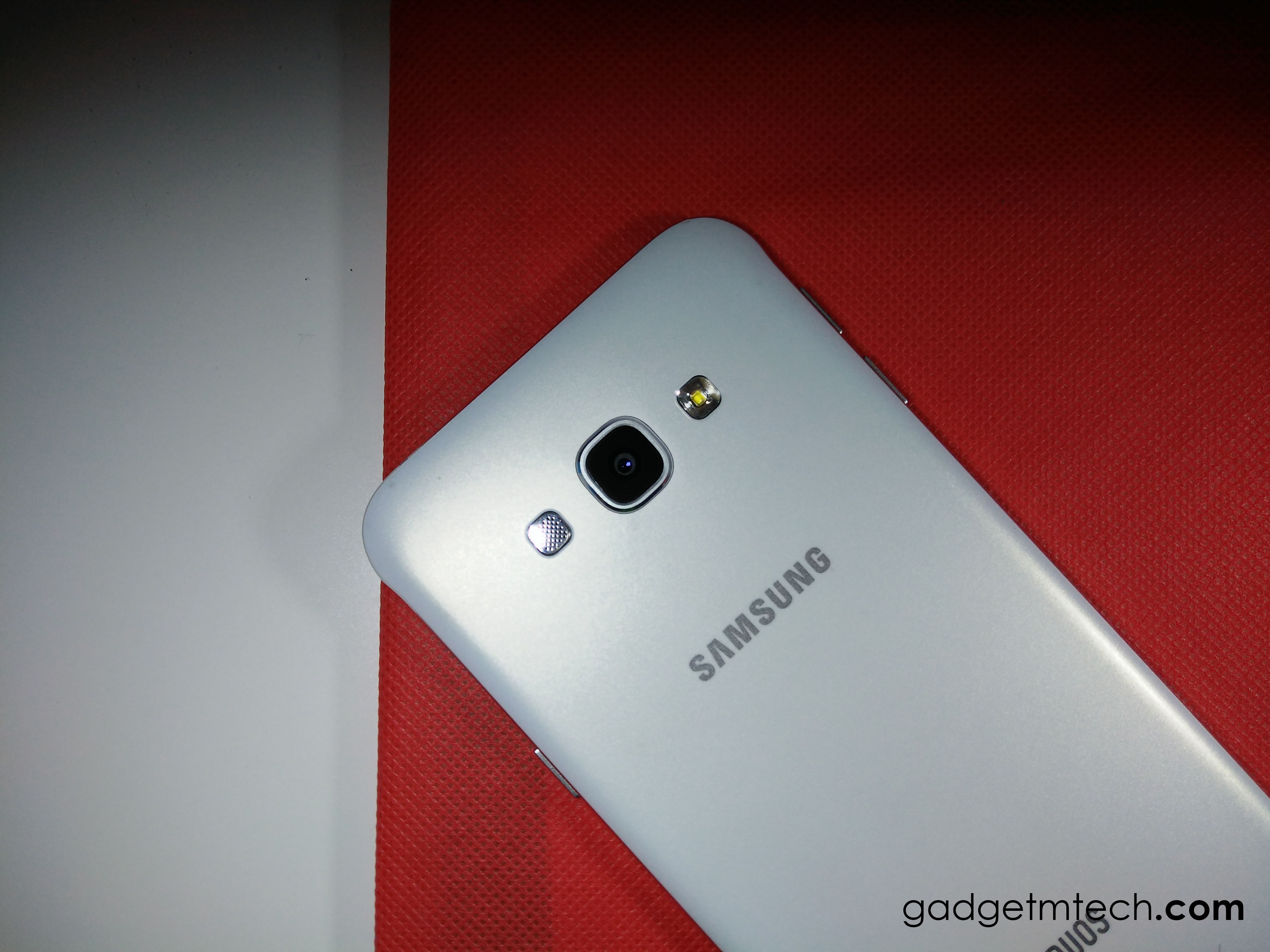 The A8 offers up a beautiful full metal design, along with its 5.7-inch Super AMOLED display giving Malaysians another big phone to love. Performance is also pretty decent with its Exynos 5430 chipset, allowing users to game and watch videos with little lag. Battery life is also impressive all thanks to its surprisingly large 3,050 mAh battery. As for its camera, it performs very well in normal light conditions and holds its own in low light conditions. Software is a streamlined version of the S6's UI which is always a plus.
Now for the negatives, as stated above I feel that the 2 GB RAM is a little lacking at times as performance can catch up to this phone when trying to perform its tasks quick and smooth. I also felt that the rear-mounted speaker was also a low point in not offering optimal sound quality for the full user experience. While I liked the UI on the A8, I felt that it could have tried something new but that's just being nit-picky. Lastly, the price is a glaring negative as it's probably RM 300 – RM 350 too expensive due to its mid-level specs.
All in all, I really liked this phone as it has a gorgeous design, a great camera and a fantastic battery life with only the price and RAM being the major sticking points.
Yay
Premium Design
Large and vivid display
Very good battery Life
Good camera
Nay
Only 2 GB of RAM
Disappointing speaker sound quality
Flagship price for a mid-range smartphone