Introduction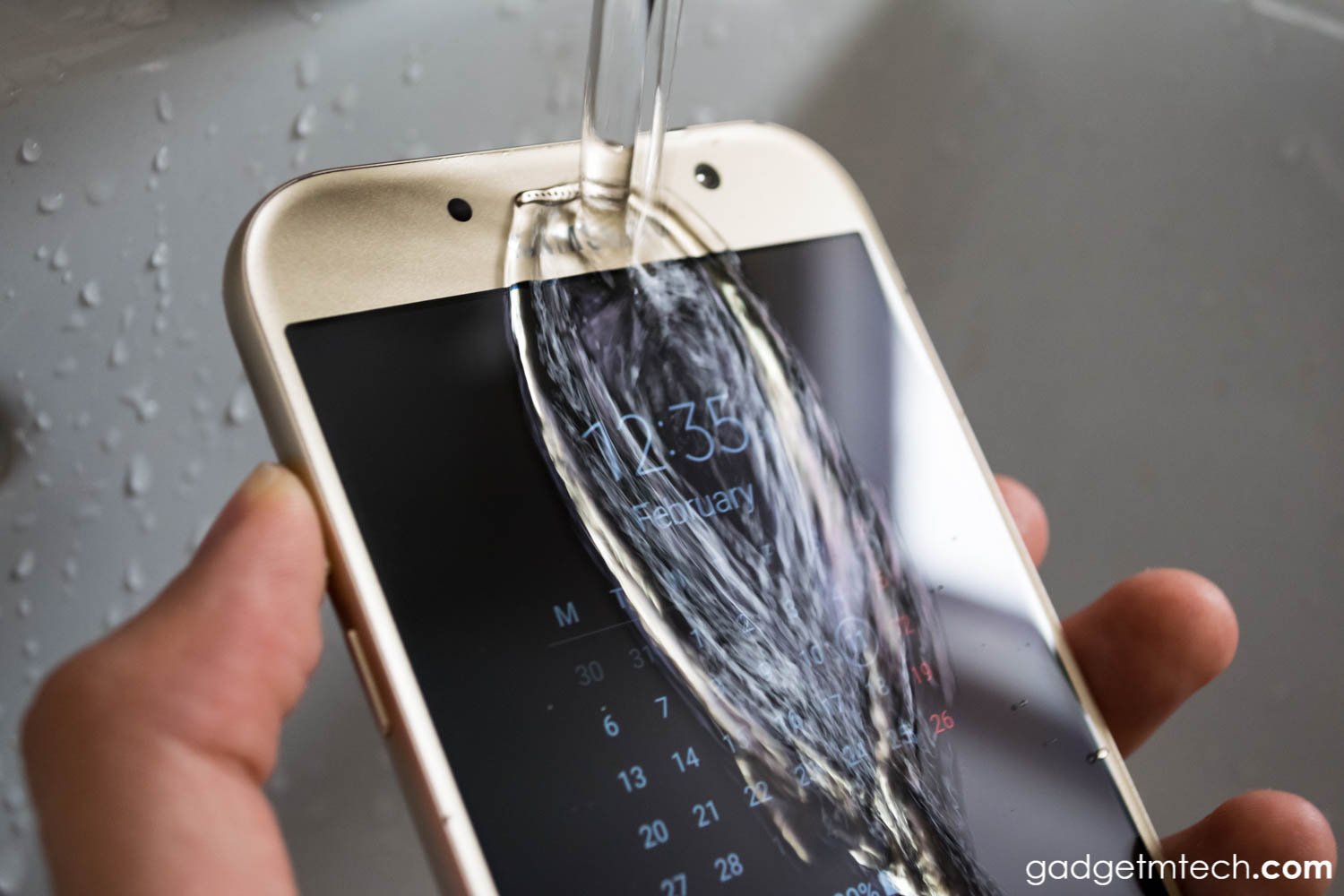 2016 is a tough year for Samsung, we all know what happened to the Galaxy Note7. Okay, I know, I know! Let's just forget about it, Samsung Malaysia launched the Galaxy A Series (2017) on the fifth day of 2017. It's been quite a while since we last reviewed a Samsung smartphone. Well, not anymore, we recently got the Galaxy A7 (2017) review unit. Without further ado, let's begin!
Unboxing
Check out the unboxing video below: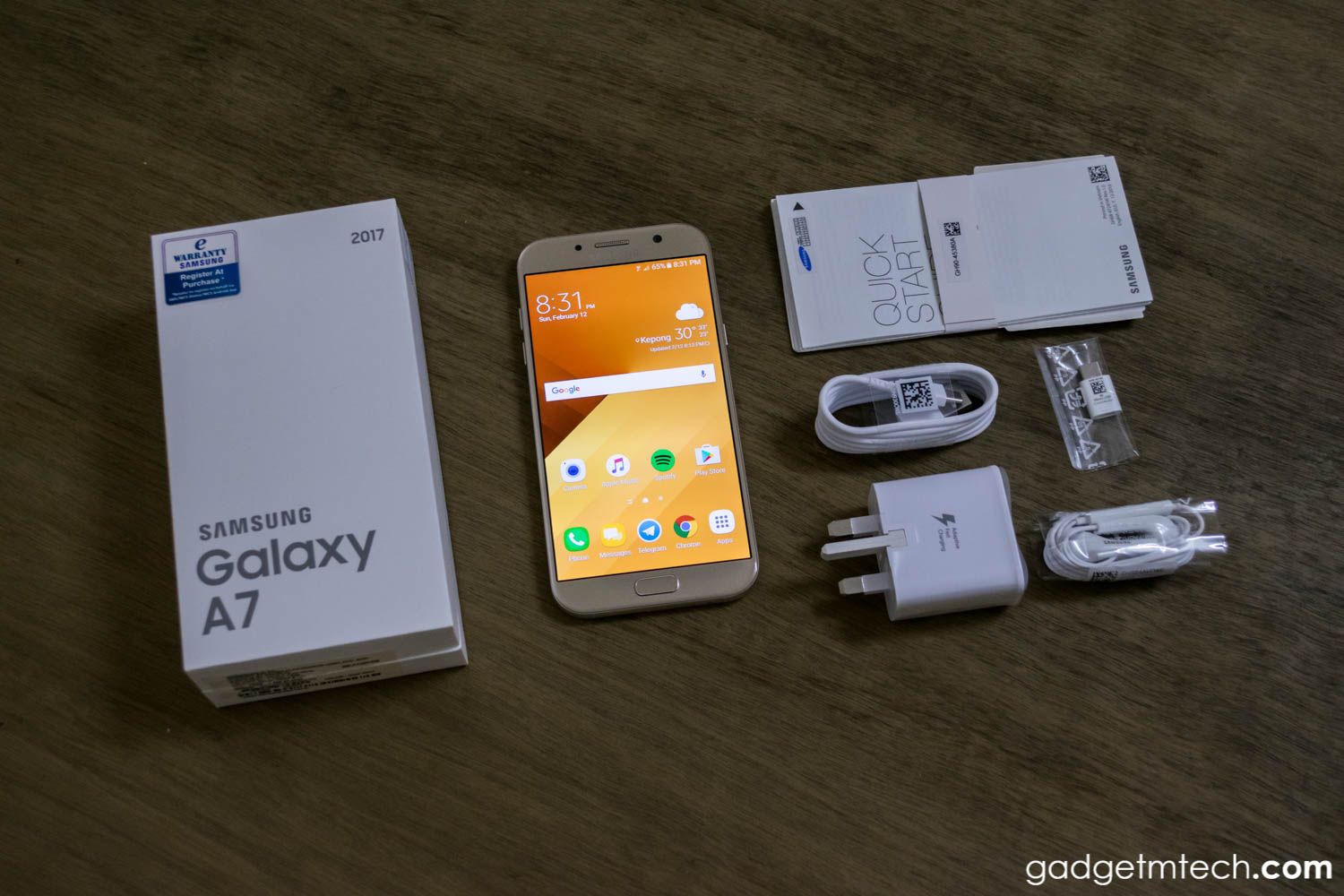 Open up the box, that's all you got. I'm actually surprised to see the USB Type-C to MicroUSB converter, it's a pretty useful adapter.
Glass Sandwich Design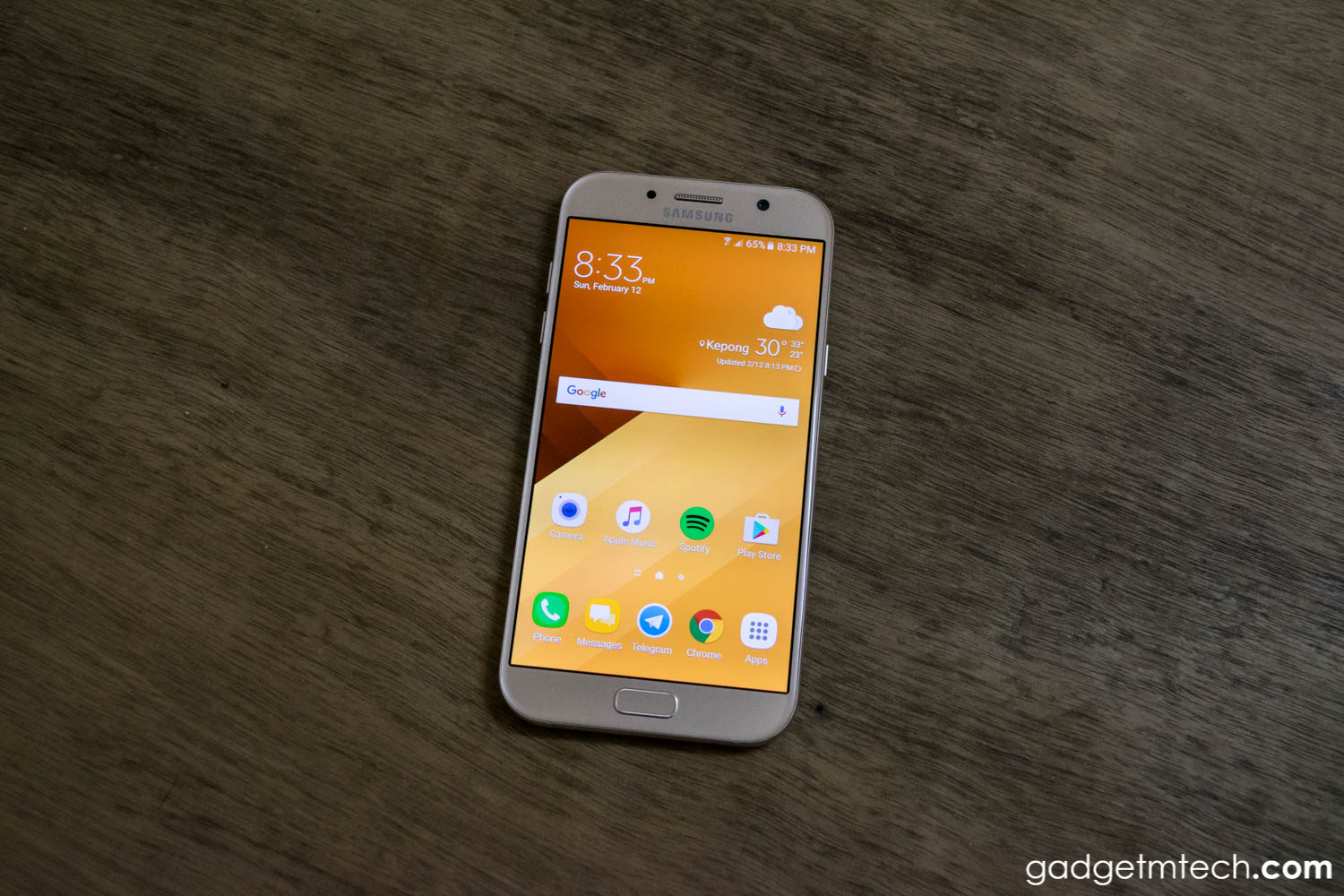 Looking at the front of the device, the Galaxy A7 (2017) actually looks pretty much like the Galaxy S7, but with a slightly thicker bezel. The button placements are pretty much at the same positions, the only difference is the bigger form factor. The front panel is covered by a 2.5D curved glass, which makes the phone looks premium. As usual, the home button/fingerprint sensor is located below the screen, in between the recent apps and back buttons.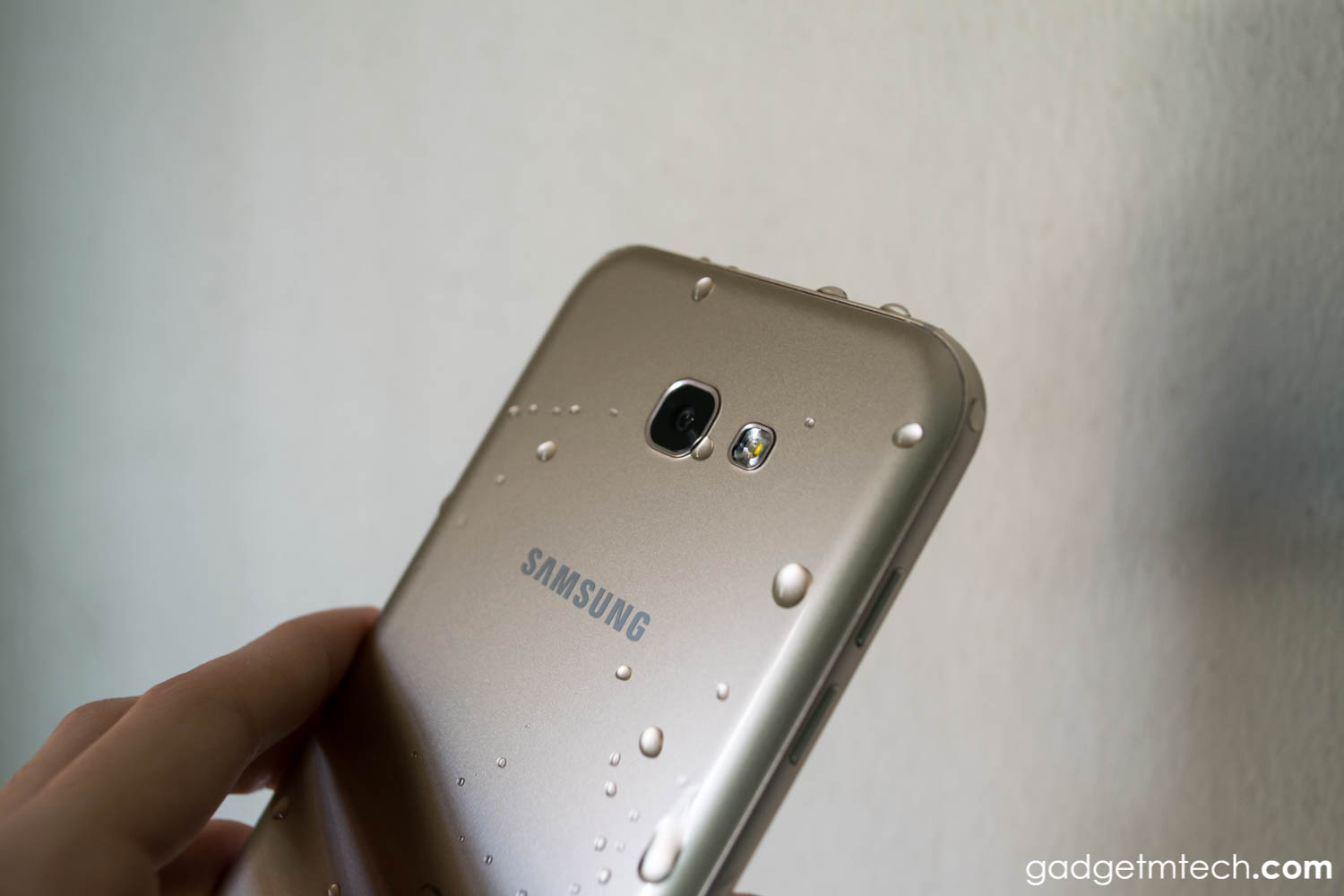 The back panel is entirely a large piece of a glass panel with two curved sides that improves the grip while holding the device. Like most smartphones with glass back design, the phone is slippery and prone to fingerprints. Additionally, the rear camera isn't protruding at all, which definitely is a plus point for the phone.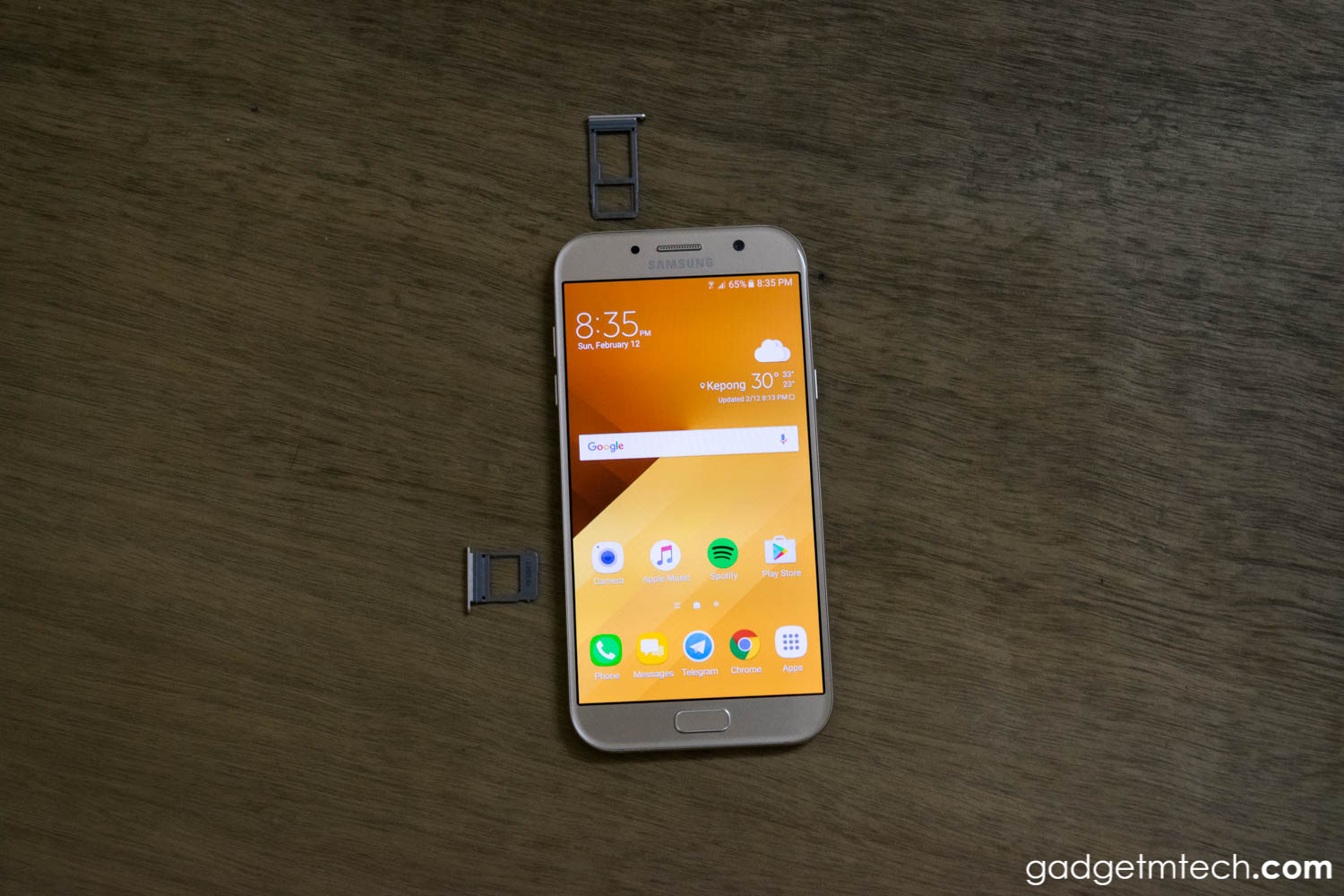 The Galaxy A7 (2017) is a dual-SIM device, it has three slots (two for SIM and one for MicroSD) instead of having typical hybrid SIM slot. The side houses the SIM 1 slot, while the top one has the second SIM slot as well as MicroSD card slot.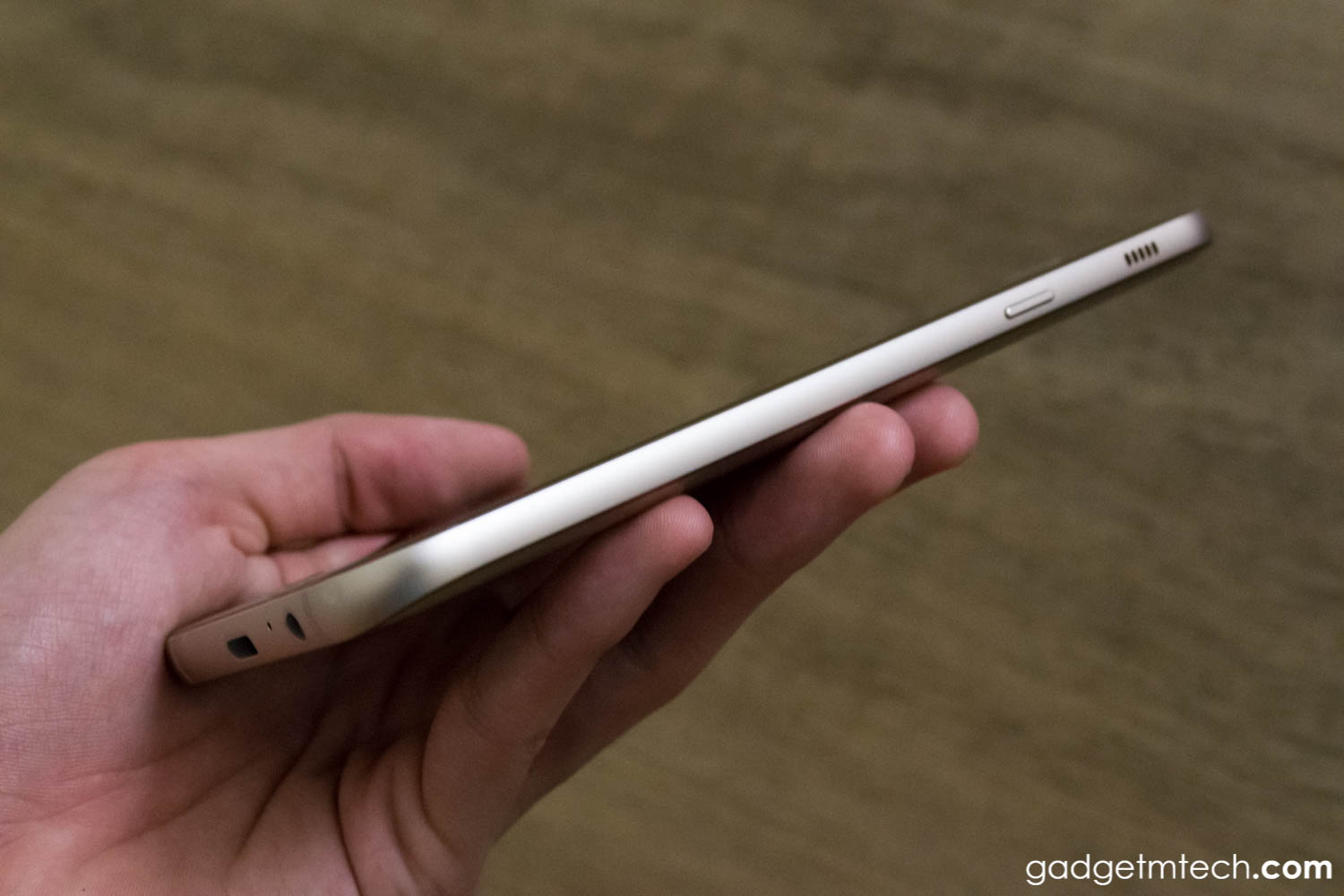 The bottom of the device houses a USB Type-C port, microphone, and a 3.5mm audio jack. So, where is the speaker? The speaker is now located at the right side of the device, right above the power button. It's actually a good idea as we often accidentally blocked the speaker grill while watching videos or playing games in landscape mode if the speaker is located below the phone.
Conclusion: Overall, the Samsung Galaxy A7 (2017) is a beautiful phone. The phone is slippery and prone to fingerprints. Thankfully, my review unit is a gold variant, which doesn't look obvious even there are a lot of fingerprints. I'm really pleased that the phone actually has a USB Type-C port, it's already 2017 and we shouldn't see any new devices still having a MicroUSB port. Samsung has solved the problem of people accidentally blocking the speaker grill while holding the phone in landscape mode by moving the speaker to the side. Well done Samsung!
Impressive AMOLED Display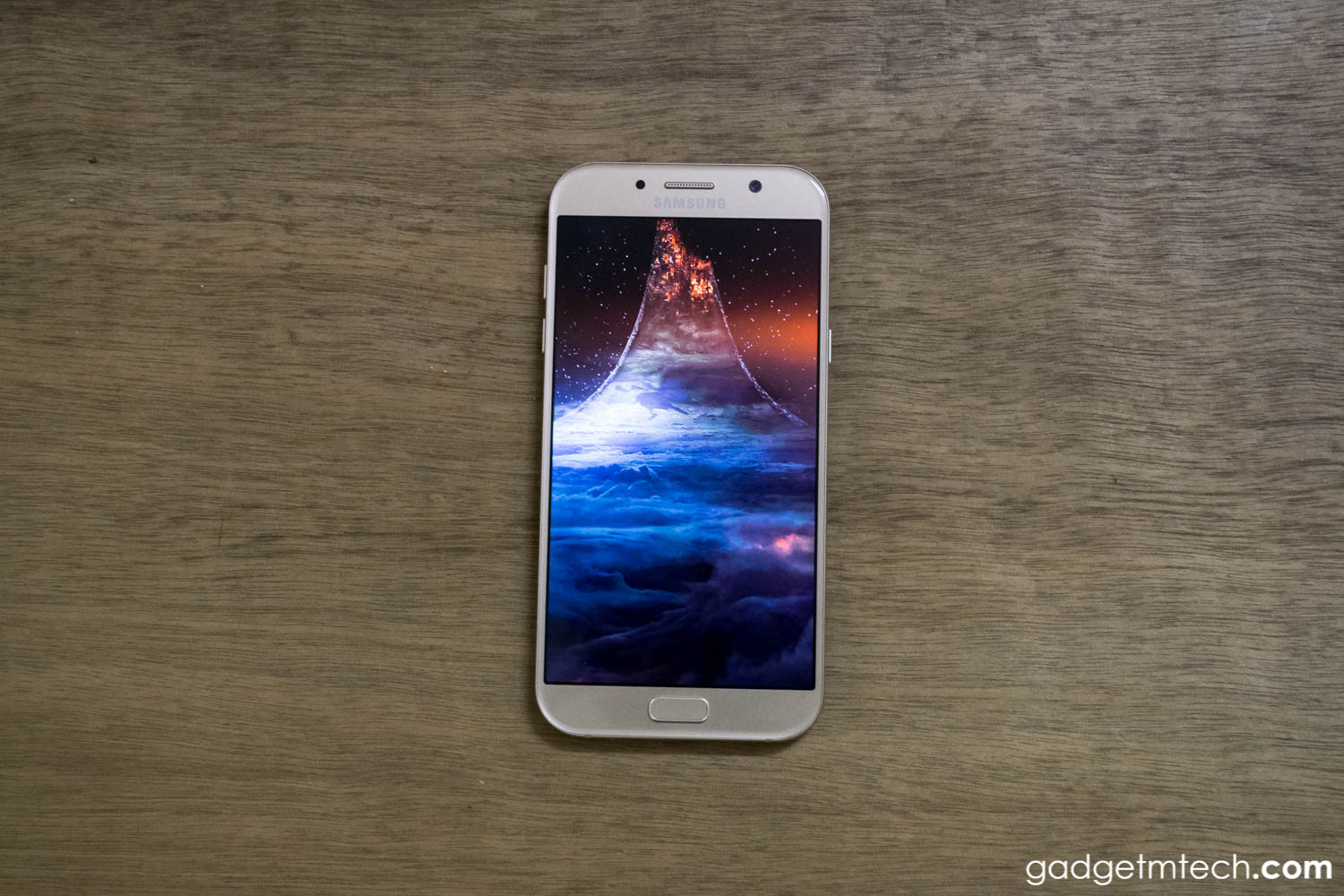 If you read my previous reviews about smartphones with AMOLED displays, you'll know that I actually like AMOLED display a lot. The Galaxy A7 (2017) sports a 5.7-inch Full HD Super AMOLED display, which is definitely one of the best Full HD displays right now available thanks to its deep black and eye-pleasing colors.
Conclusion: Being a Samsung device, for sure the Galaxy A7 (2017) will have an AMOLED panel. AMOLED display has always been the benchmark of smartphone display as it offers deep black and vivid colors, but sometimes it's a little bit over, though.
Exynos 7880 Processor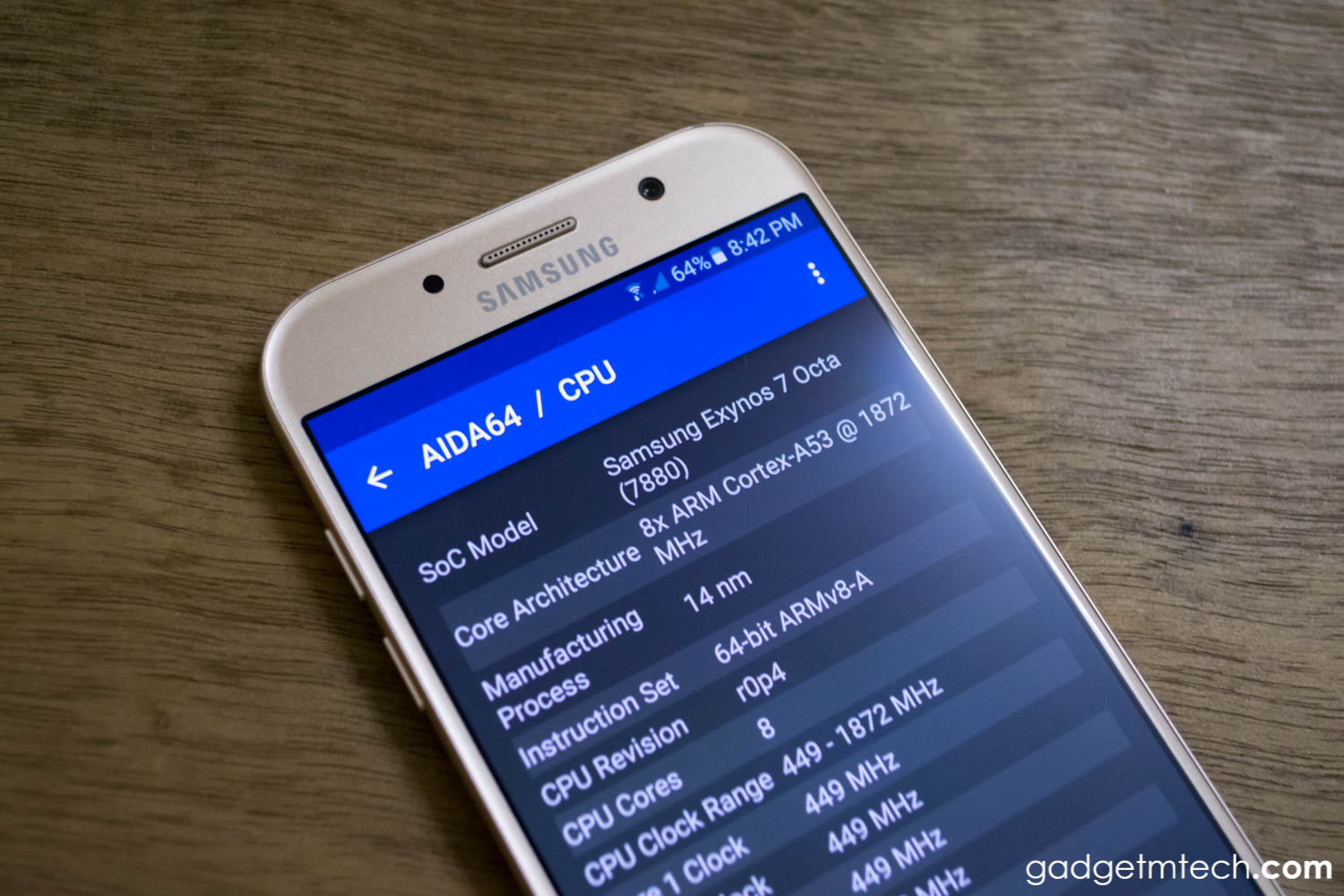 Unlike most mid to high-end smartphones, the Galaxy A7 (2017) is powered by the in-house Exynos 7880 octa-core processor clocked at 1.9GHz with 3GB RAM and 32GB internal storage. The processor comes with the revolutionary FinFET technology and 14nm manufacturing process, which really helps a lot in terms of power efficiency and battery life.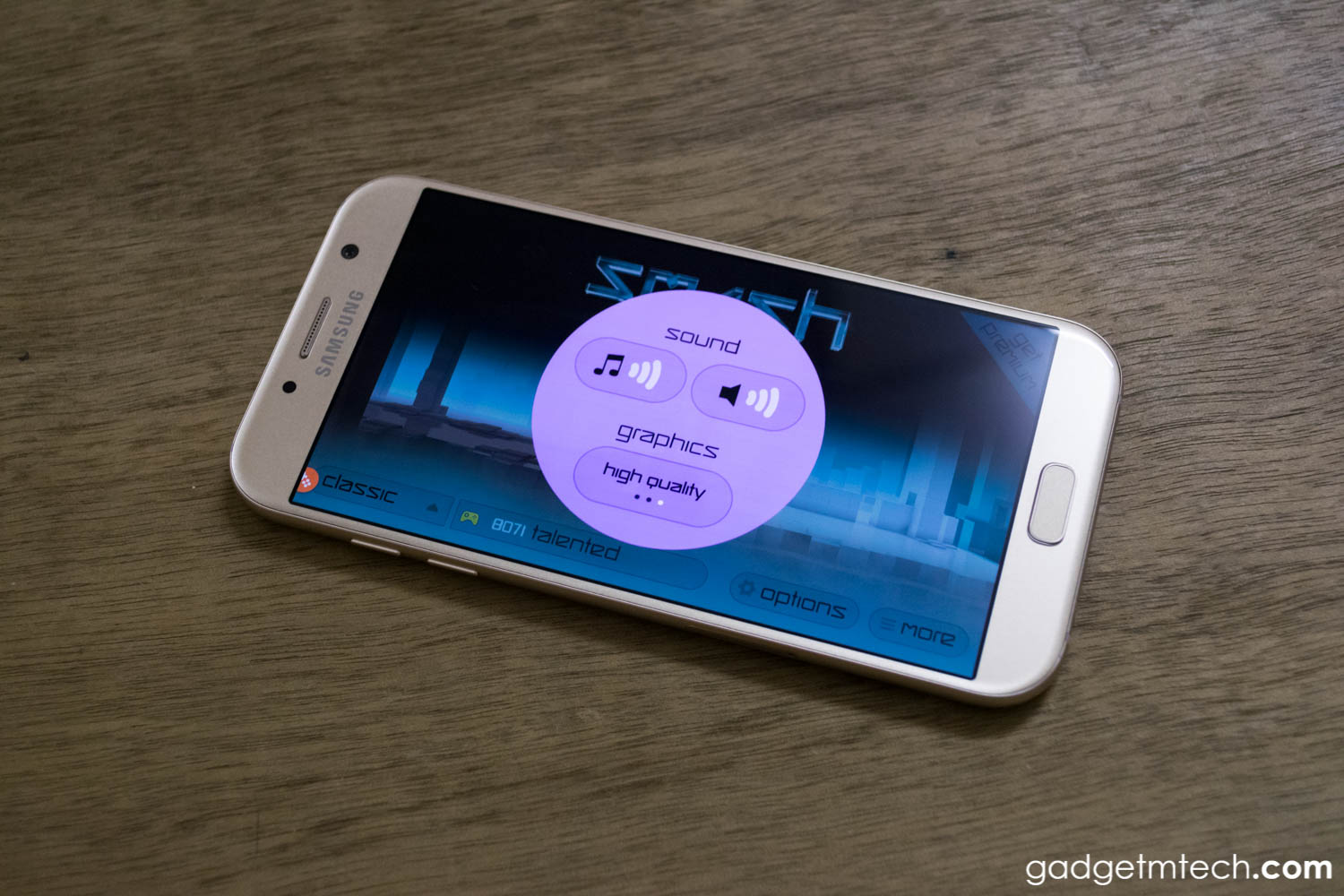 The device is able to handle games easily without any hiccups and stutters. It isn't the fastest smartphone but it'll get the job done in a short time. Multitasking isn't a big problem, and there are a few handy features for multitasking, which we will be covering later.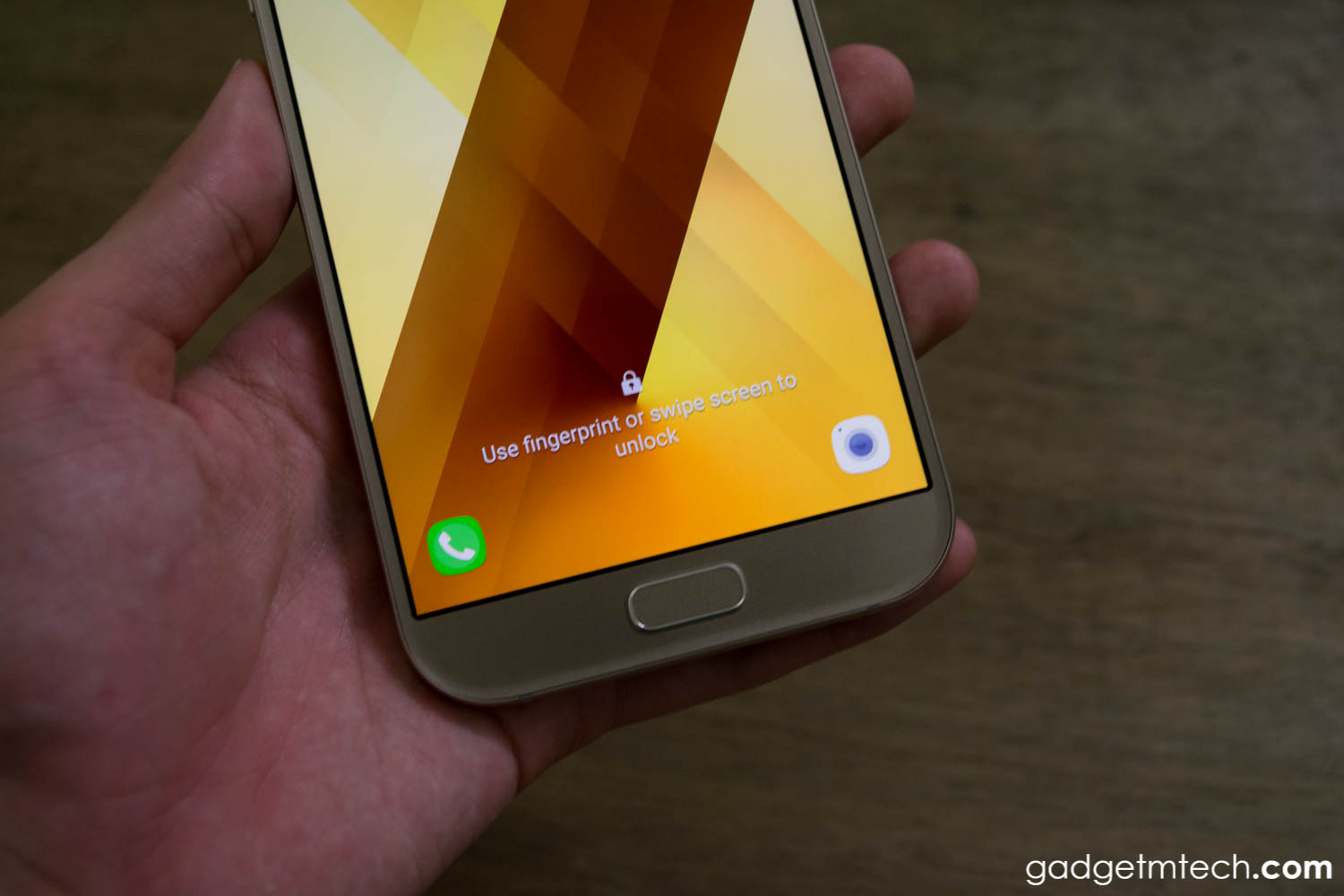 The fingerprint sensor isn't as fast as its competitors, it took quite a while for the phone to respond and unlock the screen, in just about 1 second, though.
Conclusion: The Samsung Galaxy A7 (2017) performance is impressive. Even though it's not the fastest smartphone right now, but the phone is still fast.
Improved User Interface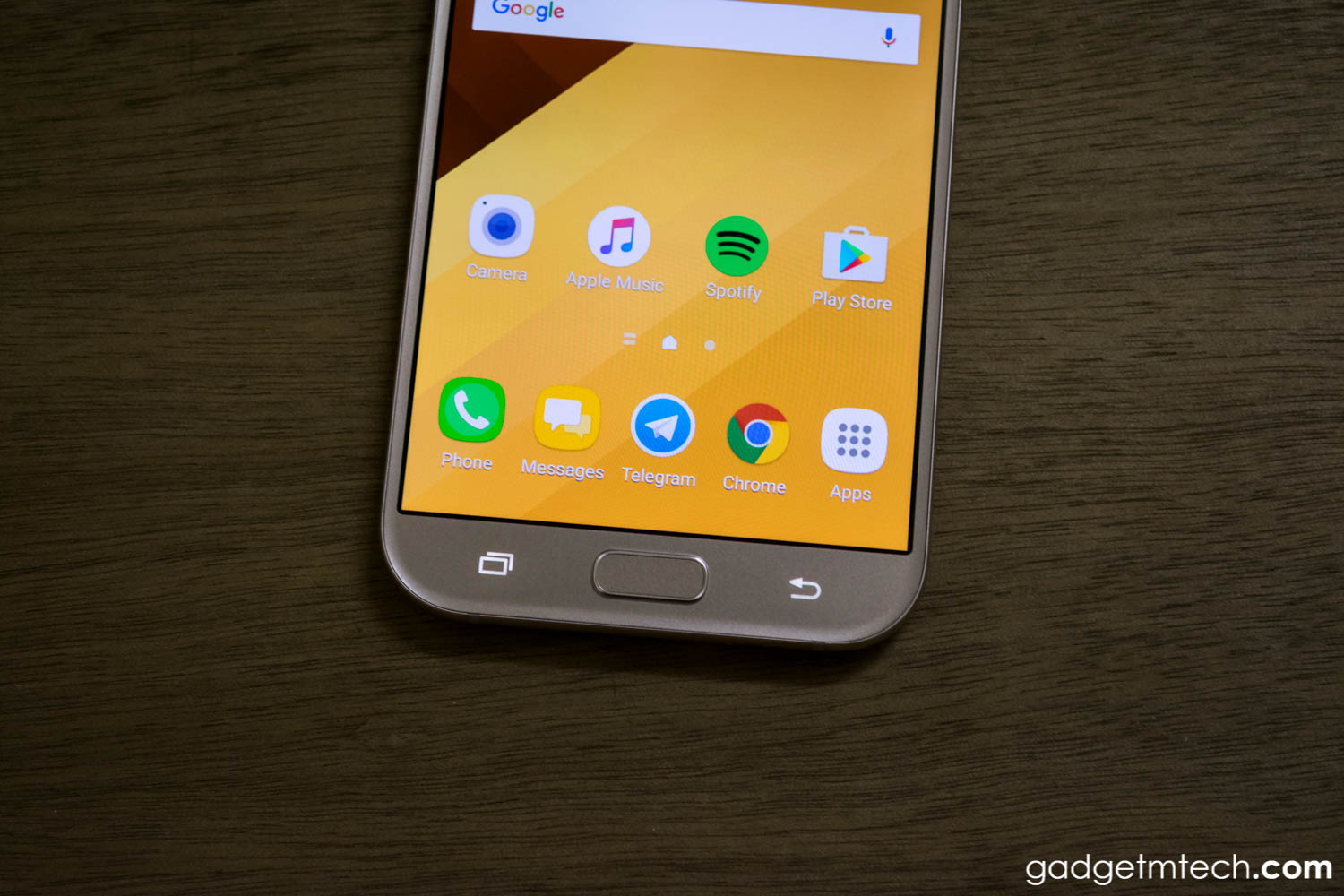 The Samsung Galaxy A7 (2017) is running on Android 6.0.1 Marshmallow with Grace UX on top. The new Grace UX now looks more refined and has a significant improve in terms of performance. However, I still feel that the phone has some slight delays, probably because of the animations. One more thing, the phone doesn't have a vibration motor, which means there's no haptic feedback. Why, Samsung, why?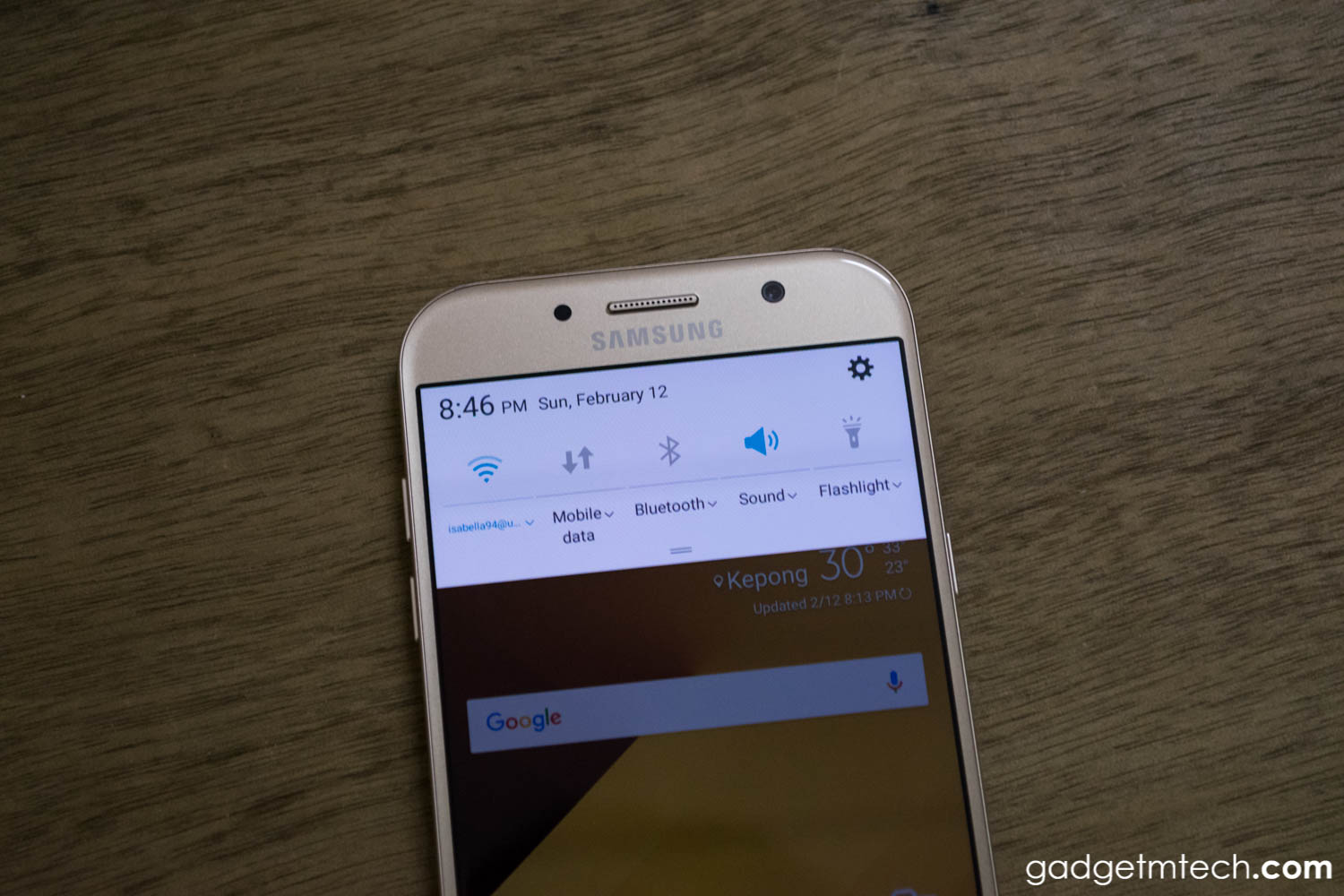 Even though it's not the latest Android Nougat, which will be available for update soon, the interface actually looks a lot like the one on Nougat and there is some Nougat features too. Well, not really, some features actually existed a long time ago.
Always On Display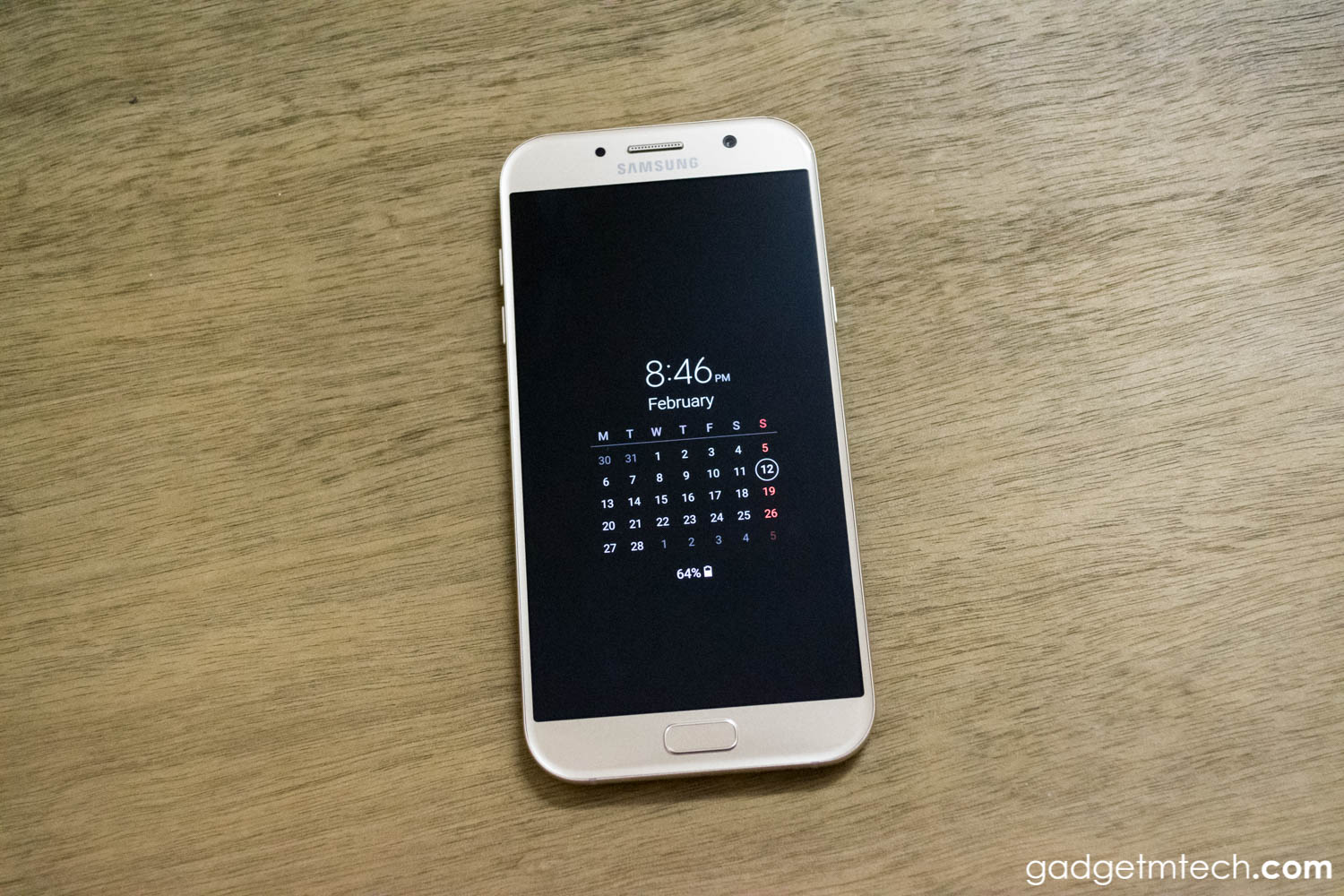 Surprisingly, the Galaxy A7 (2017) actually has Always On Display, which will display an image or information on the standby screen. For me, I choose to show Calendar so that I can check on the date instantly. You can also double tap a notification icon on the Always On Display screen to view that notification.
Split Screen View & Pop-Up View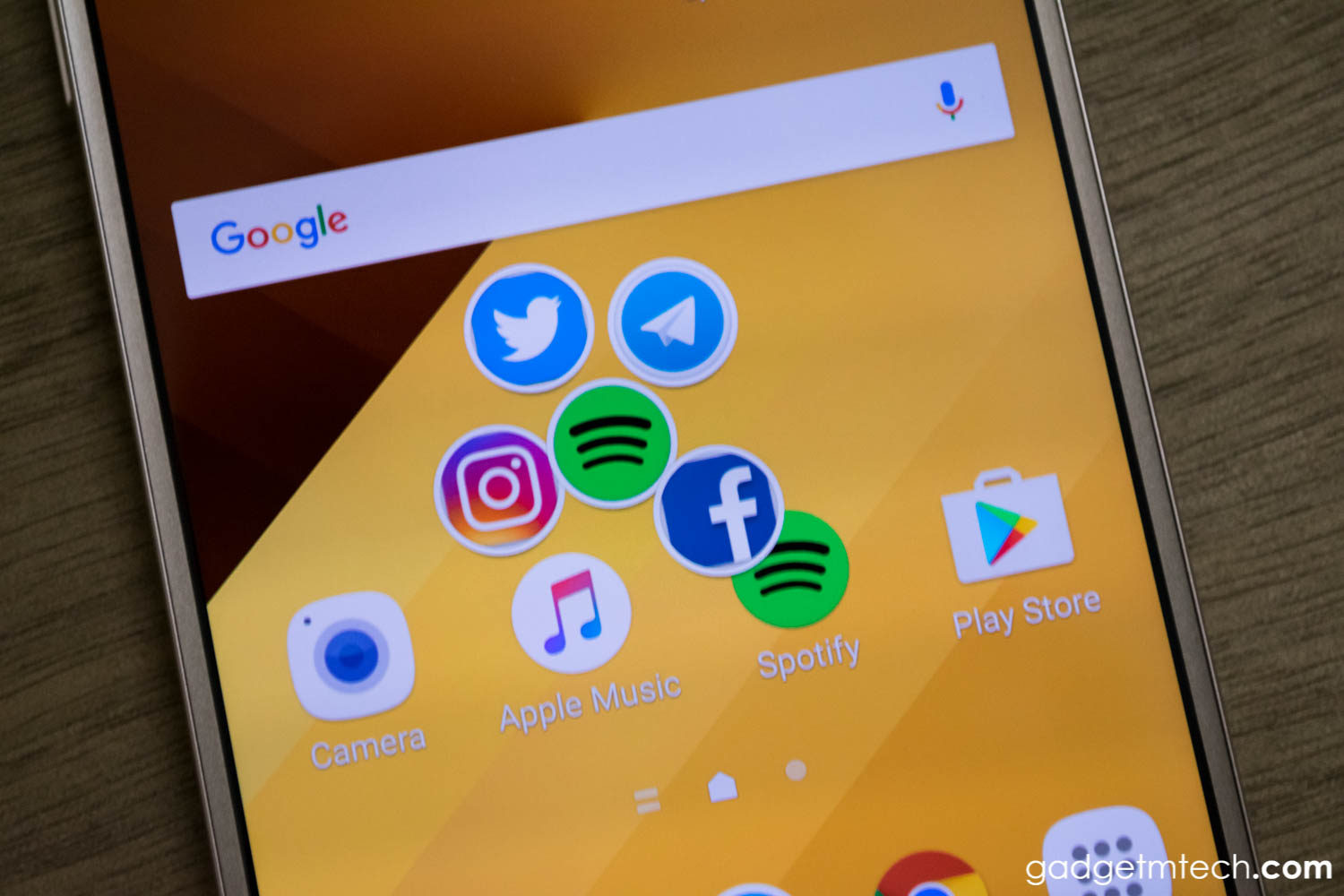 These are actually an old feature, which allows you to use a few apps at once on a screen. Furthermore, you can open up to 5 apps and minimize them into the floating icons. To maximize, all you need to do is tap on them.
Game Tools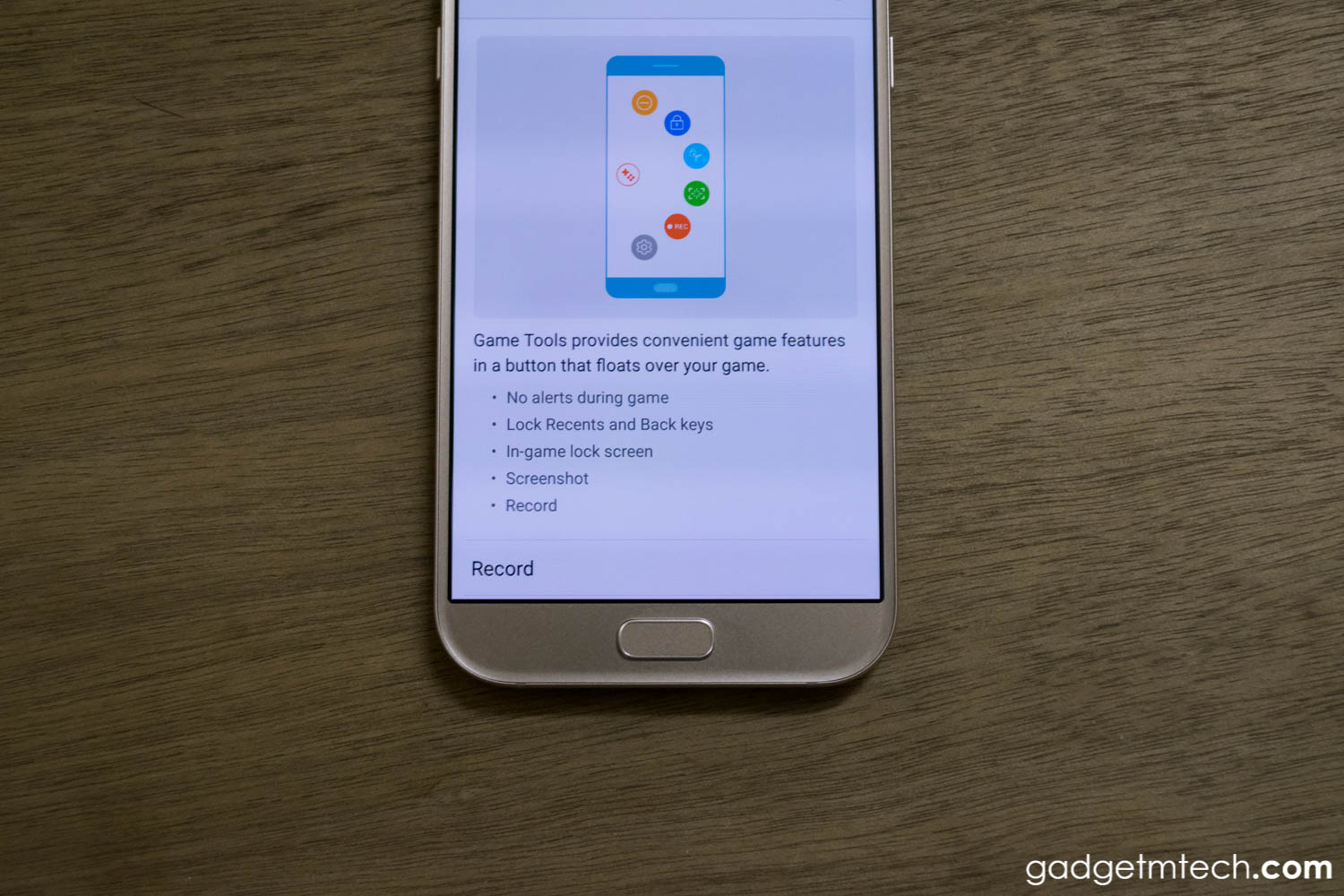 Game Tools is dedicated to gaming. It comes with a few features like no alerts while playing a game, lock the Recents and Back buttons, in-game lock screen, screenshot the gameplay, and record the gameplay.
Samsung Pay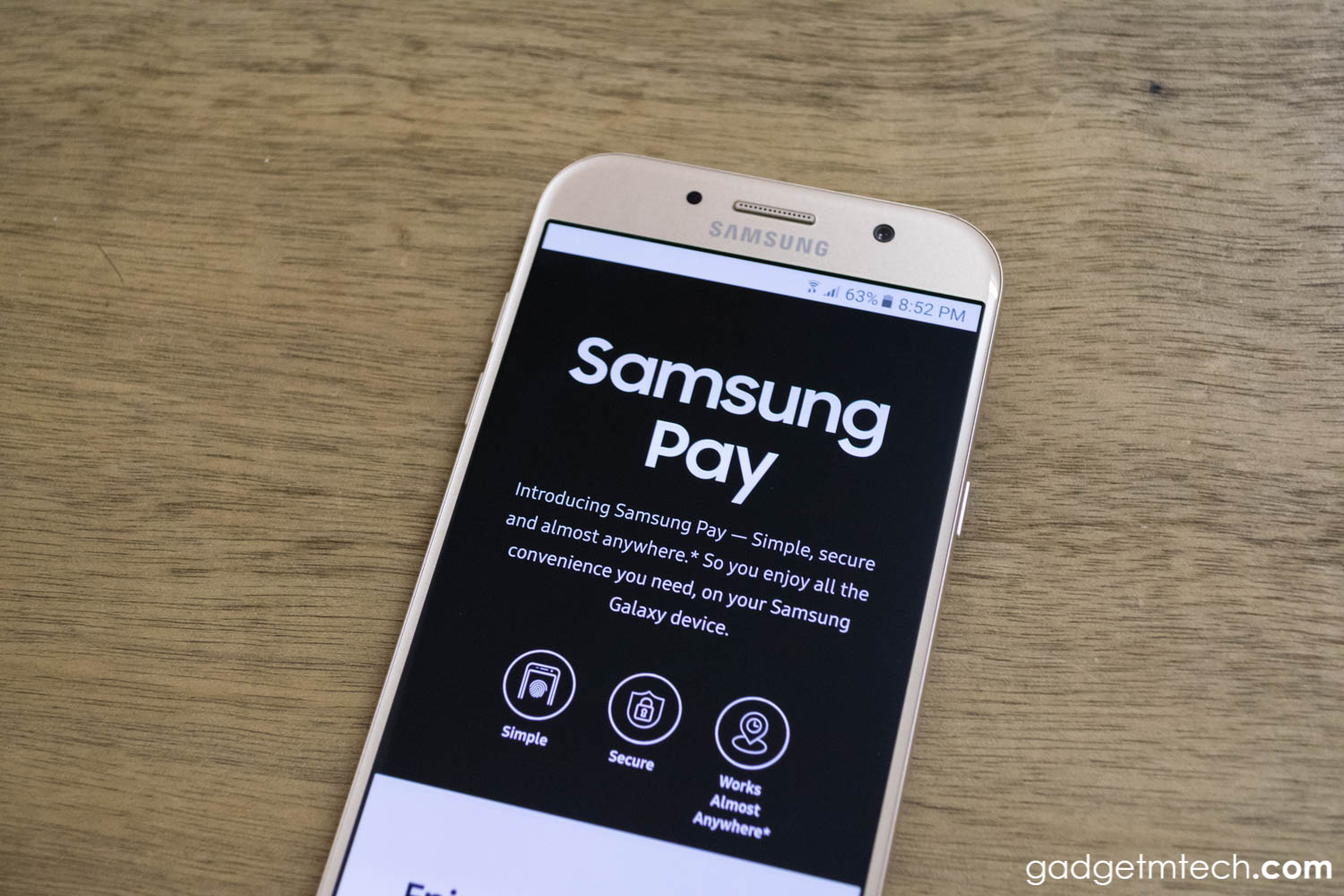 Samsung Pay lets you pay your bills using your phone, currently available for Maybank card users only. Click here to read more about it.
Conclusion: Overall, Grace UX has improved in terms of look and performance. There are quite a few handy features as well, but I just don't understand why the device doesn't have haptic feedback.
IP68 Water and Dust Resistance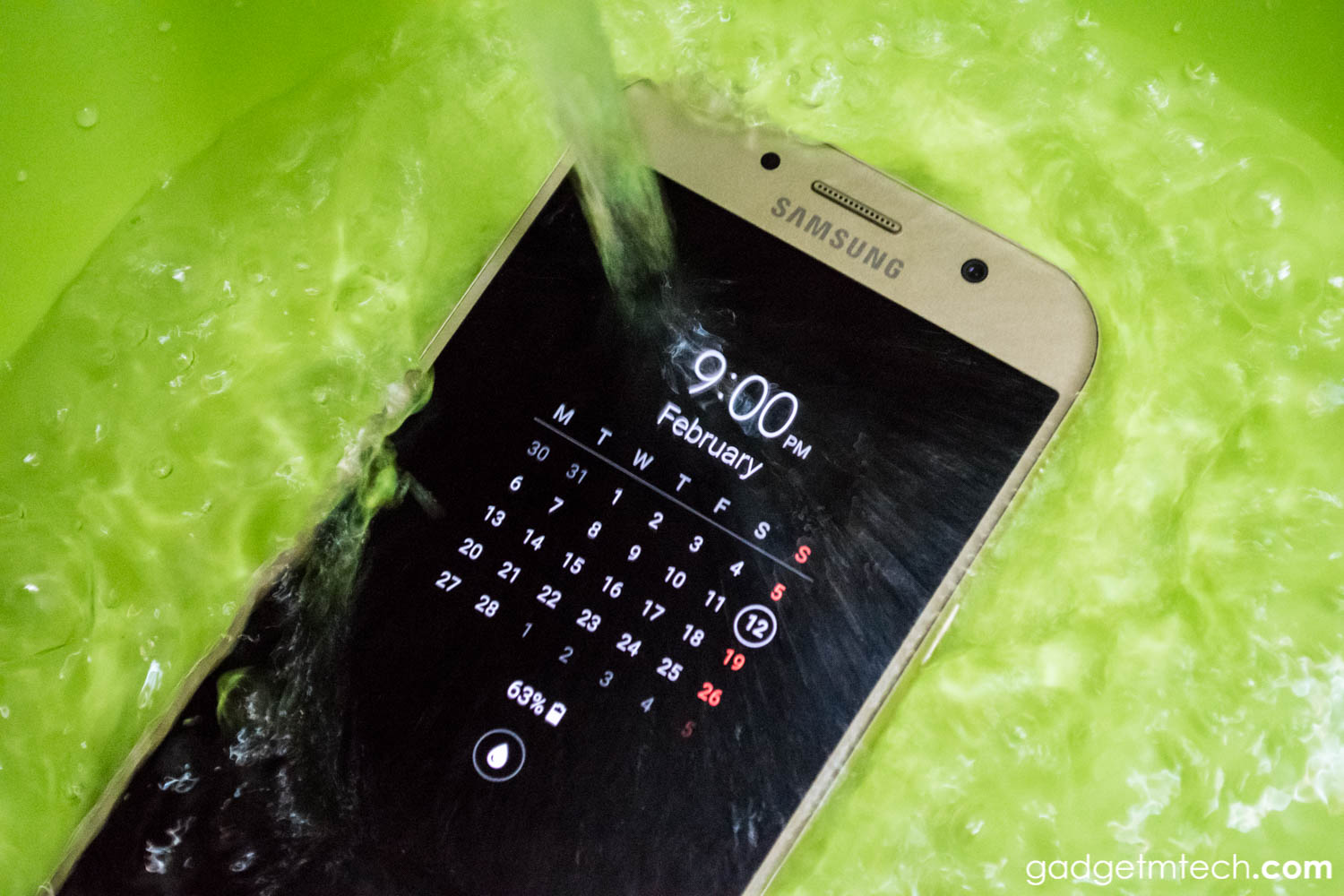 The 2017 Samsung Galaxy A7 is IP68-rated water and dust resistance, a first in the Galaxy A Series. The device can be immersed in 1.5 meters of water for up to 30 minutes. Honestly, I really prefer a phone with water and dust resistance feature, it means that I can wash my phone if I think it's dirty. Seriously, do you know that your phone is dirty with full of bacteria?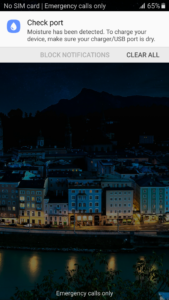 What so great about the A7 (2017) is it even has moisture detection, which reminds you only charge the device if the USB port is dry. I did try to clear off this notification, but it will reappear again if it still detects that your USB port is wet. This is really a handy feature, every waterproof smartphone should have this feature!
Conclusion: While there are many waterproof smartphones available right now, Samsung is the only one that has the moisture detection feature.
16MP Front and Rear Cameras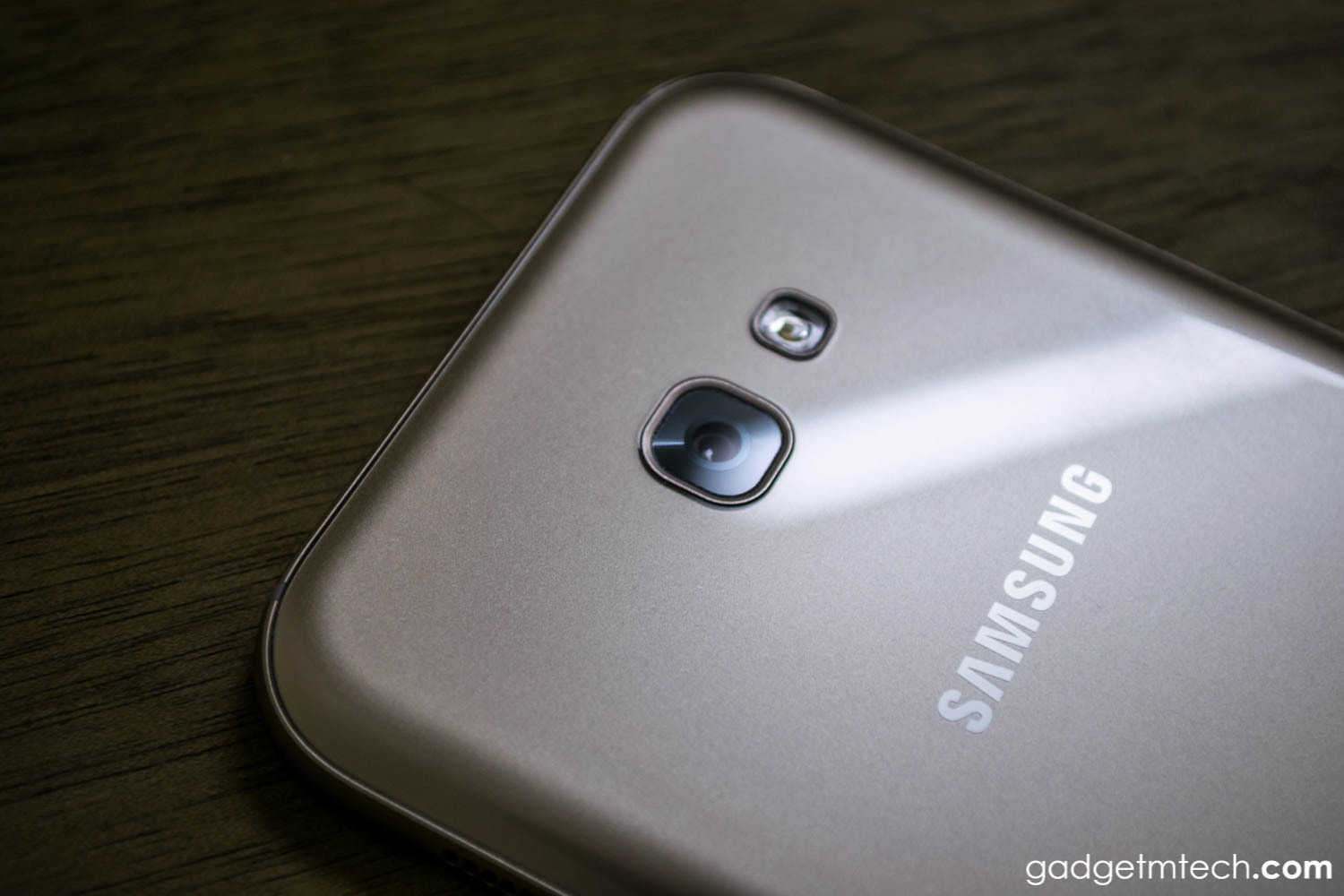 The Galaxy A7 (2017) packs a 16MP rear camera, which is kind of expected. What I didn't expect is even its front-facing shooter is also a 16MP unit. Both front and rear cameras have a f/1.9 aperture lens. You can launch the camera app quickly by just tapping the home button twice, it's really the fastest camera launch speed ever. However, the focusing speed is a little bit slow as it doesn't feature Dual Pixel technology. You can also capture photos underwater with the volume button as camera shutter button.
Image quality generally is pretty good with good amount of detail and low noise level. The only downside is your hands have to be very steady in order to capture a blur-free photo as the device doesn't have OIS as well.
Conclusion: Overall, the Samsung Galaxy A7 (2017) has a decent camera if not impressive, but you really need to be steady in order to capture a blur-free photo.
Great Battery Life
Juicing up the device is a 3,600mAh non-removable battery, which also supports fast charging. The battery life is great, I was able to get through a day easily with a screen-on-time of around 5.5 hours.
Conclusion: The Samsung Galaxy A7 (2017) has a great battery life thanks to the big battery capacity as well as the 14nm chipset with FinFET tech.
Final Words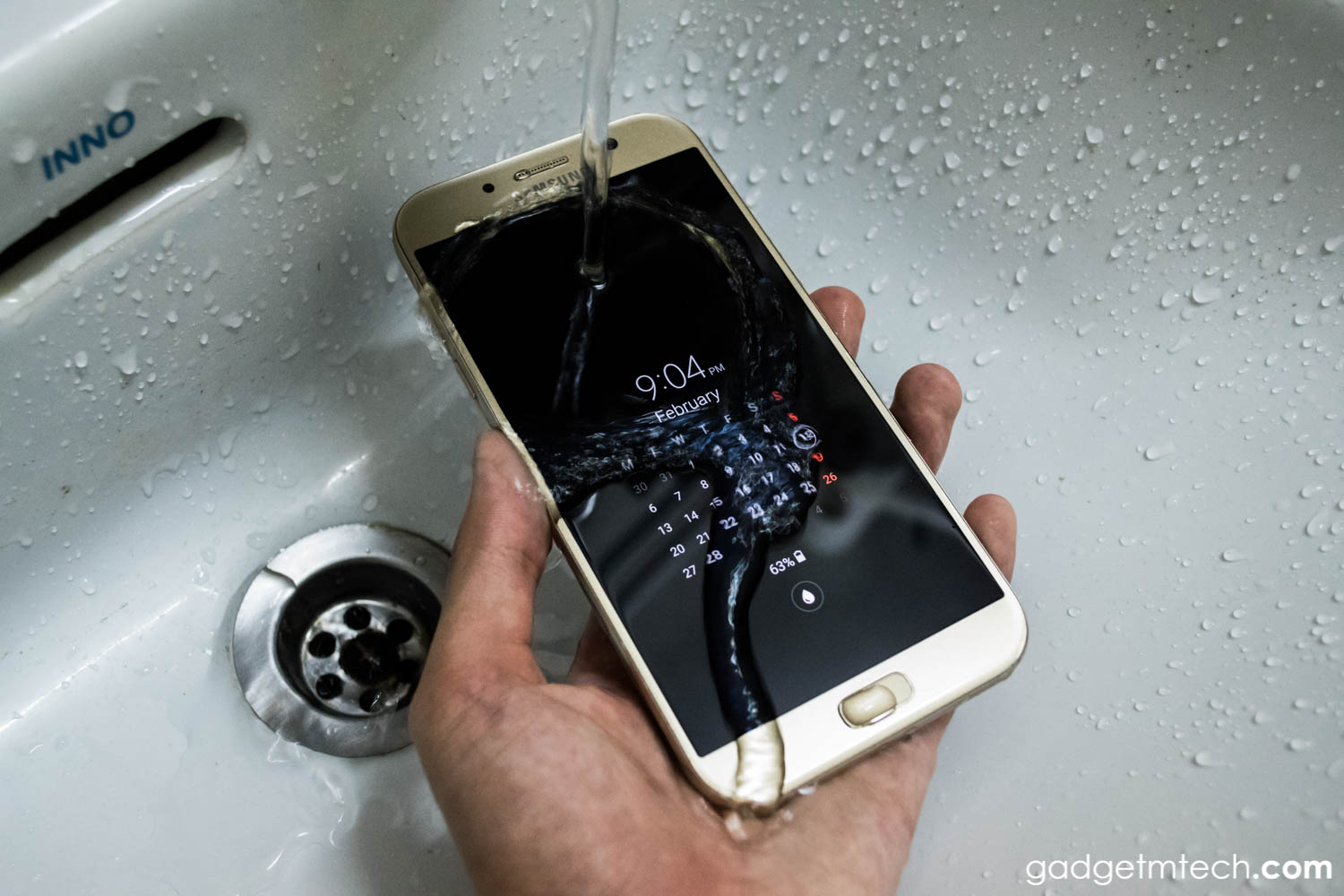 Pricing at RM1,899, the Samsung Galaxy A7 (2017) is a phone for you if you think that the Galaxy S7 is expensive. It has most of the S7 features like IP68 water and dust resistance, and Always On Display. However, you pay for what you get. The device actually comes with a few compromises such as slow focusing speed, no OIS, and no haptic feedback. It's a good phone, a phone that I'm having fun using. If you think that the 5.7-inch display a little bit too big, just get the A5 (2017), it has a smaller 5.2-inch display and RM200 cheaper.
If you are interested in getting one, check out the link below:
Samsung Galaxy A7 (2017)
Samsung Galaxy A5 (2017)
Yay
Impressive display
IP68 water and dust resistance
Great battery life
Nay
Slower fingerprint sensor compared to its competitors
No haptic feedback
Slow camera focusing speed