Introduction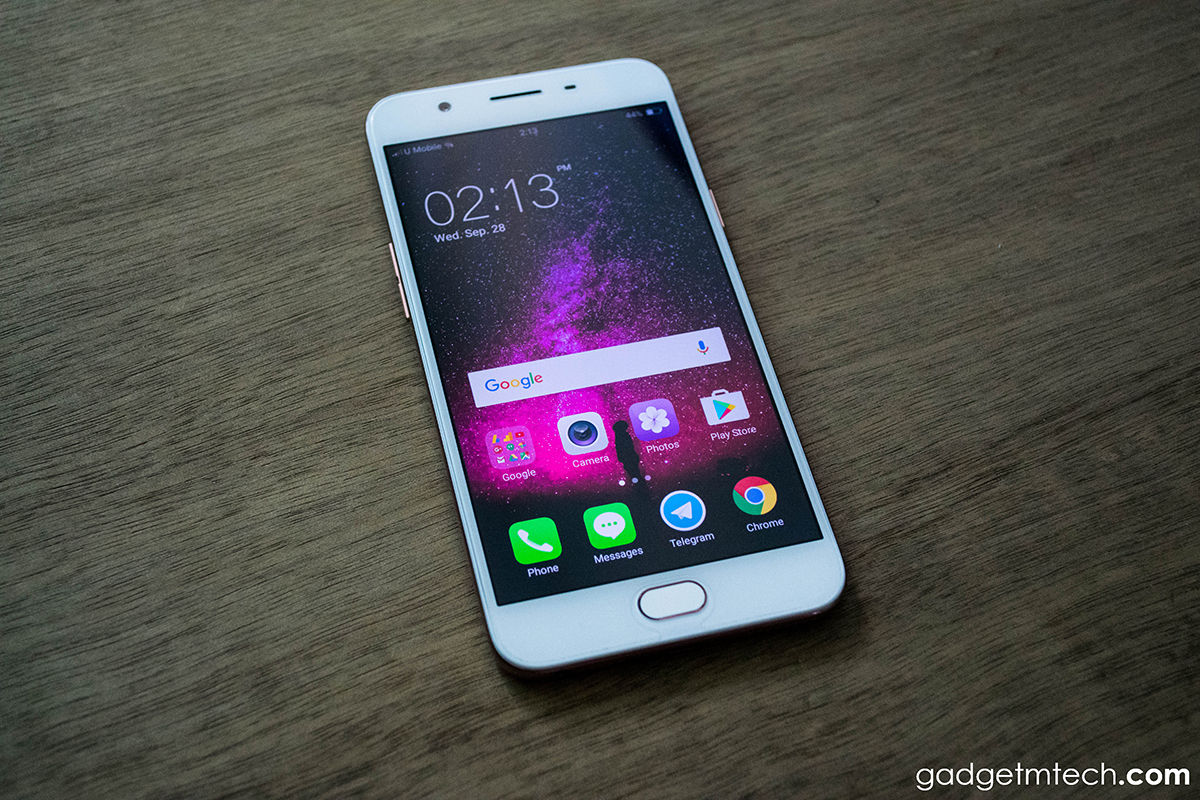 Not long ago, I unboxed the OPPO F1s. After using it for more than a month, I got to know more about the device, and I'm glad that OPPO has fixed some of the bugs during my review period, which I will mention later. Without further ado, let's start the review of the OPPO F1s.
Typical Metal Design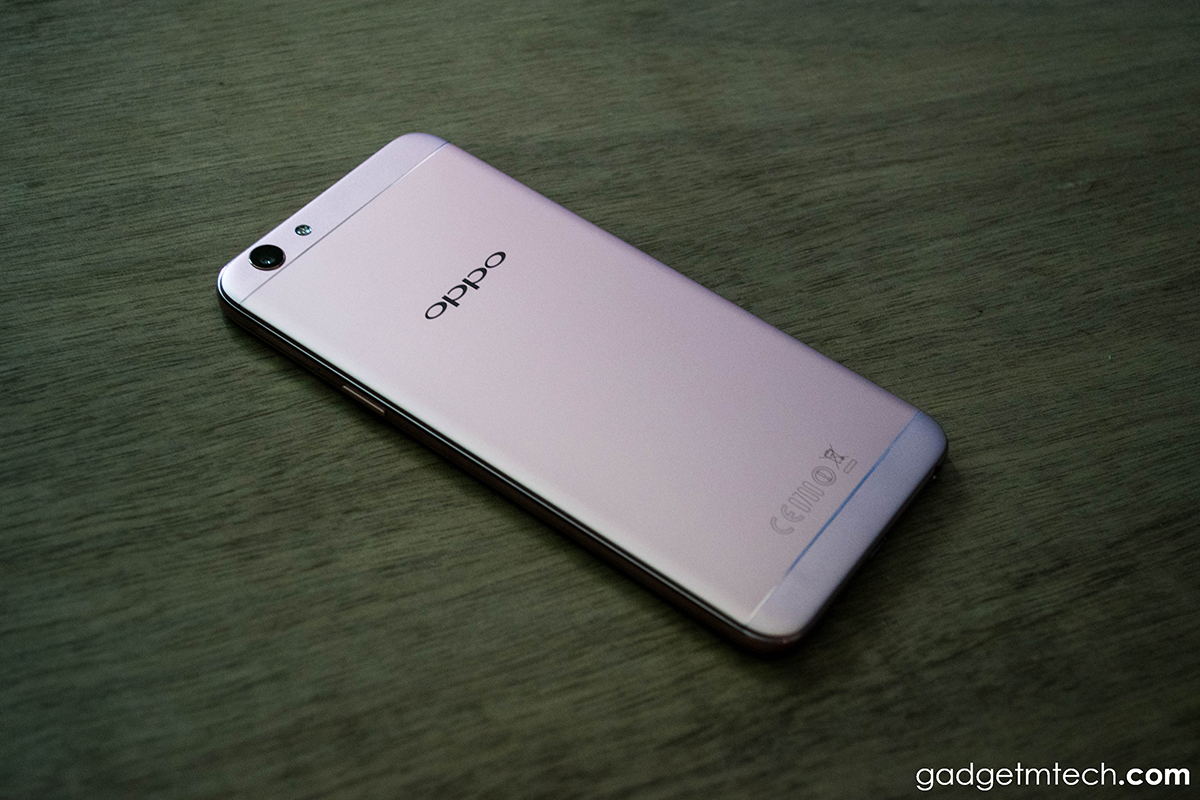 Unlike last time, I requested a Rose Gold unit for the F1s instead of Gold. It's because I've seen and reviewed way too many smartphones in Gold finishes. Even though it's the Rose Gold variant, I did notice that its color is a bit duller than the one on the iPhone 6s. However, it's easier to notice that this is a Rose Gold variant compared to the iPhone 6s.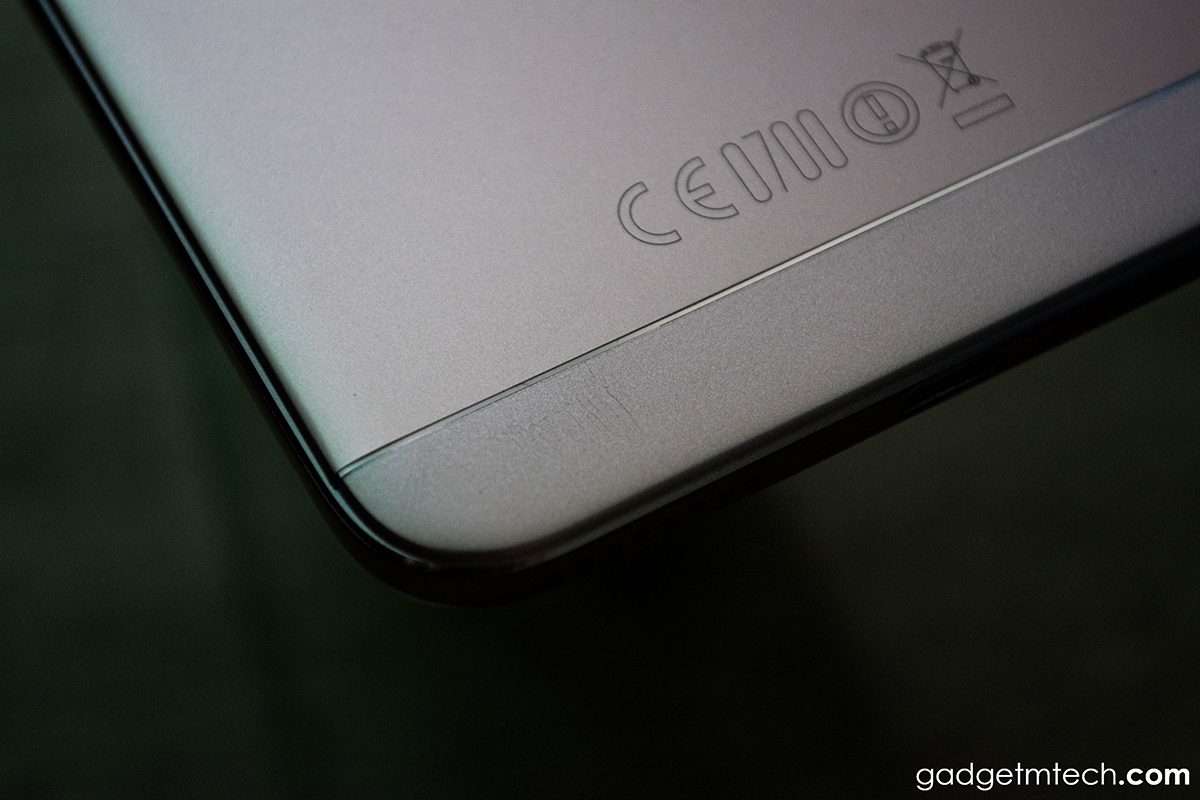 In terms of design, the F1s generally looks quite similar to the F1 Plus with some small differences. It no longer has thick antenna lines, but metallic bands instead. Well, you can clearly see that the top and bottom parts of the device are a bit different to the main metal part, that's because both top and bottom parts aren't made of metal for the signal to get through the case. What I found it weird was the bottom part already has a few scratches after I just unboxed the device.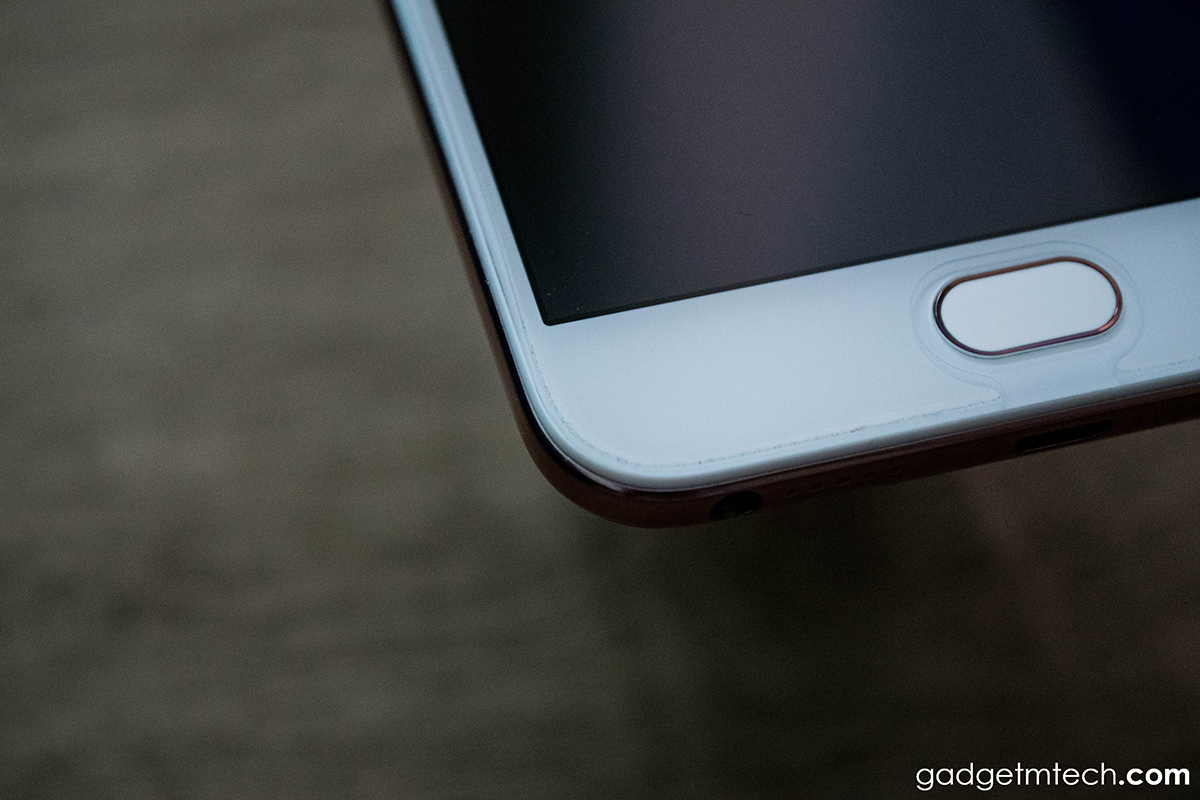 It still has the same 2.5D curved glass and fingerprint scanner below the display. The bezel is thicker than the F1 Plus, but single-handed operation is not a big problem.
Overall, there's nothing much to complain or praise about the OPPO F1s, it's a pretty normal looking phone and I'm sure most of you have seen this design from somewhere else.
Decent Performance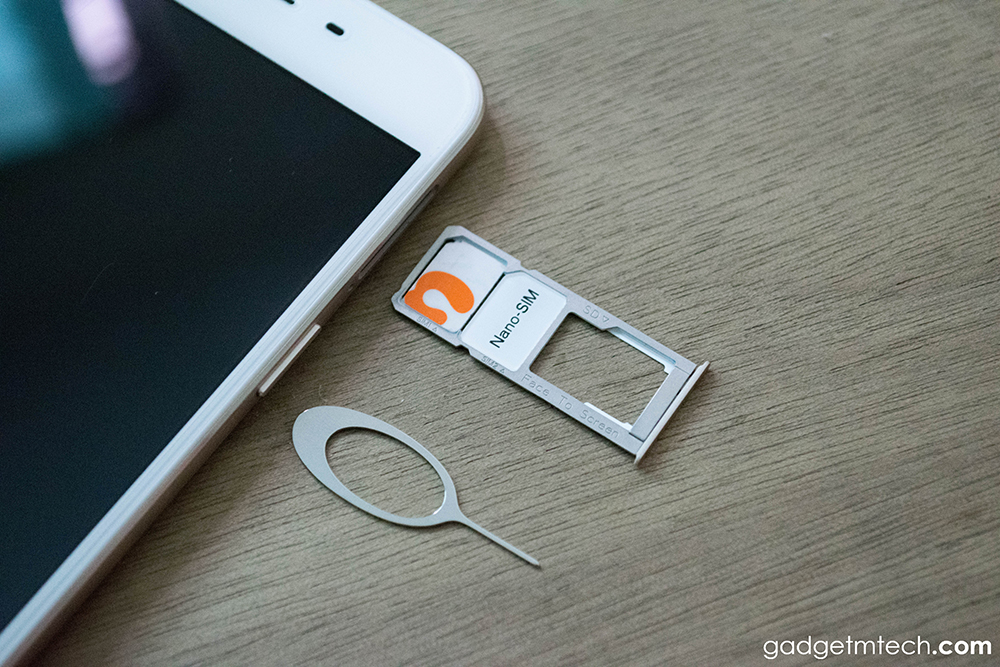 Powering the OPPO F1s is a MediaTek MT6750 processor, which is a pretty mid-range chipset. The phone is backed by 3GB RAM and 32GB internal storage, which can be expanded via MicroSD card. Speaking on memory expansion, the F1s comes with two SIM slots and a MicroSD card slot, which means you don't need to decide either to have dual-SIM in your phone or sacrifice the second SIM slot for a MicroSD card.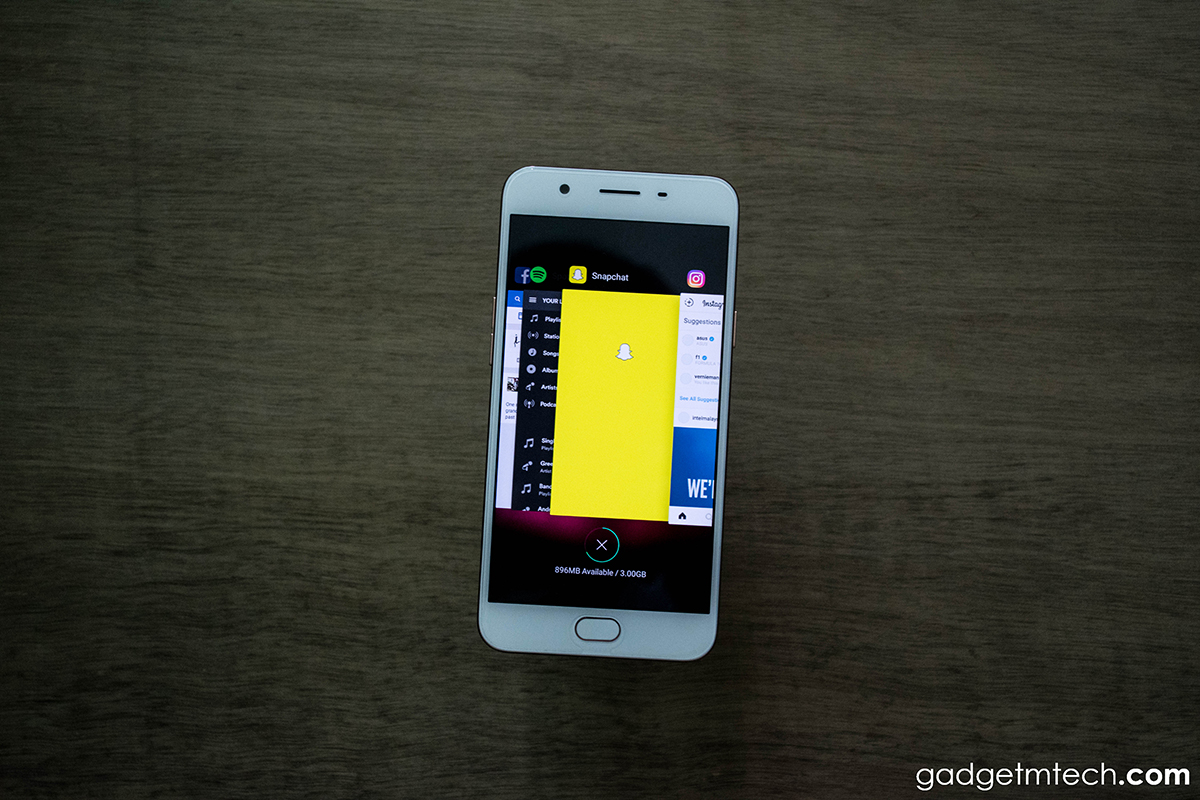 The device is capable of handling simple tasks like browsing the web, checking Facebook or Instagram, and more. However, its RAM management isn't that good, even though it has 3GB RAM, as I won't receive any notifications from apps like Telegram and Snapchat if I closed the apps. Well, this issue probably can be fixed via software update.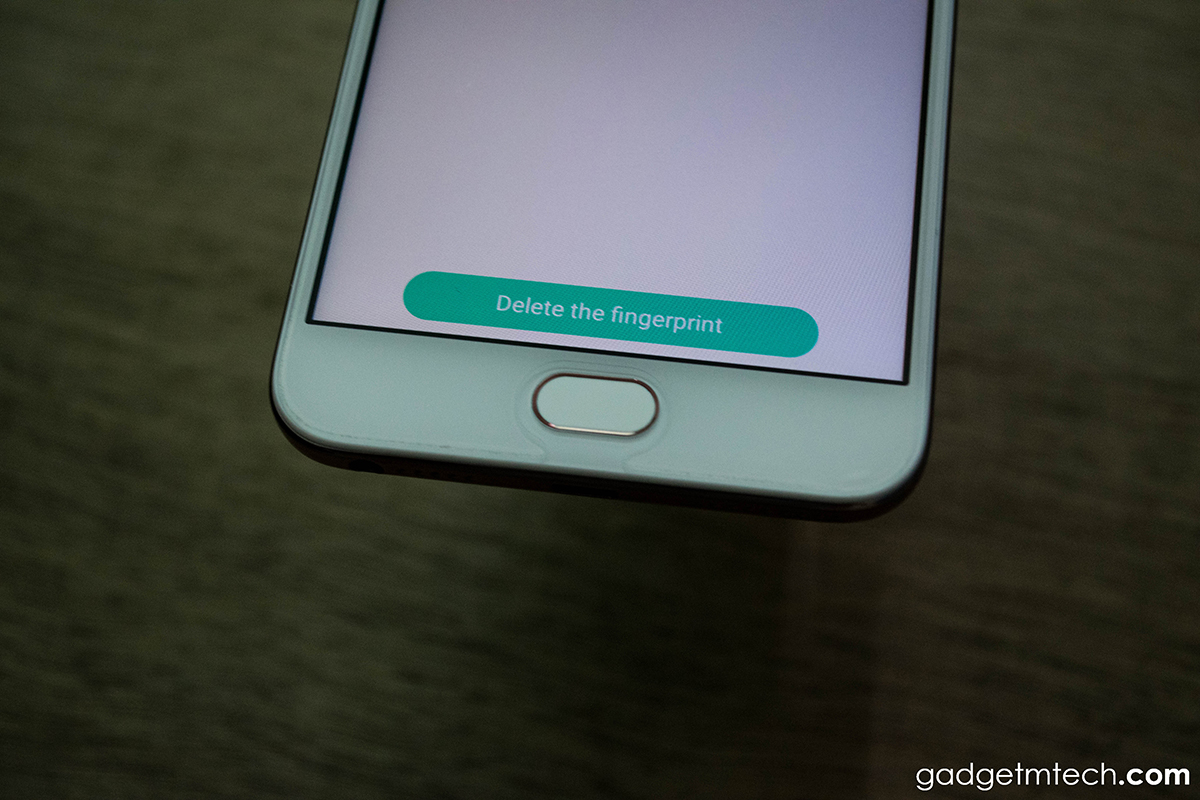 As for its fingerprint sensor, it's just as fast as the OPPO F1 Plus, which I mentioned before the fastest one I've ever used. Additionally, you can now set different applications to launch when you touch the sensor with different fingers.
Overall, the performance of the F1s isn't too good nor too bad, I really hope that they could fix the RAM management issue. Hey, you don't want to miss any notifications, right?
Similar ColorOS Experience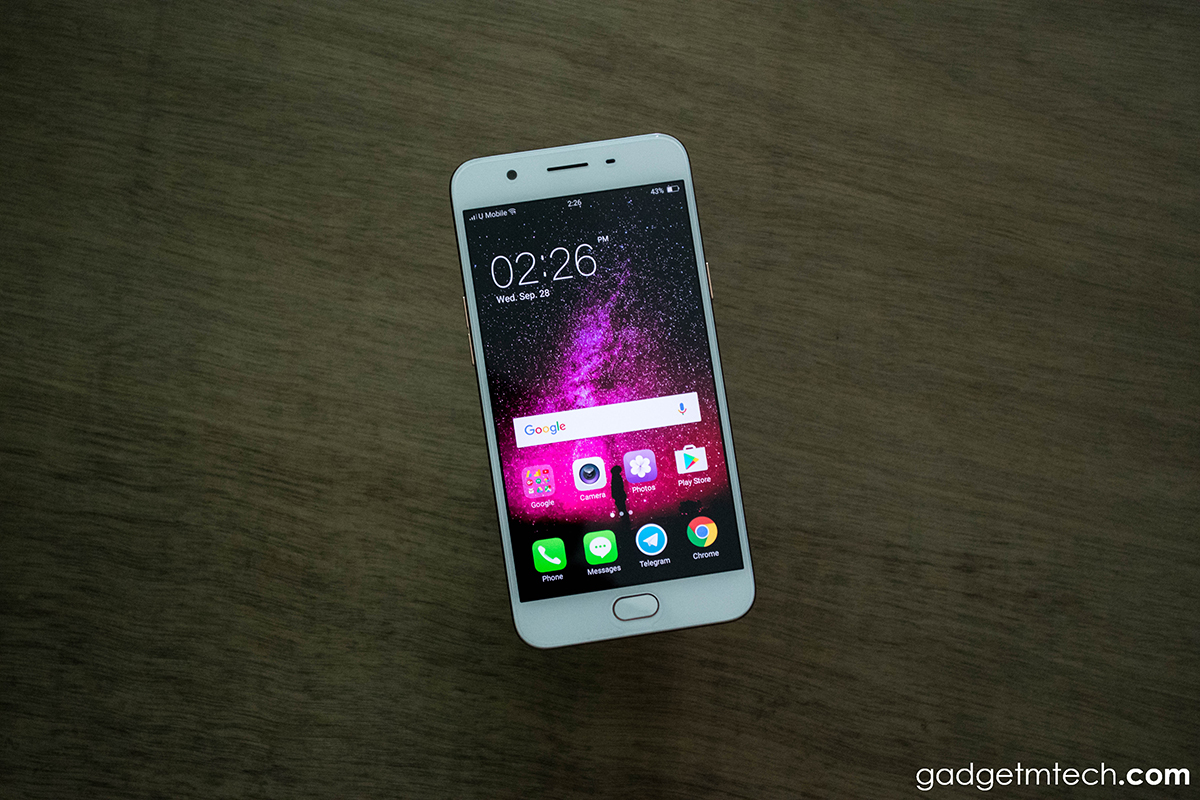 Software wise, the OPPO F1s is running on the same ColorOS 3.0 based on Android 5.1 Lollipop. You'll get the same experience as the F1 Plus, which means there's no app drawer in the homescreen.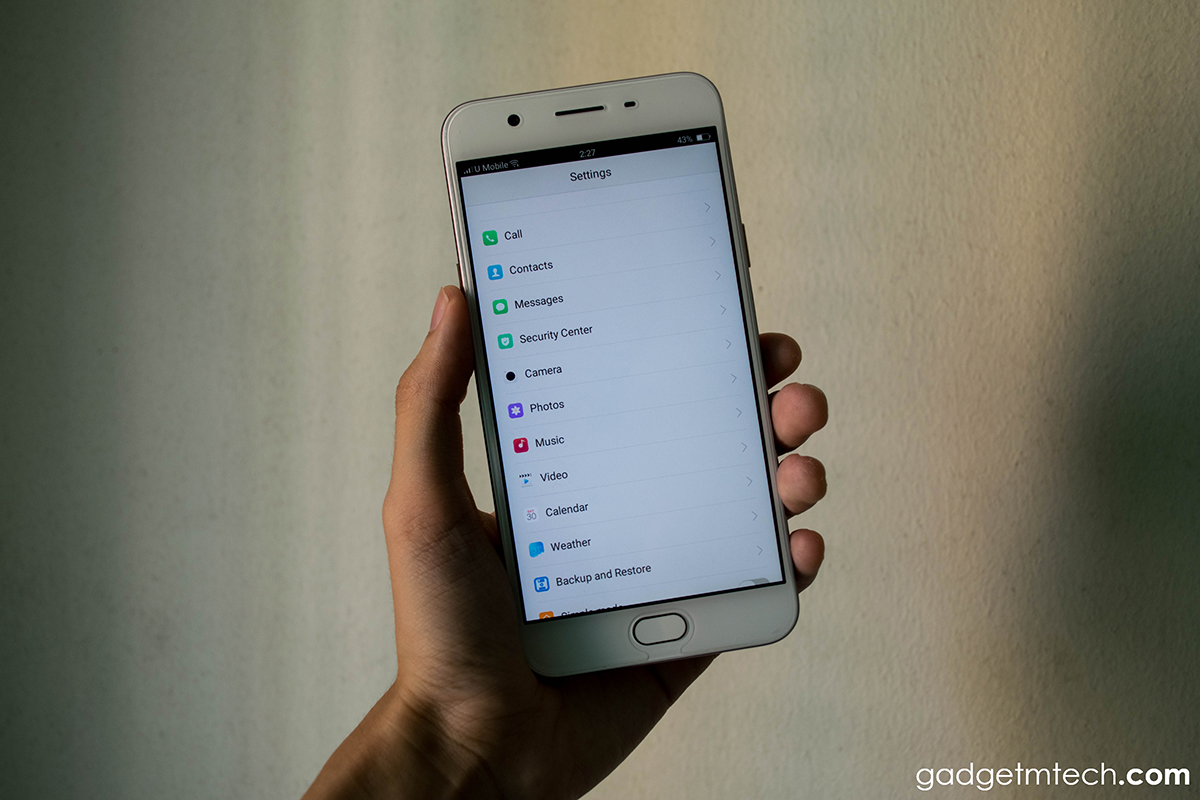 Yet again, the settings for stock apps can all be found within the main settings menu on the phone. It's a little bit like iOS, I really hope that the settings for all apps can be found within the apps, that's way easier to use.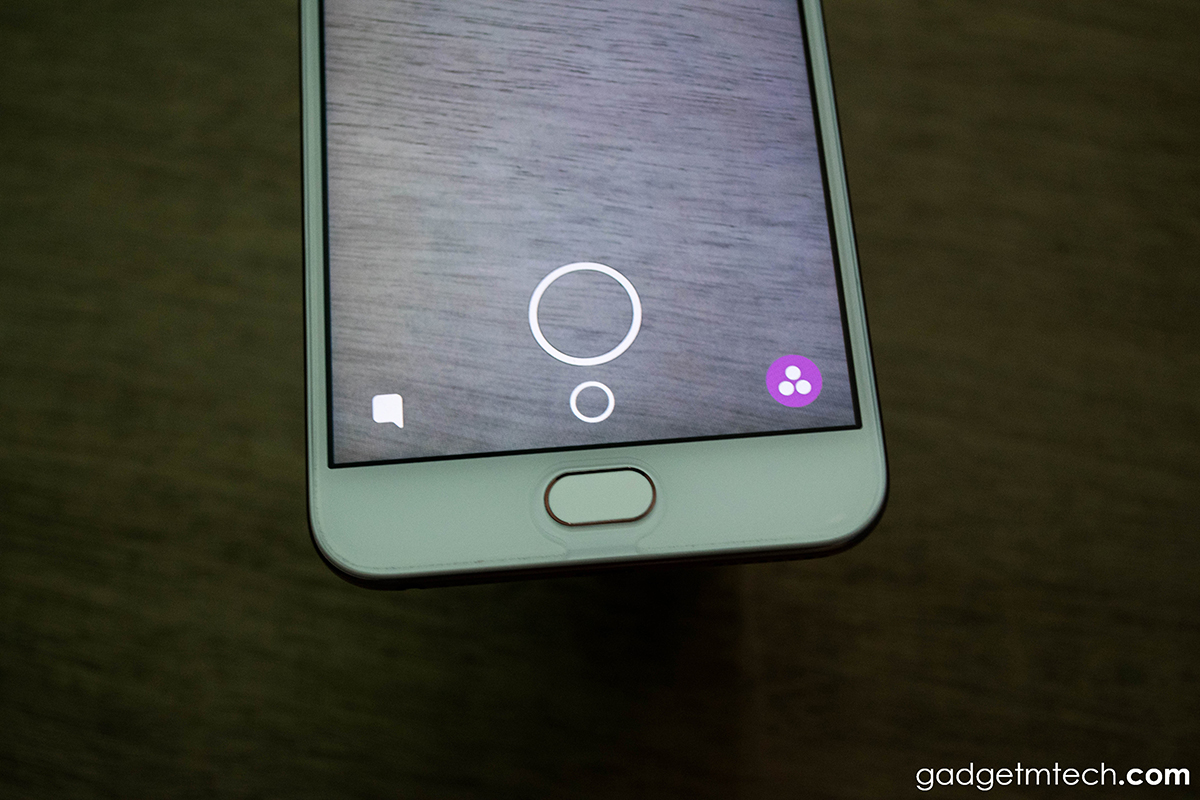 I mentioned about the bugs in the introduction, basically those bugs are because of lack of optimization. There's a black bar below the screen when I open Snapchat camera and power saving mode in Pokemon GO doesn't work, I no longer play it though. Thankfully, OPPO has fixed the bugs through software update, kudos to OPPO software team!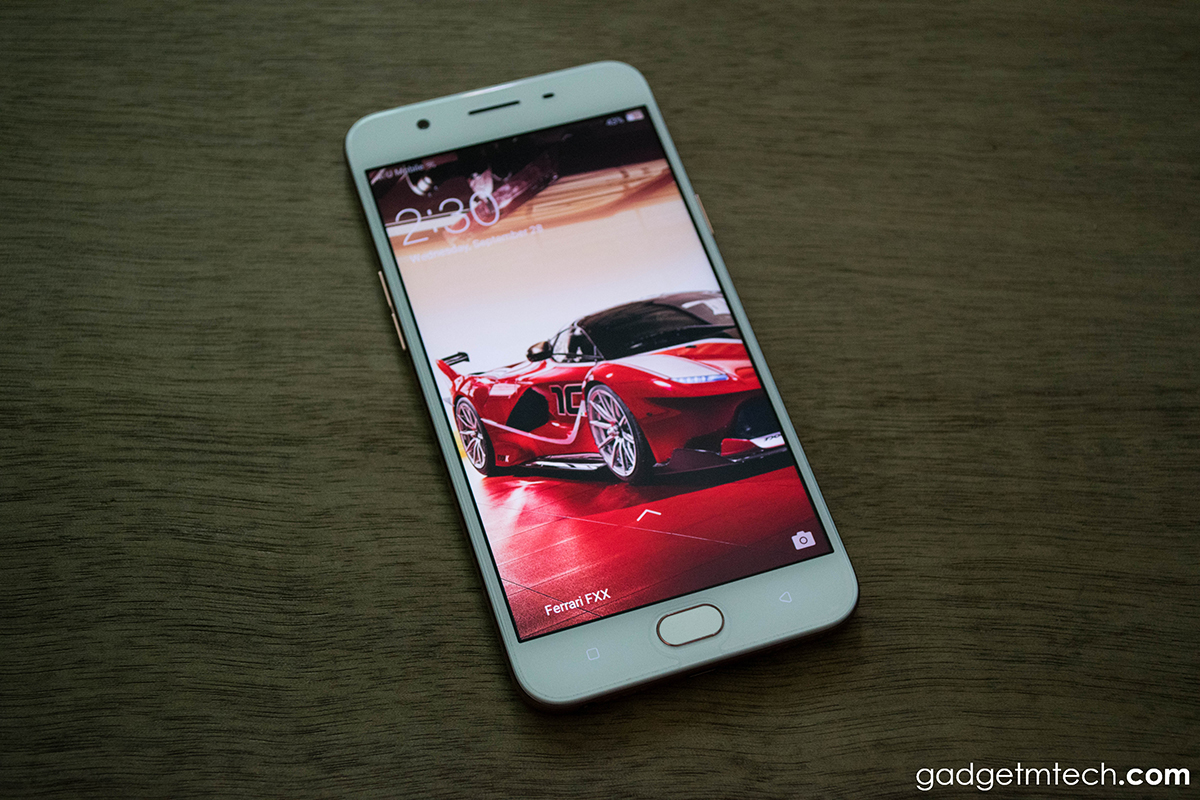 Oh! I didn't mention about the lockscreen magazine in the F1 Plus review. I actually really like it a lot because you often receive updates for new wallpapers with information, so now I don't need to think about changing the lockscreen wallpaper.
Overall, ColorOS looks pretty much like iOS to be honest. Some system icons or even interfaces look really the same with small differences.
The Same Selfie Camera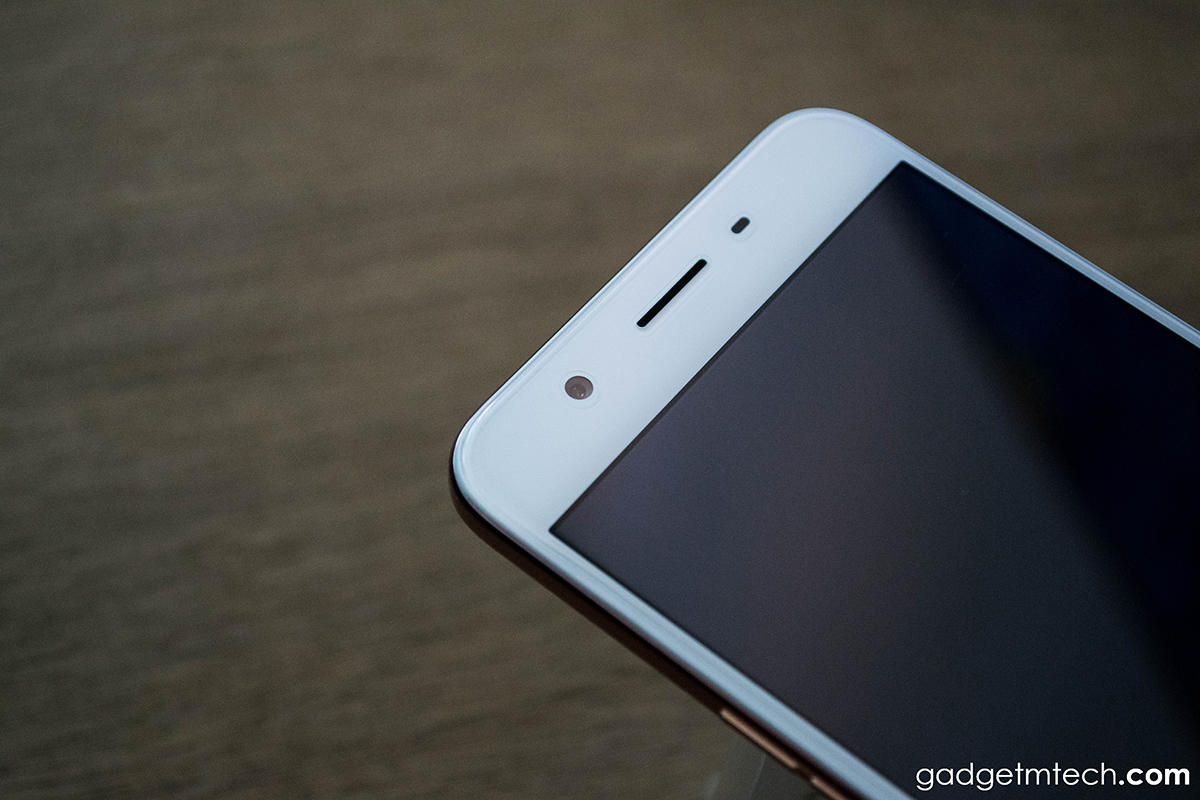 The F1s has the same camera setup as the F1 Plus — 13MP f/2.2 rear camera and 16MP f/2.0 front camera. I still have no idea about why the front camera has a higher resolution than the rear, common sense would tell it's because the device is marketed as a selfie-focused smartphone.
Well, I don't really see any big differences in terms of image quality. It is capable to take good selfies/wefies, but at the edges they can be a little blurry, especially when the condition is getting darker. Selfie lovers will definitely love it as the Beautify 4.0 feature definitely whiten and smoothen your skin.
The 13MP rear camera took pretty decent photos. However, it's a "no" when it comes to low-light conditions as the device sometimes struggles to capture details and noise level is pretty high. Don't get me wrong, it is able to take some decent low-light photos as well.
It's pretty clear that the OPPO F1s lives up to its name by having a pretty good front-facing camera. The rear camera isn't that bad too, but it struggles in some conditions.
No VOOC Flash Charging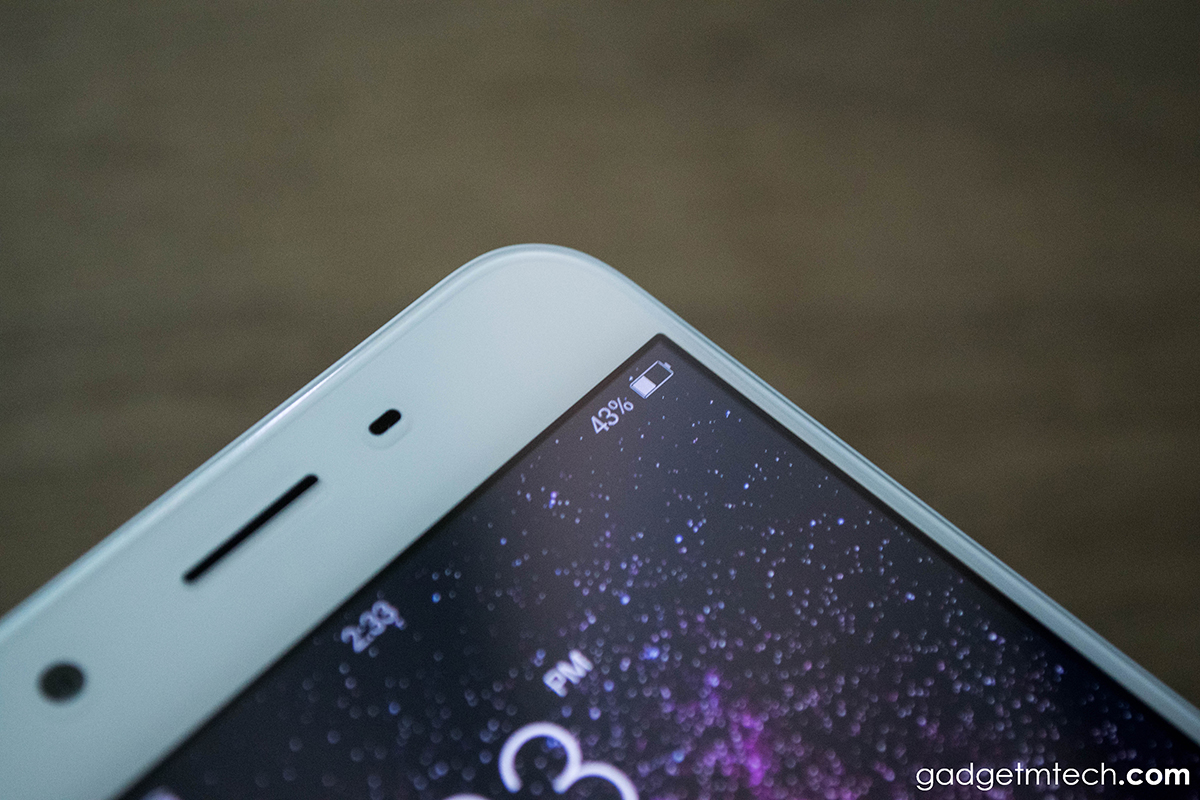 Surprisingly, the F1s has a bigger 3,075mAh battery than the F1 Plus (2,850mAh), which should have a longer battery life, not to forget the device only has a HD display. Like the F1 Plus, the device doesn't show the screen-on-time and other battery life details. Based on my usage, the device is able to last through a day and more with moderate usage. Do note that my moderate usage was frequently using apps like Facebook, Instagram, Telegram, Snapchat and YouTube. Sadly, VOOC Flash Charge technology isn't available for the F1s, which means you have to wait for more than 2 hours for a full charge.
Final Words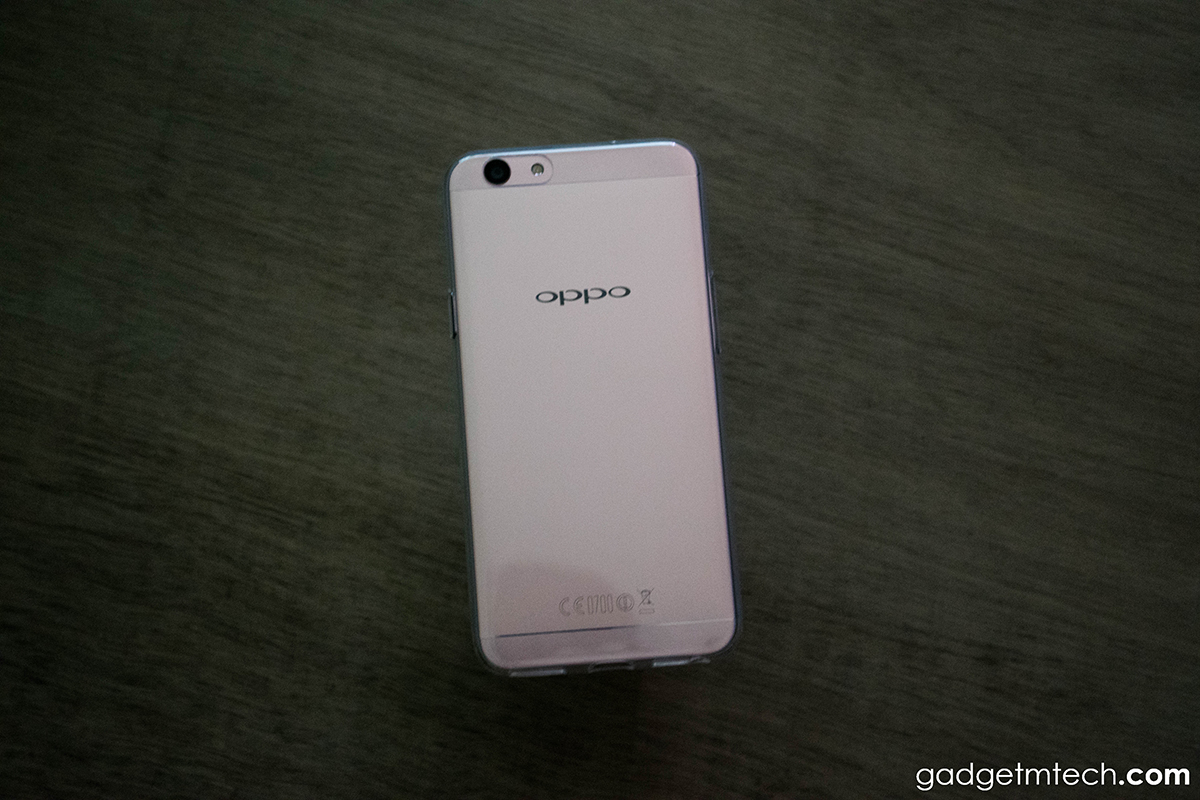 Pricing at RM1,198, the OPPO F1s has pretty much the same experience as the F1 Plus. It has the same amazing front-facing camera, which is capable of taking good selfie photos, and a pretty fast fingerprint sensor. Well, not all flagships have an amazing front camera and a pretty fast fingerprint sensor, which means the F1s technically beats them, only these two features though. Did I mention about the free protective case and screen protector? It's really nice to have a protective case and pre-installed screen protector when I unboxed the phone, so now I don't need to spend extra for protection. If you love to take selfie, there's no doubt that the OPPO F1s is a good choice.
Yay
Free protective case and screen protector in box
Triple-slot tray
Fast fingerprint sensor
Amazing front camera
Nay
Only HD display
No VOOC Flash Charge
Rear camera struggles under low-light conditions