Introduction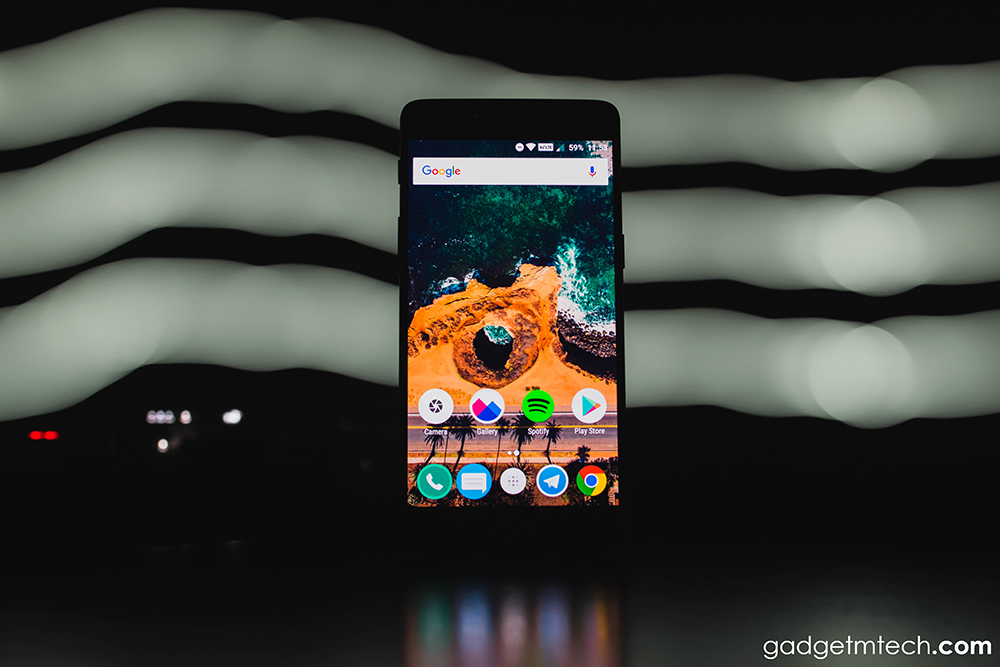 You might not hear about OnePlus before, it's a company which is even younger than us (GadgetMTech), but is capable of making good devices. The company is turning three in just about three months time, and three months ago, it announced the OnePlus 3. Yes, I know there are a lot of threes. This time, we are able to get a unit just for this review purpose. So, is the OnePlus 3 a good device? We are about to find out.
Ultra-Thin Design, yet Solid Build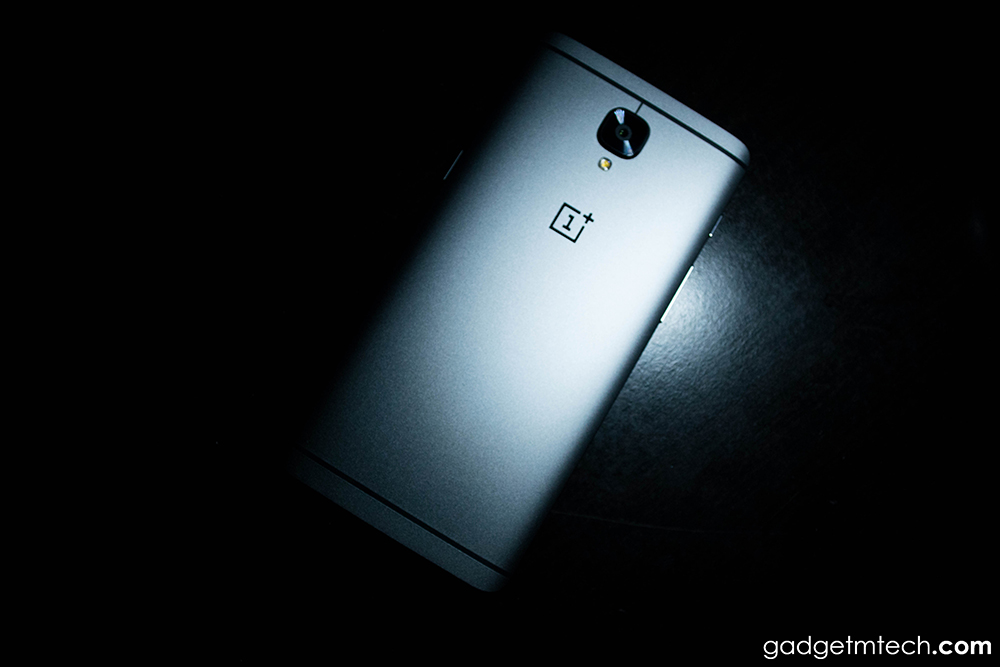 For the first time, the OnePlus 3 features a metal unibody design carved from aluminum. The device is pretty thin, and yes, it's slippery. Looking at the back, it reminds me HTC and Huawei, especially with the two antenna lines and the camera placement, yup, the camera is protruded. It feels pretty premium and solid, and I really like the way it looks.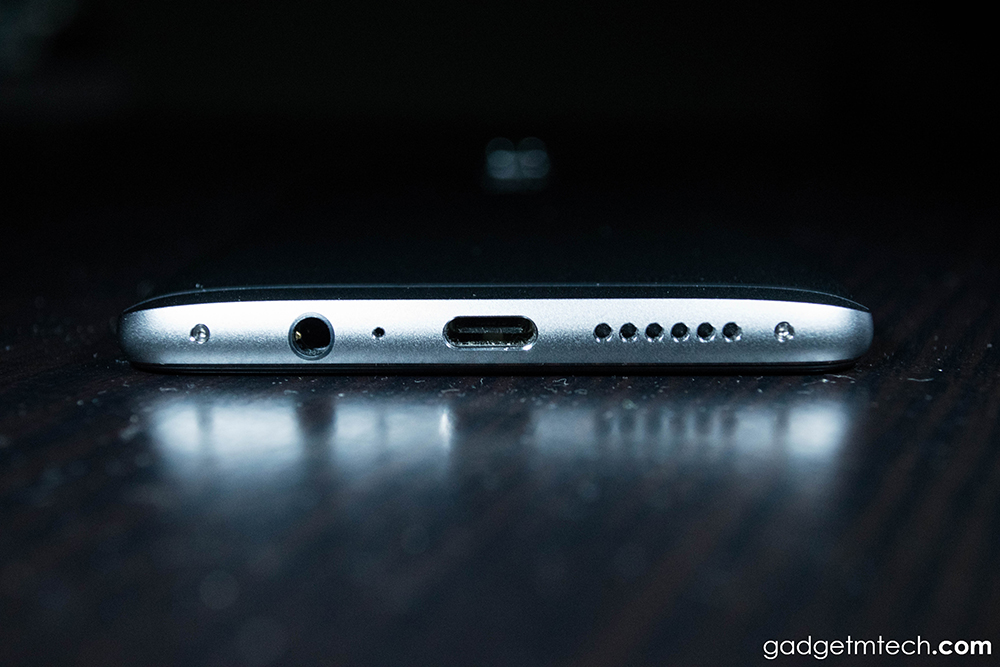 The bottom of the device houses speaker, USB Type-C port which supports QuickCharge 3.0, and an audio jack. *Cough*Apple iPhone 7*Cough*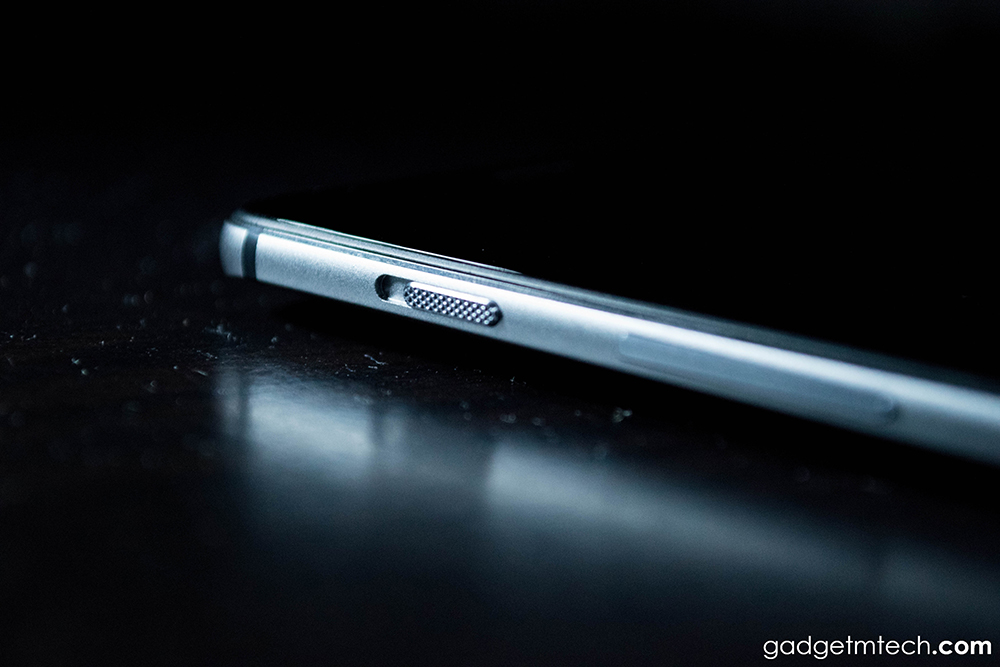 The thing gets interesting on the left, there's an Alert Slider on the left, which lets you to switch between normal, priority or silent mode. I really appreciate that OnePlus has placed the power button and volume rocker on separate sides — power button on the right and a volume rocker on the left.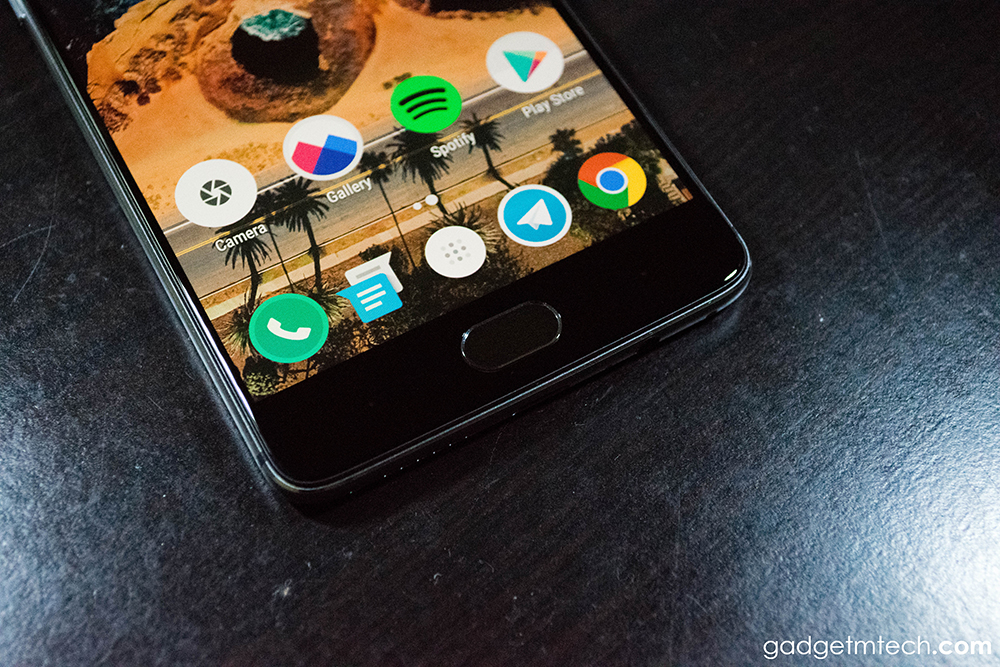 The front panel is all black and the 2.5D curved Corning Gorilla Glass 4 creates a pretty nice visual experience. The only thing that spoils the all black party is the home button, which also doubles up as a fingerprint scanner. The home button/fingerprint scanner is made of ceramic, that explains why its black isn't as deep as the glass panel black.
Overall, the OnePlus 3 is a beautiful carved device, I really wish that the company could bring in those official accessories to Malaysia. I do really miss the sandstone material, but as the OnePlus 3 doesn't have a swappable back cover, it would be nice if the company brings in the sandstone case for the device.
Full HD Optic AMOLED Display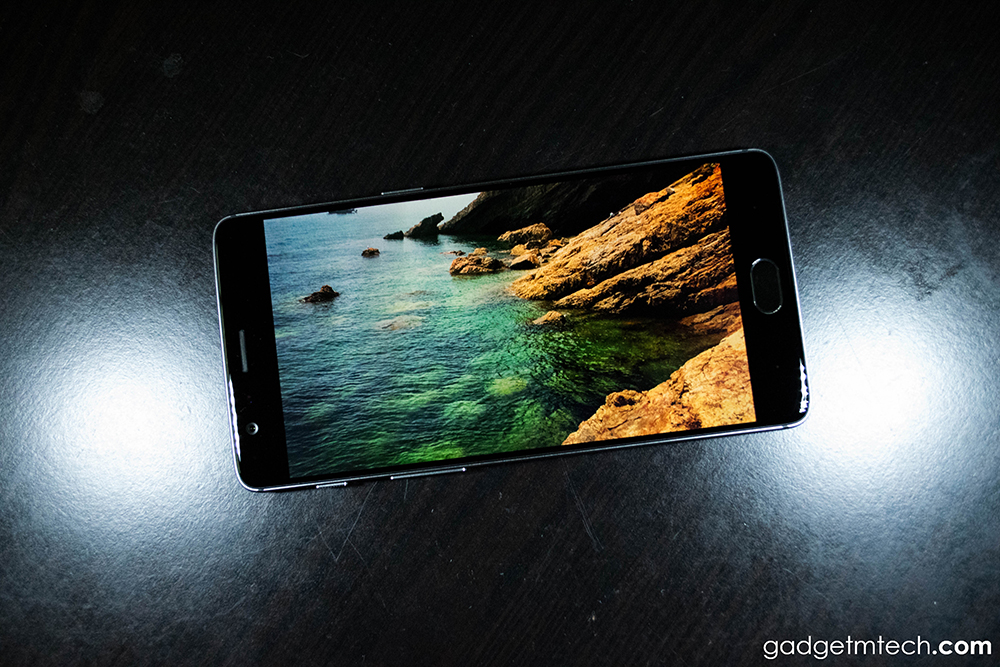 OnePlus decided to play safe with the OnePlus 3, the device features a 5.5-inch Full HD Optic AMOLED display, which is not bad by all that mean. The display produces colors that are pretty contrast, and it has really deep blacks because the LED will turn off when it's black to save battery.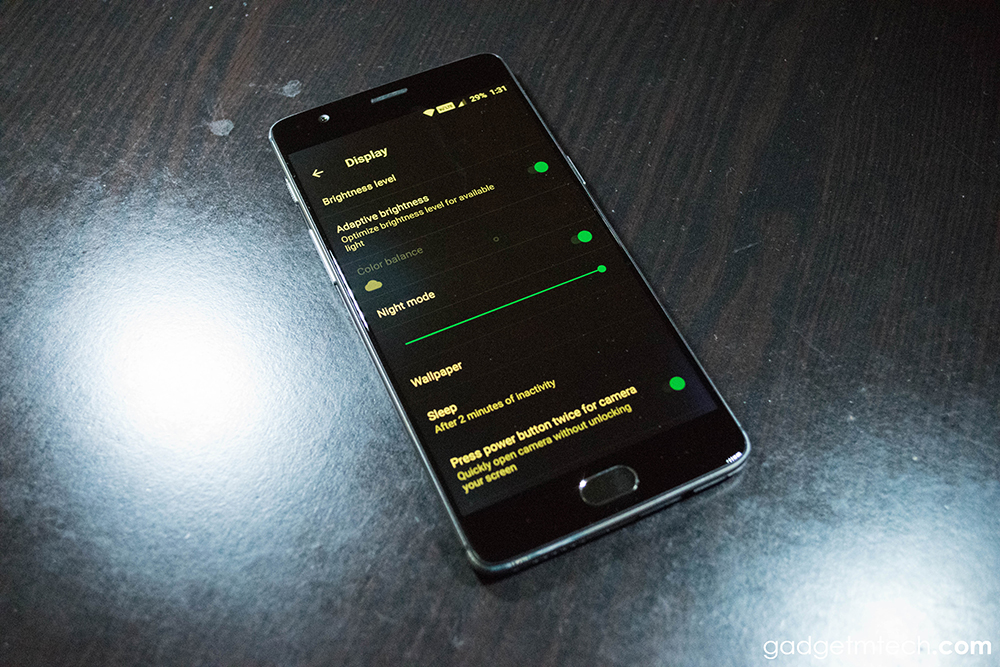 Additionally, there's Night Mode as well, which makes your eyes feel comfortable when viewing the display in the dark. When you turned on the Night Mode, the screen will turn yellowish, you can even adjust the level of yellow you want.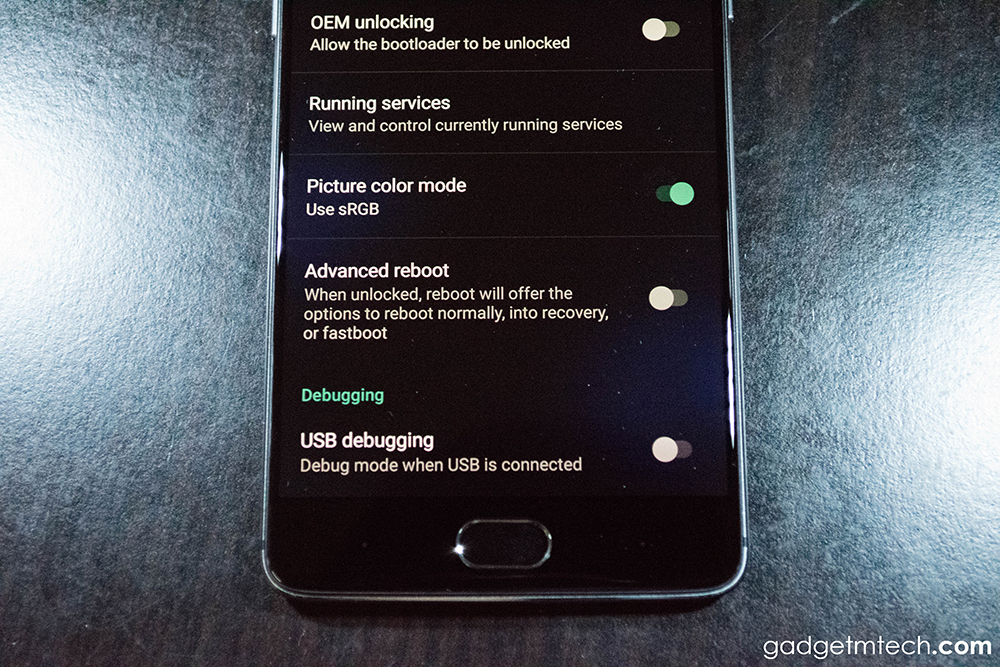 The OnePlus 3 has a great display, you can also switch to sRGB mode if you're not satisfied with the current display profile, I personally prefer the normal mode though. Some might say not having a QHD display is a letdown, but I'm okay with 1080p.
Everything Is Fast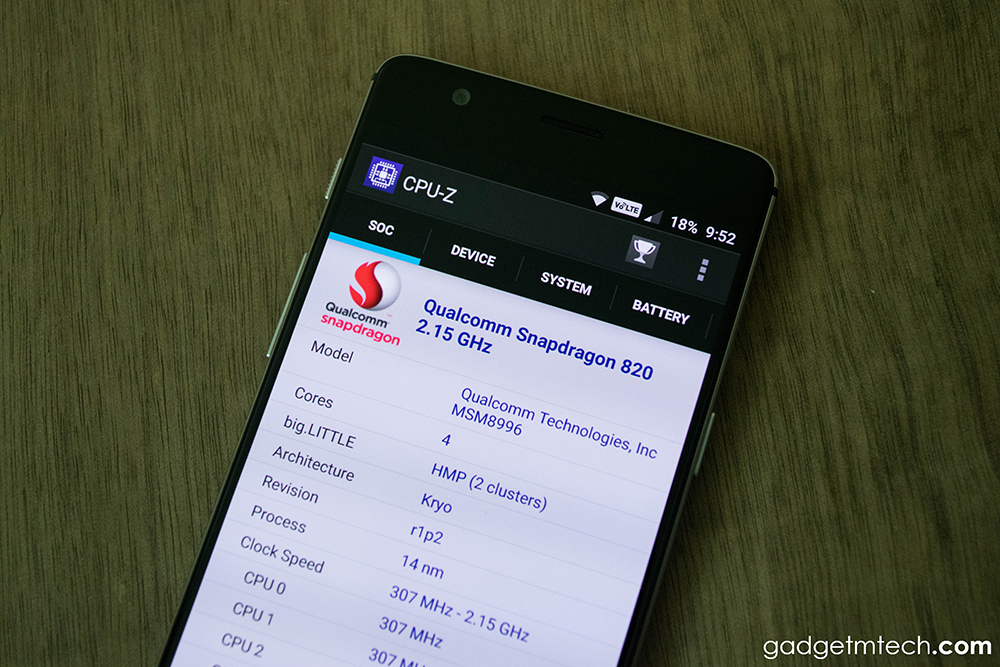 If you want me to describe the OnePlus 3 in one word, that will be "fast". Why say so? Firstly, the device is powered by a Qualcomm Snapdragon 820 processor, which is currently a top notch processor. RAM wise is a bit of confusion, even though the device has 6GB RAM, OxygenOS isn't fully utilizing all its RAM in order to save battery. However, 3rd-party ROMs will be able to take full advantage of the whopping 6 GB of RAM (if the ROM developer chooses so).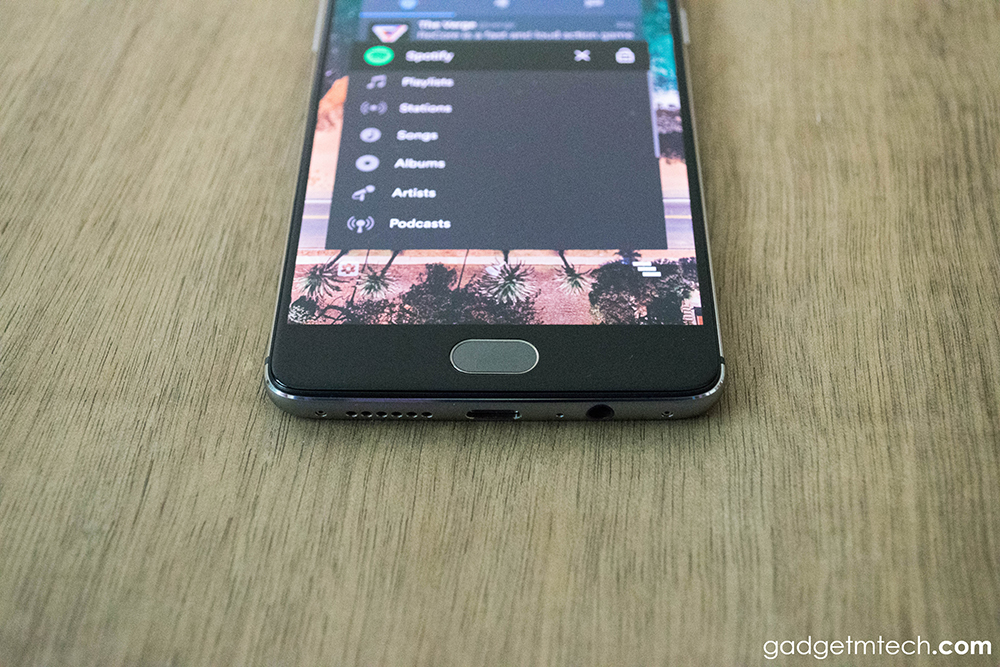 I've been using the device for more than a week and everything is fast without any delays or hiccups. Multitasking isn't a problem at all, even though the device doesn't take advantage of all its RAM.
The fingerprint scanner is pretty fast as well, it unlocks the phone under a second. The good thing about its fingerprint scanner is you don't need to press it like the one from the Galaxy S7 because it's non-tactile button.
OxygenOS — Stock Android with More Customization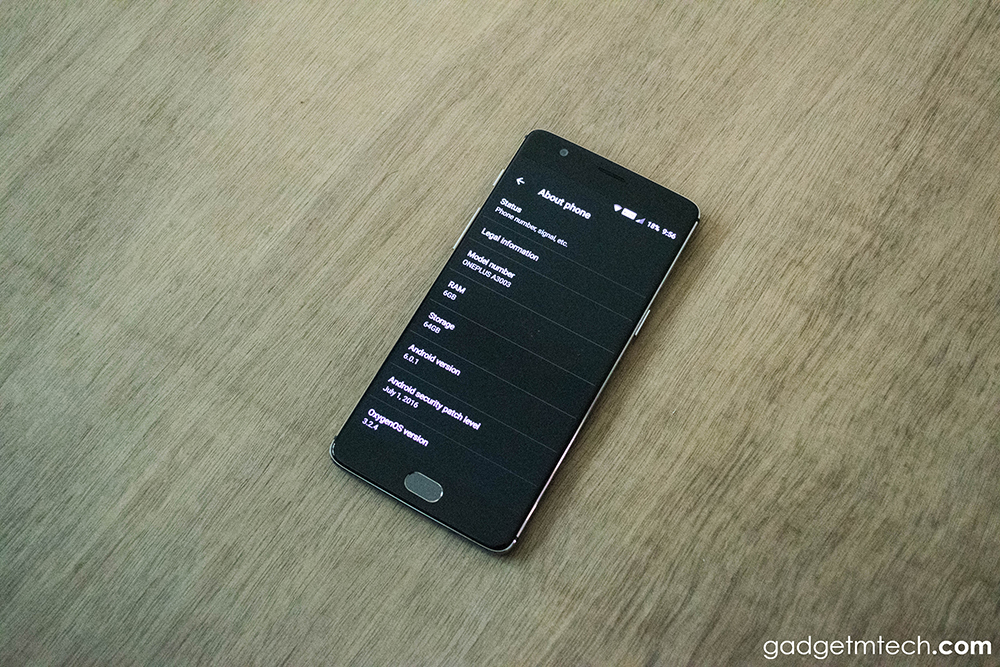 The OnePlus 3 is running on OxygenOS 3.2.4 based on Android 6.0.1 Marshmallow. After using it for more than a week, I can say that it's now my favorite Android skin besides HTC Sense and Vanilla Android. OxygenOS is pretty similar to pure Android experience on the Nexus devices, but the company has added more handy features.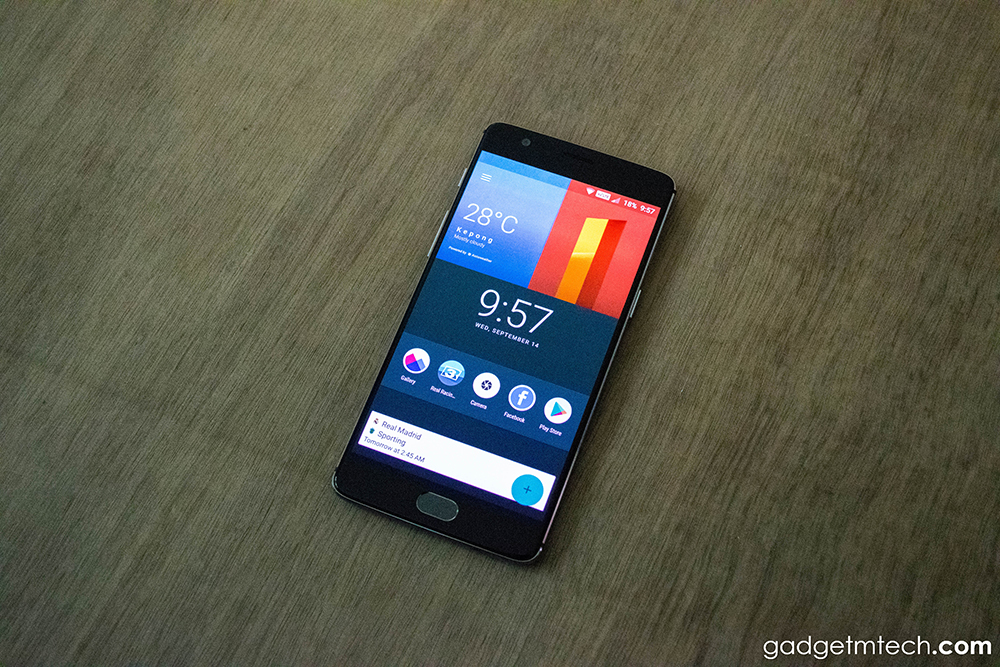 You now no longer have Google Now page when you swipe to the left from the homescreen, but instead you'll get Shelf, which is now your second homescreen. I really like the idea of Shelf as you get to put all your widgets in one page.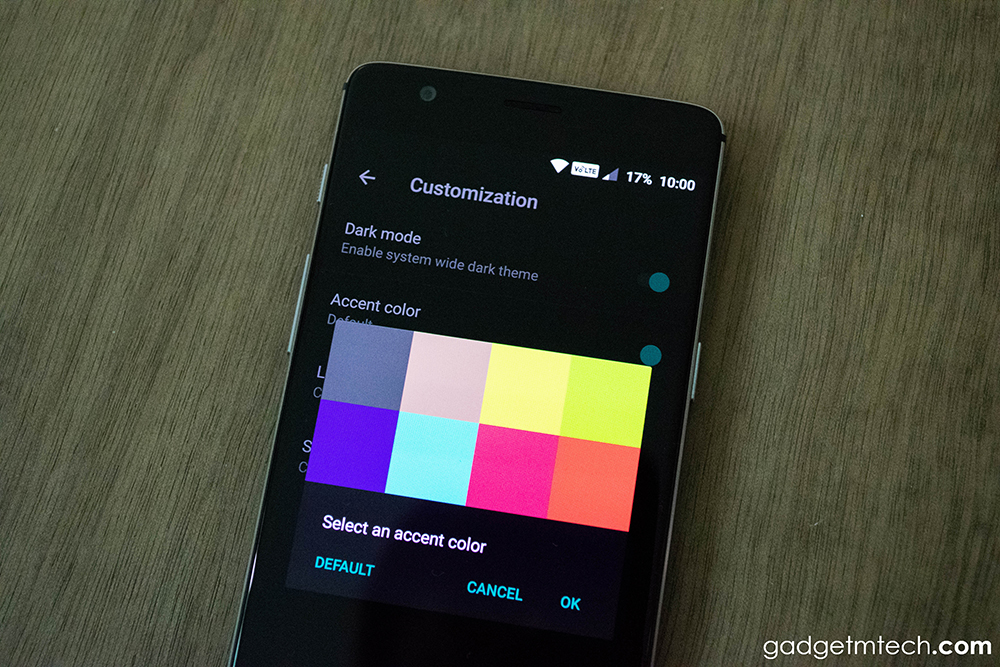 You get a bunch of customization with OxygenOS, OnePlus takes advantage of the AMOLED display by having Dark Mode, which has been removed in the original Marshmallow build. You are also able to change the accent color, so that now your system won't look boring anymore.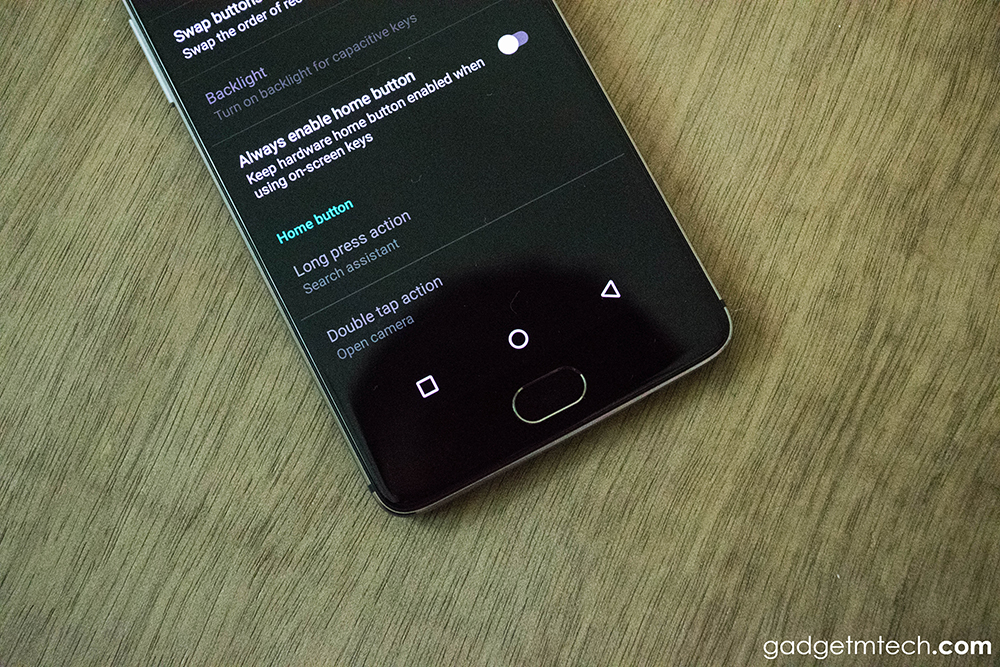 Like its predecessor, you'll get to choose whether to have on-screen navigation buttons or not. You get to swap the order of recent and back buttons. My favorite part will be customizing the long press and double tap actions of the buttons. I've set double tap the home button to open camera, just like Samsung devices, so now you can open up the camera app in less than a second.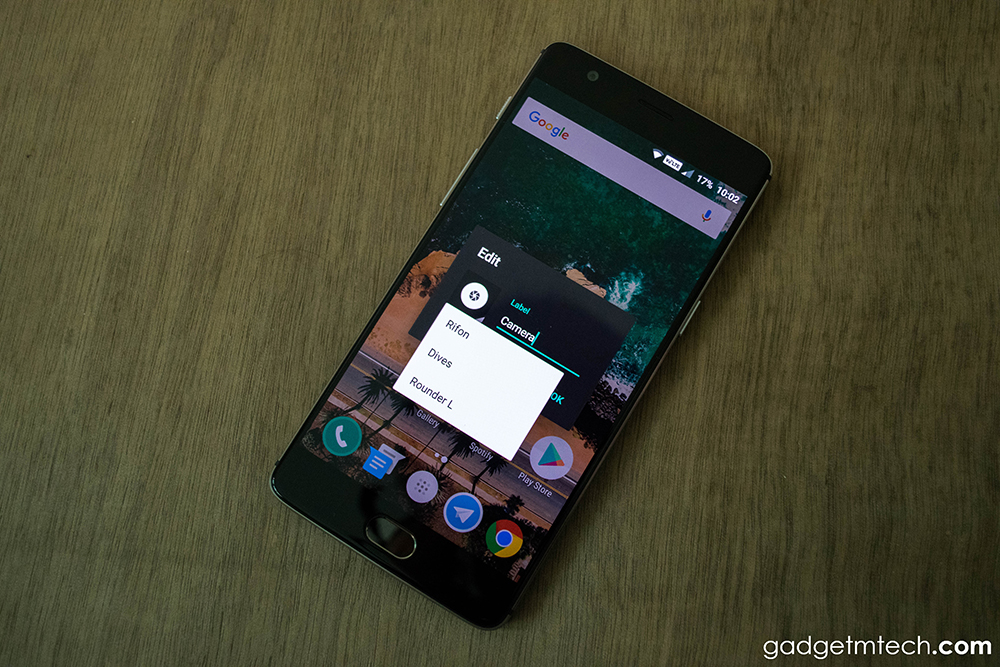 Those screen-off gestures are available as well, I don't really use it though. The great thing about the software is you get to change the look of each icon one by one, but I do really hope that OnePlus could include a feature of letting you to change all icon looks at once. And one more thing, I wish I could adjust the icon size, because it's too big.
I really enjoy using OxygenOS, pure Android experience with a lot of customization, that's all I need.
16MP Camera with OIS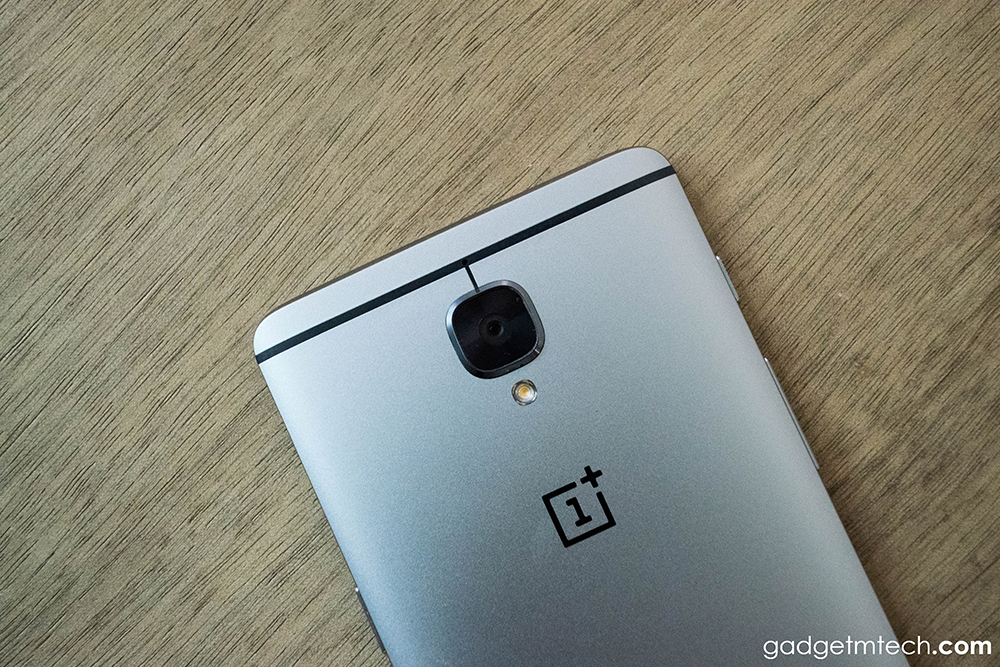 The OnePlus 3 has a 16MP Sony IMX298 rear camera with f/2.0 aperture and OIS that is capable of recording 4K videos. The camera interface is pretty clean and simple, and there's a manual mode as well with RAW image support. Unlike most of the flagships, the OnePlus 3 doesn't have laser auto-focus for faster focusing speed. Its shutter speed is pretty fast, even if you enabled HDR or HQ mode, so why not keep the HQ mode enabled all the time for sharper image, or set Auto HDR to let the device decides whether to take HDR shot or not?
Image quality generally is pretty good, but it's still not the best one. Don't get me wrong, it is still capable of taking great photos. Color saturation in photos is inconsistent as some shots are pretty good looking, others aren't as good as expected. However, why bother much when you can tune it with so many editing apps out there?
Battery: Time to Dash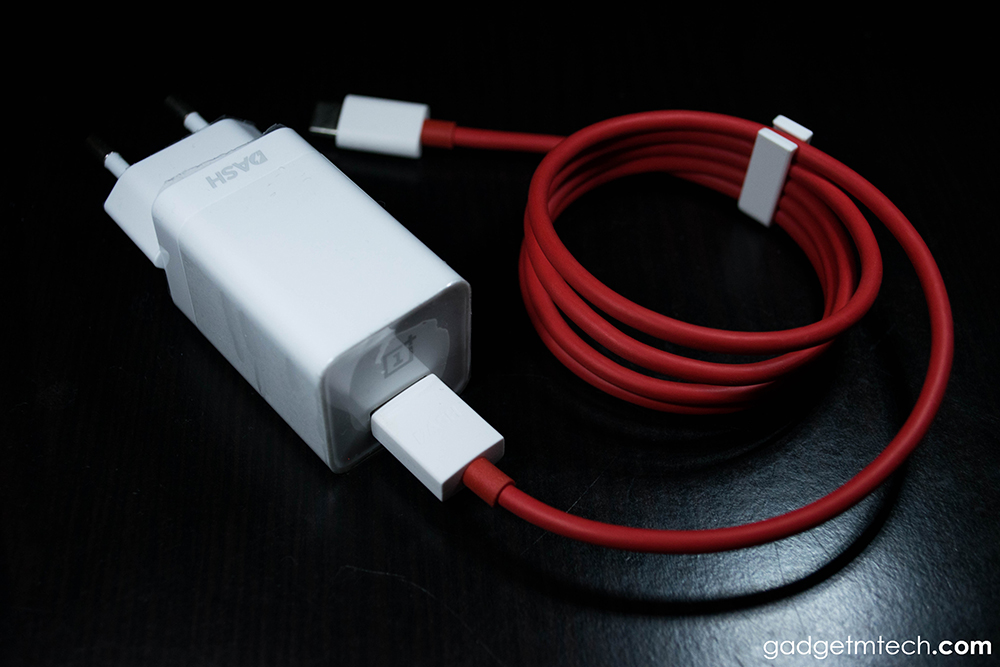 The OnePlus 3 has a 3,000mAh non-removable battery with Dash Charge supported. Dash Charge is a pretty quick charging solution via USB Type-C, I was able to get the device fully charged from zero in just an hour and slightly more.
Battery life is a small disappointment as the device is supposed to have a longer battery life since OnePlus has decided to use Full HD display, not fully utilizing all its RAM and more. However, I was able to get around 3.5 hours of screen-on-time, that's not too bad, but I was expecting more.
Final Words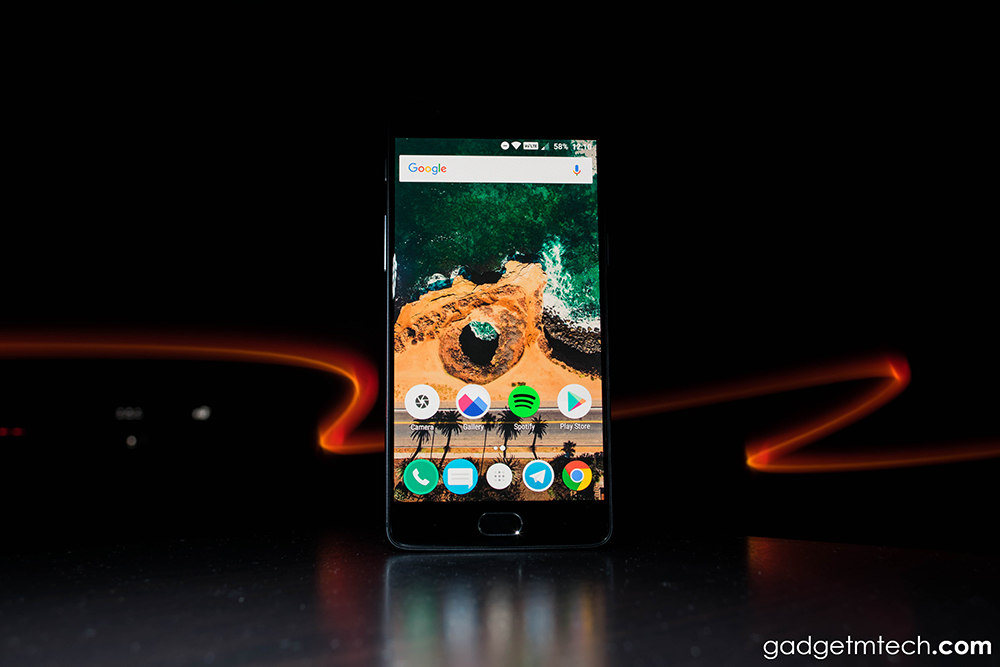 Pricing at RM1,888, the OnePlus 3 is definitely a flagship killer. You don't normally get a flagship phone at such price tag, most importantly, it has an audio jack as well! The device has a premium and gorgeous design, and words can't describe how much I enjoyed using OxygenOS, it's just like human need oxygen. That beast performance makes you don't need to worry about any delays or hiccups, and there's only one variant available — 64GB internal storage. This is the best smartphone ever from OnePlus, but I really wish the company could pay more attention to Malaysian market — bring more official accessories!
Yay
Premium build
OxygenOS is fast
High-end specs, affordable price tag
Nay
Not fully utilizing the 6GB RAM
Unimpressive battery life
Lack of official accessories