Introduction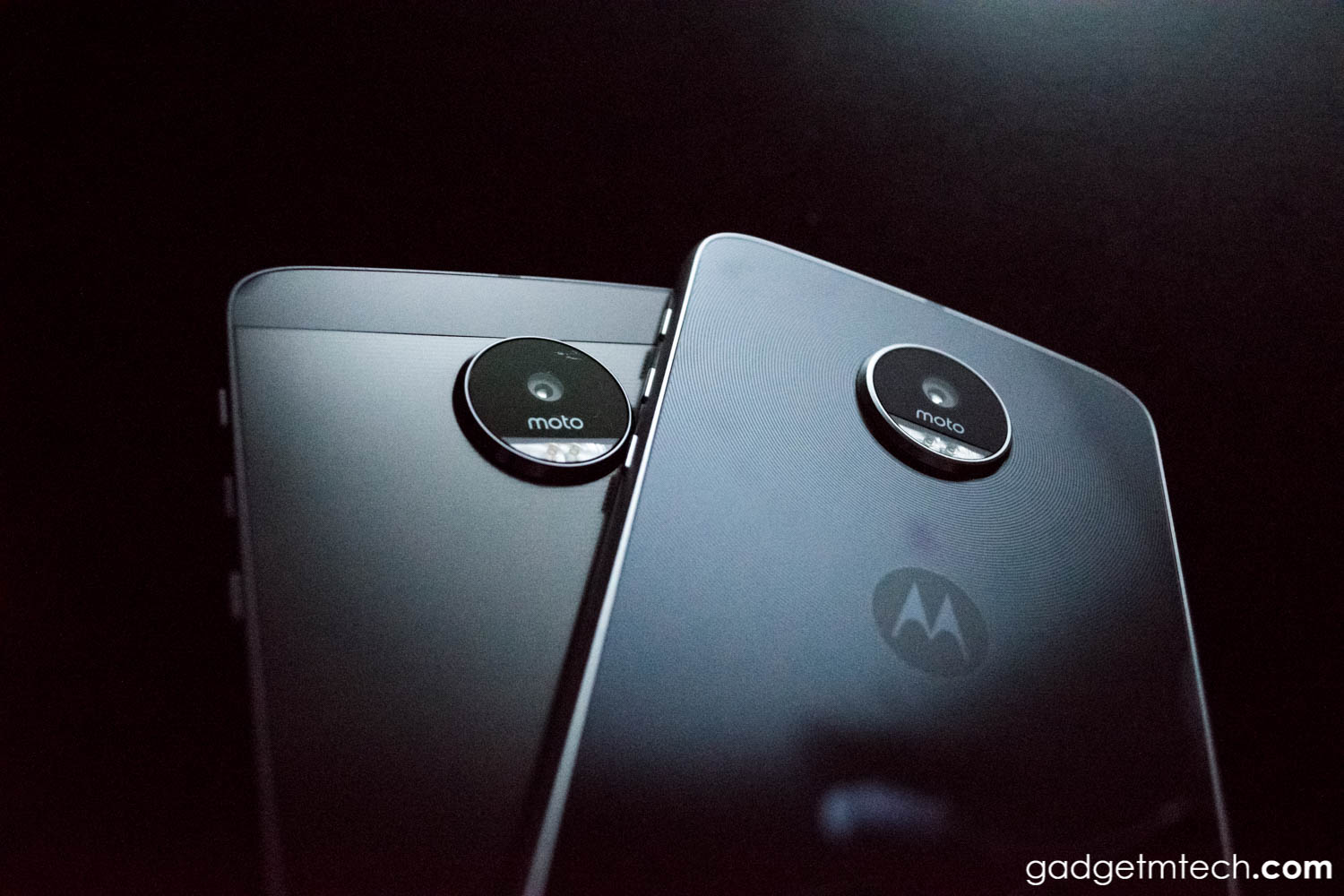 Still remember Google Project Ara modular smartphone? It's kinda sad that Google decided to kill off the project as it looks promising and interesting. Smartphones nowadays are pretty much the same with identical designs, same specs, and even similar software experiences. Well, that's not really the case for the Moto Z family. Motorola, a Lenovo company, launched the Moto Z family last year in Malaysia alongside with the Moto Mods, and both smartphones have something similar to Google's Project Ara — modular. Even though it's not fully modular, at least we are seeing something different right now. This is the Moto Z and Moto Z Play review, with the Moto Mods.
Semi-Modular Designs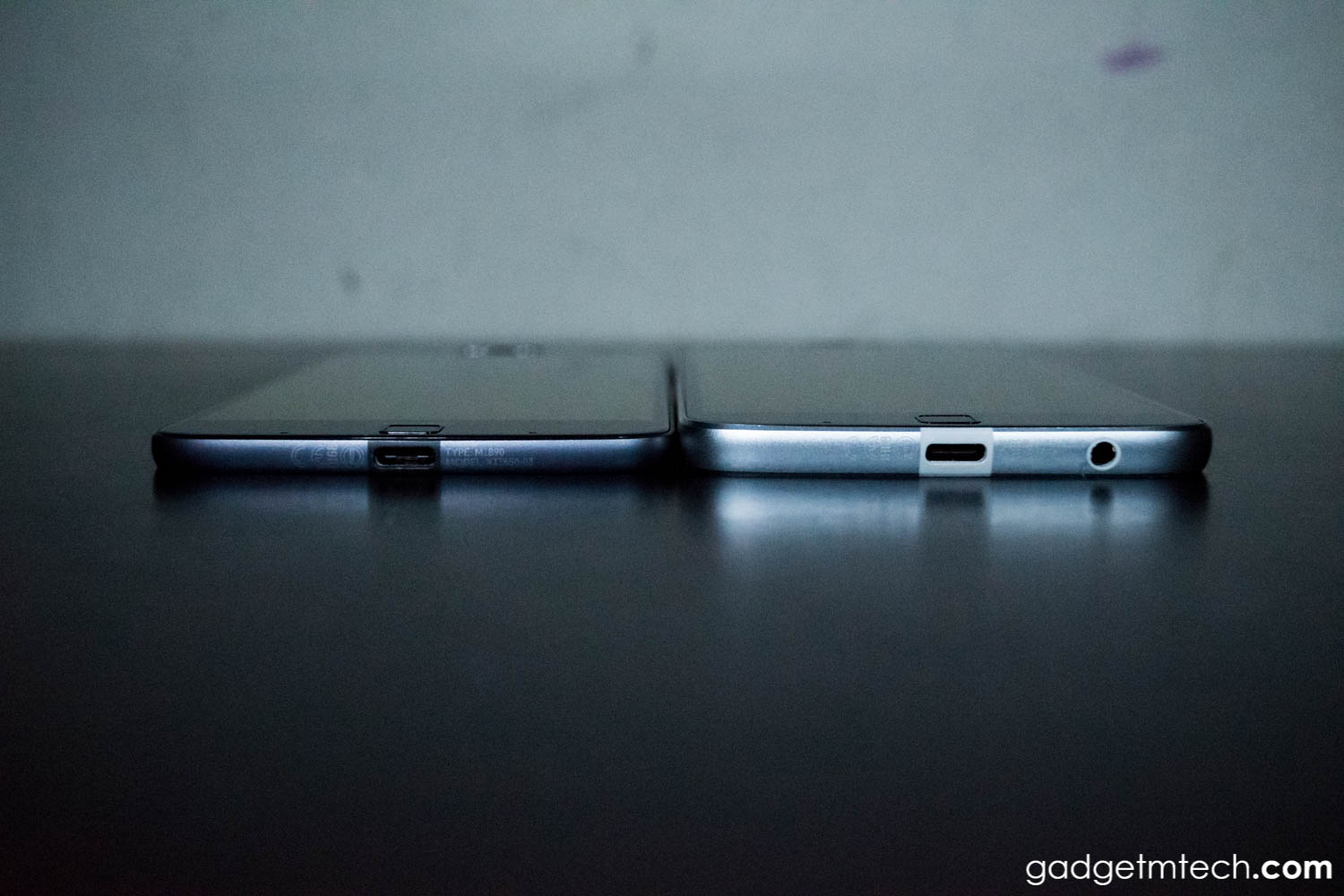 The reason why I decided to review both devices together is because both Moto Z and Moto Z Play are quite similar in terms of design, software experience, and the semi-modular system. Both Moto Z and Moto Z Play have the same design language, though the Moto Z is thinner than the Moto Z Play.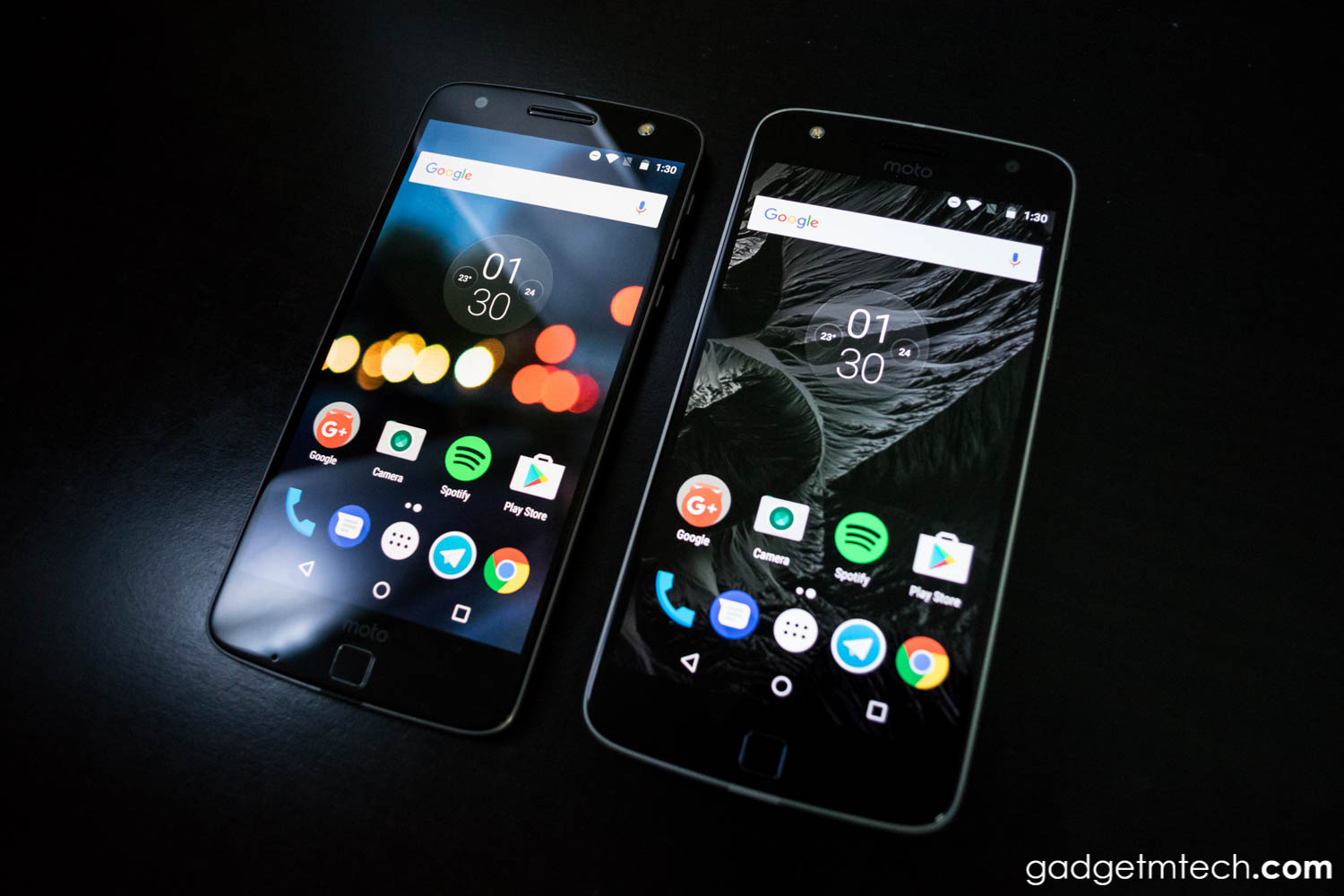 You can't really differentiate which is which by just looking the fronts of both devices because they both look almost the same. There are still some slight differences, though, like the "Moto" logo is located below the screen on the Moto Z, while the Moto Z Play has the logo above the screen. The selfie flashes and front cameras on both devices are located in opposite positions as well.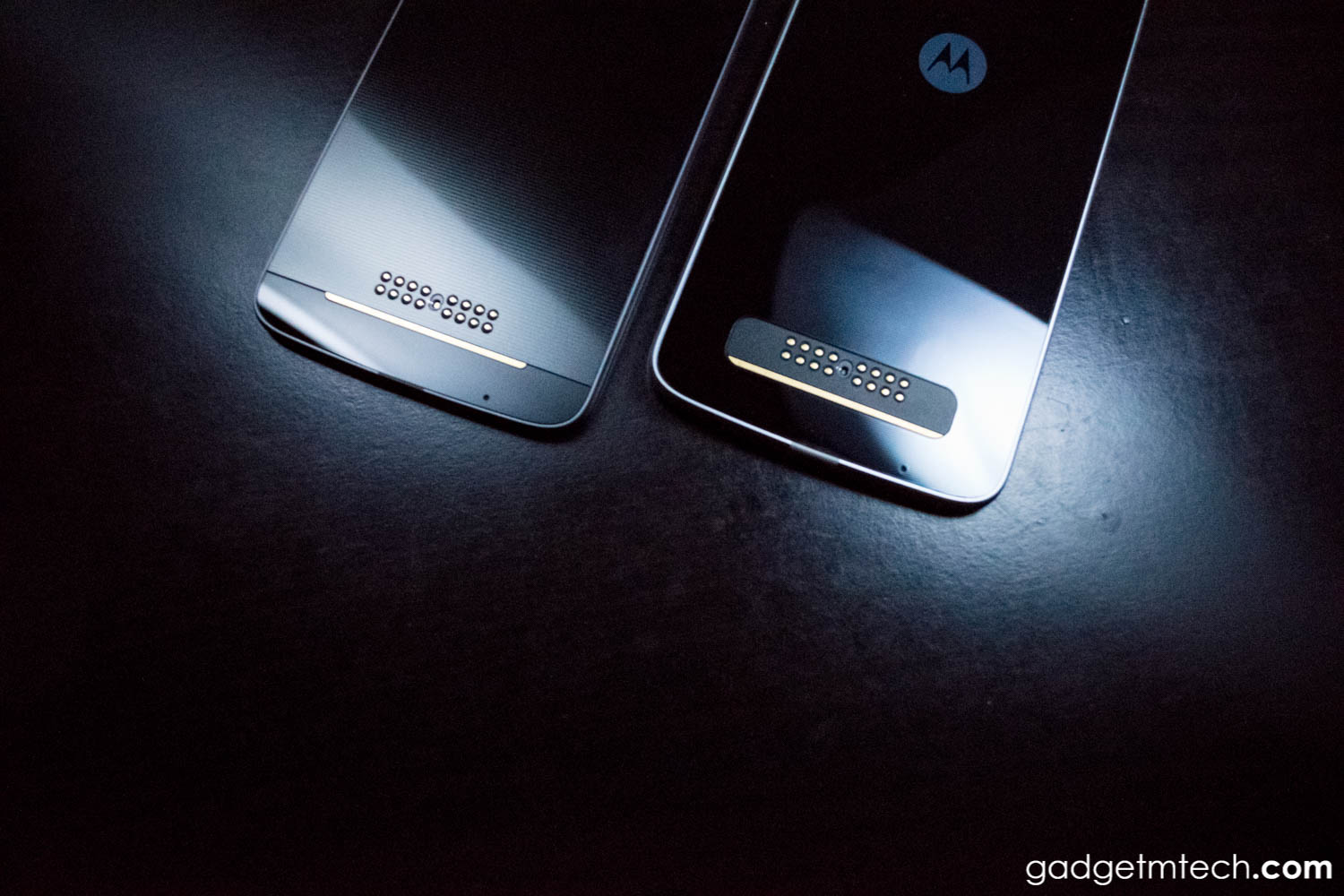 Flipping over to the backs of both devices, they have the same design elements. However, the Moto Z back has a matte finishing, while the Moto Z Play features a glass back design. The magnetic connectors are located at the bottom parts of both devices, the important parts for you to connect with the Moto Mods.
Conclusion: Both Moto Z and Moto Z Play look almost the same and feel premium. Personally, I feel that both devices are more like the prototypes as there are two sensors below the screens. It's not that obvious if you are using the black units, pity the white units. One thing to keep in mind is that the Moto Z doesn't have a 3.5mm audio jack like the Moto Z Play has, so you'll gonna need to use an adapter.
Same Screen Size, Different Resolutions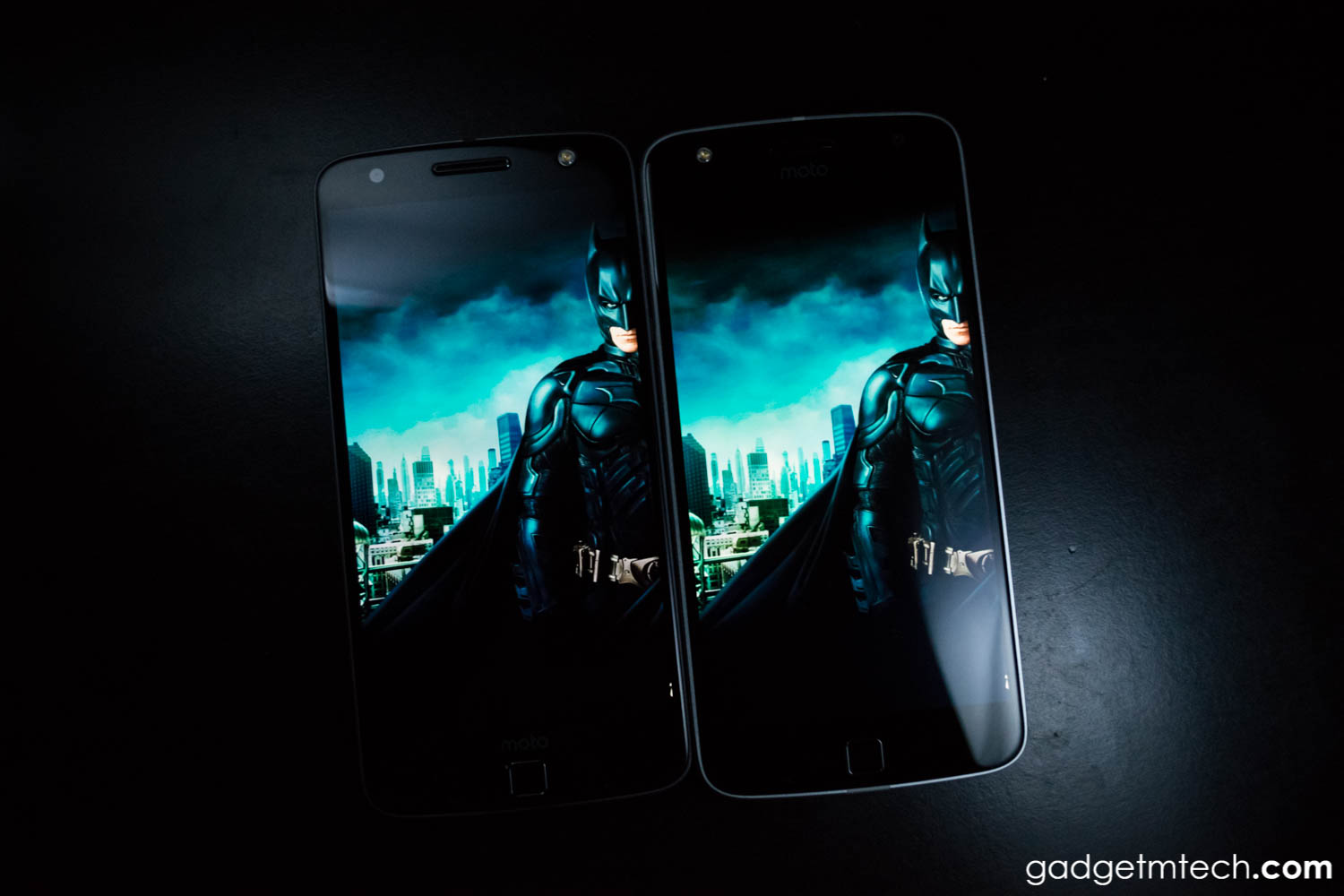 Both Moto Z and Moto Z Play have a 5.5-inch AMOLED display, but the Moto Z has QHD resolution, while the Moto Z Play has only Full HD resolution. There aren't much different between both displays beside the sharpness. You'll still get pretty deep black and colors with a nice amount of contrast and saturation, typical for an AMOLED panel.
Conclusion: AMOLED display provides one of the best viewing experiences in a smartphone. Motorola made a right choice to use the AMOLED panel as it really consumes less battery when both devices have the Moto Display feature, which we will be covering later.
Qualcomm Snapdragon 820 and Snapdragon 625 Processors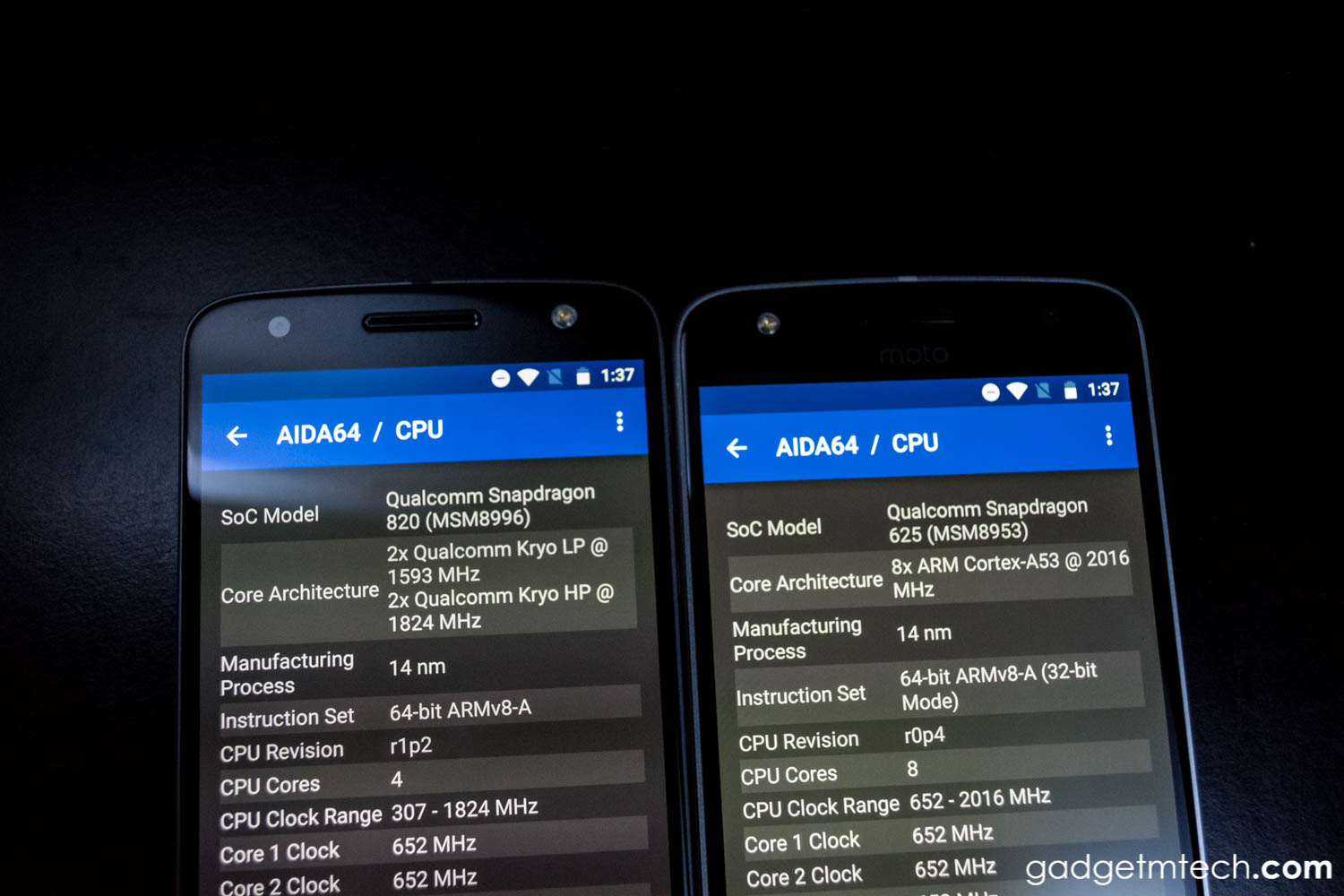 The Moto Z is powered by a Qualcomm Snapdragon 820 processor with 4GB RAM and 64GB expandable storage. As for the Moto Z Play, the device is powered by a less powerful Qualcomm Snapdragon 625 processor with 3GB RAM and 32GB expandable storage.
The differences in terms of performance between both devices aren't big, I found that the Moto Z is slightly faster in terms of app launching. Additionally, the Moto Z is also better in terms of multitasking because it has more RAM, the apps won't restart or reload after coming back from other apps. The Moto Z Play happened, though.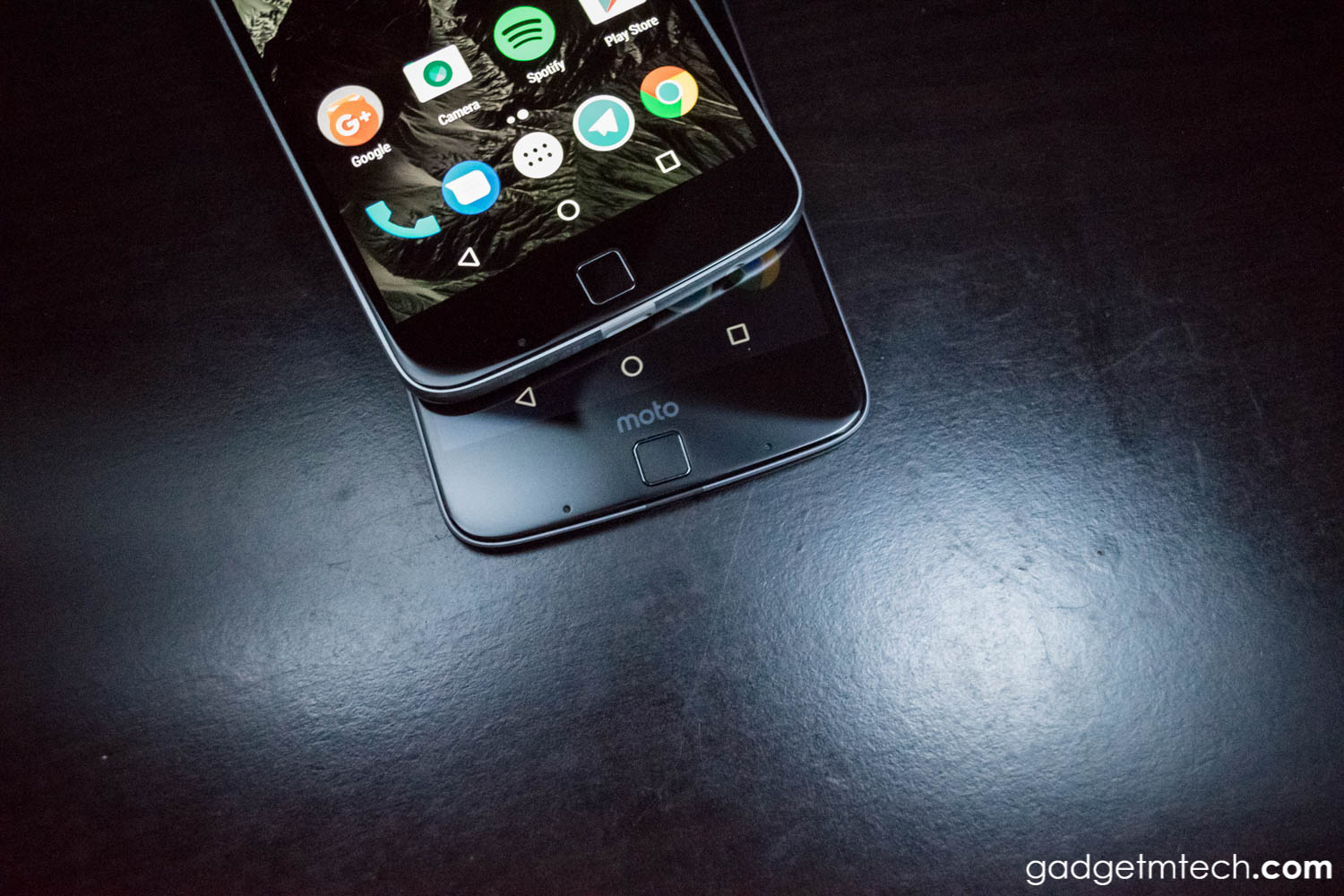 Both devices have a fingerprint sensor below their screens, which is fast and accurate. If you hold the fingerprint sensor for a few seconds while the screen is on, it will lock the device.
Conclusion: Both Moto Z and Moto Z Play performances are impressive. I didn't notice any hiccups or lags while using both devices, an A+ in terms of performance for both devices.
Vanilla Android Experience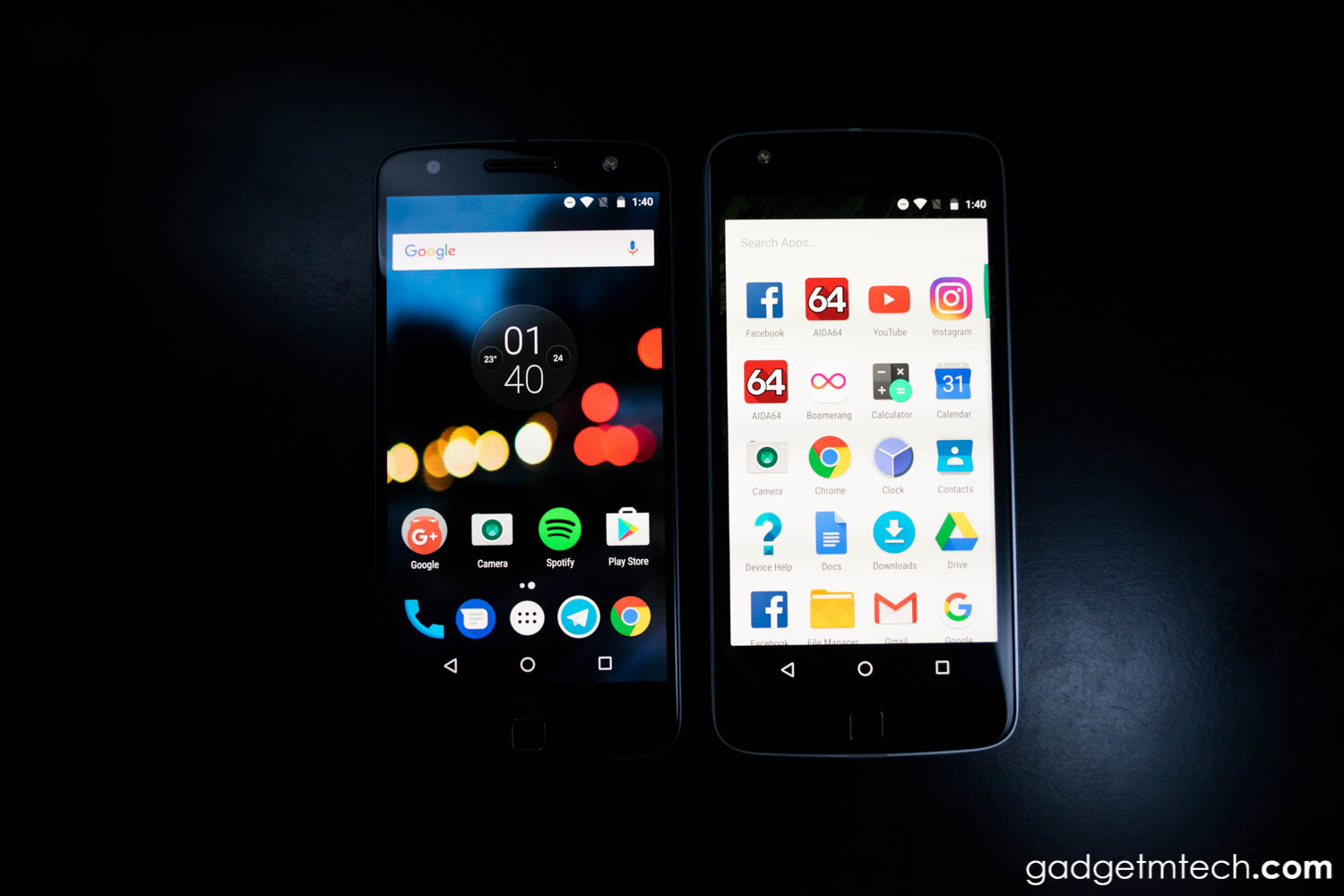 Both Moto Z and Moto Z Play are running on Android 6.0.1 Marshmallow with close to the vanilla Android experience. Unfortunately, the Android 7.0 Nougat update rolled out right after we done our test of the Moto Z, while the Moto Z Play still hasn't received the update yet. Read our Moto Z Android Nougat update here to find out the new features.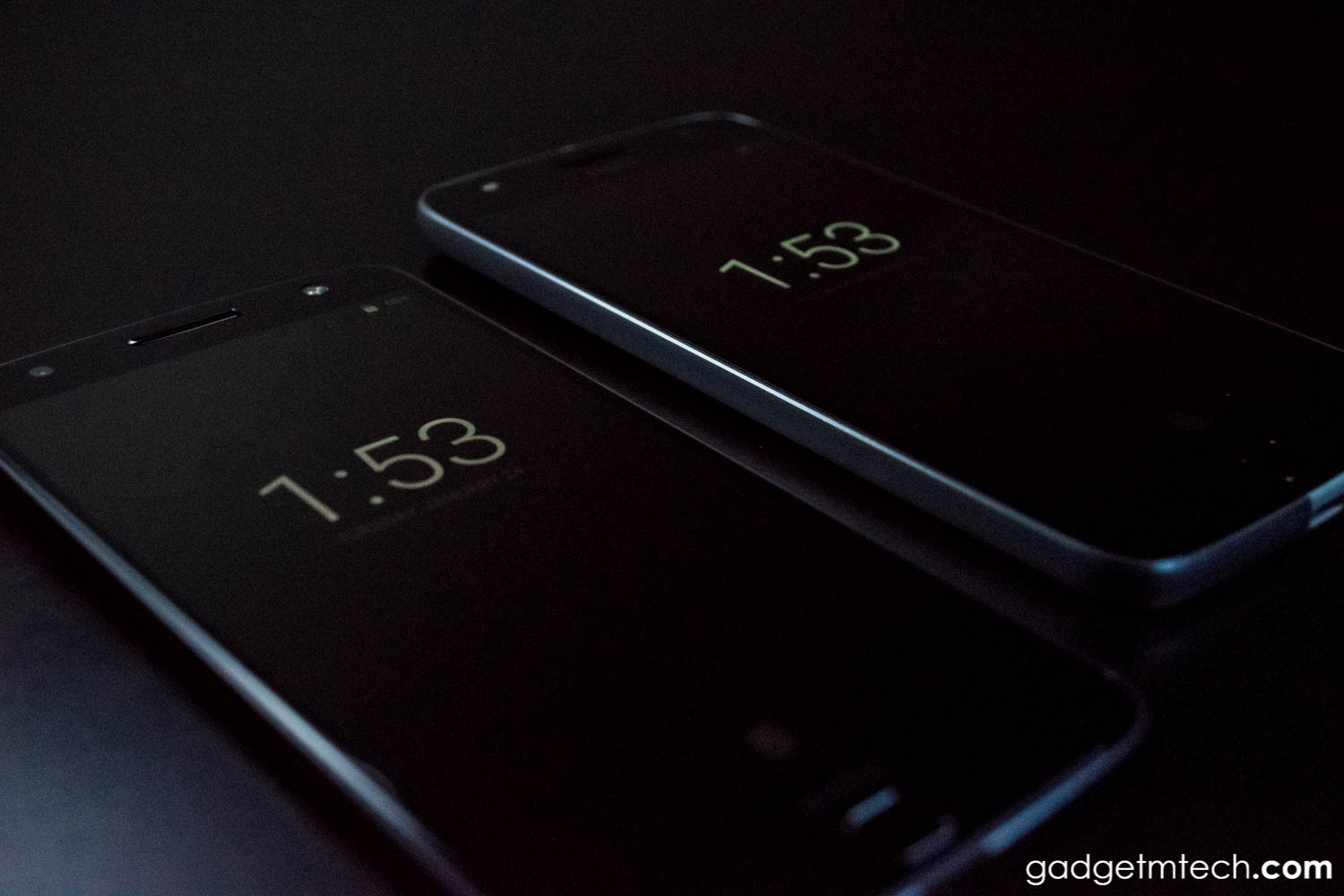 As I mentioned before, the software experience of both Moto devices is pretty close to the stock Android experience. Well, it's almost same actually, but with some additional Moto features.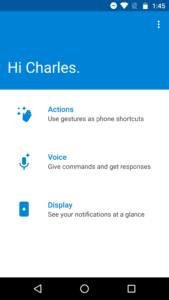 All these Moto features can be enabled/disabled in the Moto app, these features are:
Moto Actions
Moto Actions let you perform certain gestures to activate certain functionalities like making a chopping motion to turn the flashlight on/off, twist your wrist twice quickly to open the camera app, and more as shown in the screenshots above. I find that the "Chop Twice for Flashlight" feature is pretty useful as it's fast and I don't need to turn on the screen to turn on/off the flashlight. However, it will turn on the flashlight as well if you are holding the phone while running, make sure you turn off this feature before you go for a run.
Moto Voice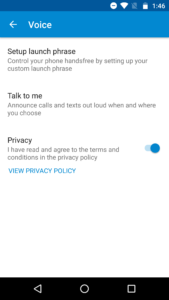 Moto Voice is an assistant component that can listen for your commands with a custom wake-up phrase, all the time. It can even announce calls and texts out loud when and where you choose but don't expect it to be like Cortana or Siri.
Moto Display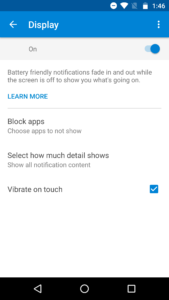 Moto Display has already existed for quite a while since the first generation Moto X. It's not an always on display like Samsung and LG offer, but it comes on when its sensors sensed your hand approaching the device.
Conclusion: Both Moto Z and Moto Z Play have the same stock Android experience with a few additional features, which I actually prefer a lot.
13MP and 16MP Rear Cameras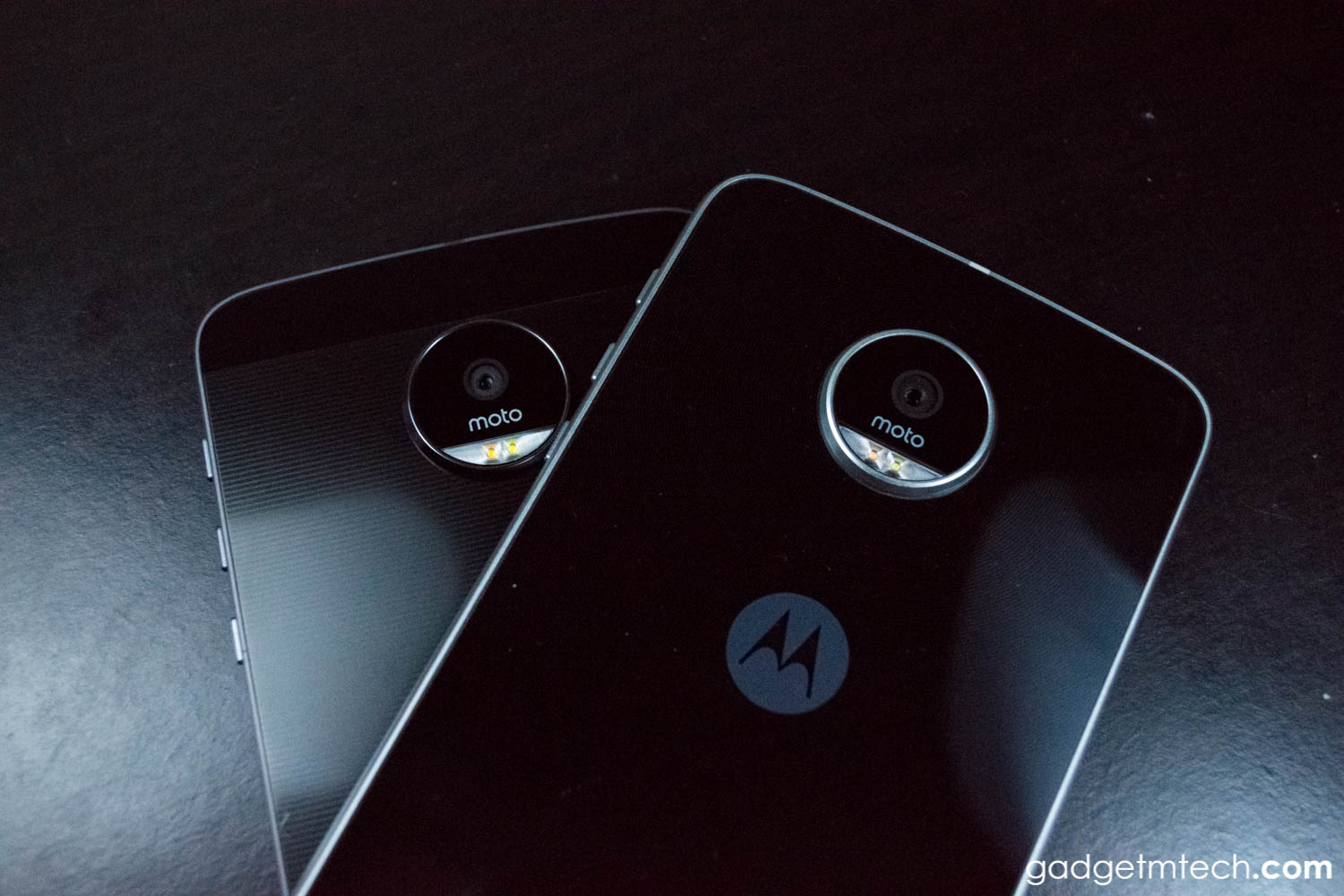 Surprisingly, the Moto Z has a lower resolution rear camera compared to the Moto Z Play (13MP vs 16MP), but let's not say anything first as camera resolution isn't everything.
Both devices are able to capture nice photos, but both struggle quite a bit under the low-light conditions, especially the focusing speed (even though both have laser AF). I found that the images taken with the Moto Z have higher contrast and saturation than those taken with the Moto Z Play, which is more eye-pleasing.
Conclusion: Smartphones nowadays all have a good enough camera if not the best. Both the Moto Z and Moto Z Play definitely will get the job done of taking decent images for you to upload to your social media platforms. Camera resolution isn't everything as the Moto Z took better photos than the Moto Z Play even though it has a lower camera resolution.
Impressive Battery Life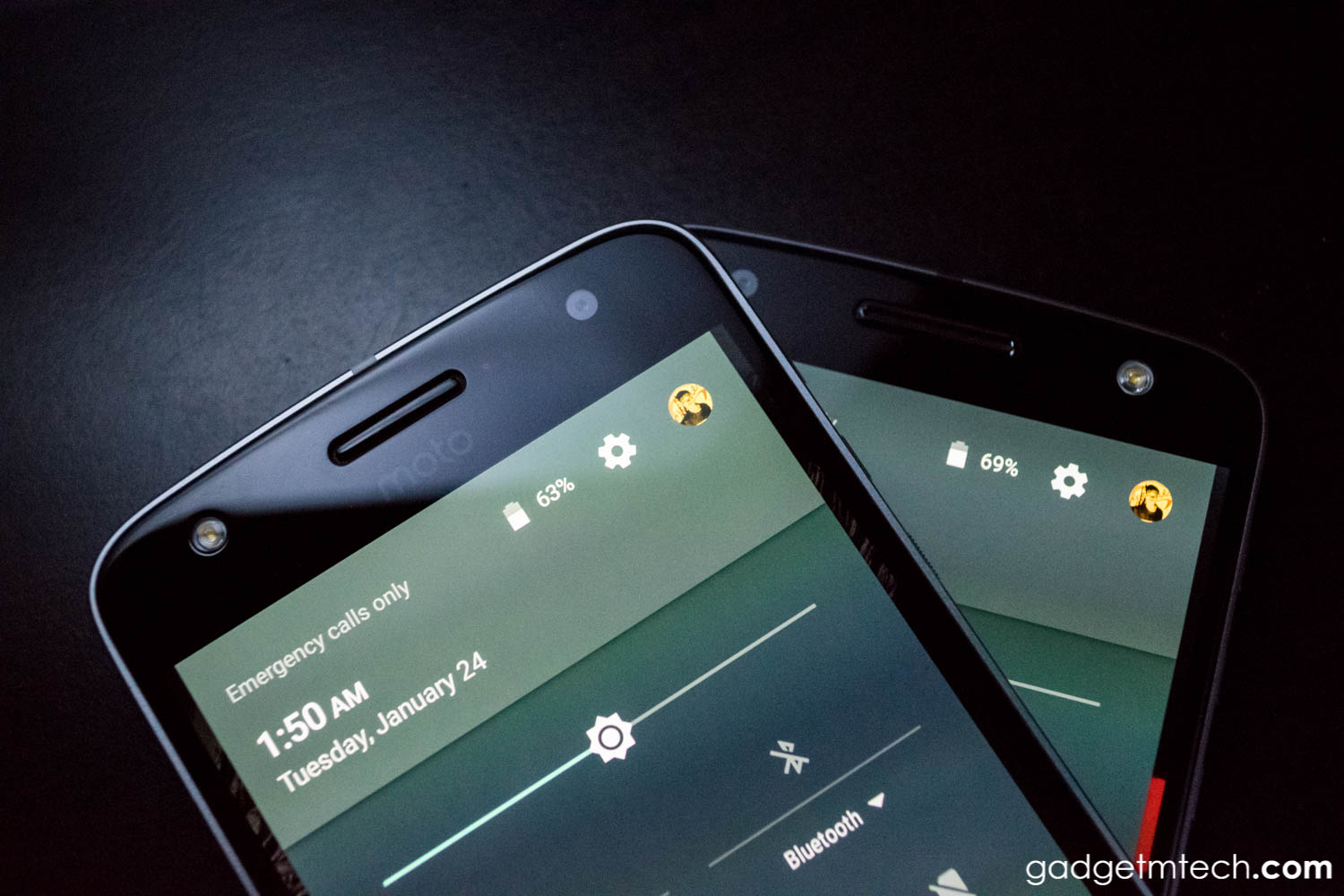 In terms of battery life, it's not surprising to find out that the Moto Z Play actually has a better battery life than the Moto Z as it has a bigger battery (3,510mAh vs 2,600mAh), less powerful processor, and a lower screen resolution.
Getting through a day with either one of these devices is not a problem at all, the Moto Z Play can even last through two days if you are a light user. Based on my usage, I was able to get 3.5 hours of screen-on-time on the Moto Z, while the Moto Z Play has nearly 6.5 hours of screen-on-time, that's almost two times more.
Conclusion: There's no doubt that the Moto Z Play has a better battery life than the Moto Z due to the bigger battery and less powerful specs. That doesn't mean the Moto Z battery life is bad, but I really hope that Motorola can put a bigger battery next time, I don't really mind if the body is thicker.
Moto Mods
Here comes the main selling point of both devices — Moto Mods. So, how do the Moto Mods? The Moto Mods snap onto the Moto Z/Z Play using integrated magnets. They fit perfectly and you can swap Moto Mods in a snap anytime and anywhere.
Moto Style Shell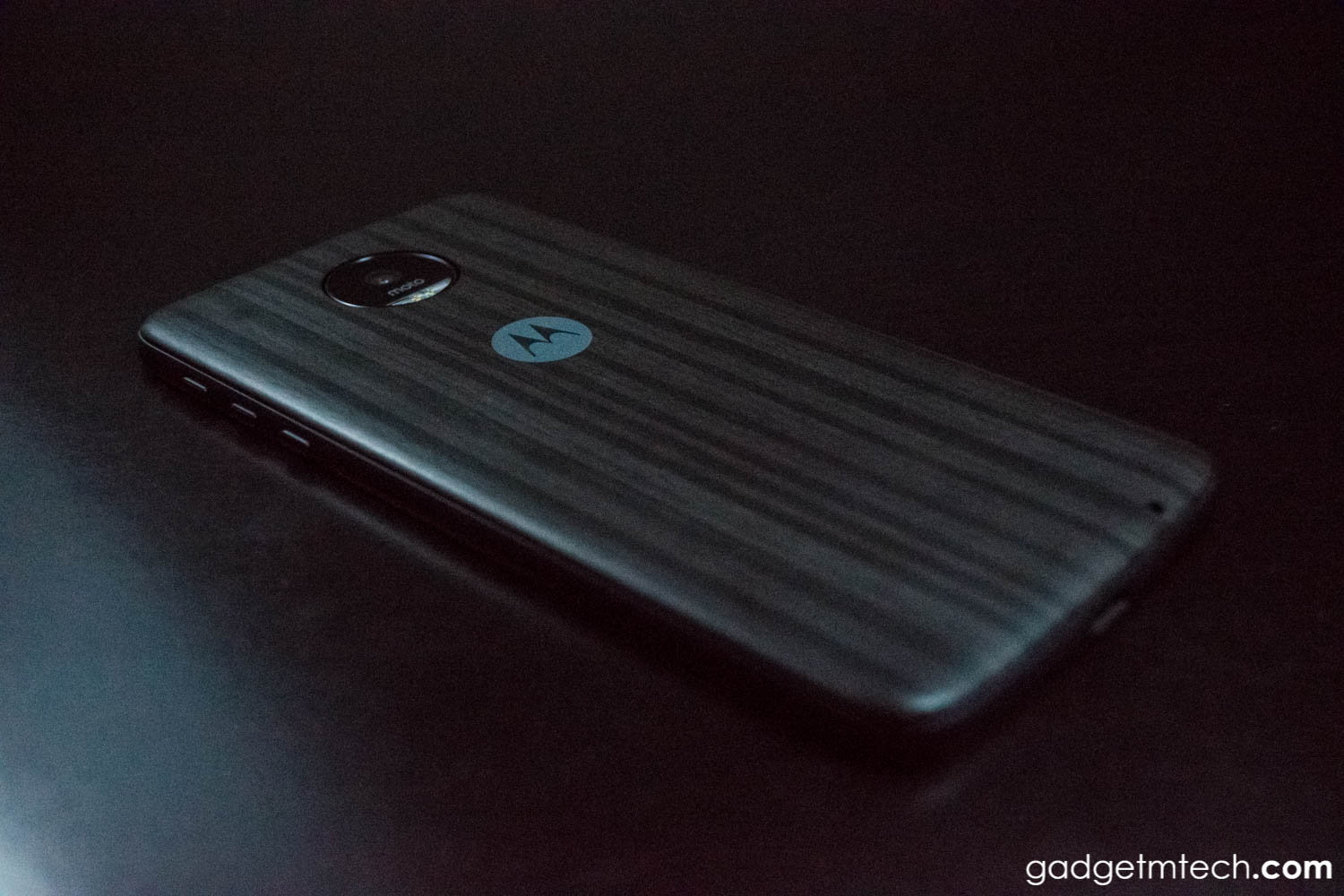 Still remember the Moto Shell for the Moto G? The Moto Style Shell serves the same purpose — to add your own smart style to your phone, but it only works on the Moto Z and Moto Z Play. The Moto Style Shell has quite a few different materials, including real wood and genuine leather.
JBL SoundBoost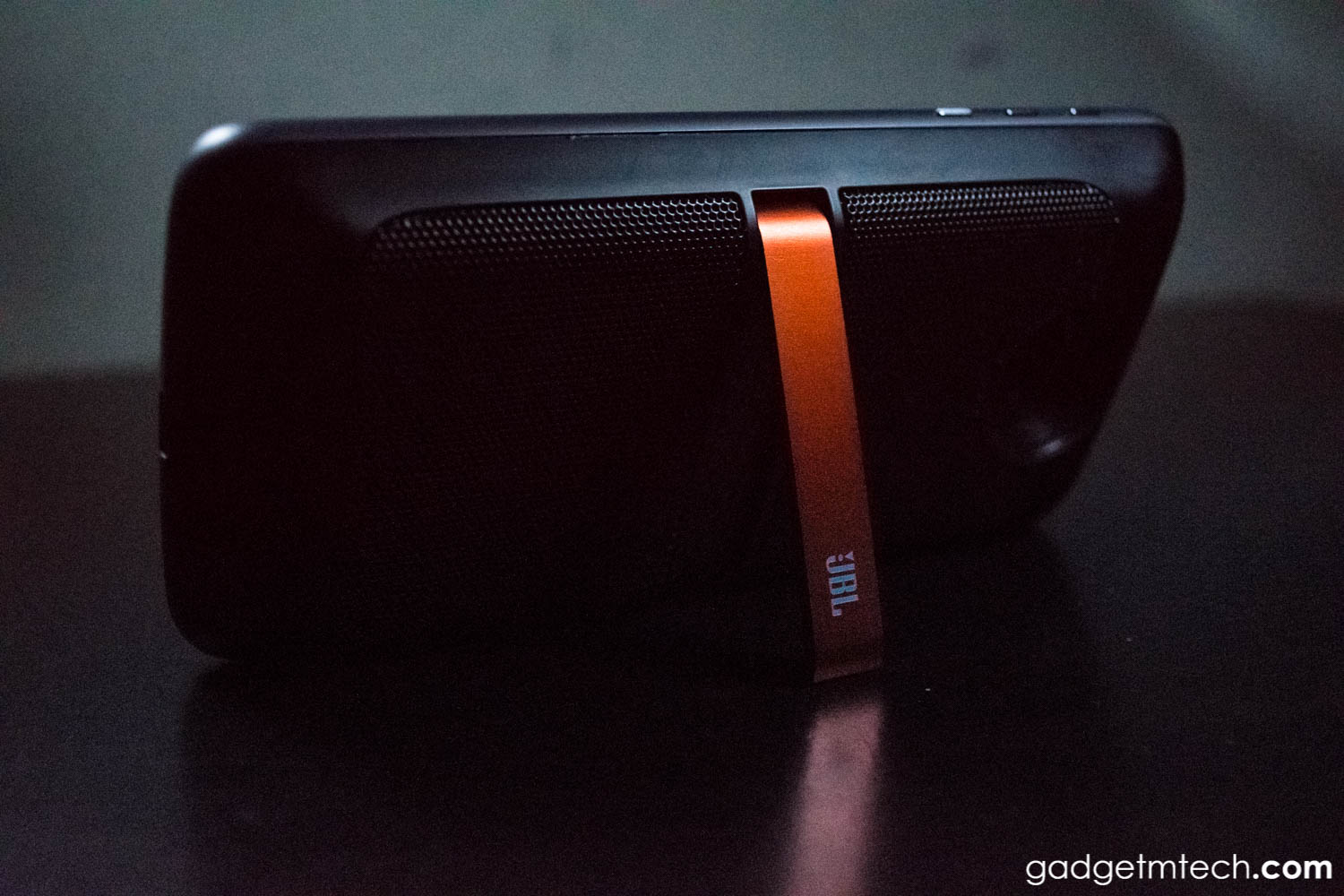 The JBL SoundBoost Mod gives the Moto Z and Moto Z Play a boost with powerful stereo sound. The built-in kickstand props up your smartphone to make videos and music more immersive. Its audio quality is impressive with loud volume and deep bass. There's no distortion as well even if I turn the volume to the max. Furthermore, if you fully charged the JBL SoundBoost Mod, it'll provide extra 10 hours of music playback time without using your phone's battery.
Moto Insta-Share Projector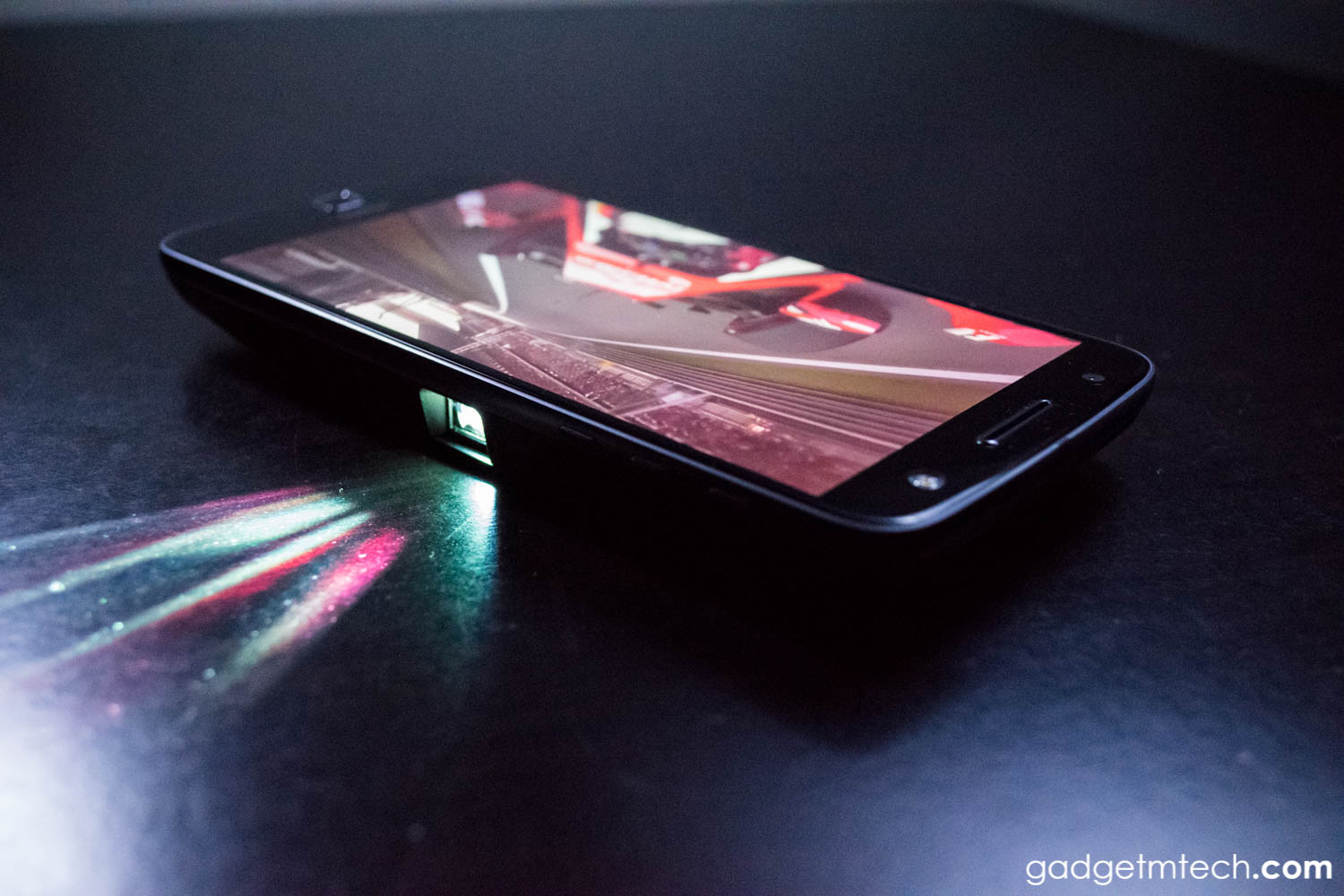 The Moto Insta-Share Projector Mod transforms your phone into a projector, which instantly turns any flat surface into a 70″ big screen. It'll even adjust the keystone automatically, you can always manually adjust the keystone if you are not happy with it, or adjust the attachable folio to project at any angle.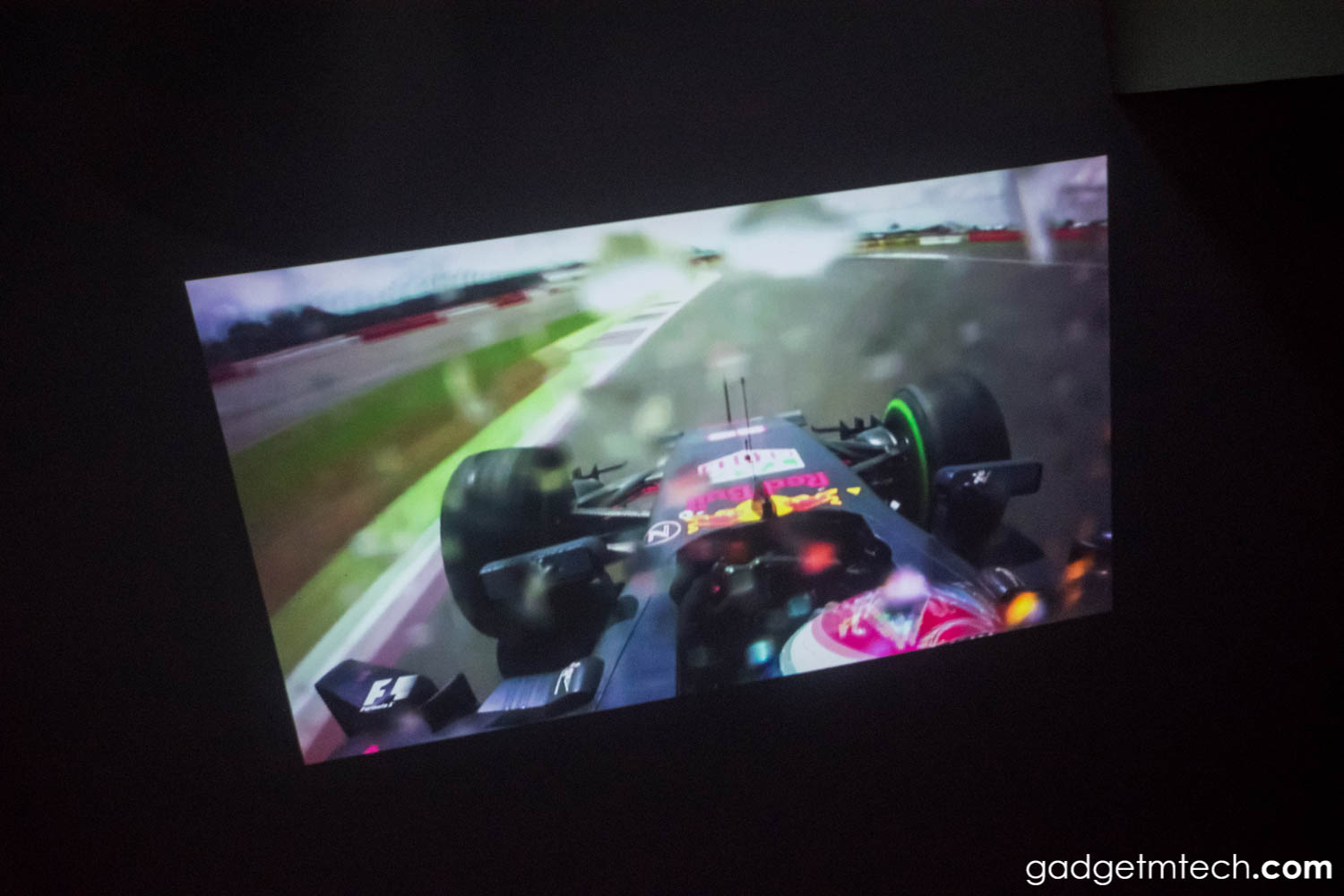 Like the JBL SoundBoost Mod, it also has a built-in battery which provides one extra hour of screen time before using the phone's battery. The only thing I don't understand is why Motorola didn't add a speaker to the projector mod as well? You can connect to a Bluetooth speaker, though.
Hasselblad True Zoom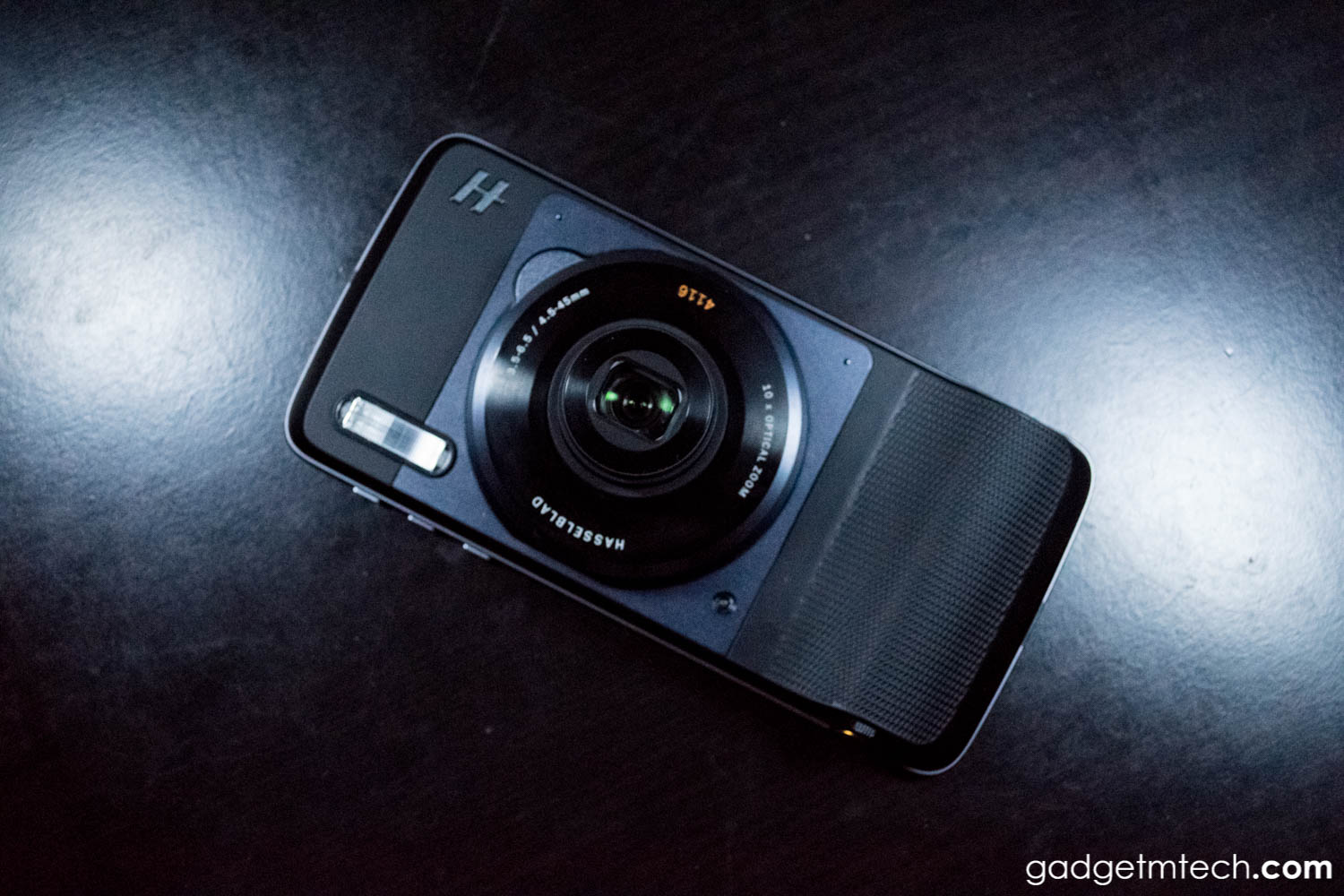 The Hasselblad True Zoom Mod features 12MP shooter, 10x optical zoom and Xenon flash. You can shoot all the images in RAW format as well then post-process the images yourself.
Image quality isn't as good as expected, but at least you get to capture detailed images from any distance without losing resolution. The camera interface isn't that smooth as well, Motorola needs to work hard on improving the camera experience.
Incipio offGRID Power Pack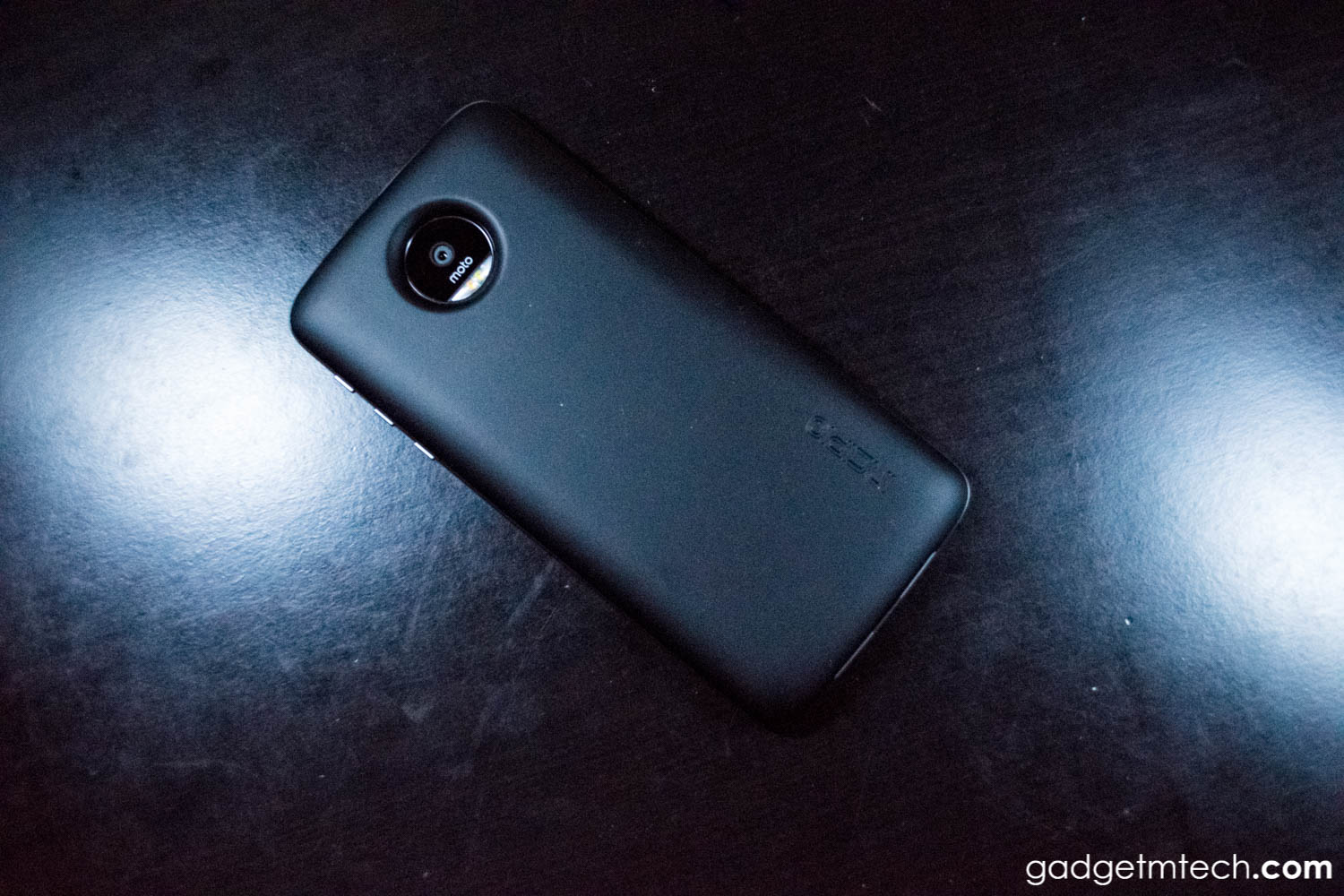 The Incipio offGRID Power Pack Mod provides more battery juice to your phone thanks to its 2,220mAh battery. It will automatically charge your phone to ensure your phone's battery is full, you can also set to charge automatically when the battery level drops to 80%. If you think that the 3.5 hours of screen-on-time on the Moto Z is too short, this is the one you should get.
Conclusion: The Moto Mods is a pretty unique feature for both the Moto Z and Moto Z Play. I personally enjoy using the JBL SoundBoost and Moto Insta-Share Projector a lot. It's really fun that I could play my Spotify playlist with the speaker mod and watch movies with the projector mod. Plus, it's really convenient, just snap on the mod and you are good to go.
Pricing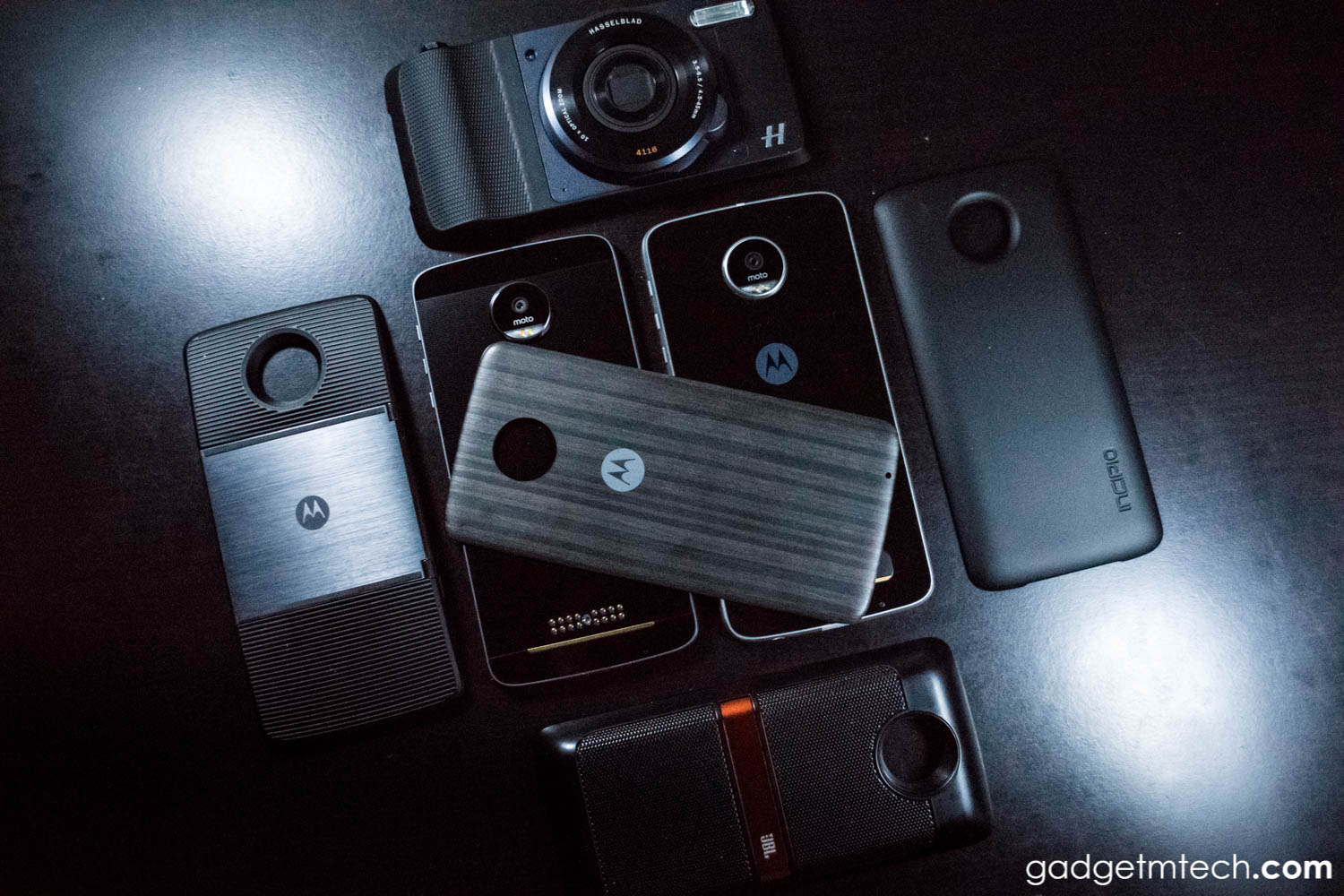 Moto Z: RM2,699
Moto Z Play: RM1,899
Moto Style Shell (Black Leather): RM79
Moto Style Shell (Charcoal Ash): RM79
Moto Style Shell (Silver Oak): RM79
Moto Style Shell (Washed Oak): RM79
Moto Style Shell (Crimson Ballistic Nylon): RM59
Moto Style Shell (Black Herring): RM59
JBL SoundBoost Speaker: RM599
Hasselblad True Zoom Camera: RM1,299
Moto Insta-Share Projector: RM1,399
Incipio offGRID Power Pack: RM499
Final Words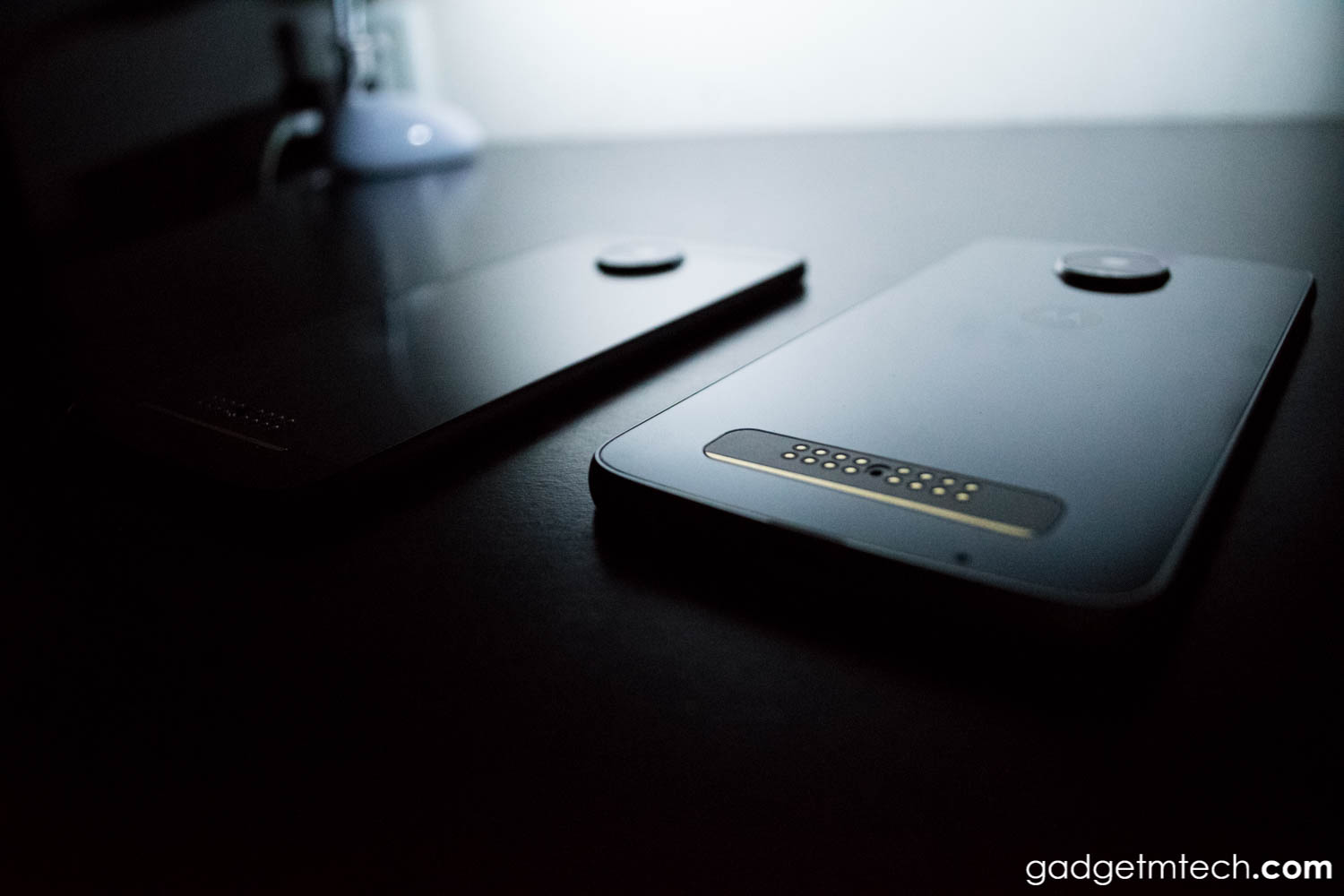 Both Moto Z and Moto Z Play are unique smartphones, you don't really get to see smartphones like these two. I seriously like the idea of Moto Mods, just snap it on and you can transform your phone into another machine — a smartphone with extremely good speaker, a smartphone with the projector, a smartphone with 10x optical zoom, etc. The only disadvantage of the Moto Mods is these mods aren't affordable, it'll cost more than a laptop if you purchase all the mods. Even though the Google Project Ara is dead, I'm glad to see that Motorola (Lenovo) actually came up smartphones with semi-modular systems. This is the whole new level for a smartphone, and I really hope to see more in the future.
Yay
Moto Z
Thin design
Semi-modular
Impressive display
Smooth user experience
Moto Z Play
Semi-modular
Impressive display
Smooth user experience
Impressive battery life
Moto Mods
Bring more features to phone
Nay
Moto Z
No audio jack
Protruding camera
Battery life is a little bit short
Moto Z Play
Protruding camera
Price can be lower
Moto Mods
Not all Moto Mods are affordable