Huawei has launched the Huawei MateBook, a 2-in-1 device at Mobile World Congress 2016 designed to meet the evolving demands of today's modern business users.
Building on Huawei's recent success in delivering beautiful and powerful high-end mobile consumer devices, the MateBook defines itself as a mobile productivity tool that seamlessly integrates mobility, high efficiency, work and entertainment.
The MateBook is answering the demand for portable, stylish smart devices that allow users to stay connected in any setting. Designed as a total solution for consumers who enjoy the flexibility of a convertible device, the MateBook is a premium product that perfectly balances mobility, productivity and design.
With the MateBook, Huawei is continuing its strategy of partnering with the most innovative market leaders. The device features a 6th Generation Intel Core m-series processor to handle the most rigorous business demands in a stylish, thin and lightweight design.
Built to operate on Windows 10, the MateBook also delivers the best of the legendary productivity tools and features offered by Microsoft Corp., including its latest browser, Microsoft Edge and the Cortana digital personal assistant.
Combining the mobility of a smartphone with the power and productivity of a laptop, the MateBook is designed with simplicity in mind. With minimal embellishment and a sleek appearance, the device is made of high-quality aluminum unibody that is both elegant and sophisticated. The MateBook features a strong protective body which is able to handle the tough realities of an on-the-go lifestyle, and its slim profile and ultra-low weight of just 640 g makes it ideal to take anywhere.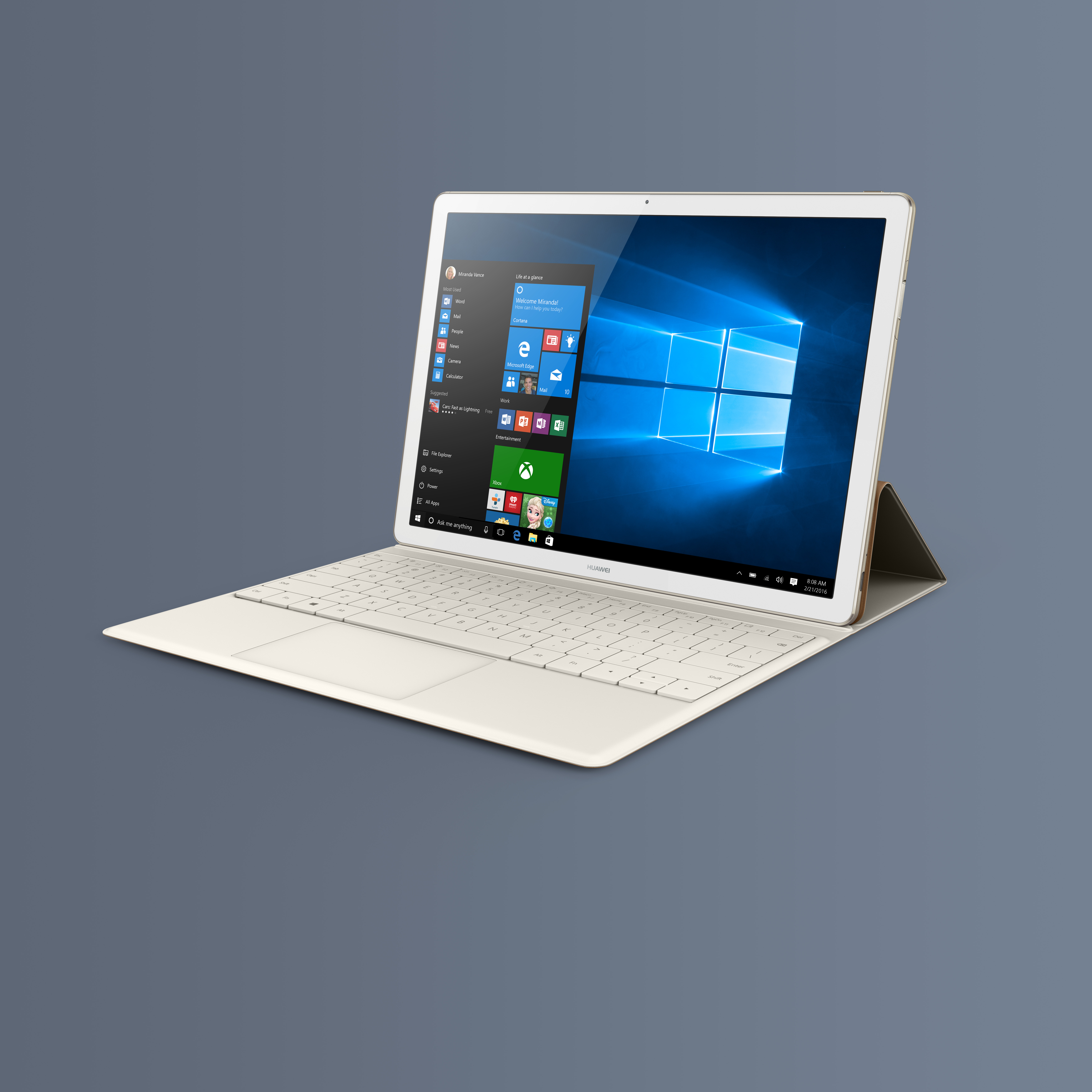 The MateBook keyboard case is made of environmentally friendly, soft PU leather, the perfect choice to match style with functionality. The durability of the keyboard case also provides an ideal level of protection. The keyboard features a 1.5 mm keystroke and a chiclet keycap design, which allows for larger key surfaces to minimize typing errors. The built-in touchpad uses multi-touch technology that supports smooth and precise finger movements, combining comfort and utility.
The MateBook's 12-inch IPS multi-touch screen is further enhanced by an ultra-narrow frame and a screen-to-body ratio of 84%. The screen boasts a resolution of 2,160 × 1,440 and a 160-degree wide angle for an immersive experience. The color gamut reaches an impressive 85 percent, capable of displaying true-to-life colors.
To ensure the MateBook delivers optimal performance as a mobile device, battery life and power were a top priority throughout the design process. Its 33.7 Wh high-density Lithium battery provides enough power for nine hours of work, nine consecutive hours of Internet use and 29 hours of music playback. The device also features Huawei's own power-saving technology to meet the needs of business users. The MateBook's battery can attain a full charge in just two-and-a-half hours. When there is not enough time for a full charge, the device can power up to 60 percent battery strength in just one hour.
The MateBook runs on Windows 10 and is powered by a 6th Generation Intel Core m-series processor, putting high-speed processing power and the most essential business productivity tools, including Microsoft Office, at users' fingertips. The device offers up to 8 GB of LPDDR3 memory and a solid-state hard drive with capacity up to 512 GB. Utilizing a unique stacked hardware process, Huawei is able to deliver a fanless design, ensuring zero noise when the MateBook is in use.
When only a hand-written note will do, the accompanying MatePen stylus offers 2,048 levels of sensitivity, perfectly capturing users' subtle and diverse pen-tip actions with zero delay. For advanced business functions, MatePen supports graphics and mathematic functions, and can be used as a laser pointer for delivering presentations.
The MateBook provides security while maintaining quick access through the fingerprint recognition feature that supports 360-degree sensitive identification for fewer authentication failures. It takes only one touch to unlock the MateBook's screen – the fastest fingerprint recognition in the industry.
Additionally, the MateBook features a Wi-Fi mobile hotspot for users to stay connected when a traditional Internet connection is not available. Other features that ensure an efficient mobile experience include a seamless data transfer capability that allows drag-and-drop document transfer to and from Android smartphones.
The MateBook will be available in Asia, Europe and North America in the coming months and will be available in two elegant colors: grey and golden.
In terms of pricing, the MateBook starts from USD $699 to USD $1,799 (approx. RM 2,937 to RM 7,561). It comes with Intel 6th Core m3, m5 and m7 three model variants that paired with 128 GB, 256 GB and up to 512 GB of storage.