Introduction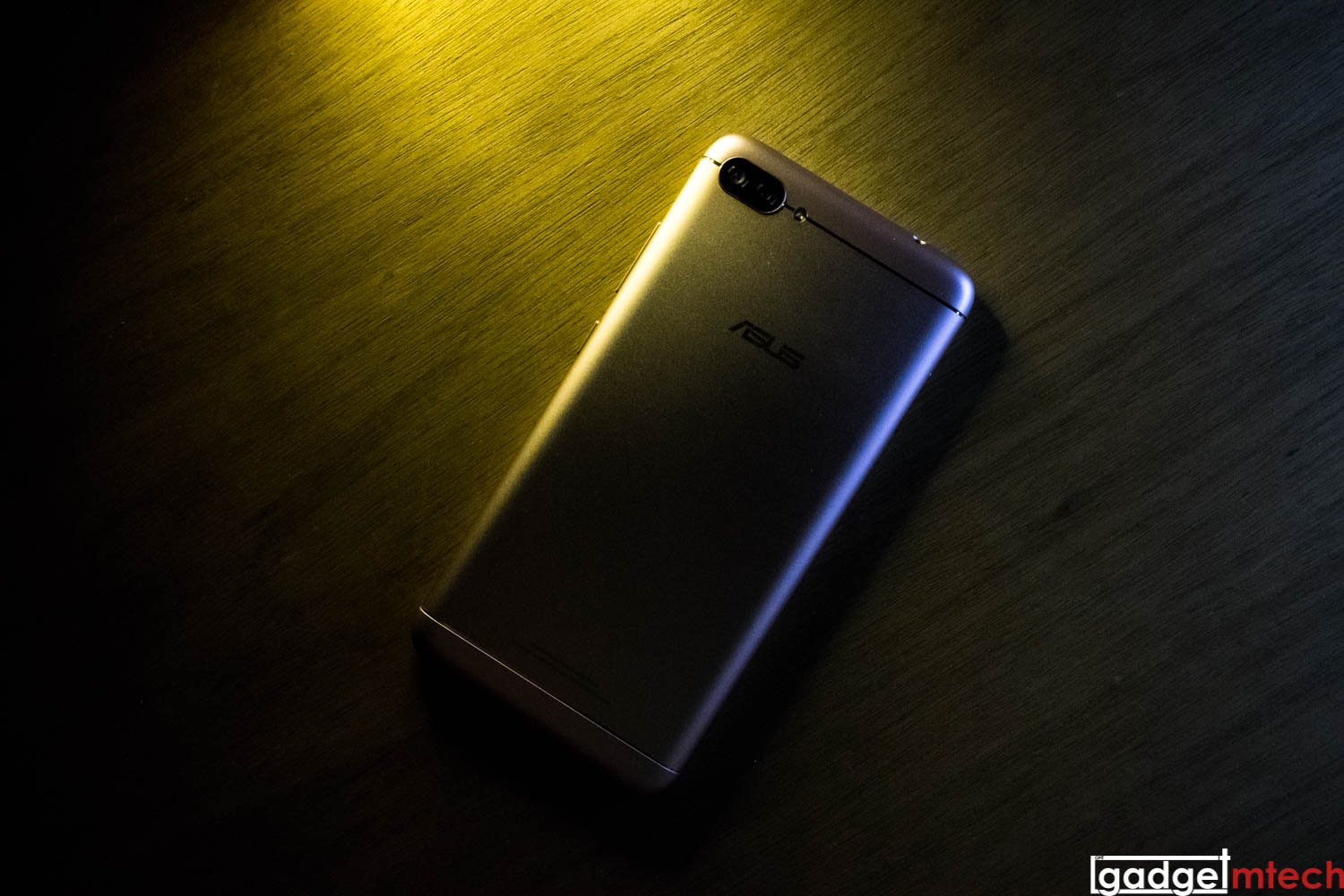 This is the ASUS ZenFone 4 Max Pro, one of the devices announced in Taiwan. Similar to last year, ASUS has two sizes for the Max devices — ZenFone 4 Max and ZenFone 4 Max Pro. The Max naming means it is a smartphone focuses on battery life. Without further ado, here's our full review!
Unboxing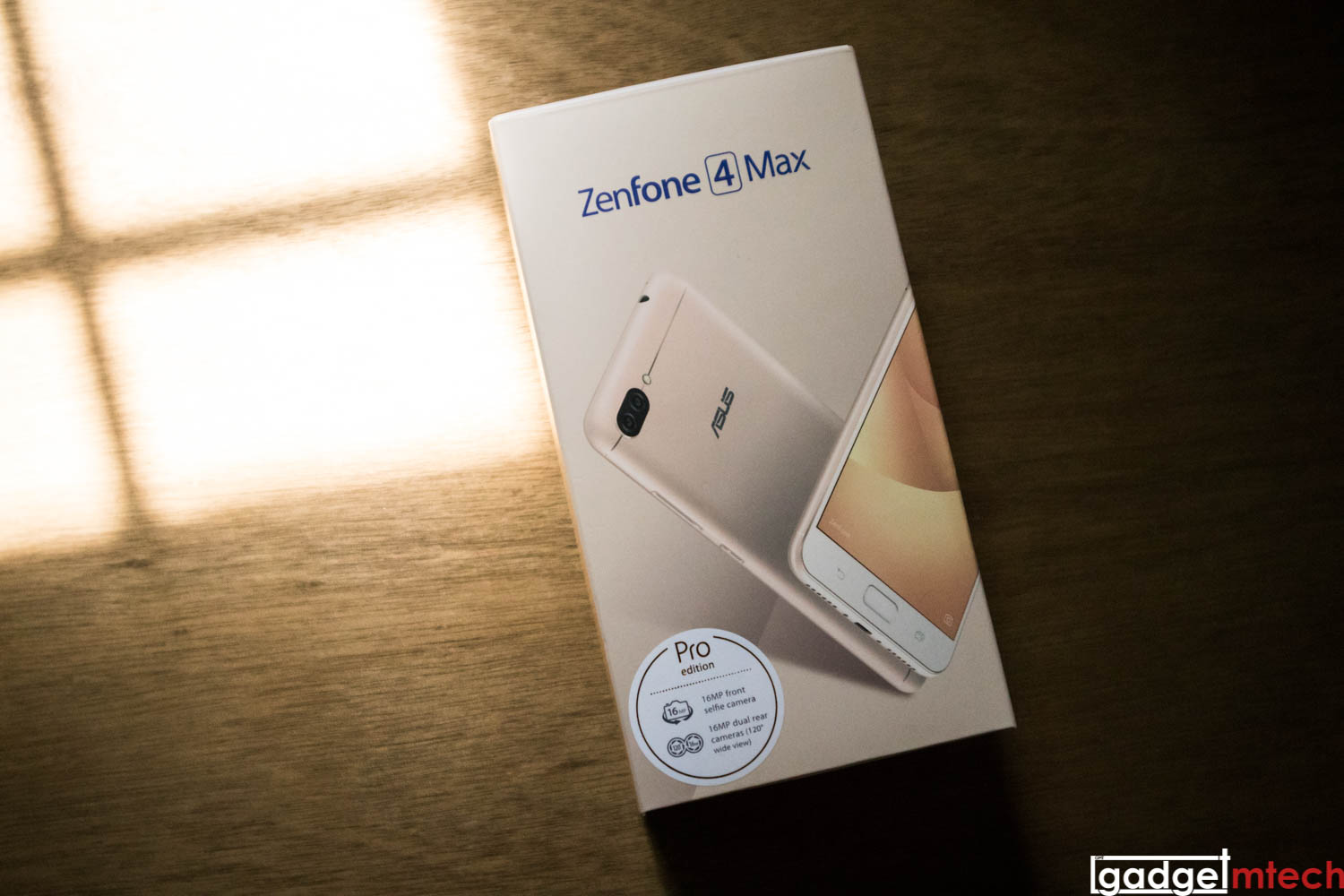 The ZenFone 4 Max Pro comes in the same rectangular box, which has been used for quite some time. There's the "ZenFone 4 Max" on the box, which makes me thought it was the ZenFone 4 Max at first until I see the "Pro edition" label at the corner. I think ASUS should have just put "ZenFone 4 Max Pro" right on the box to lessen the confusion.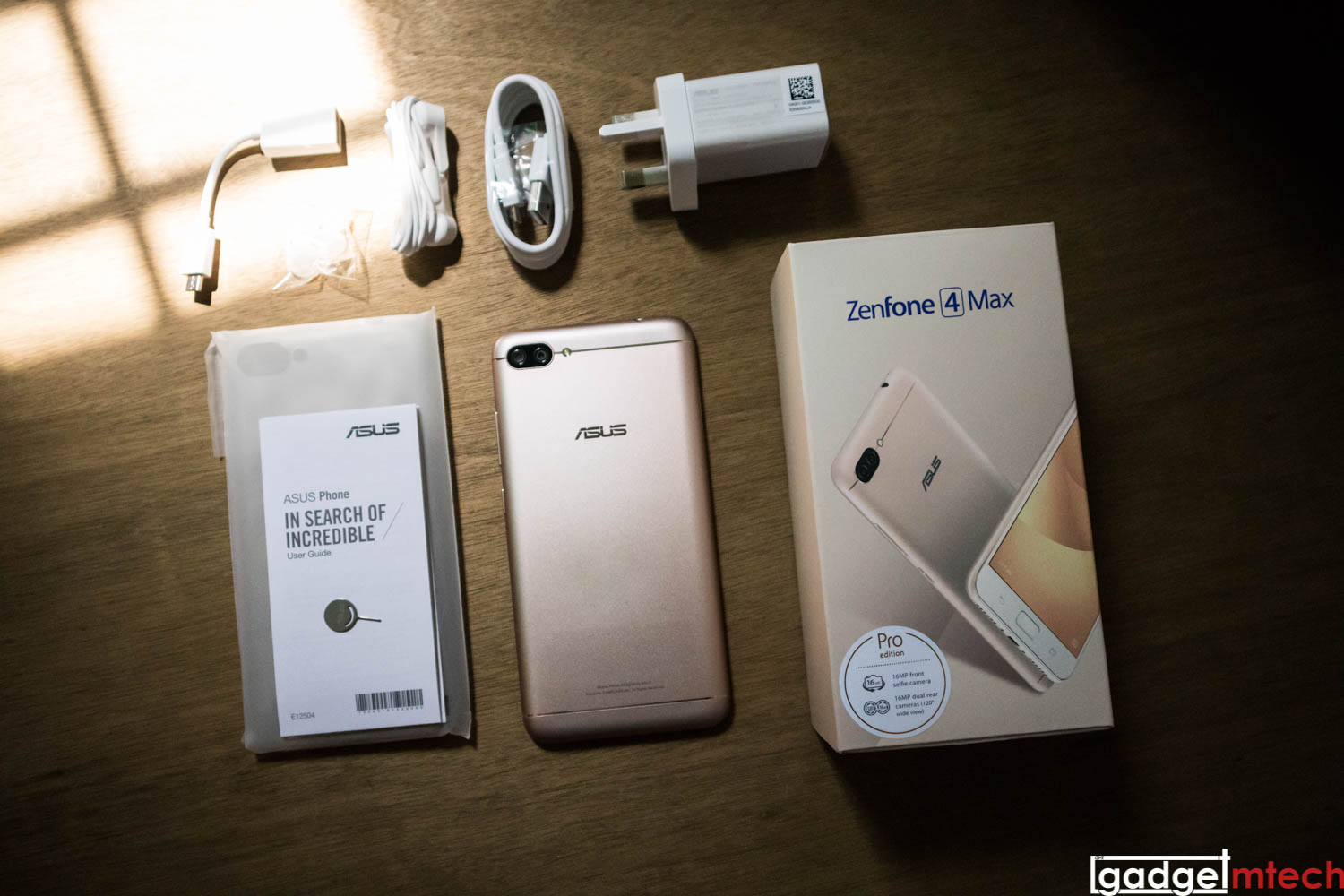 The box contains the phone itself, user guide, SIM ejector tool, TPU case, USB OTG cable, extra ear tips, earphones, MicroUSB cable, and the wall adapter. Like previous Max models, it comes with a USB OTG cable because you can actually charge other phones with this phone.
Once Again, Metal Body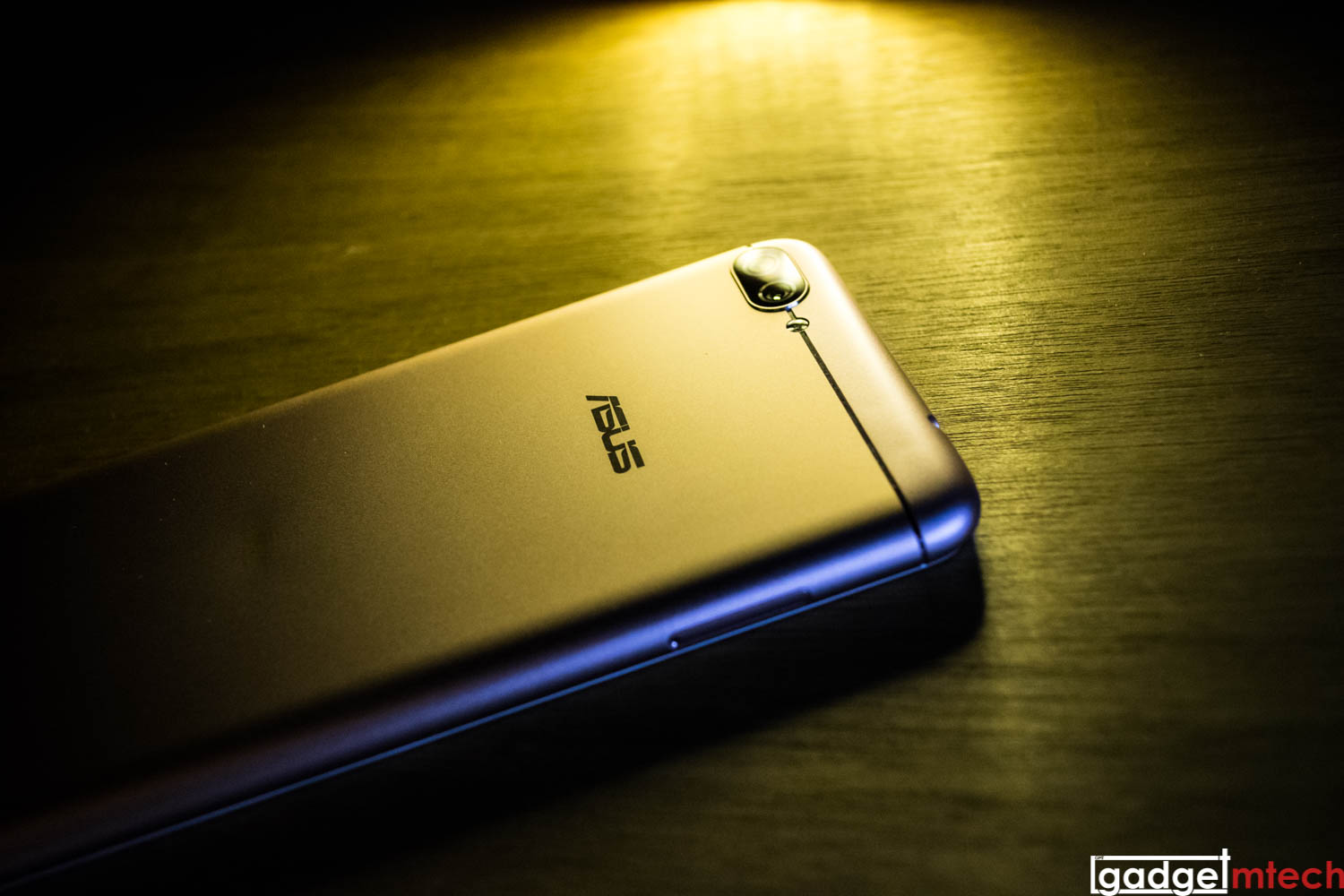 Metal has been the company's favorite material since the ZenFone 3 Max. Once again, the ZenFone 4 Max Pro comes with a metal backing, but only it doesn't have a rear-mounted fingerprint sensor anymore. There's now a dual-camera setup, though.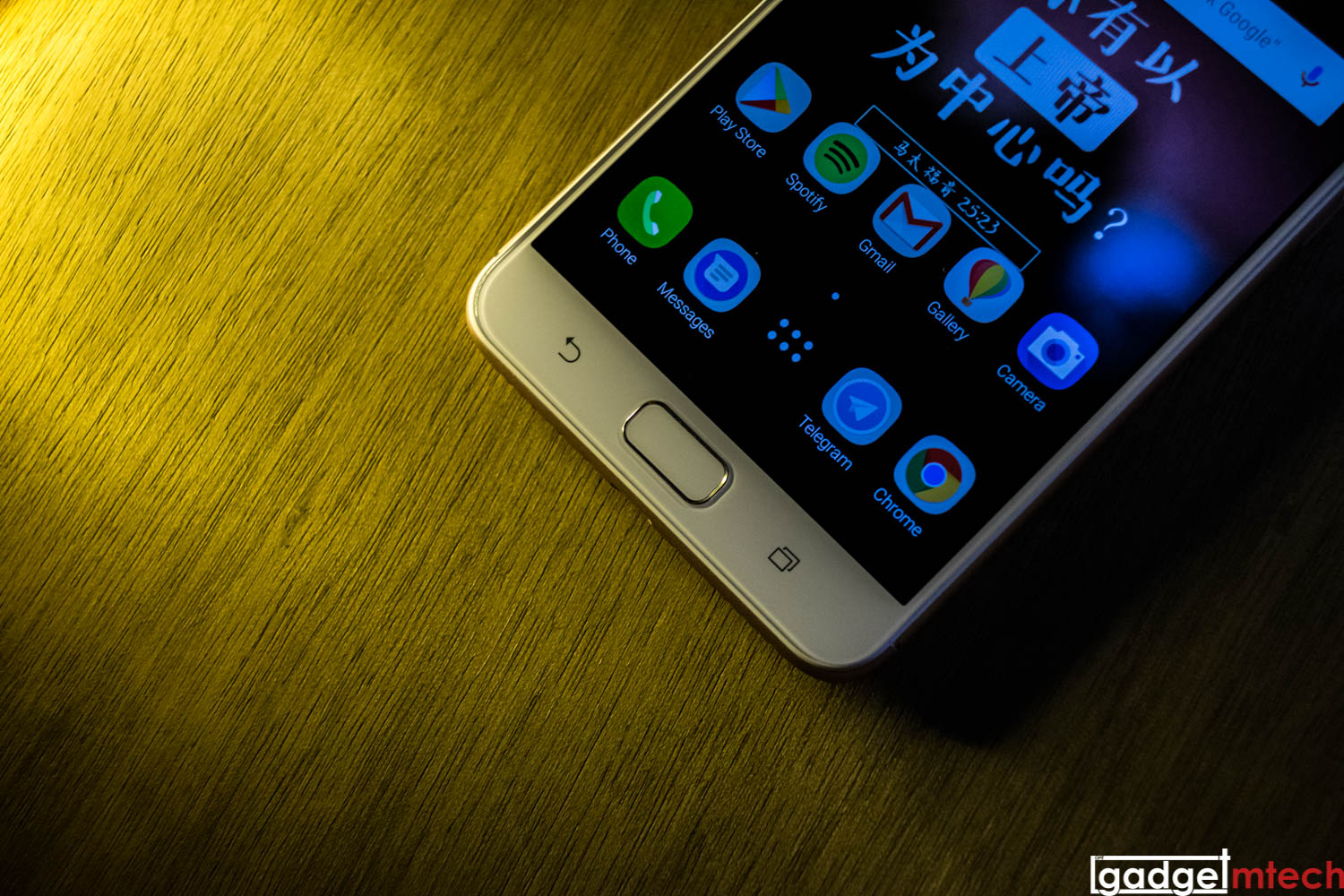 The phone now has a front-mounted fingerprint sensor below the display, just like the ZenFone 4 Selfie Pro. However, its navigation keys aren't backlit keys. Additionally, there's also a front LED flash next to the front camera.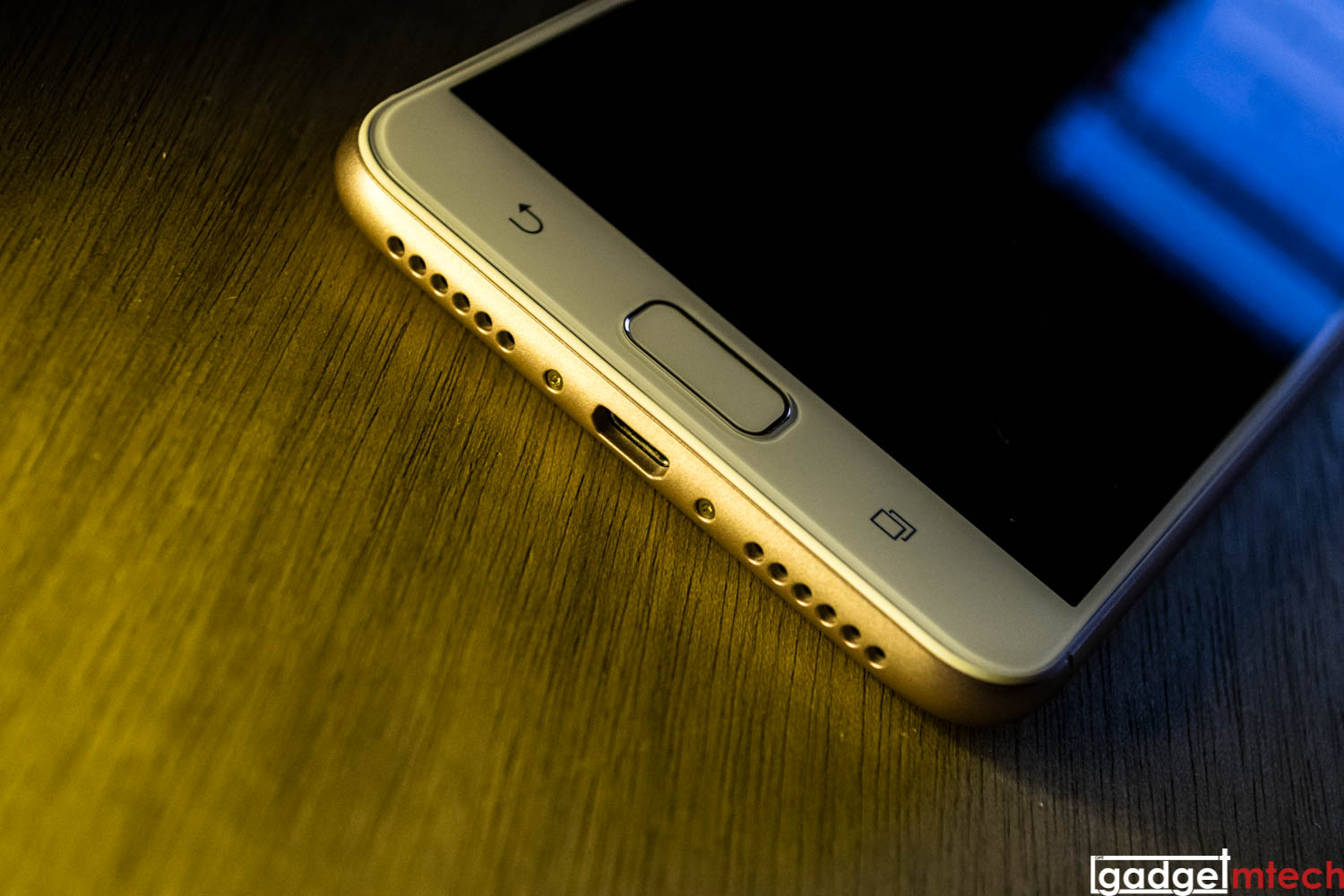 The bottom of the phone houses the speaker, MicroUSB port, and mic. The 3.5mm audio jack has been moved to the top of the phone now.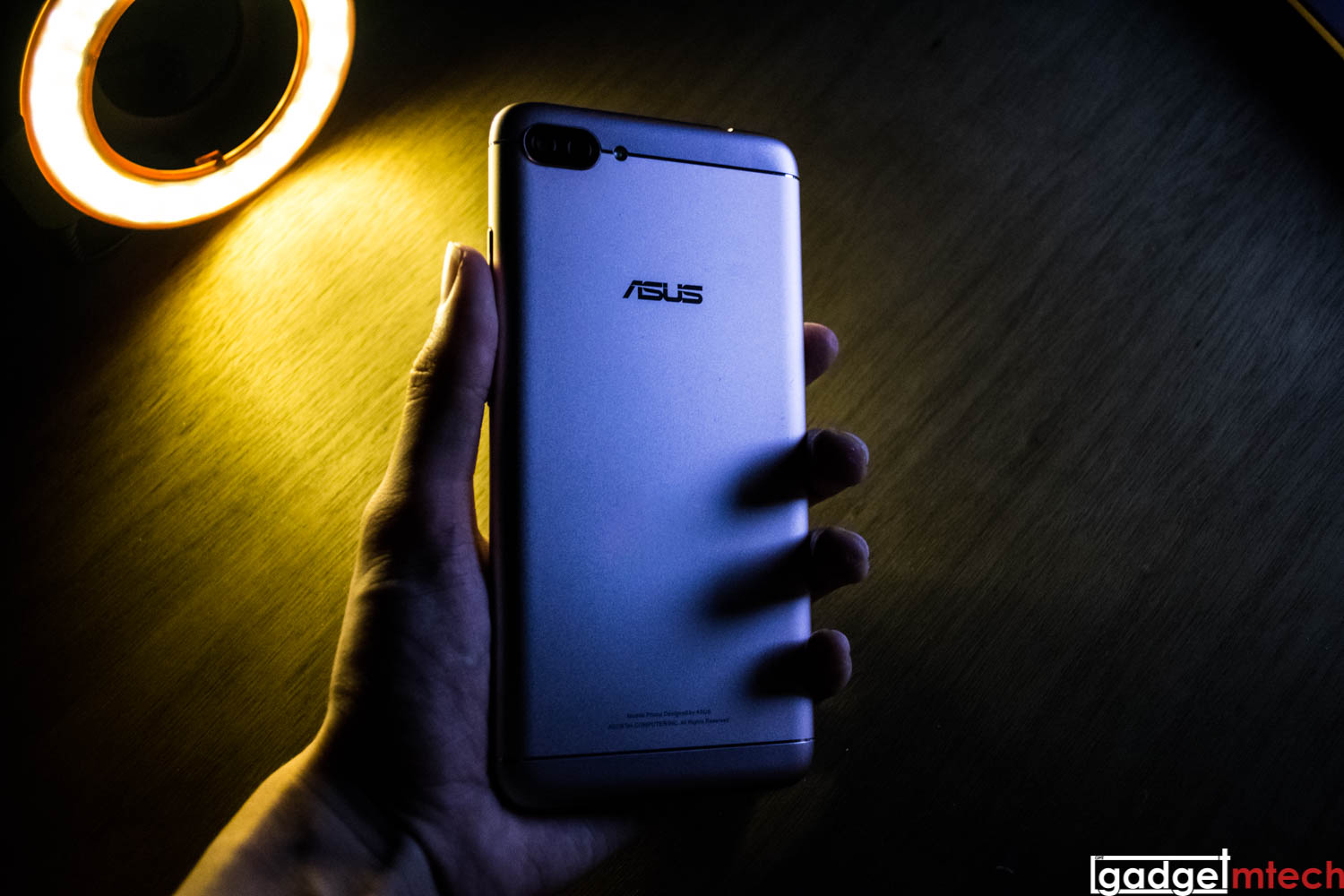 Overall, the design of the ZenFone 4 Max Pro is pretty average. There's nothing much special to stand out against its competitors, but it doesn't look ugly, just nothing special.
Only 720p Display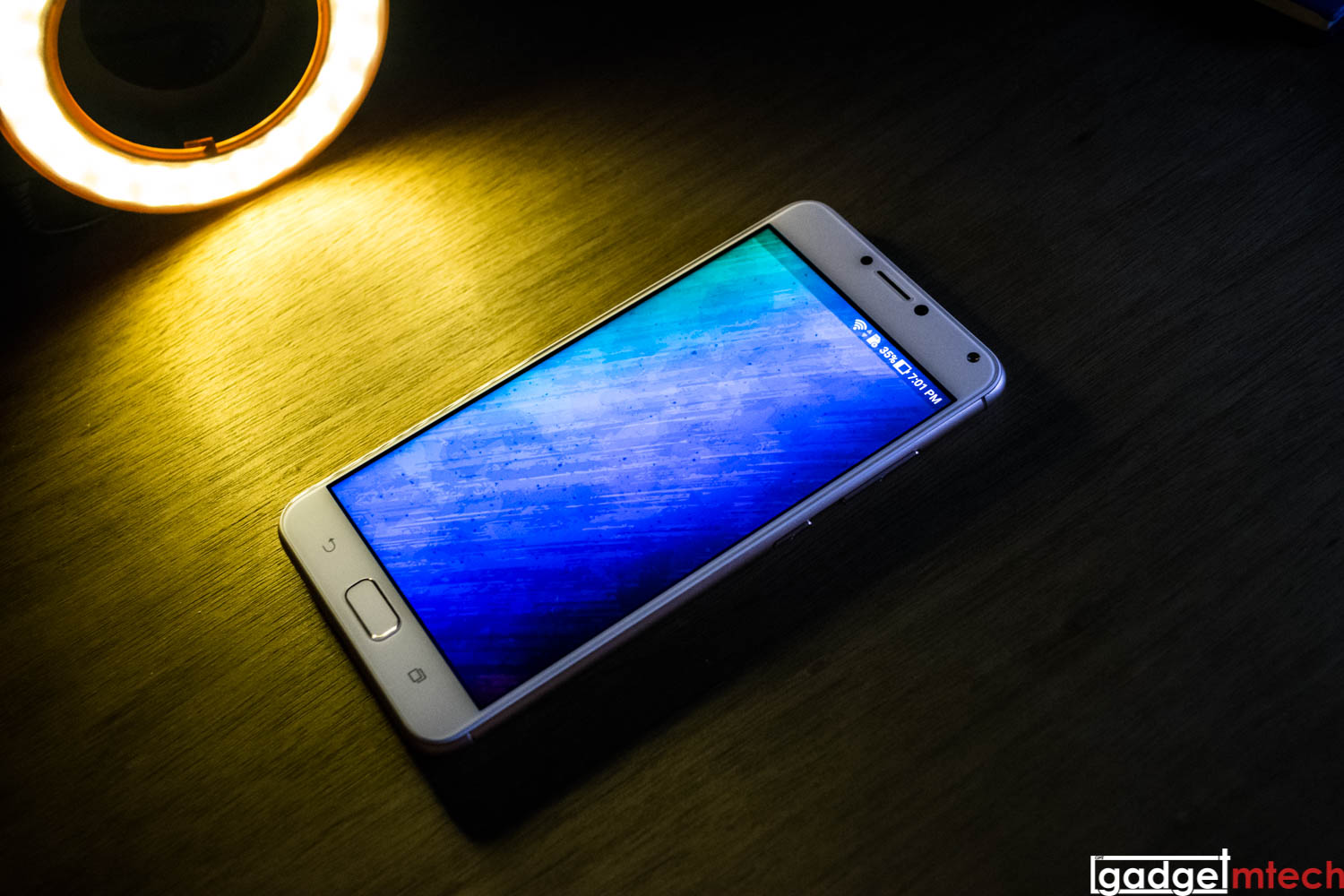 The display is one of the compromises that ASUS has made, but it's also where the phone able to save more battery as well. Unlike the 5.5-inch model ZenFone 3 Max, the ZenFone 4 Max Pro only sports a 5.5-inch HD IPS display. It's kind of surprising to see that the company decided to downgrade the screen resolution from Full HD to HD, but we'll talk more about where the company has upgraded the phone later.
The display looks average with a fair amount of sharpness and detail. Like its predecessor, the colors aren't vivid nor eye-pleasing since you can only change the color profile to Bluelight Filter mode. Obviously, the phone doesn't have a top class display, but using the phone outdoor isn't a big problem.
Same Processor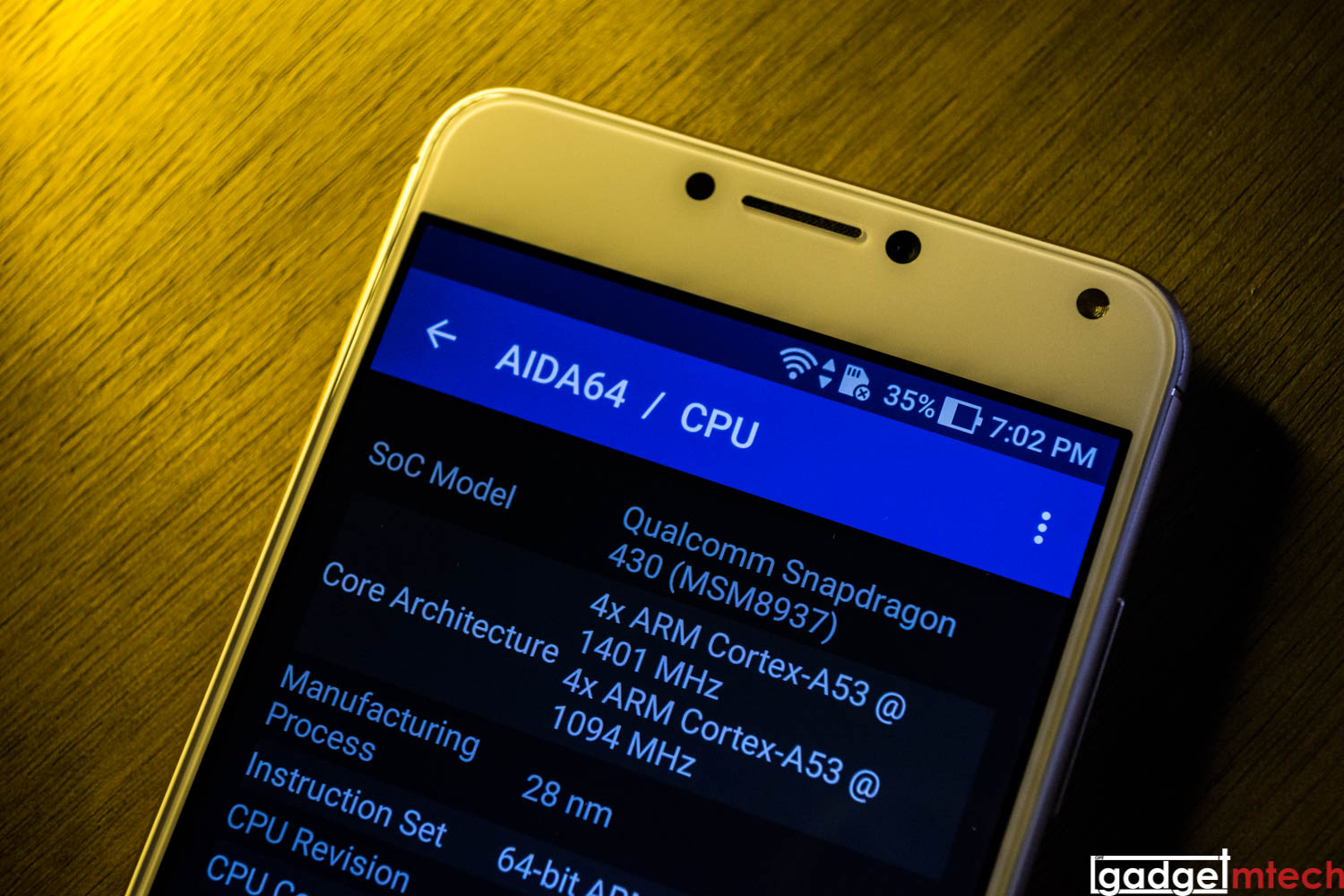 Similar to the 5.5-inch ZenFone 3 Max, the ZenFone 4 Max Pro is powered by a Qualcomm Snapdragon 430 processor with 3GB RAM and 32GB expandable storage. Yup, there is no upgrade for its processor, RAM, and internal storage. Performance wise, it handles day-to-day tasks well, with some hiccups here and there. You can play some games using this phone, but don't expect those high demanding games to run smoothly.
Similar Software Experience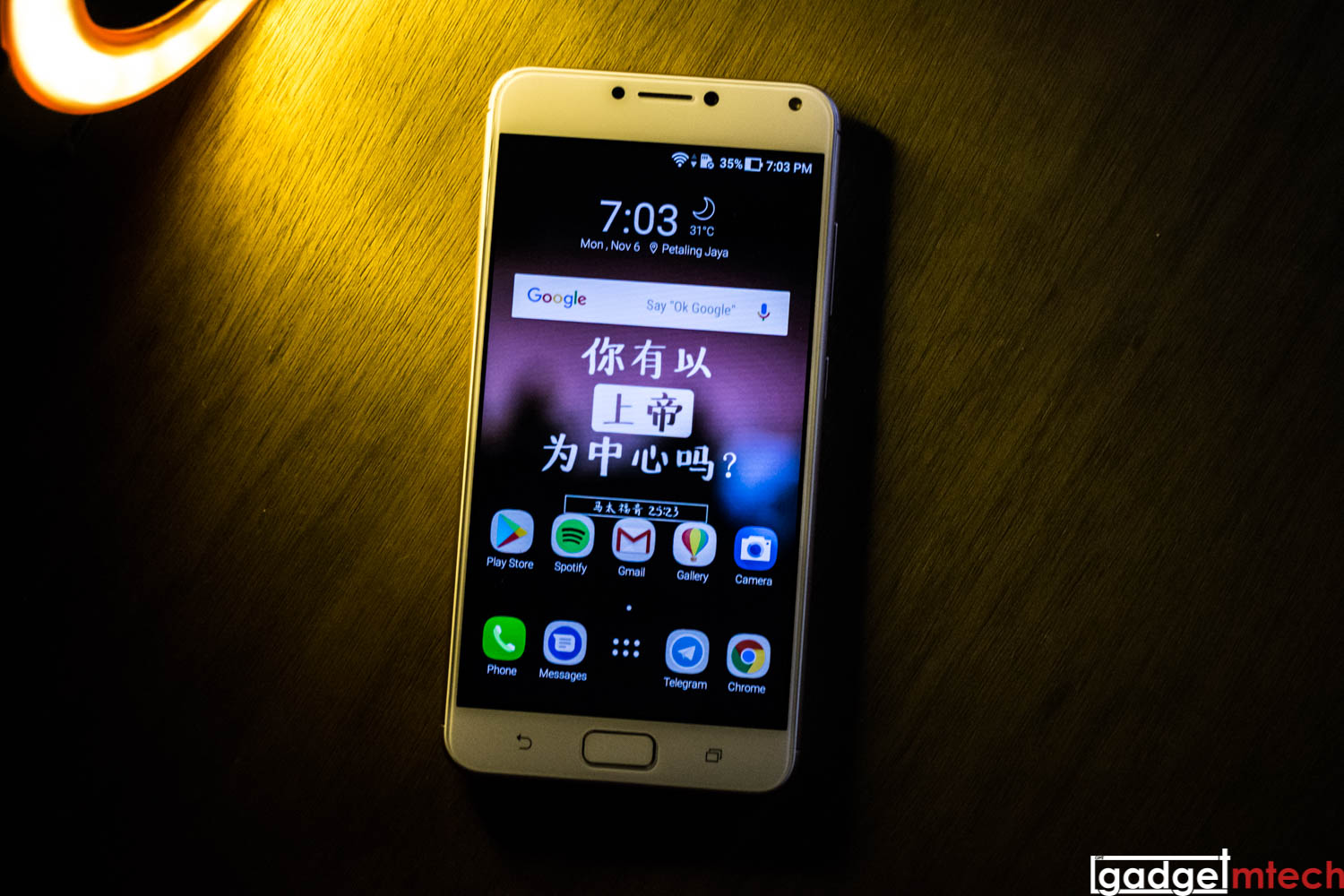 In terms of software, the ZenFone 4 Max Pro runs on Android 7.1.1 Nougat with ZenUI. However, the phone does not run on the latest ZenUI 4.0, like the ZenFone 4 Selfie Pro. In fact, the overall software experience is pretty similar compared to the ZenFone 3 Max, but with some additional Nougat features.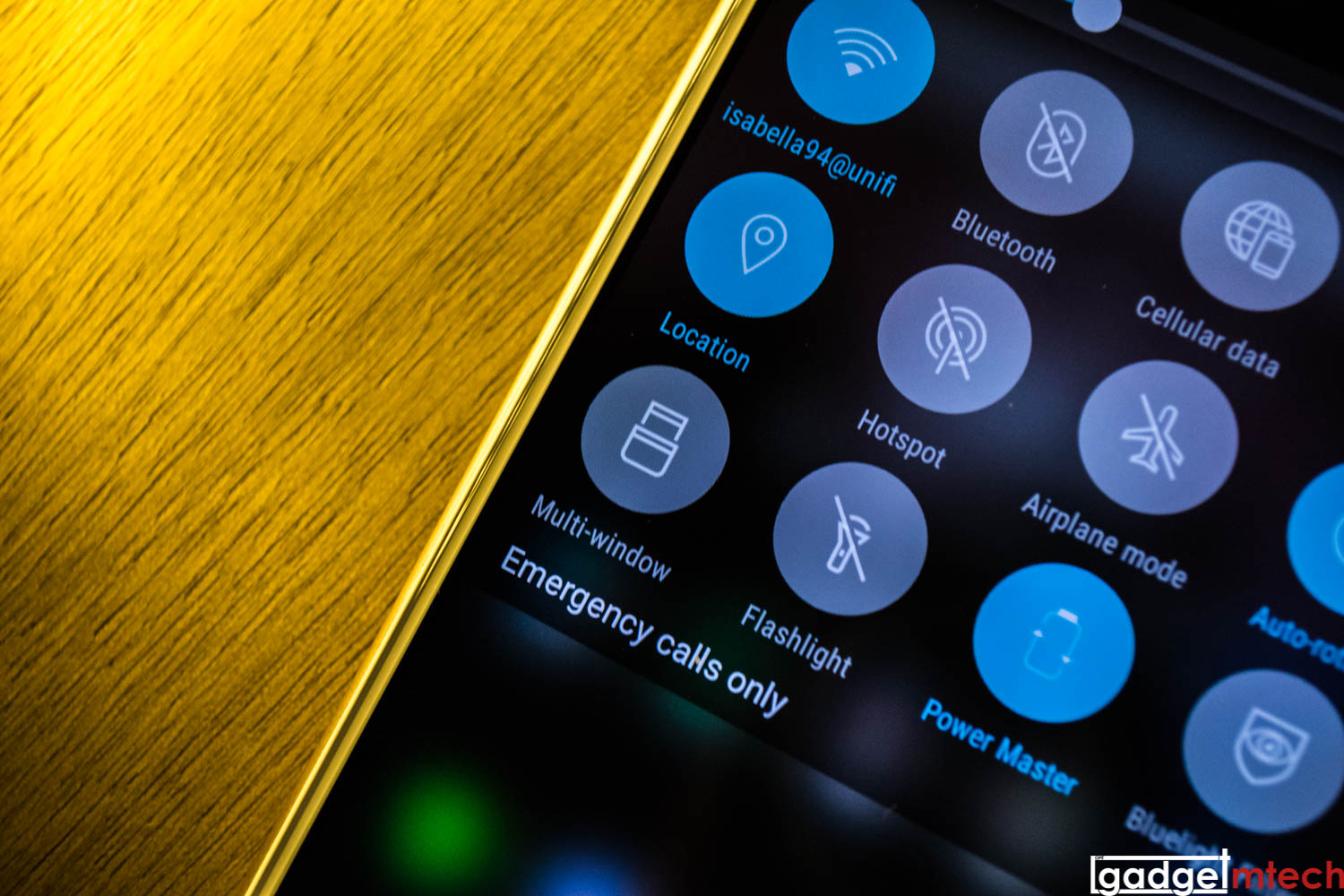 One Android Nougat feature is Multi-Window, which allows you to use two apps once on a screen. It's a neat feature, but most of the time I still prefer using one app on a screen at a time. Plus, it won't be working smoothly as other phones with higher-end processors since the Snapdragon 430 processor isn't that powerful enough.
Unfortunately, the phone doesn't have Twin Apps feature even though it's a dual-SIM smartphone. Twin Apps feature allows you to have two accounts on a single social media app like WhatsApp, Facebook or Instagram in a phone. Well, it's kinda wasted not to have this feature since this phone actually has two SIM slots.
Dual-Camera Setup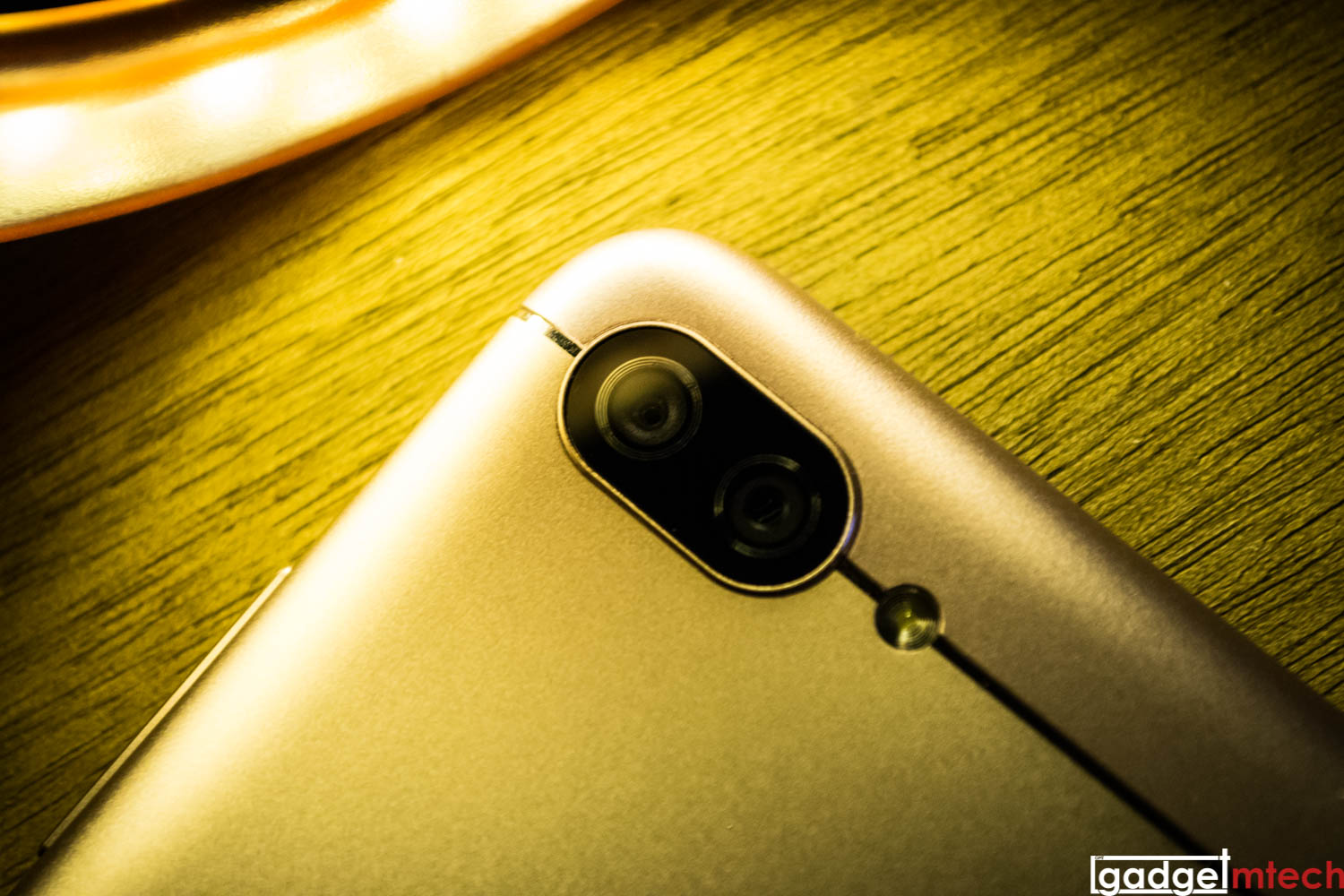 The ZenFone 4 Max Pro comes with a dual-camera setup on its back — 16MP f/2.0 regular + 5MP f/2.2 wide-angle lenses. As for the front camera, it has the same 16MP f/2.0 sensor with 26mm focal length.
Like most smartphones, its image quality is good enough for your social media usage, but don't expect it to match those high-end smartphones. Thankfully, the phone even has a manual mode, even the latest iPhone X doesn't have! However, the slowest shutter speed you can adjust is 1/4s, so astrophotography is a "no" for this phone, I doubt the camera app can keep running even if it supports.
Impressive Battery Life, As Usual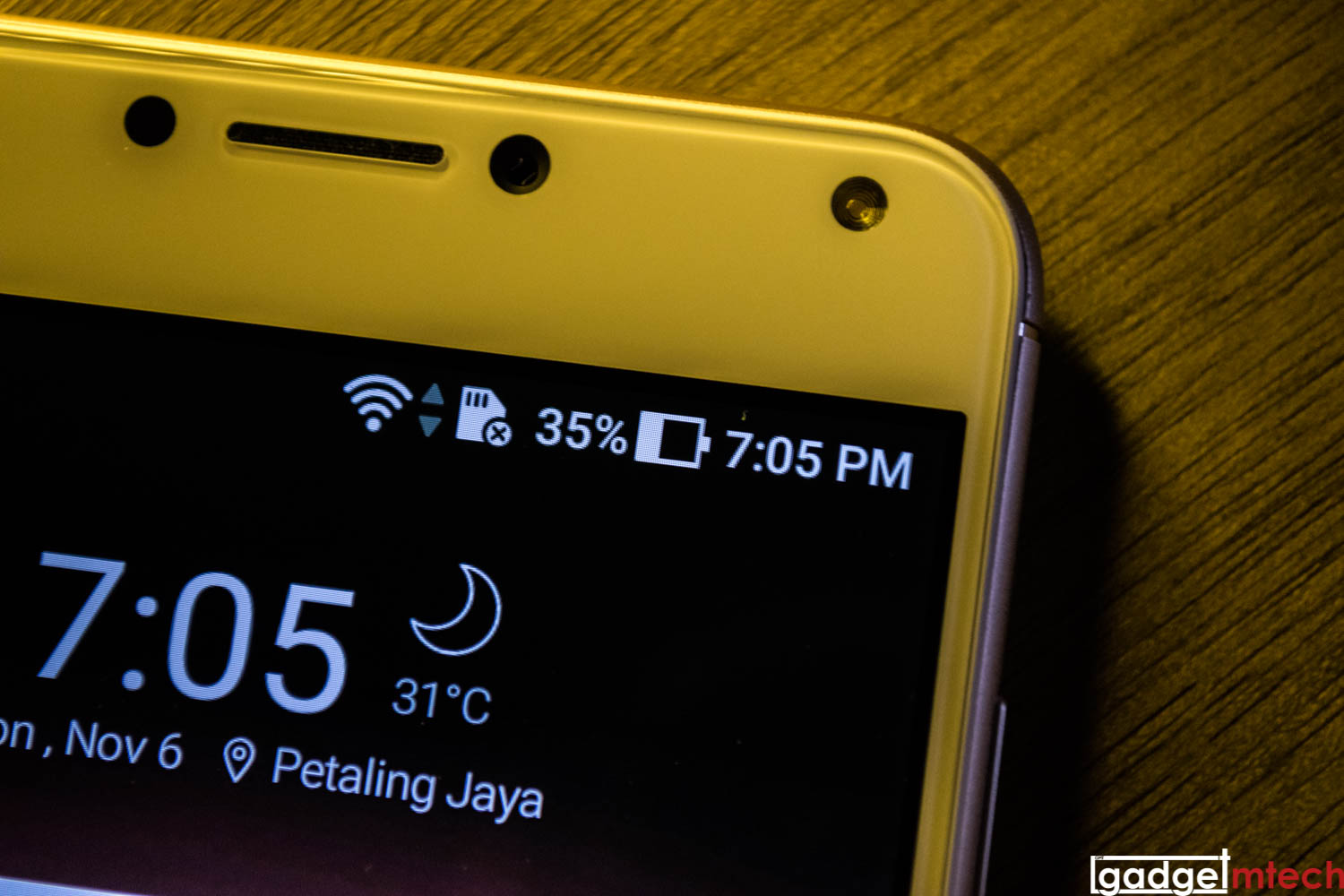 Here comes the main selling point of the ZenFone 4 Max Pro — the battery! We've mentioned the company has downgraded the screen resolution from Full HD to HD. Here's the part where the company has upgraded over its predecessor. For the ZenFone 4 Max Pro, ASUS has fitted in a massive 5,000mAh battery, similar to the ZenFone 3 Zoom.
If you read my reviewgraphic of ZenFone 3 Zoom, you'll know that how much I love about its long-lasting battery life. As expected, the battery life of this phone is pretty impressive, even better than the ZenFone 3 Zoom I'd say. Thanks to the lower screen resolution, the phone has up to 2 days of battery life with moderate usage. Unfortunately, it took nearly 5 hours to fully charge the phone from 15% as it only has a 5V2A charger.
Final Words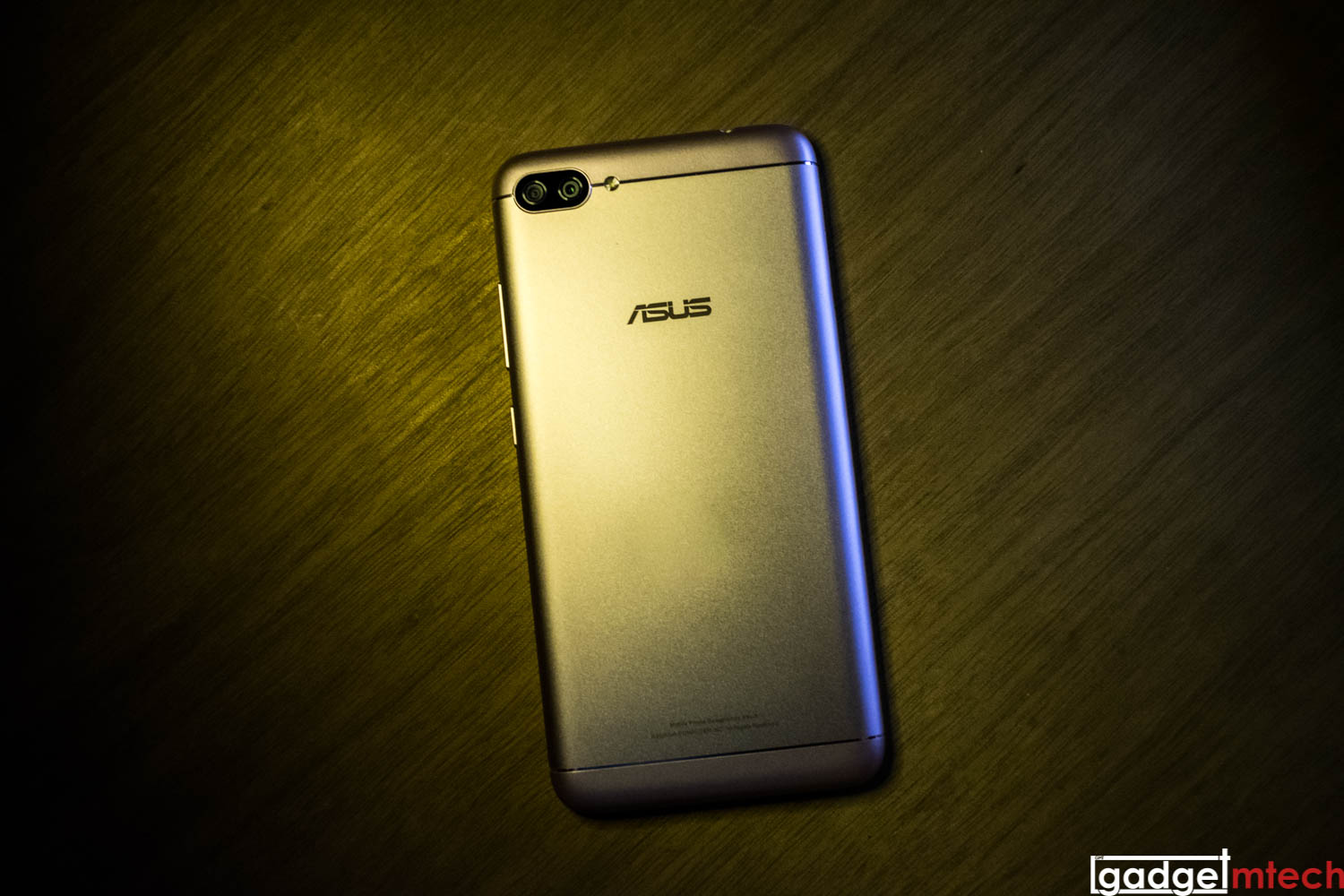 Retailing at RM1,099, I would say I have a mixed feeling about the ZenFone 4 Max Pro. I mean, the phone is identical to last year's ZenFone 3 Max (5.5″). It has a new dual-camera setup, the secondary wide-angle camera takes cool wide-angle photos. The phone now also has a larger 5,000mAh battery, but it took 5 hours to fully charge. If you are looking for an affordable smartphone with great battery life, this is the one you should get.
To be honest, I would rather get a smartphone with long battery life but slow charging speed like this one, instead of a smartphone with not so good battery life but fast charging, since I can always charge the phone while I'm sleeping, that'll provide me up to 2 days of battery life. One more thing, you can always use the ZenFone 4 Max Pro to charge your friend/crush's phone, maybe a way to get a girlfriend?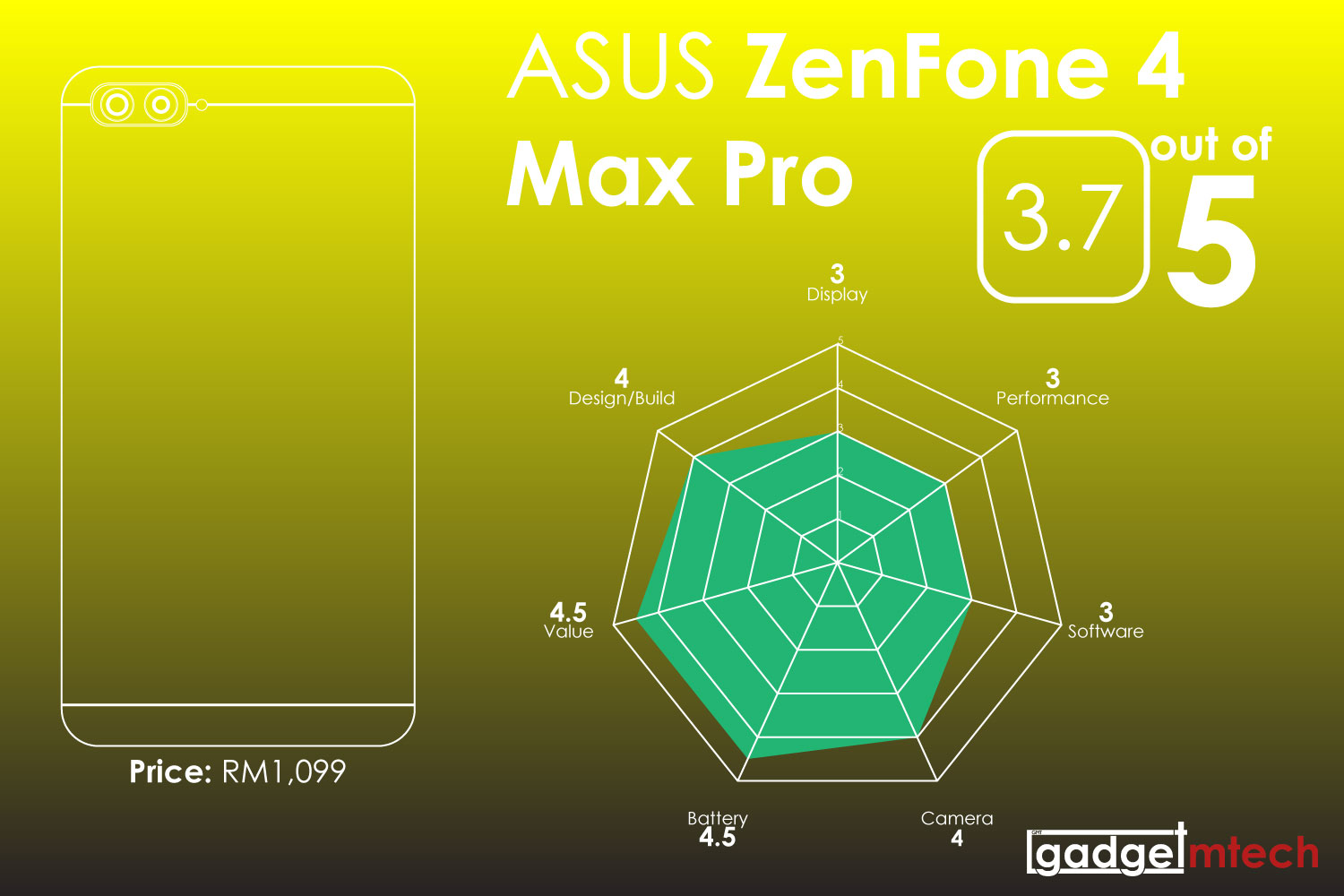 Yay
Comes with great accessories in box — TPU case and USB OTG cable
Long-lasting battery life
Affordable
Nay
Only HD display
Using old chipset
Very slow charging speed