Introduction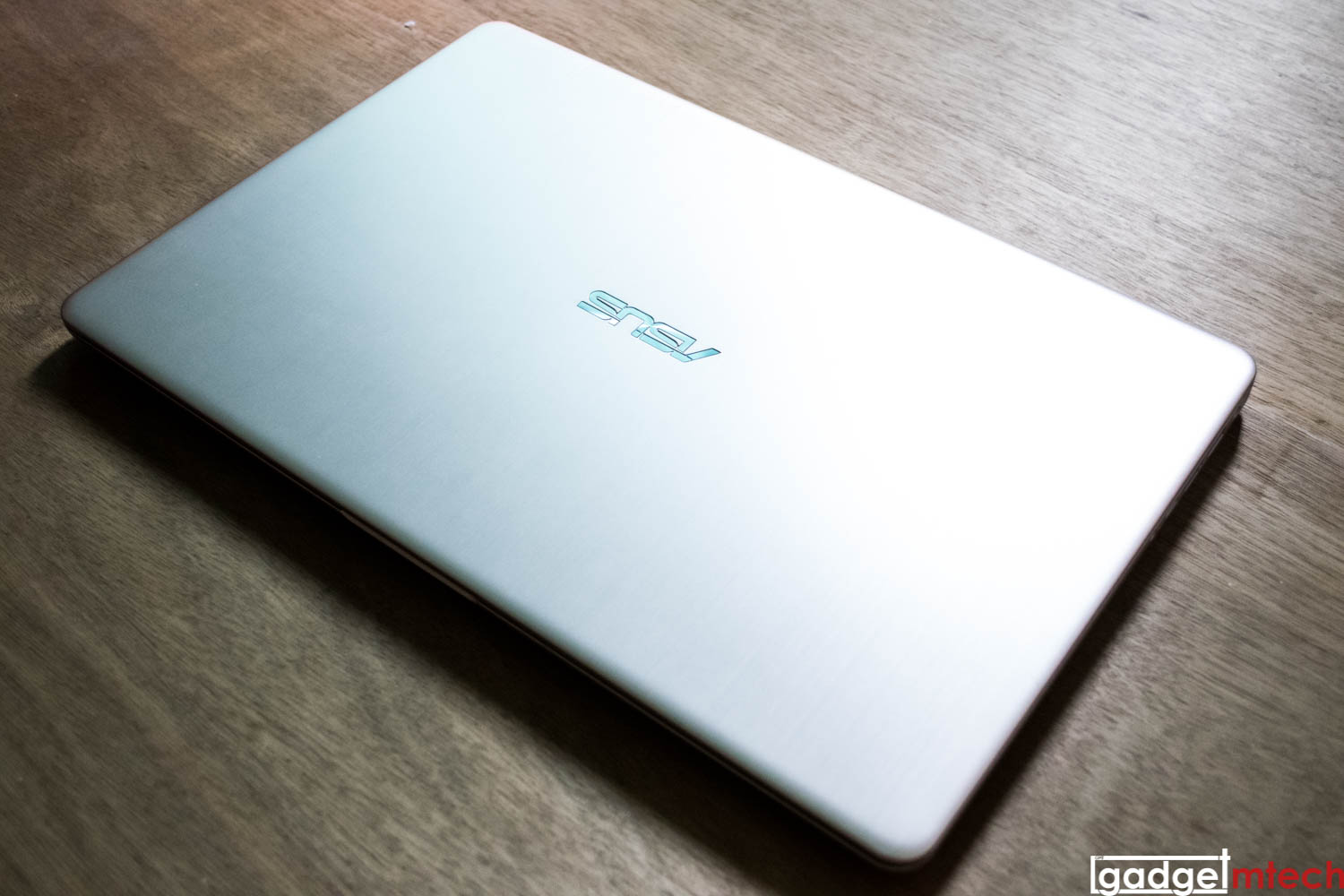 When it comes to ultrabooks, they are often expensive and don't really have a dedicated graphics card. Let us not think about those ultrabooks with a dedicated graphics card, those are beyond people like me to reach. Thankfully, there's the ASUS VivoBook S15, an ultrabook that priced quite affordable, and it even comes with a dedicated graphics card. However, is an ultrabook at such pricing good? This is the full review of the ASUS VivoBook S15 (S510U-QBQ410T).
Unboxing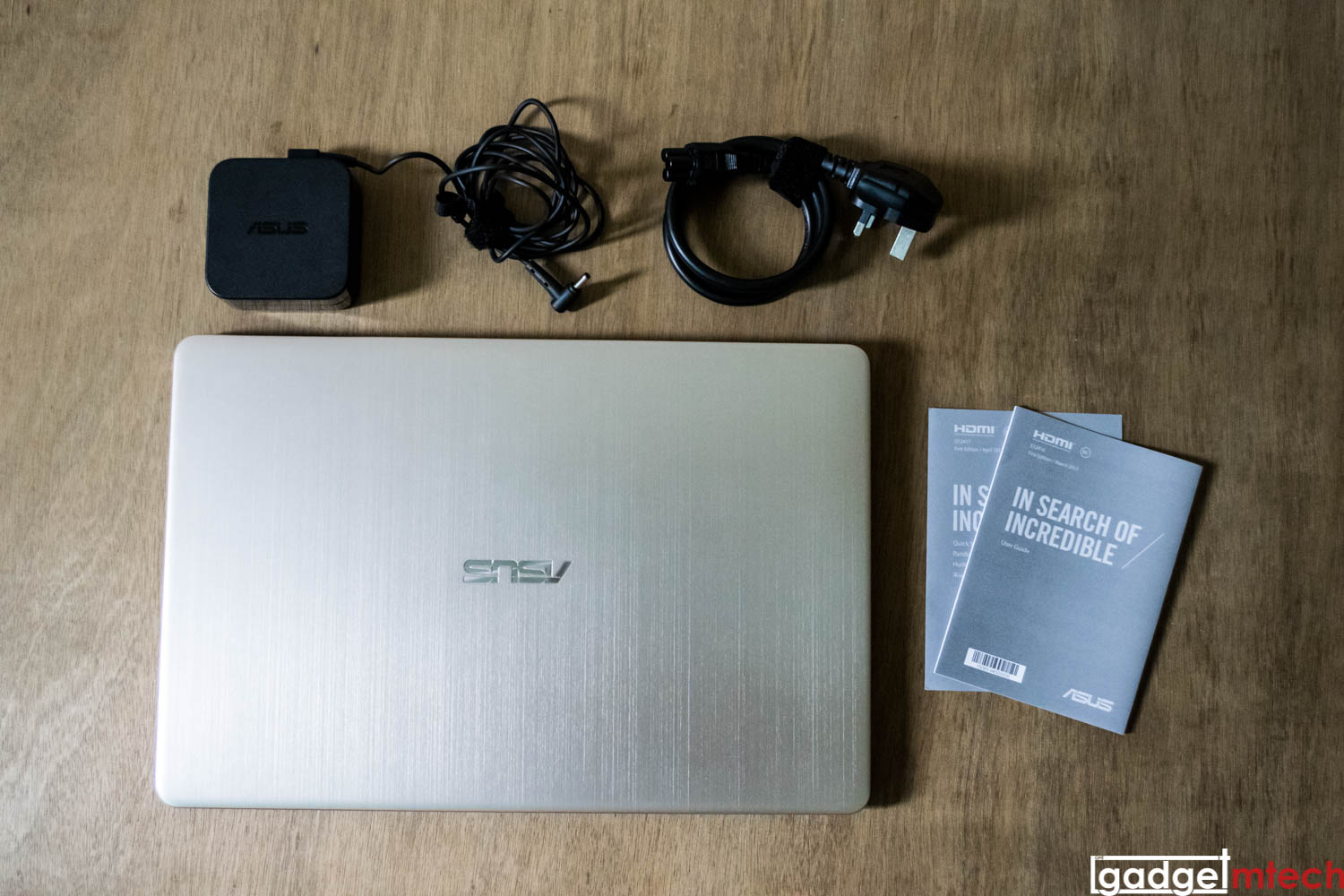 The VivoBook S15 comes in a pretty simple box, the typical one from ASUS. The box contains the laptop itself, the charger, and some paperwork, that's all! However, if you purchase the laptop, most probably the dealer will give you a free laptop bag.
Familiar Design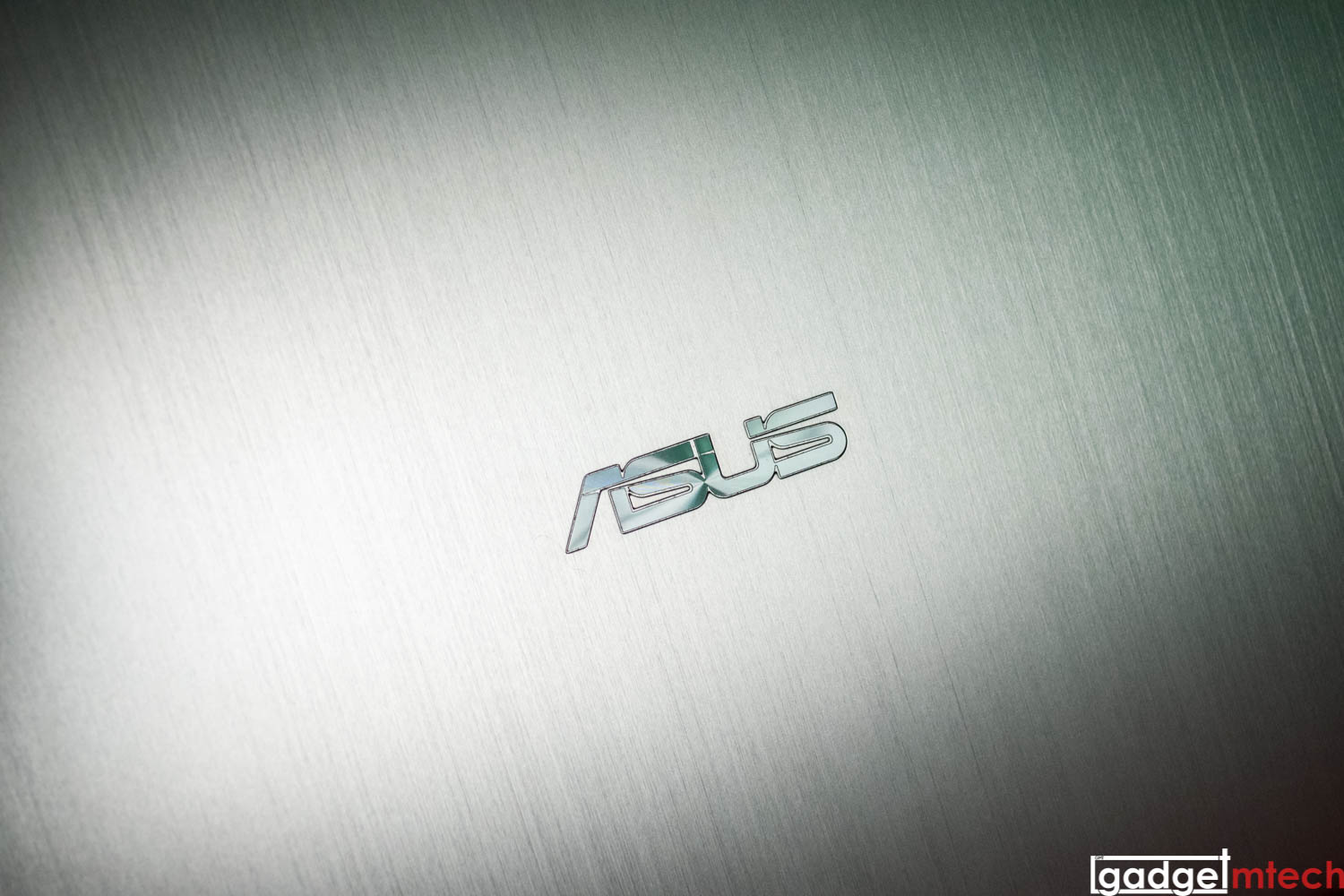 In terms of design, the VivoBook S15 looks quite familiar. Since it is not under the ZenBook series, gone is the concentric circle design on the lid cover, now replaced with a silvery brushed aluminum design. The lid cover is made of plastic, though.
Measuring at 17.9mm and weighing at 1.7kg, it surely is a thin and lightweight laptop. Additionally, ASUS actually added some reinforcement at the bottom of the laptop to minimize the flexing on its chassis.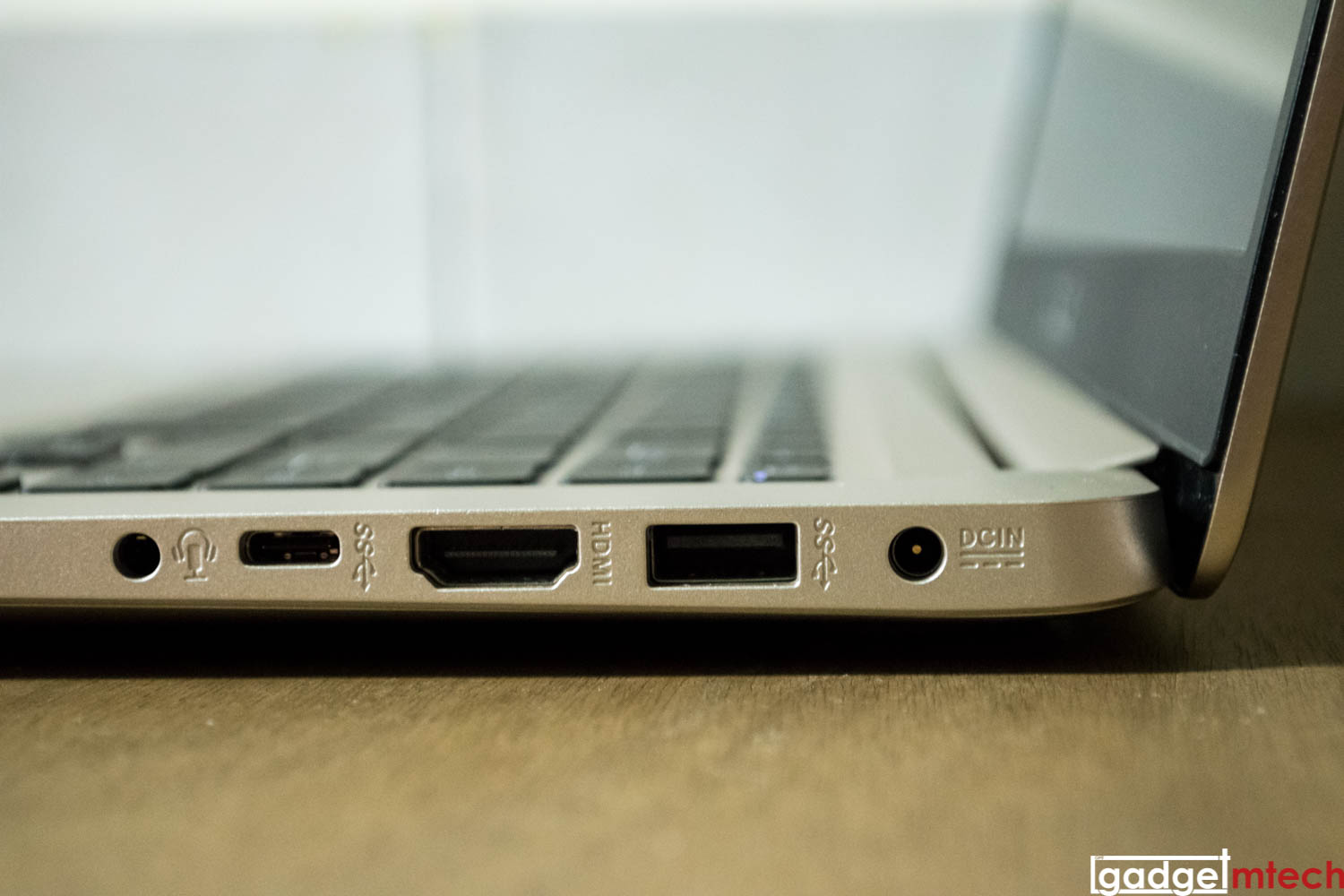 In terms of I/O ports, the laptop has a lot of useful ones. The right side houses the charging port, a USB 3.0 Type-A port, a full-sized HDMI port, a USB 3.0 Type-C port, and the headphone/microphone combo jack.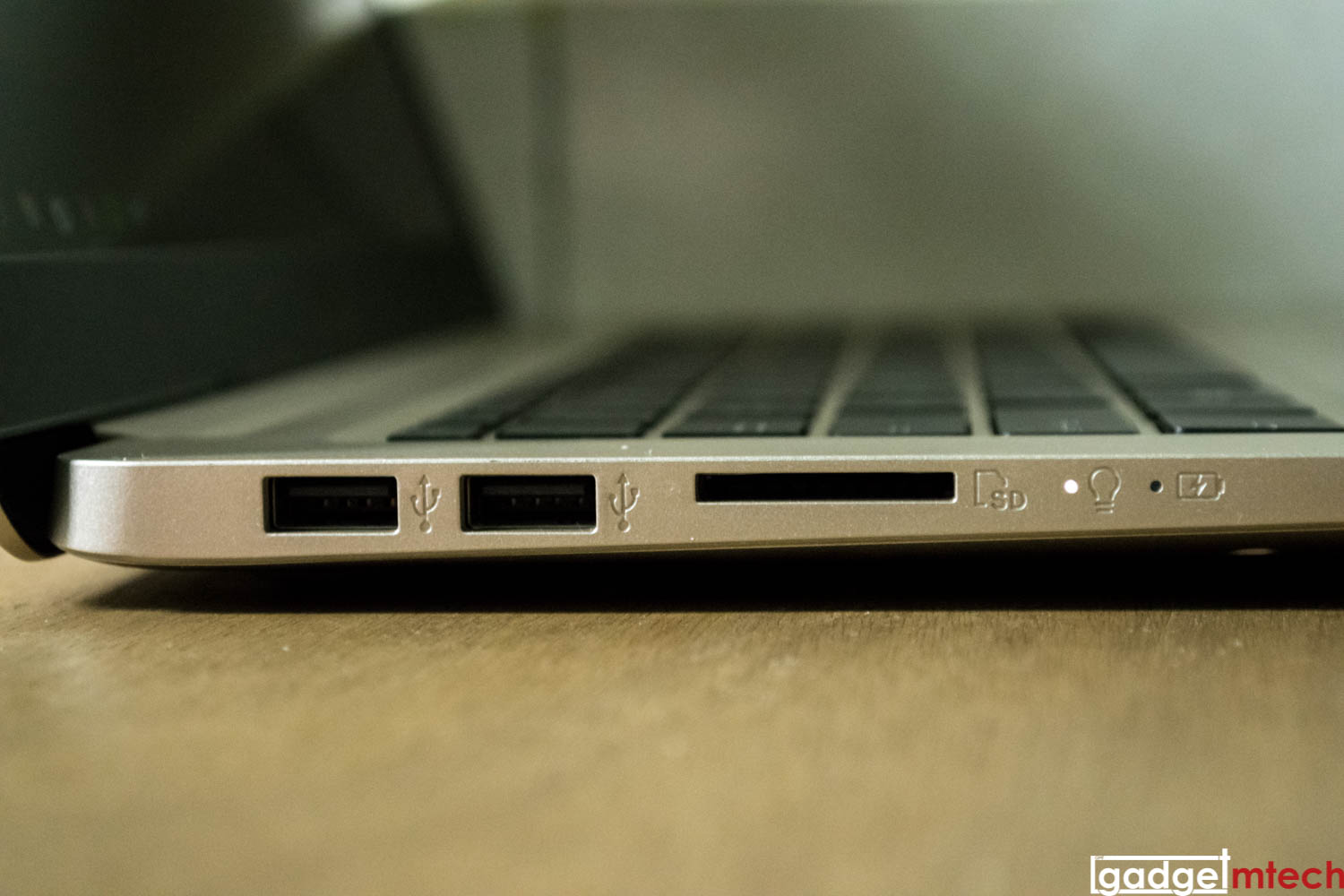 The left side of the laptop has two USB 2.0 ports and an SD card reader. The power and battery indicators are also located there as well.
NanoEdge Display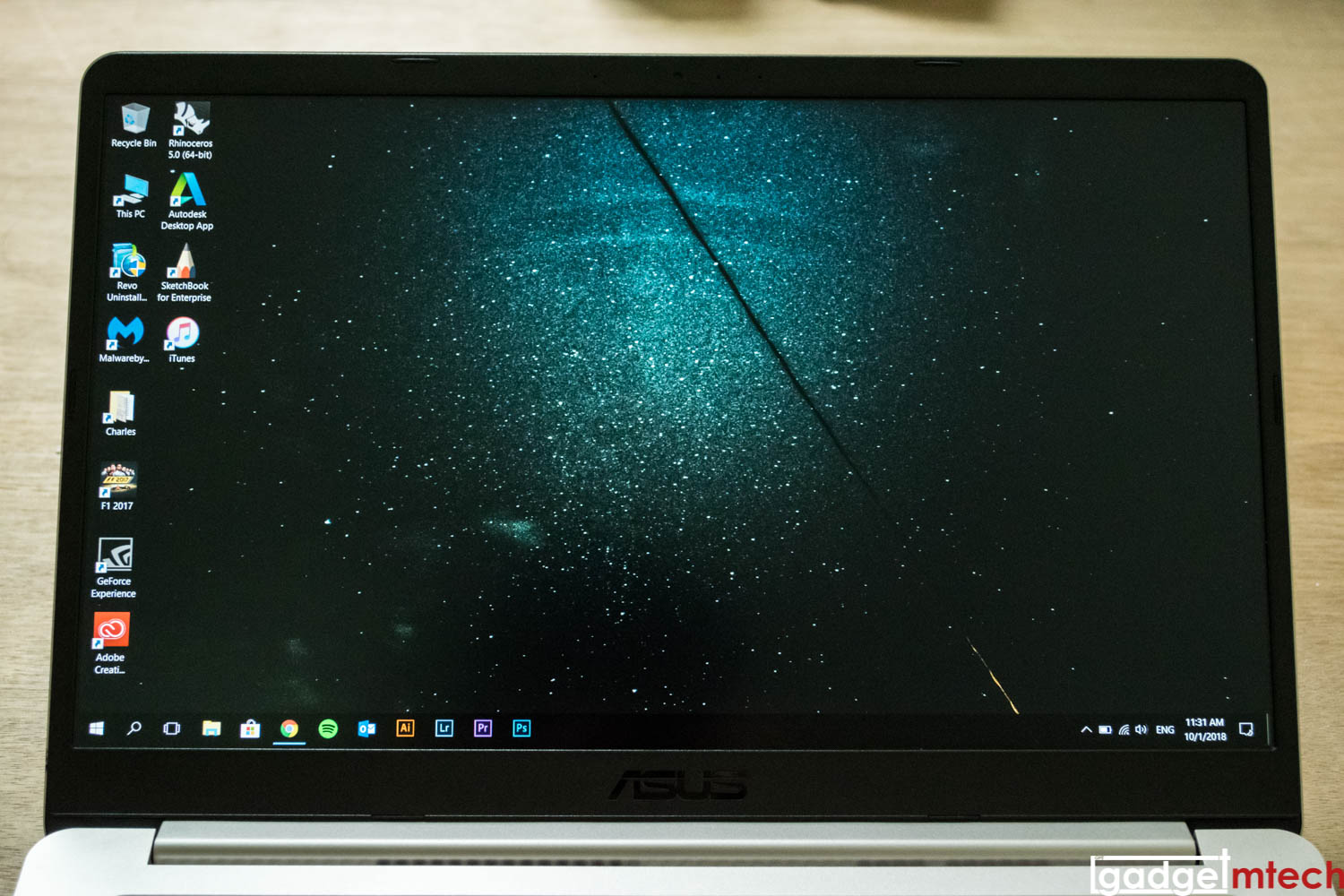 Surprisingly, the VivoBook S15 sports the NanoEdge display, which basically means it has a thin bezel. Hence, resulting the laptop to have the size of a 14-inch laptop with a 15.6-inch display. Its Full HD IPS display shows good colors, viewing angle is not a problem at all.
Backlit Keyboard + Fingerprint Sensor on the Trackpad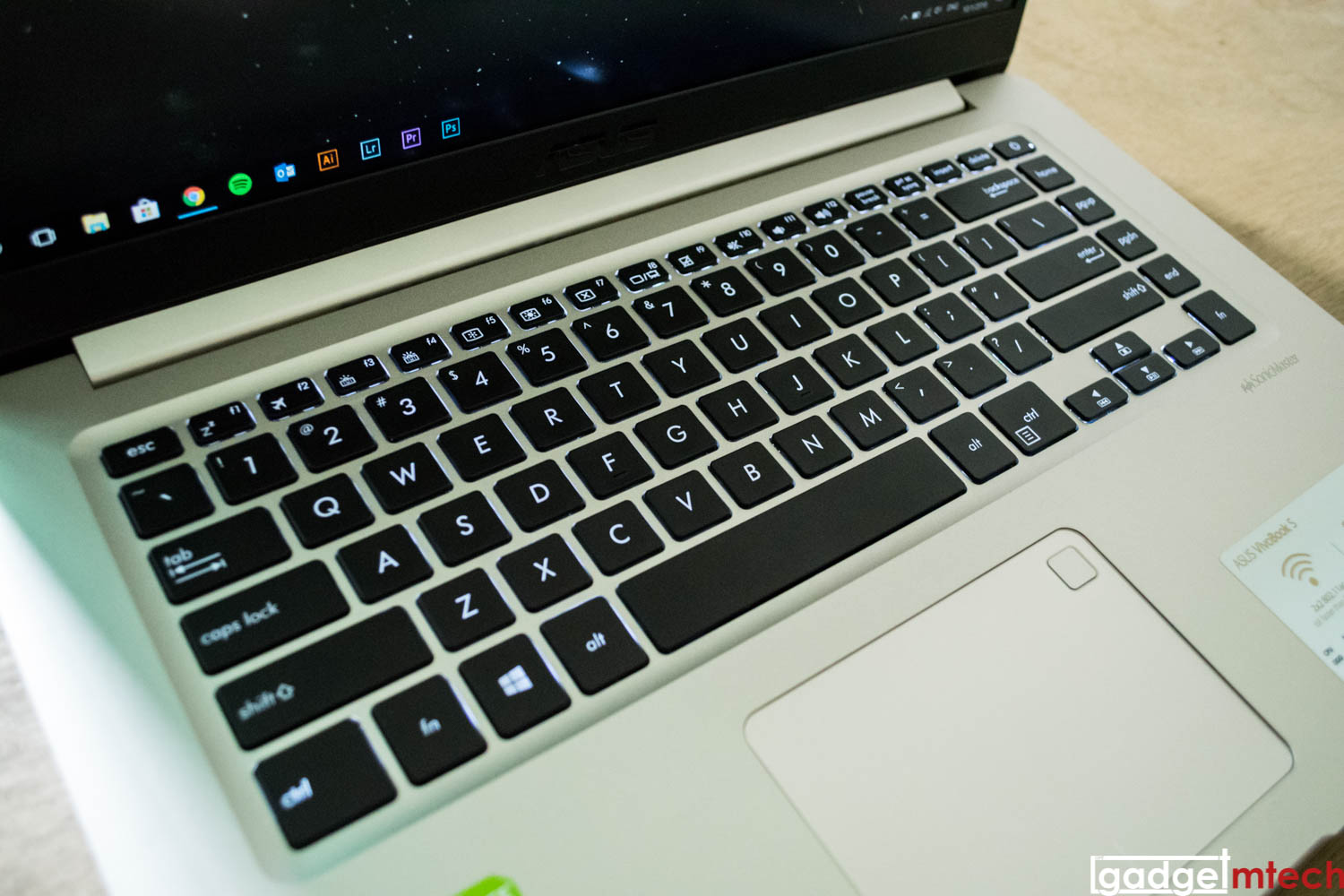 The keyboard is quite good for a laptop, which is pretty nice to type with nice tactile feedback. However, its arrow keys are a little bit small, sometimes I actually pressed the wrong arrow key. Having the function key on each side of the keyboard layout is actually a good idea, it's easier for me to adjust the volume by just pressing the right "Fn" key + "F11" or "F12" key one-handed. Like the ZenBook 3 Deluxe, the power button is just next to the "Delete" key, just be careful when you want to press it.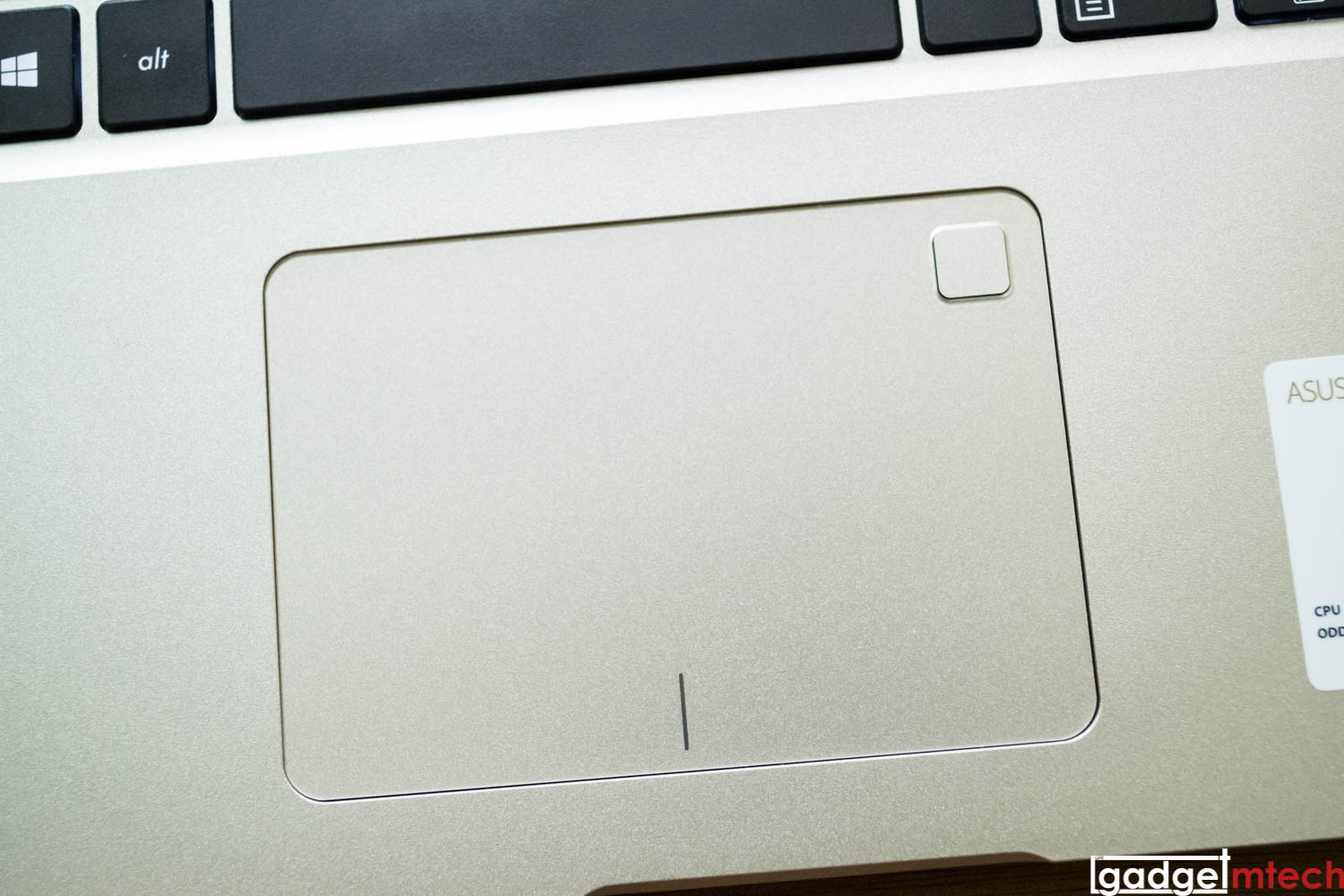 The trackpad uses Windows precision drive, which is pretty accurate and responsive. The Windows Hello fingerprint sensor is still located on the top-right corner of the trackpad, not really a fan of it but didn't really affect me, to be honest.
Decent Performance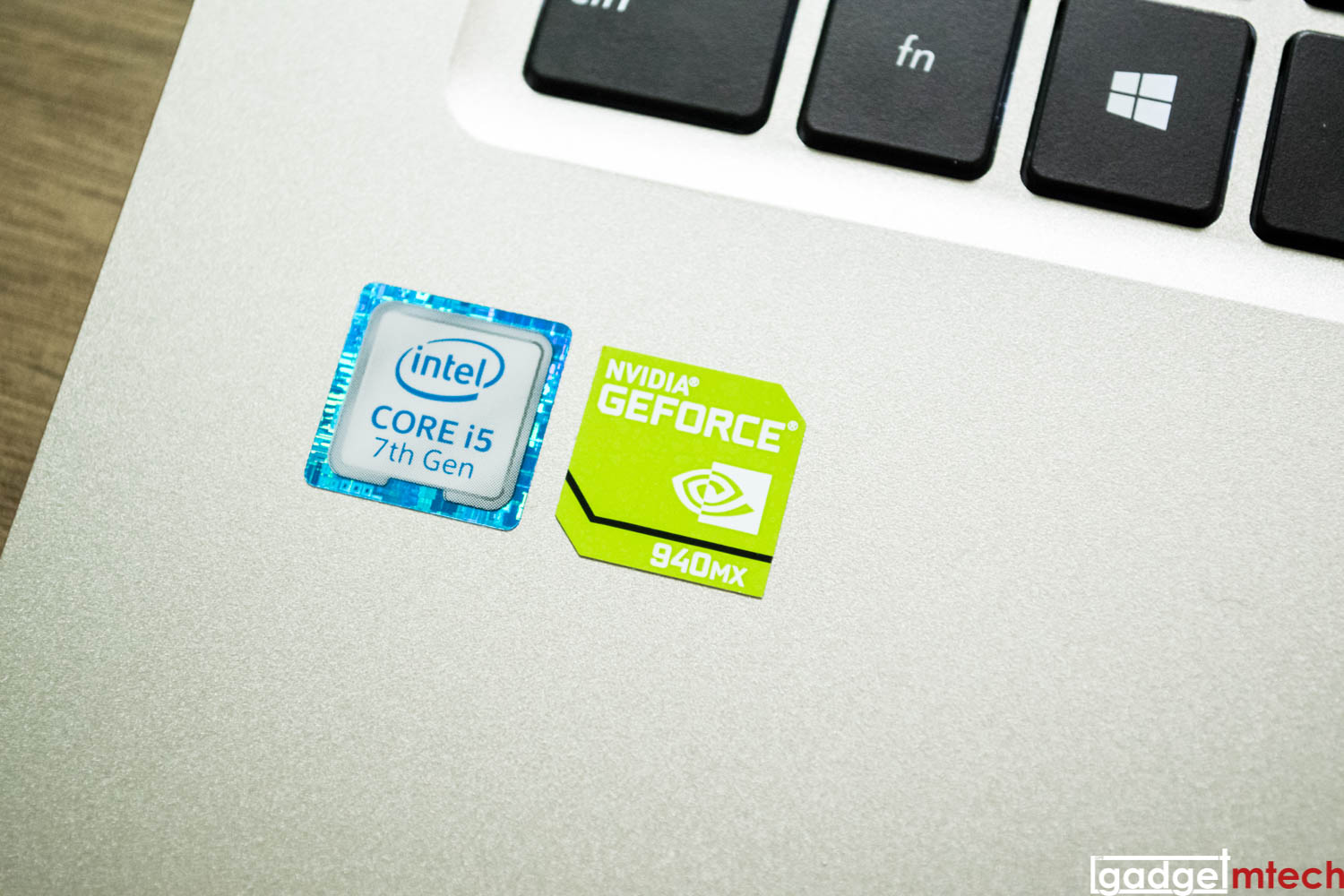 Our review unit packs an Intel Core i5-7200U CPU with 4GB RAM. The company has recently refreshed the laptop with the 8 Gen Intel CPU. As mentioned in the beginning of the review, it comes with a dedicated graphics card — this unit has an NVIDIA GeForce 940MX. In terms of performance, the laptop is able to play F1 2017 in low settings, with some minor hiccups and lags here and there. Kind of expected that since it's not made for gaming. 3D software like Rhinoceros works quite well, in fact, even better than the ZenBook 3 Deluxe. Video editing wise, it was alright. Overall, I'm quite satisfied with its performance.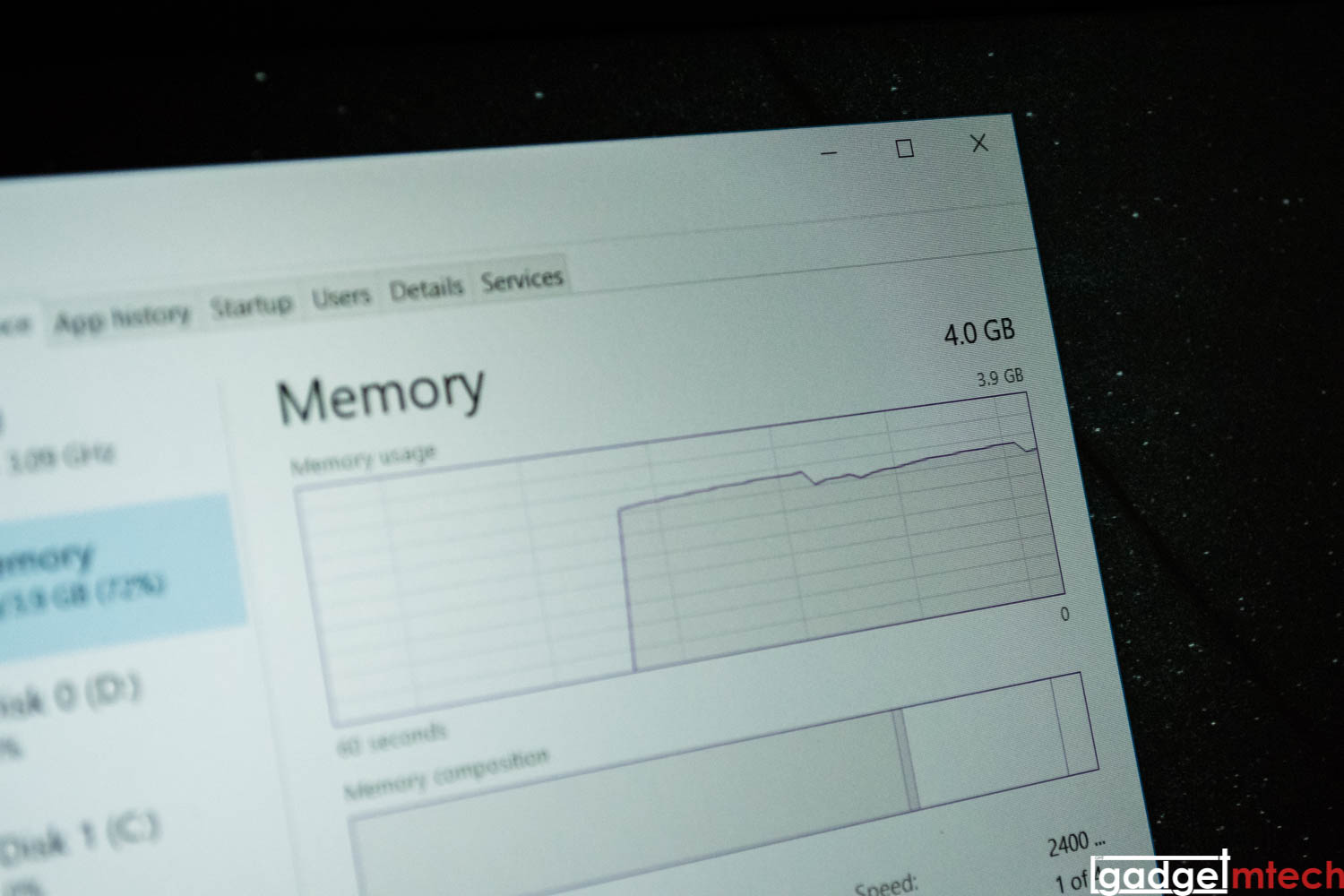 My only complaint is the amount of RAM the company decided to put out of the box. I mean, 4GB RAM isn't really enough for me, it should be at least 8GB of RAM. Opening Chrome with a few more tabs will cause the older tabs to reload once you click back. If you are buying this laptop, please upgrade the RAM!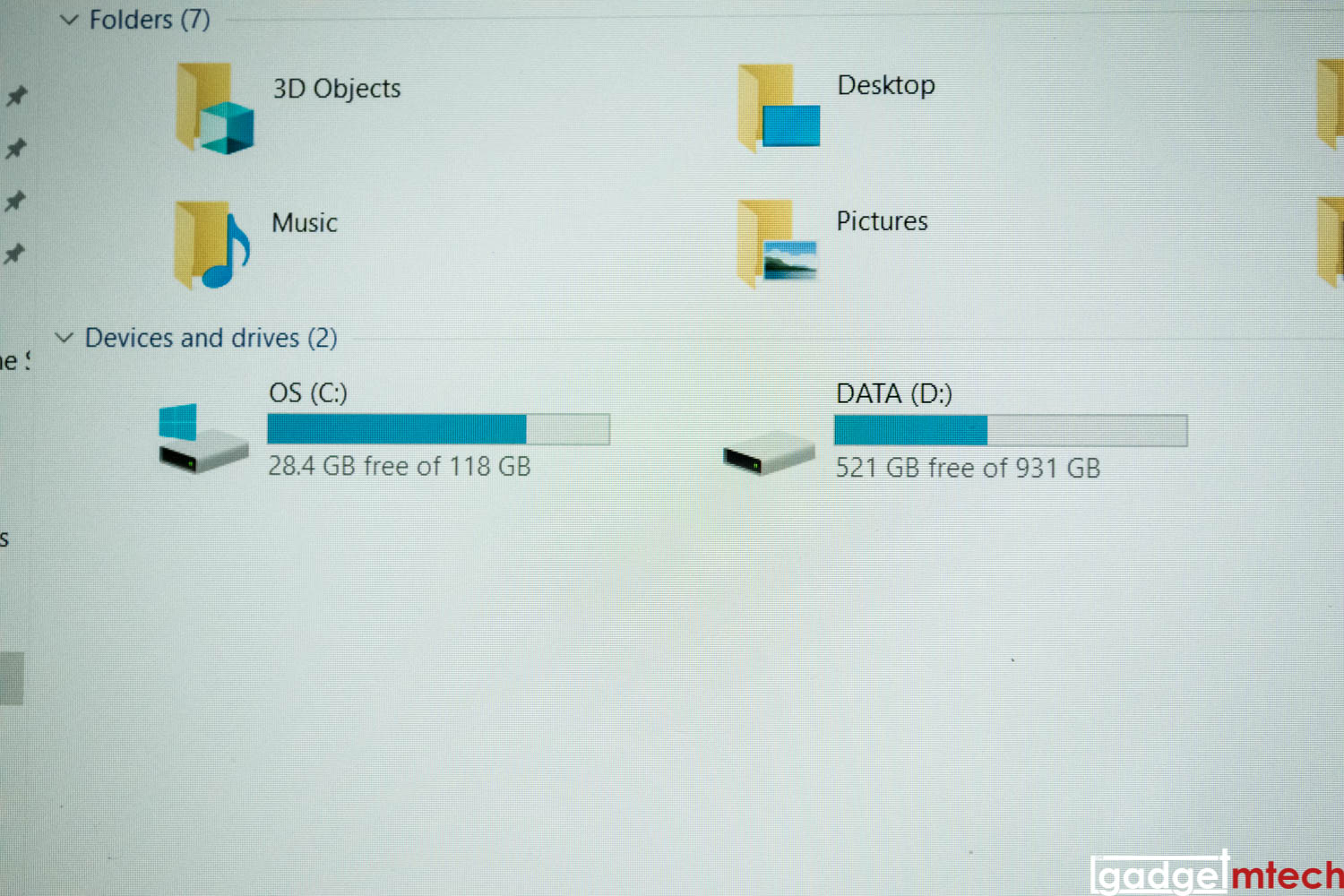 As for its memory, our unit comes with 1TB HDD + 128GB SSD, a pretty sweet combo. By default, the 128GB SSD will be set as the boot drive, so the time taken for booting up and shutting down the system is pretty short. Just remember to install your software to the HDD as 128GB isn't sufficient, especially Adobe software.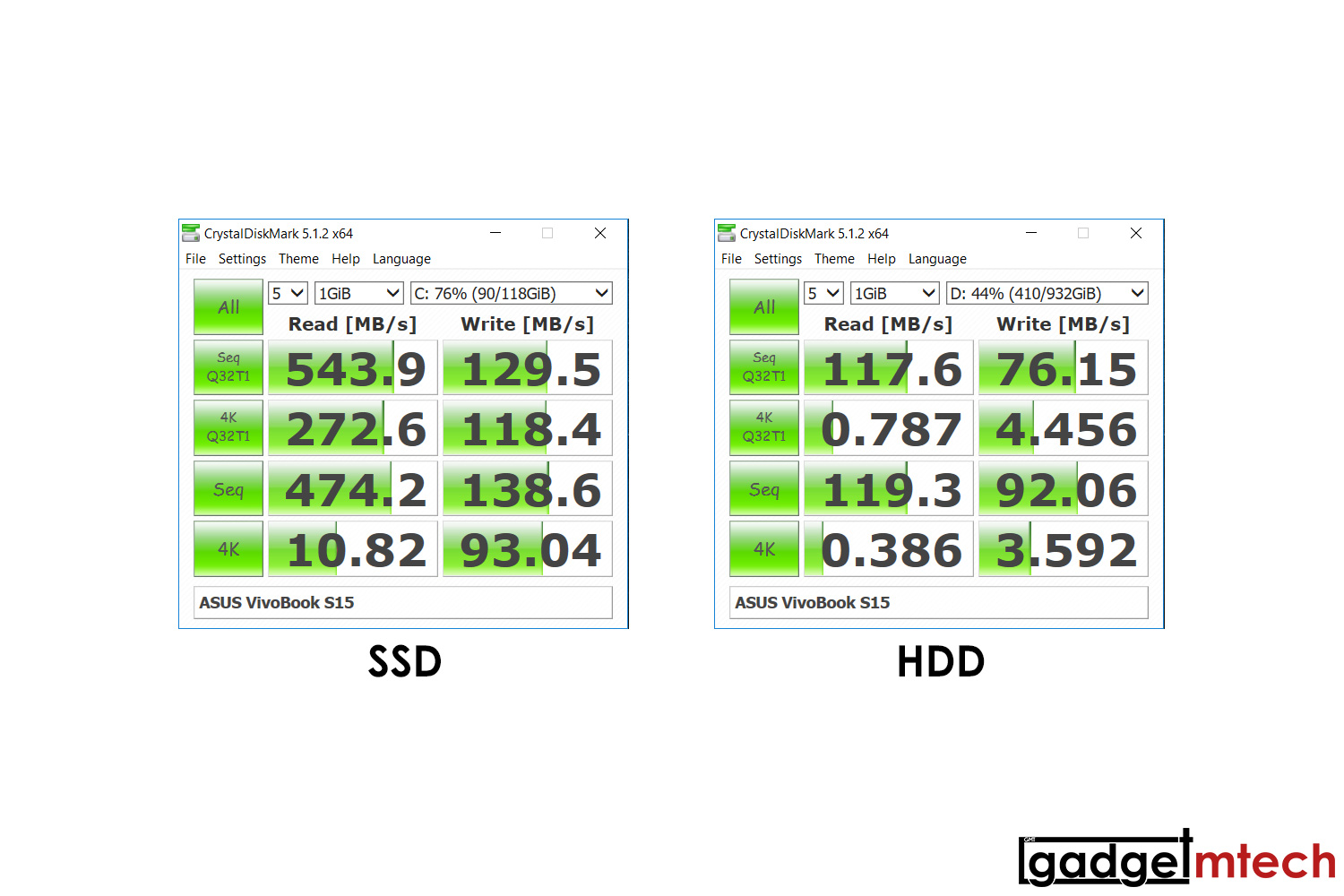 The 128GB SATA3 SSD has a good read speed, but poor write speed. As for the 1TB 5400RPM HDD, it has a pretty average read/write speeds.
Windows 10 & Battery Life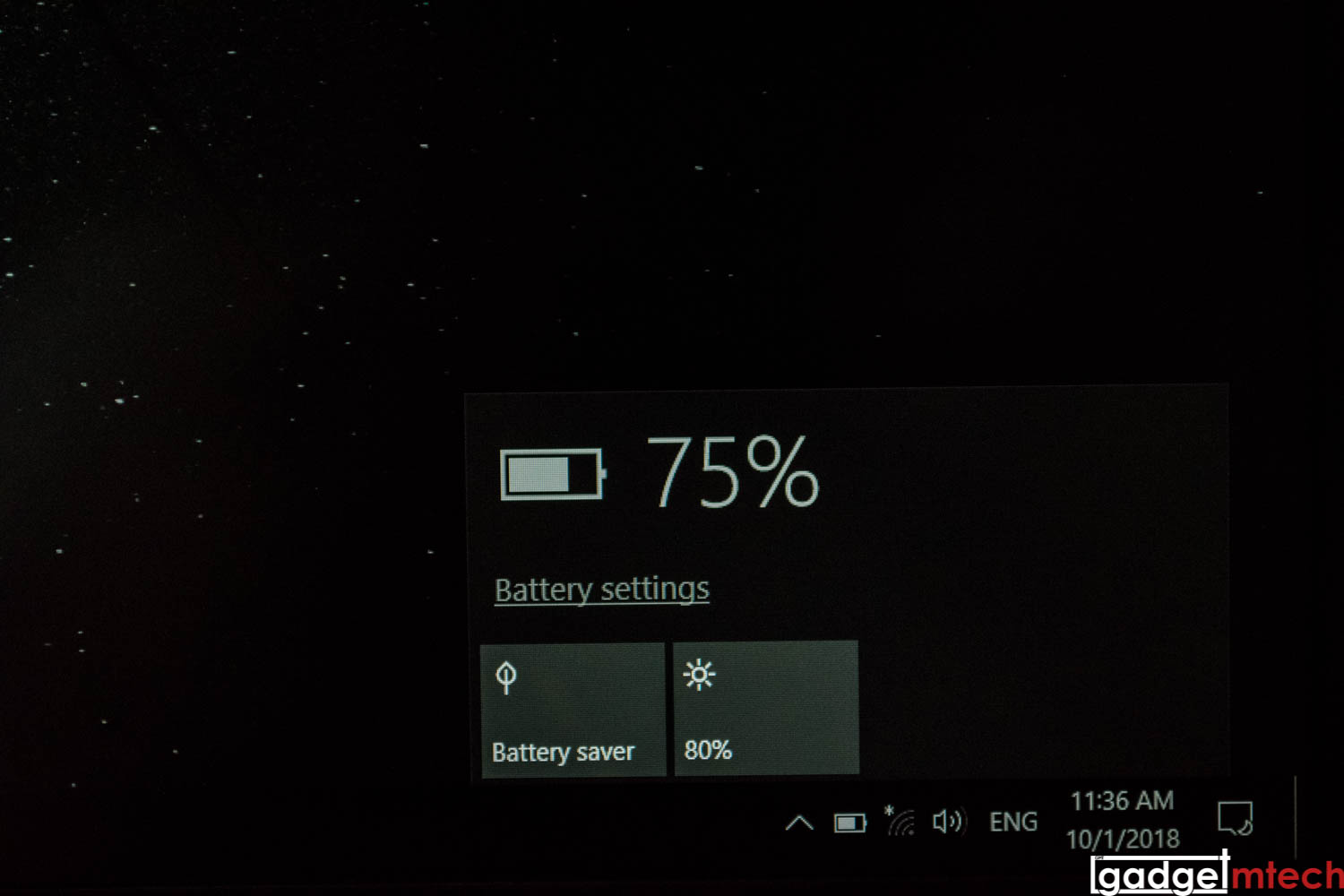 The laptop runs on Windows 10 with a fair amount of bloatware and some in-house software too. Windows 10 Fall Creators update is available to download as well, but for some reasons, after I updated, the keyboard backlight stopped working. Thankfully, this can be solved by downloading the latest version of the ATK Package from the official website. Splendid allows you to customize your screen color profile, while Battery Health Charging software provides three modes to extend your battery lifespan. Based on my usage, I was able to get around 6 hours of battery life with casual usage like browsing the web and watching videos. When it comes to heavy-loaded software like Adobe Premiere Pro and Rhinoceros, its battery life can be as bad as only 2 hours.
Final Words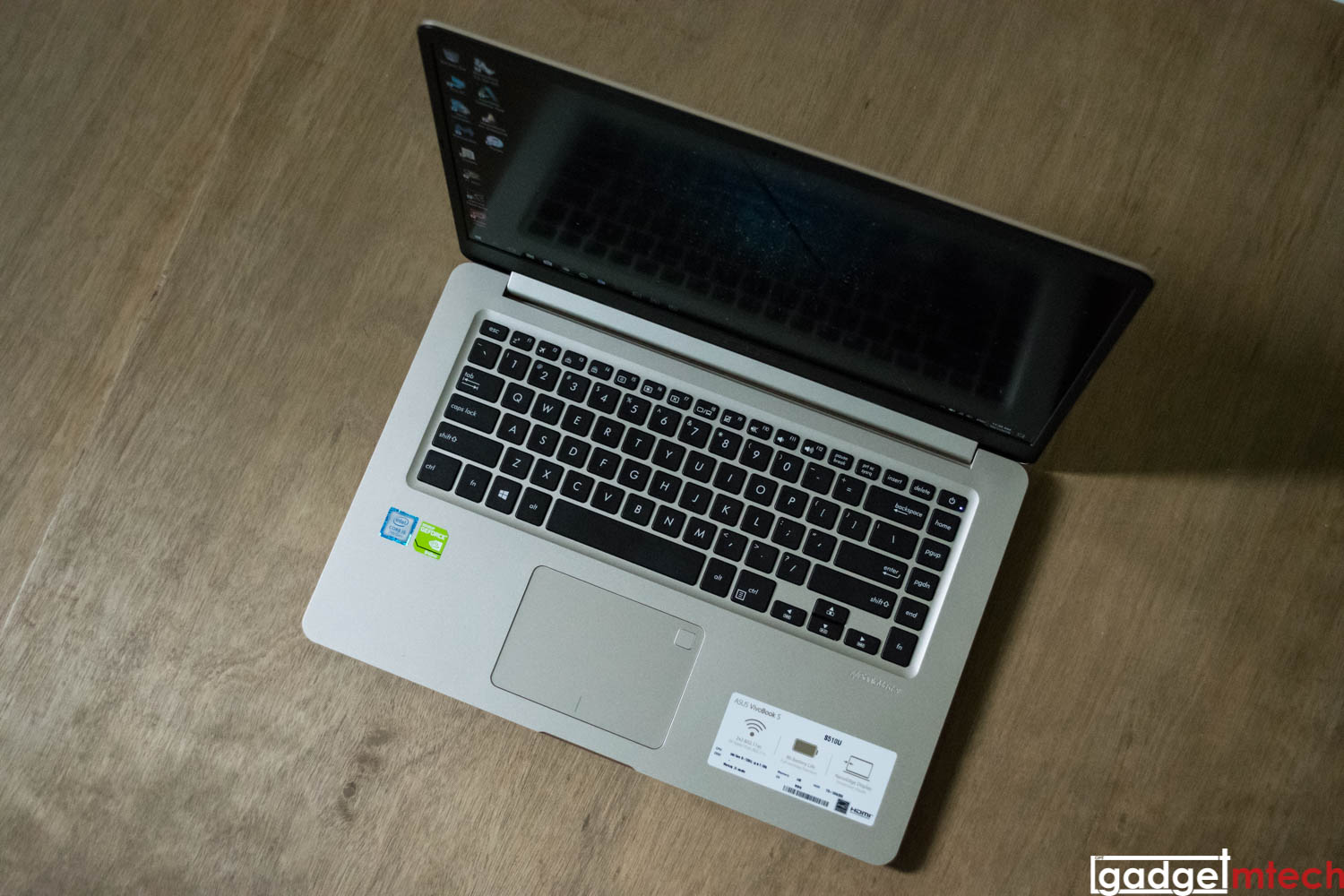 The ASUS VivoBook S15 is available in three variants with the 8 Gen Intel CPU:
S510UN (Intel Core i7-8550U CPU, NVIDIA GeForce MX150 GPU, 4GB RAM, 1TB HDD + 128GB SSD): RM4,199
S510UQ (Intel Core i5-8250U CPU, NVIDIA GeForce 940MX GPU, 4GB RAM, 1TB HDD + 128GB SSD): RM3,499
S510UQ (Intel Core i5-8250U CPU, NVIDIA GeForce 940MX GPU, 4GB RAM, 1TB HDD): RM3,099
It is an affordable ultrabook with some compromises here and there. With the brand new 8th Gen Intel CPU, I'm sure the laptop is even faster than the review unit we are having now. Overall, it is a great laptop with a decent performance, nice NanoEdge display, good keyboard, and good trackpad. My main complaint is the 4GB RAM, seriously, no more 4GB RAM laptops, please! If you are opting for a better graphics performance, the one with NVIDIA GeForce MX150 GPU (basically a laptop GT 1030) is a good choice.
Yay
Thin and lightweight
Nice display
Affordable
Nay
Fingerprint scanner on the trackpad
Only 4GB RAM
Slow SSD write speed