Introduction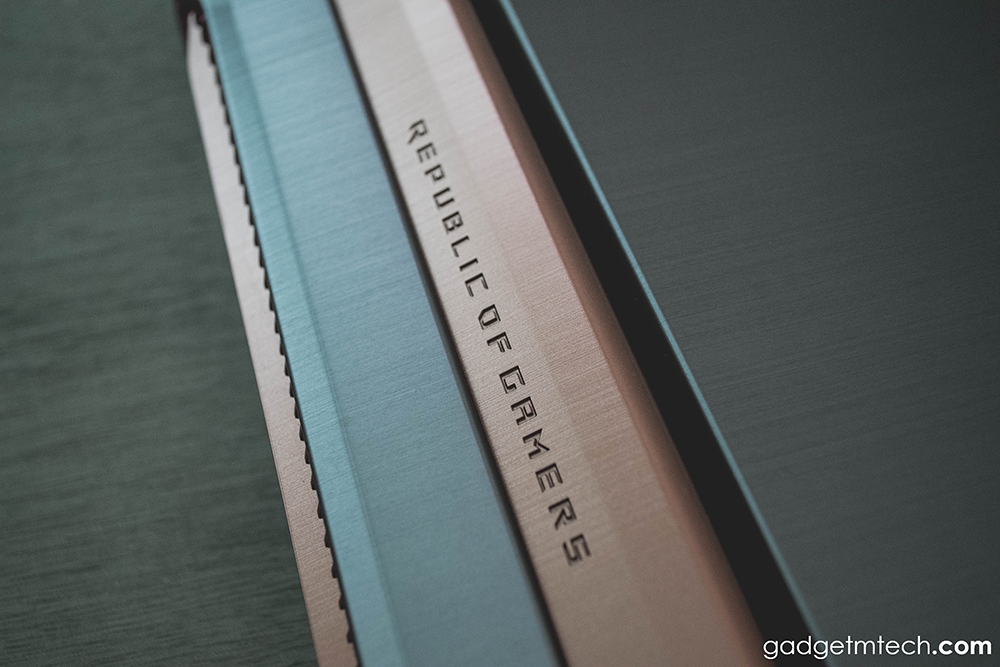 In case you don't know about ASUS Republic of Gamers series (a.k.a ROG), it's the company's best selling series with a range of gaming laptops. From mid-range to high-end, the ROG gaming laptops aim for different markets at different price points. Today, we are looking at the G752 — specifically the G752VY-RH71, the company's high-end gaming laptop aims for hardcore gamers. Before we continue, let's take a look at the specs:
17.3″ Full HD IPS Display
Intel Core i7 6700HQ Processor
NVIDIA GeForce GTX 980M with 4GB GDDR5 VRAM
16GB DDR4 RAM
1TB SATA HDD + 128GB SSD
8 Cells 6,000mAh 88Whrs Battery
Not Compact At All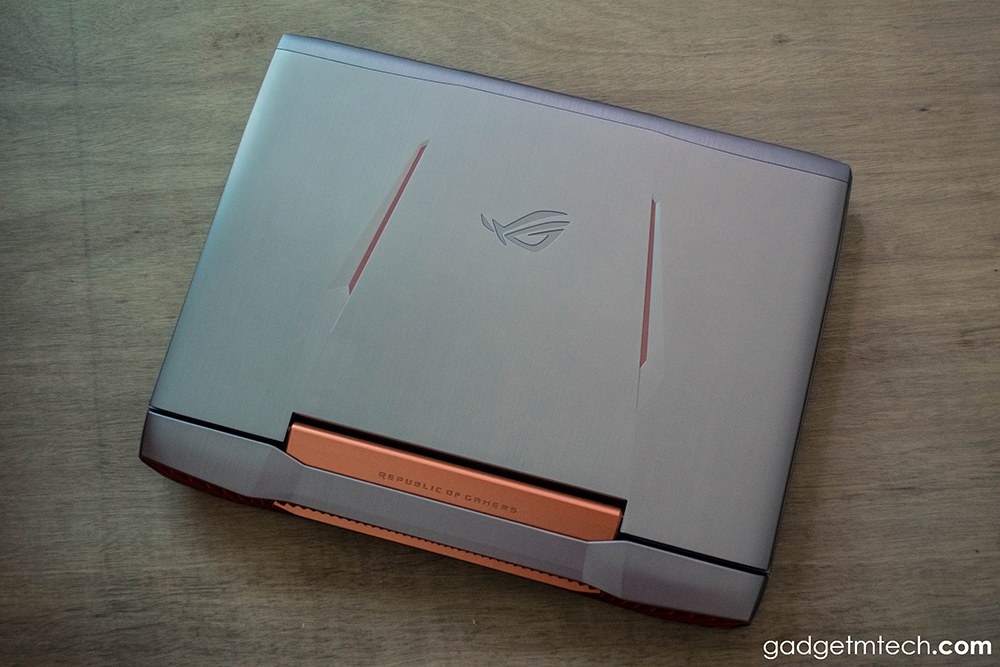 If you are looking for a compact gaming laptop, then you can stop reading this review now, as this is not the case for the G752. The G752, however, is thick and heavy. The device measures at 23mm at its thinnest point and 51mm at its thickest, and weighs at 4.4kg. So, it's a "no" if you are the one often bringing laptop out, unless you are willing to carry it around and treat it as a workout.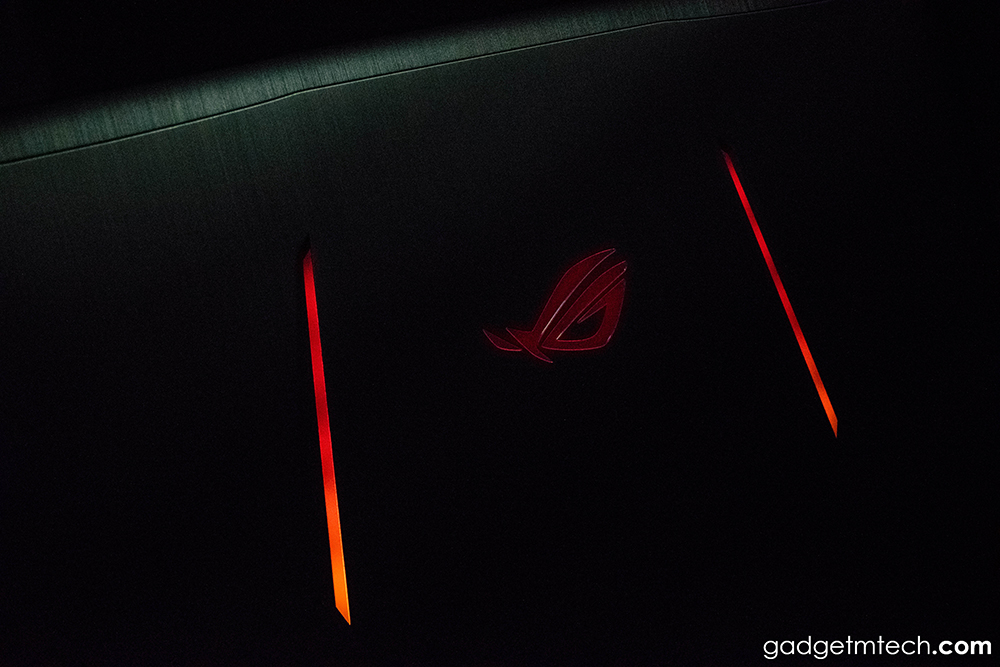 Let's put the size and weight aside, and dig through its design. The top of the laptop has a very nice brushed effect, and the ROG logo is at the center in between two light bars. The ROG logo looks just like a piece of shiny metal, but glows in red color. The two light bars, however, have two different colors from the bottom to the top — orange to red. Unfortunately, both light bars can be either turned on or off. That's all! You can't really change the color or adjust the brightness.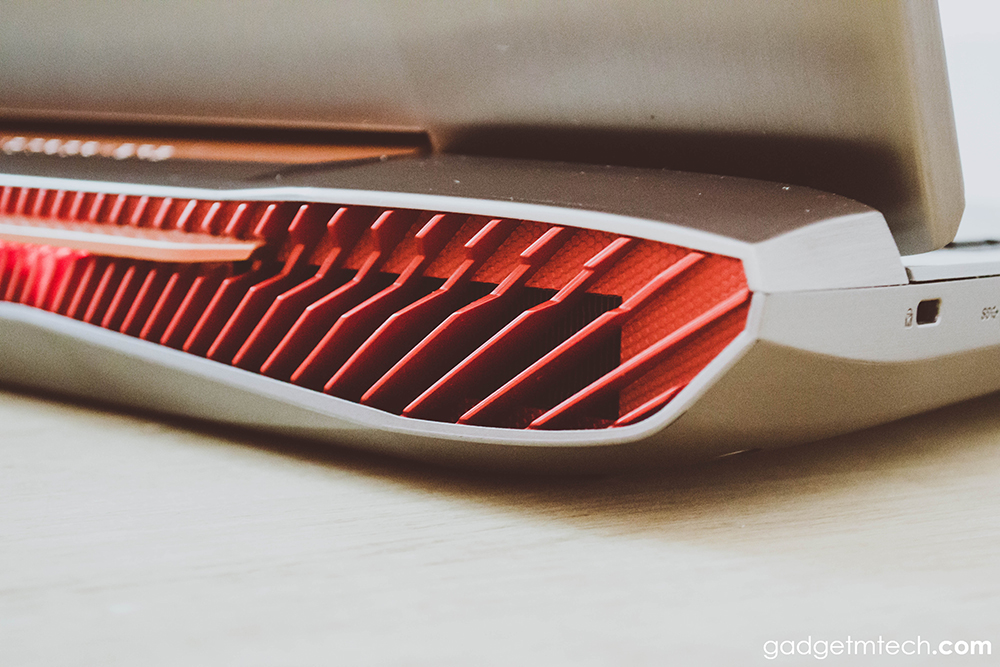 The two vents at the back looks just like the front of some supercar. Both vents are where the hot air came out to keep the entire laptop cool while using.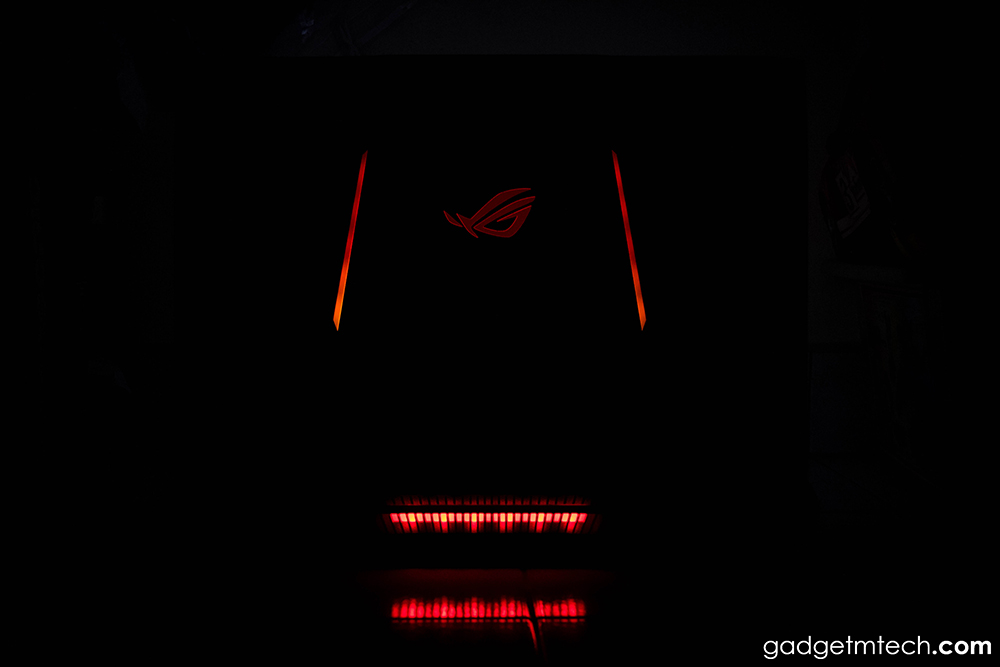 In between both vents there's the light, which I think probably just for decorative purpose. It looks really nice with the ROG logo and two light bars together when you light up in the dark.
Lots of Ports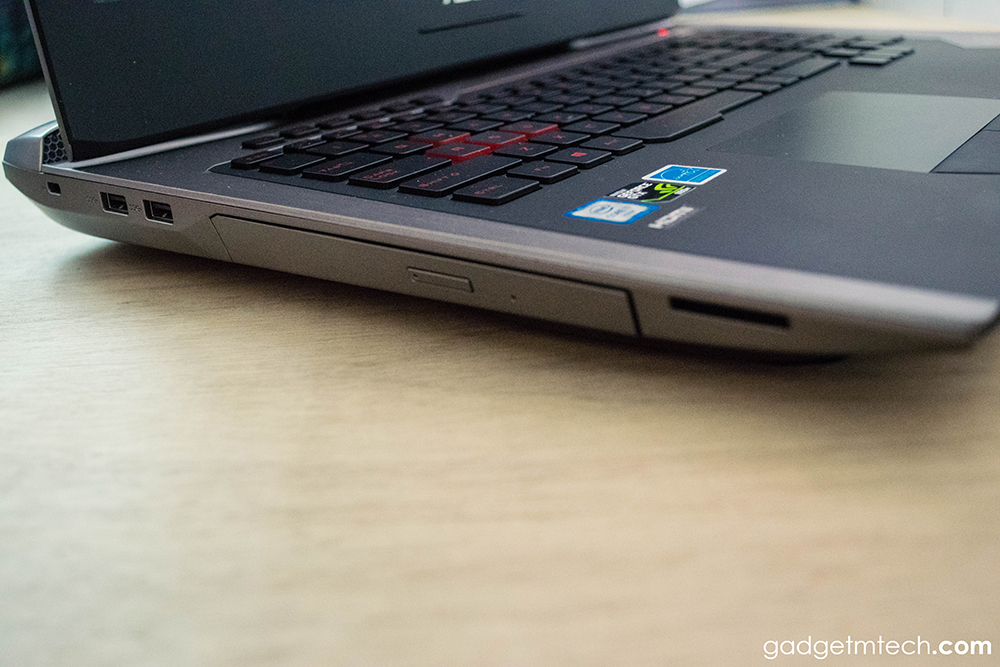 As mentioned earlier, the G752 has a very thick body, which sometimes can be a good thing. Connectivity and ports are not a big problem for the laptop as it has lots of ports on both sides of the laptop. The left side has a Kensington lock slot, two SuperSpeed USB 3.0 ports, an optical drive and a full size SD card reader.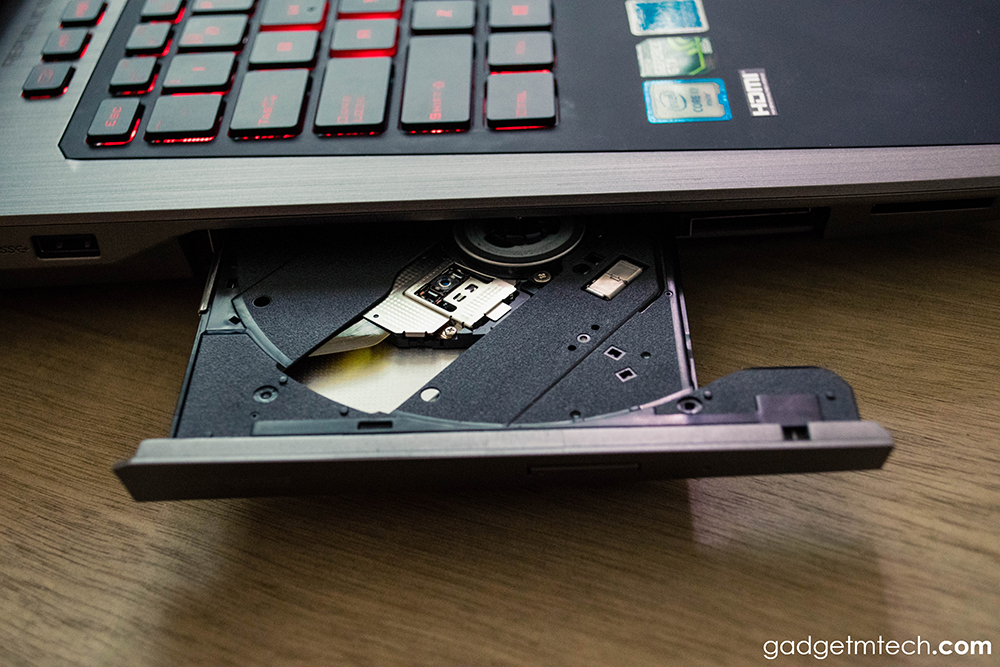 The optical drive doesn't feel premium actually as somehow it feels loose, which makes me think that it's easy to spoil. However, it seems that this is not a problem after all as people nowadays don't really use CD anymore.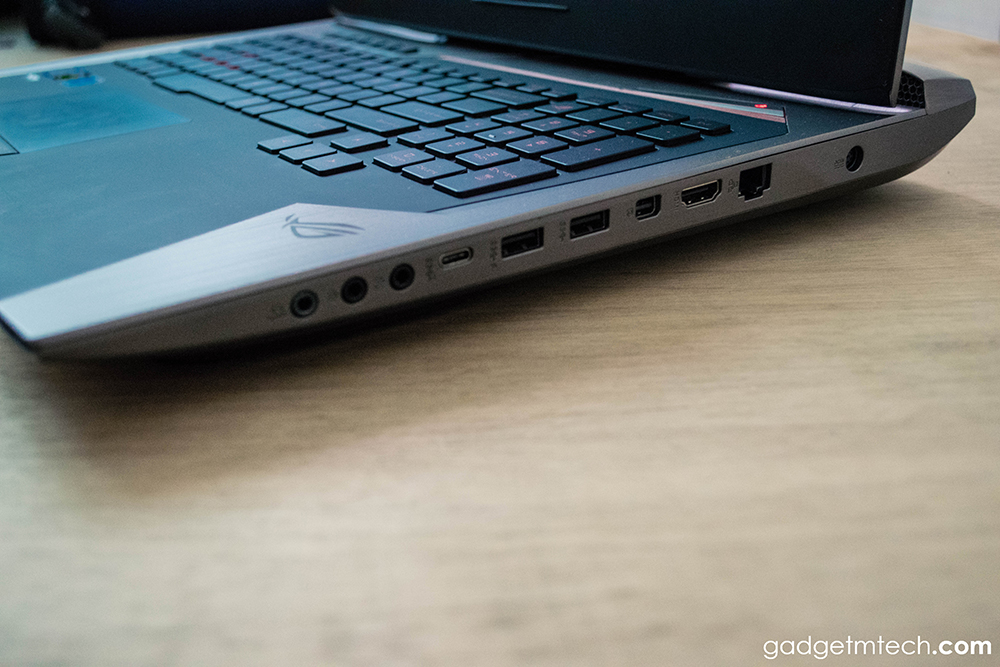 The right side has a lot of ports as well, there's a headphone and S/PDIF combo jack, microphone jack, an audio input jack, USB Type-C with Thunderbolt 3 combo port, a single USB 3.0 port with USB Charger+, a SuperSpeed USB 3.0 port, mini DisplayPort, full-size HDMI port, and a LAN port.
Don't be surprised if you don't see the VGA port, as VGA is a little bit too outdated. However, universities are still using VGA ports for their old projectors, which means you have to use an HDMI to VGA converter, if you really willing to bring this 4.4kg laptop to uni.
Good Keyboard and Trackpad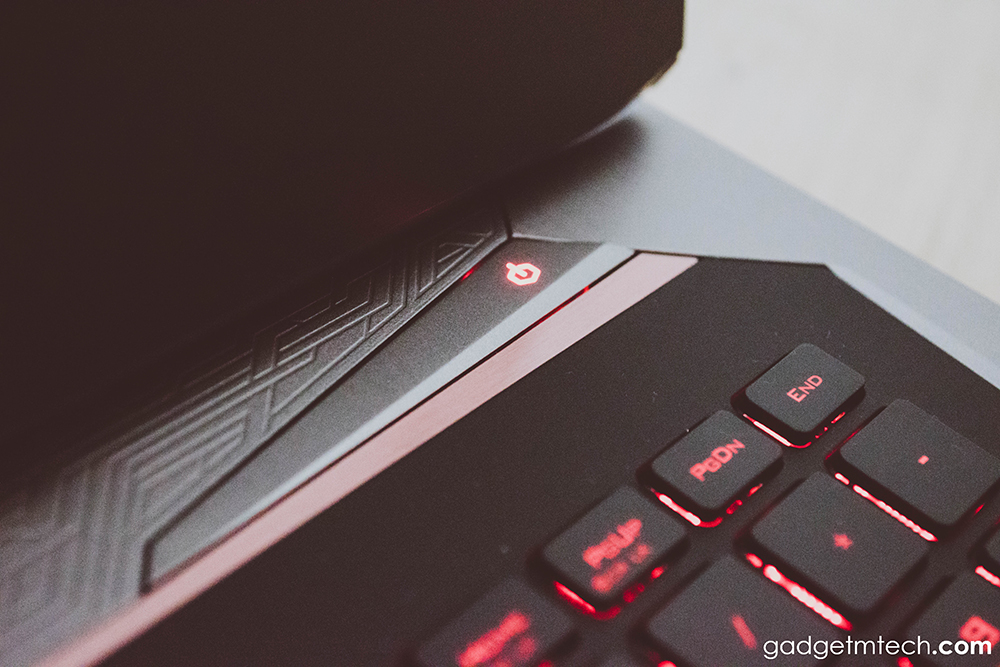 The G752 has a pretty good keyboard and trackpad, it's a must for such high-end gaming laptop. The laptop is made up of brushed metal material around the keyboard and trackpad, while the inner part is made up of soft-touch material (keyboard, trackpad and wrist rest). There's a dedicated space for the power button, which is pretty different from the GL752.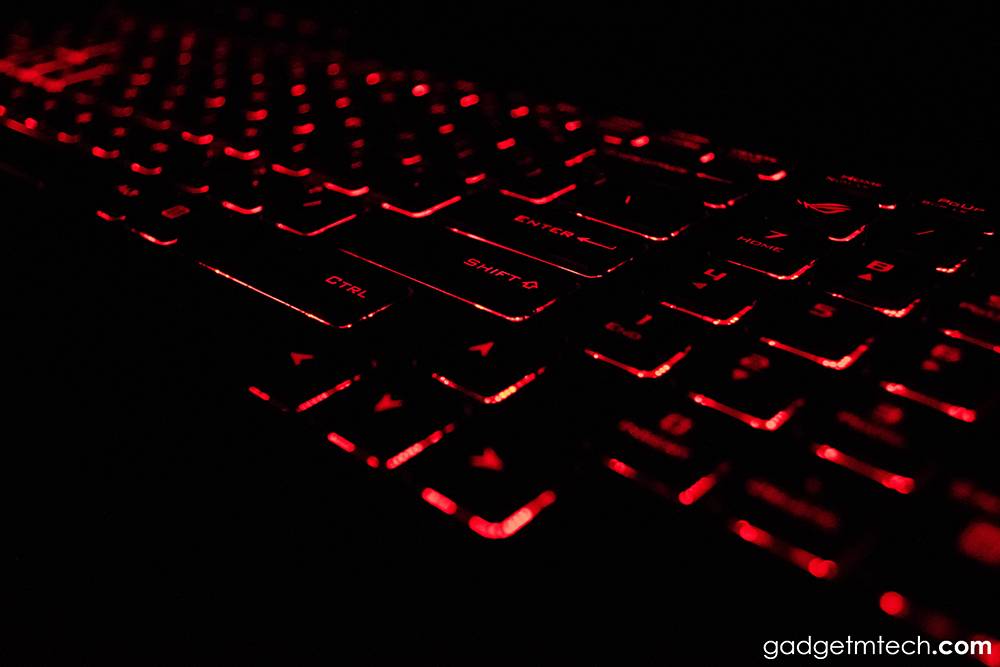 The full-sized keyboard has a red backlight, and each key has its own individual LED. Sadly, you can't really decide which keys to light out and which keys not, but there's another mode being set for you to light up certain keys, including the WASD keys. Thankfully, you are able to adjust the backlight brightness.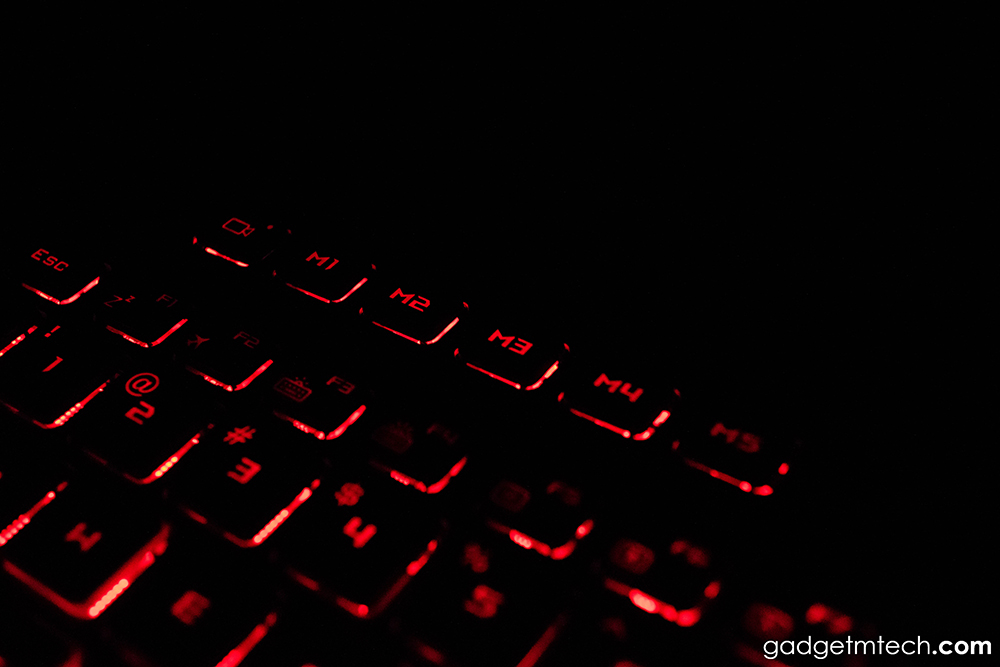 ASUS did include a screen recording and macro keys on the top left area. Press the screen recording key will open up the XSplite Gamecaster software for you to record gameplays, but I don't really use it since NVIDIA ShadowPlay can do the job. The 5 macro keys can be customized with different keyboard profiles or open up specific app/software.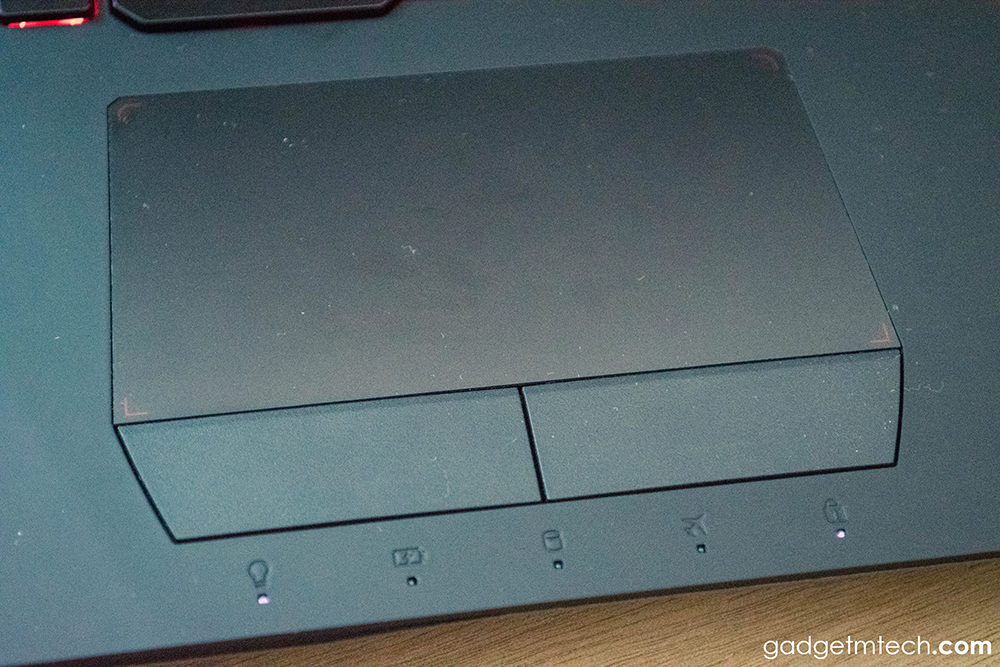 The trackpad has a pretty smooth surface, but it collects a lot of fingerprints. It comes with two separated left and right click buttons, which I really like it a lot. The tracking is pretty accurate without skipping or lags, and the two clickable buttons are really nice to click without using much force, but I'm pretty sure that you'll still get a gaming mouse if you are a serious gamer. Oh ya, there are five LED indicators below the trackpad — on/off state, battery, hard disk activity, airplane mode, and NumLock.
Superior Performance
Powering the entire laptop is an Intel Core i7 6700HQ processor with NVIDIA GeForce GTX 980M GPU and 16GB RAM. It also comes with a Samsung M.2 PCIe NVMe SSD as well!

The laptop is pretty fast, it took me less than 2 seconds to boot up and everything is good to go. As usual, F1 2015 is the only game I played and tested on the G752. I played the game with high to ultra high settings, and it constantly hits 60fps at 1080p resolution, not surprised at all consider it has a GTX 980M GPU.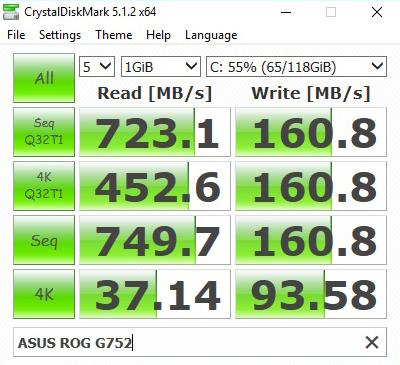 I also tested its SSD using CrystalDiskMark, and the results are pretty satisfied, you can swap a faster one if you want though.
Temperatures are well under control with the CPU and GPU not reaching 90°C and above. The performance will drop once the power plug is unplugged, but it's normal as the laptop will have different settings when it's on battery mode.
Average Battery Life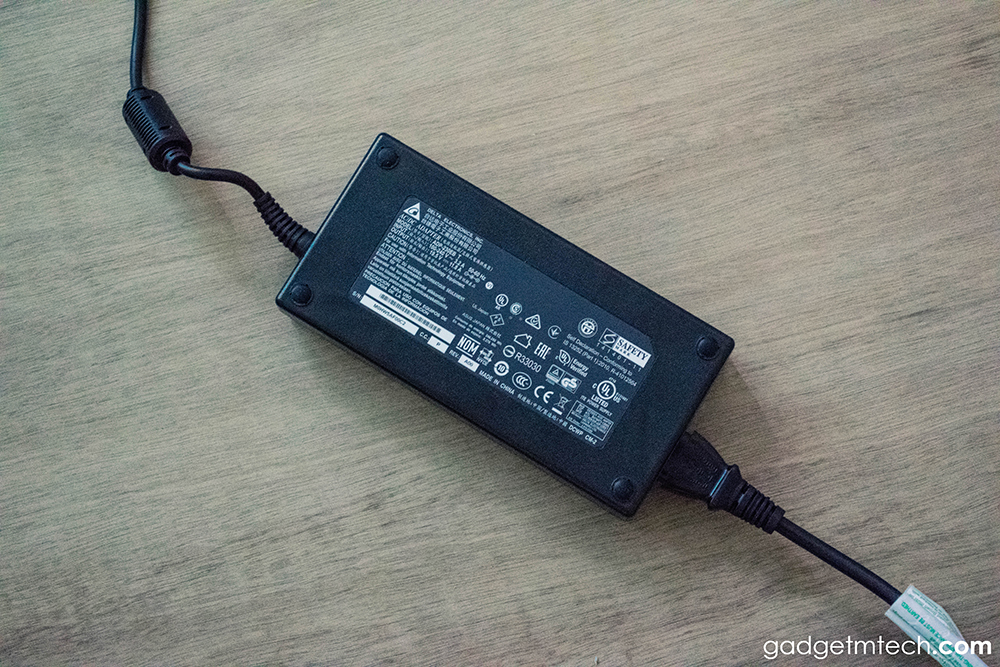 The ASUS ROG G752 comes with a 6 cells 6,000mAh 88Whrs battery. The power adapter delivers the output of 19V at 230W. It took me about 2 to 3 hours to completely charge the G752. Based on my test, the G752 has around 3 hours of battery life, which is same like most high-end gaming laptops.
Final Words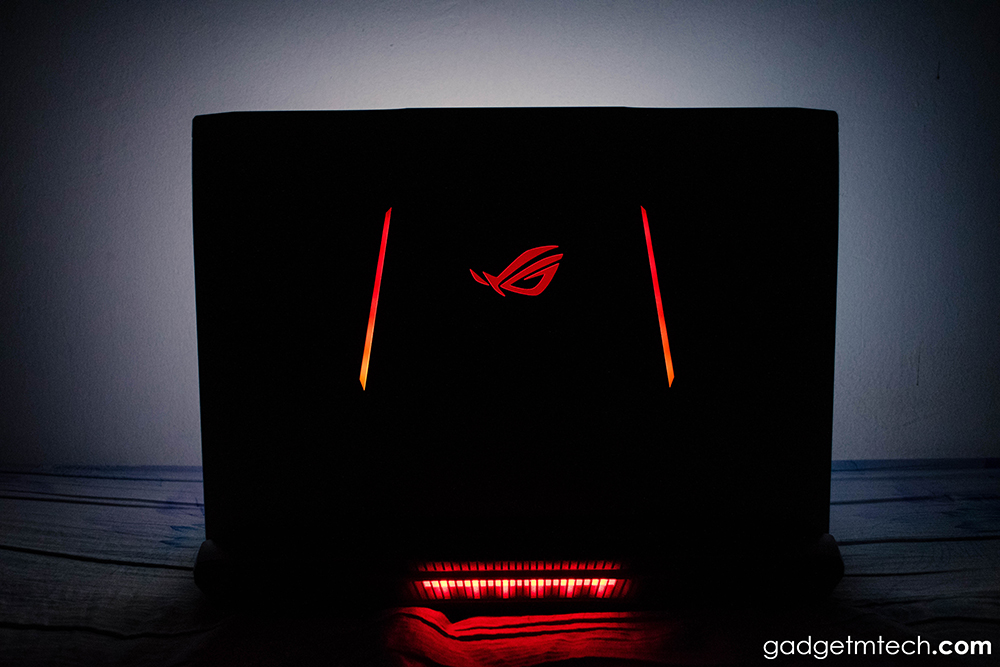 The ASUS ROG G752 is priced at RM9,099. I know, I know, not many people will really buy it as it is bulky and not affordable at all. At last, all I have to say is you pay for what you get. The G752 gives you the highest specs that a laptop can offer. It's just like your desktop, but you can bring it around, it's 4.4kg heavy though. True, its performance won't be as good as a high-end desktop, but I'm sure the G752 can get most of your jobs done, or gaming, without any hiccups or lags.
Yay
Premium build
Lots of necessary I/O ports
Nice keyboard and trackpad
Superior performance
Nay
Big and heavy
Not everyone can afford