Introduction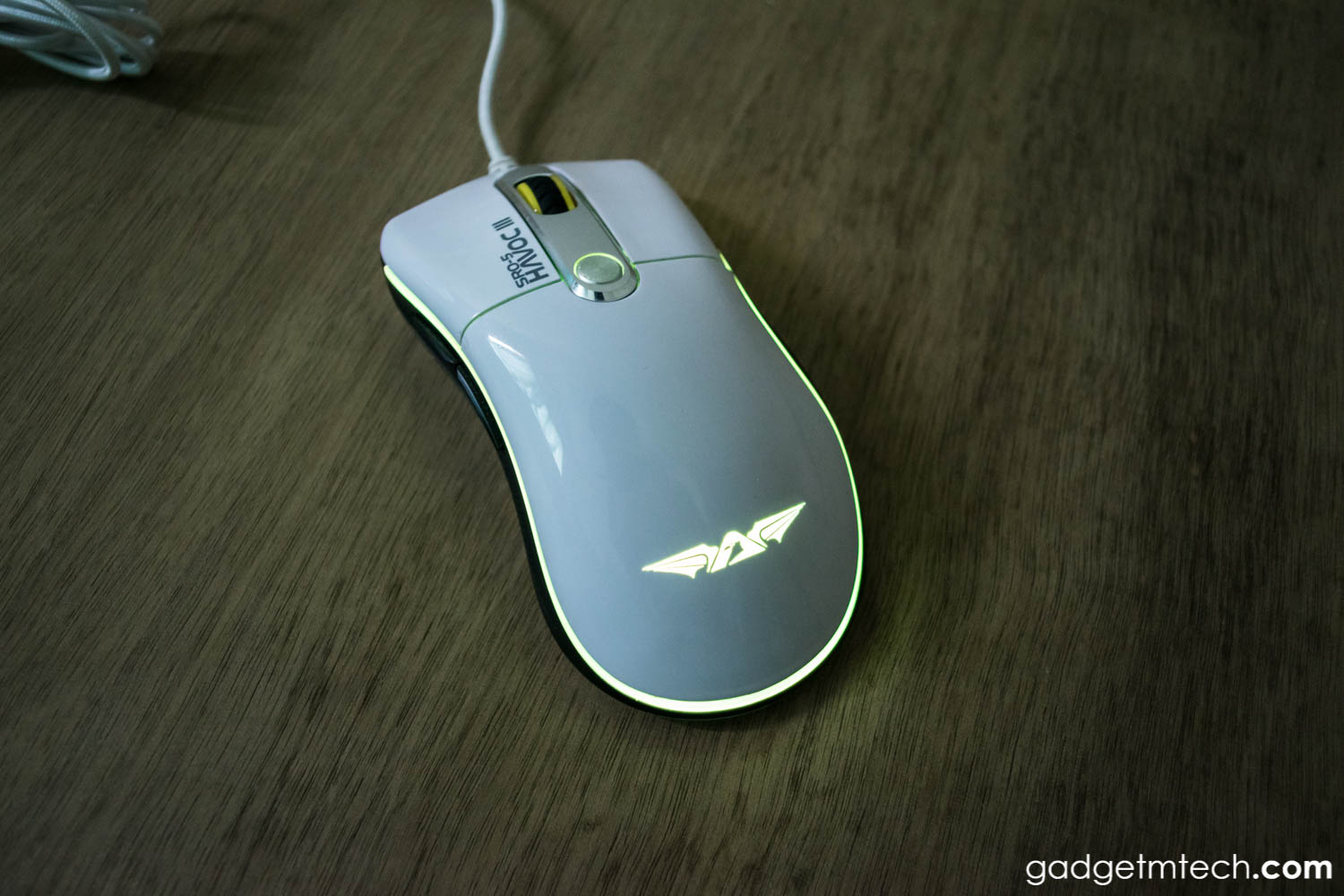 When you buy a gaming laptop, chances for you to buy a gaming mouse are high. Yes, nobody will use the trackpad to play game, especially games like Dota, CS:GO and Overwatch. Today, we have the Armaggeddon SRO-5 HAVOC III v2.0 gaming mouse, which is a newer version of the SRO-5 HAVOC III gaming mouse.
Unboxing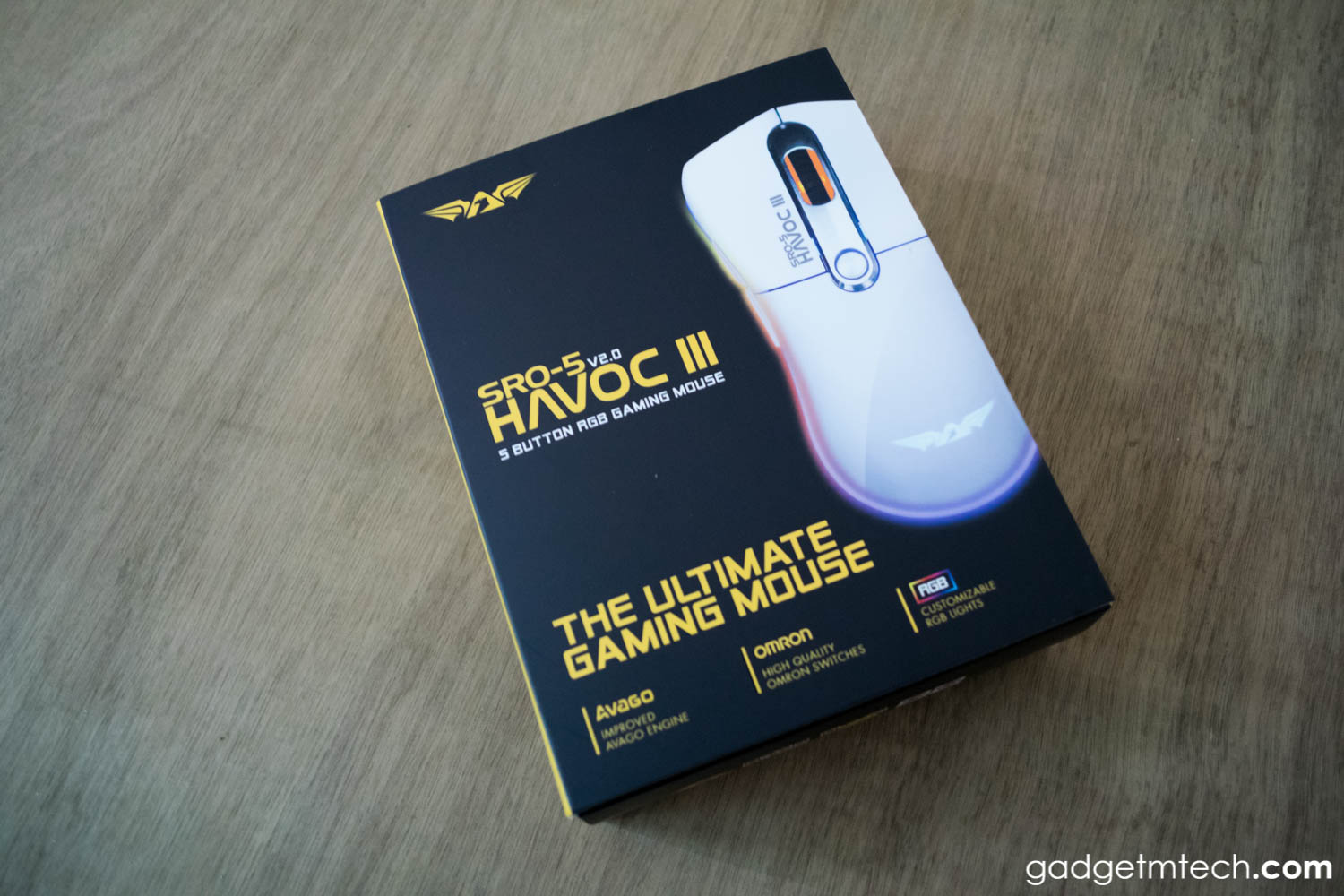 The Armaggeddon SRO-5 HAVOC III v2.0 comes in a black and yellow theme packaging, which is pretty much the same as its gaming keyboard packaging.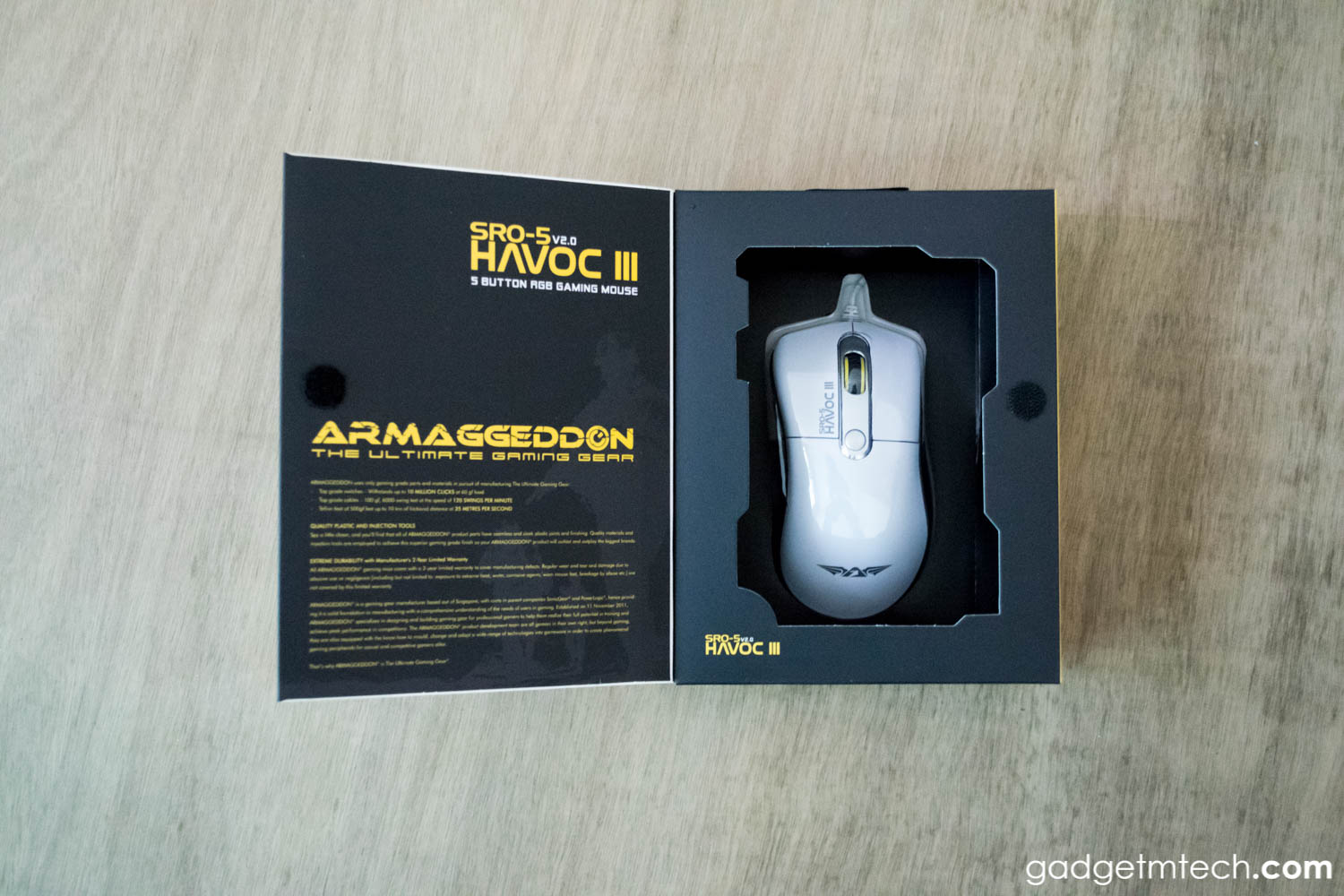 The box has a nifty flip window, which allows you to take a look at the product, in case you don't know that it is a gaming mouse.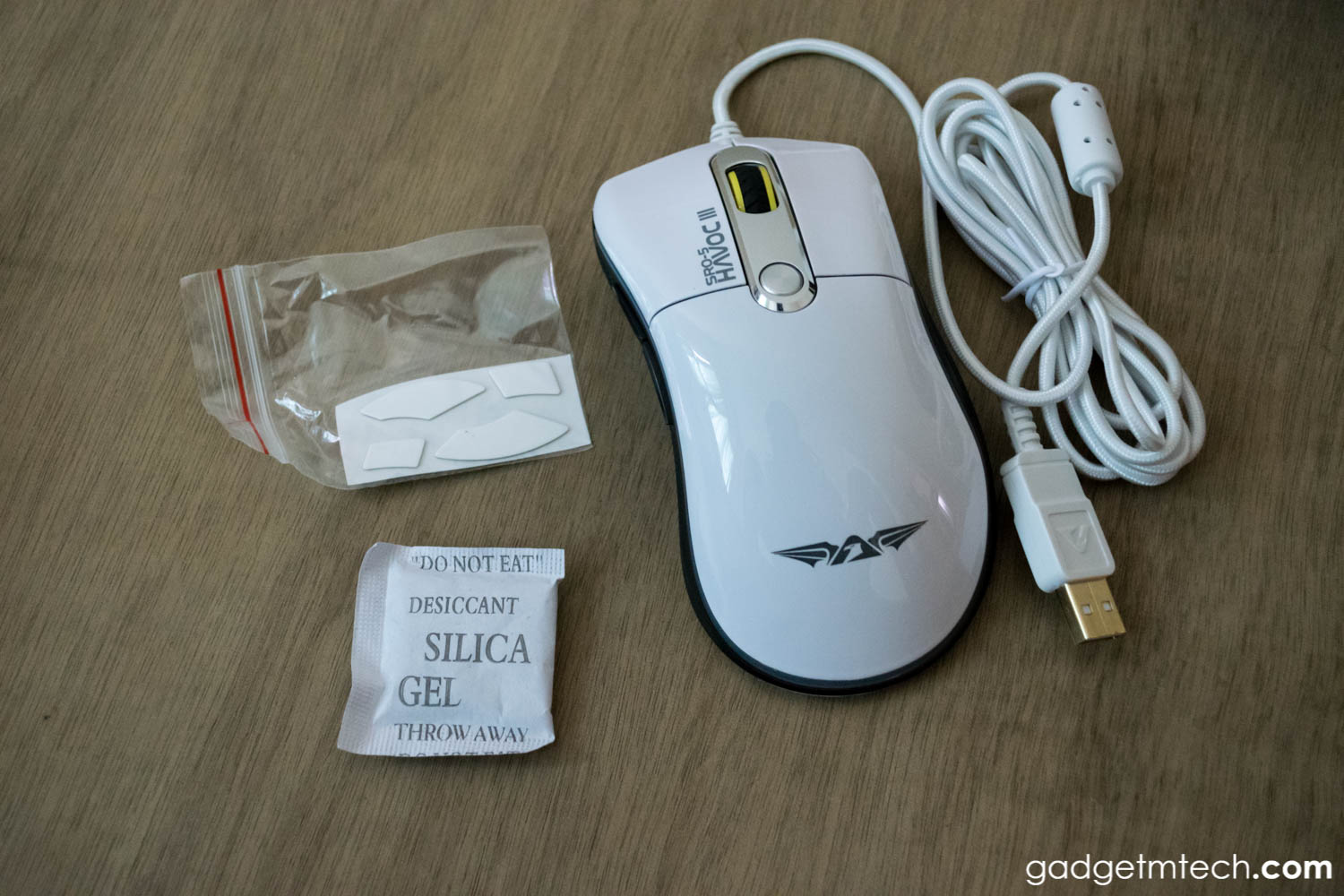 The box contains the mouse, an extra set of Teflon feet, silica gel, and a user manual, which I discovered after taking the photo.
Glossy White Finish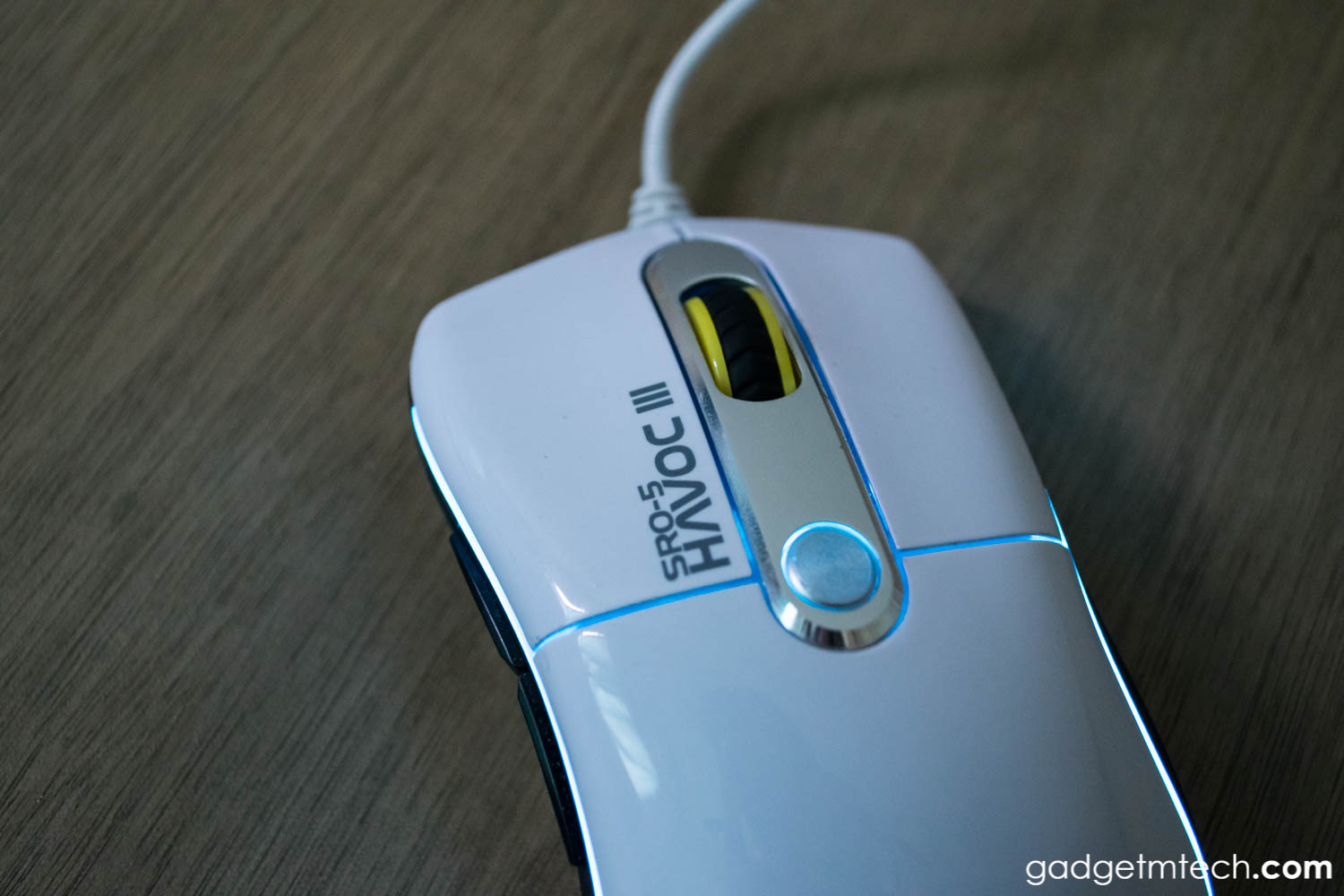 In terms of design, our unit comes with glossy white finish, which gets dirty quite easily. The mouse is ergonomically designed for right-handed user, sorry for left-handed user, this mouse isn't specially designed for you. As usual, there are left and right click buttons, alongside with scroll wheel and CPI toggle button.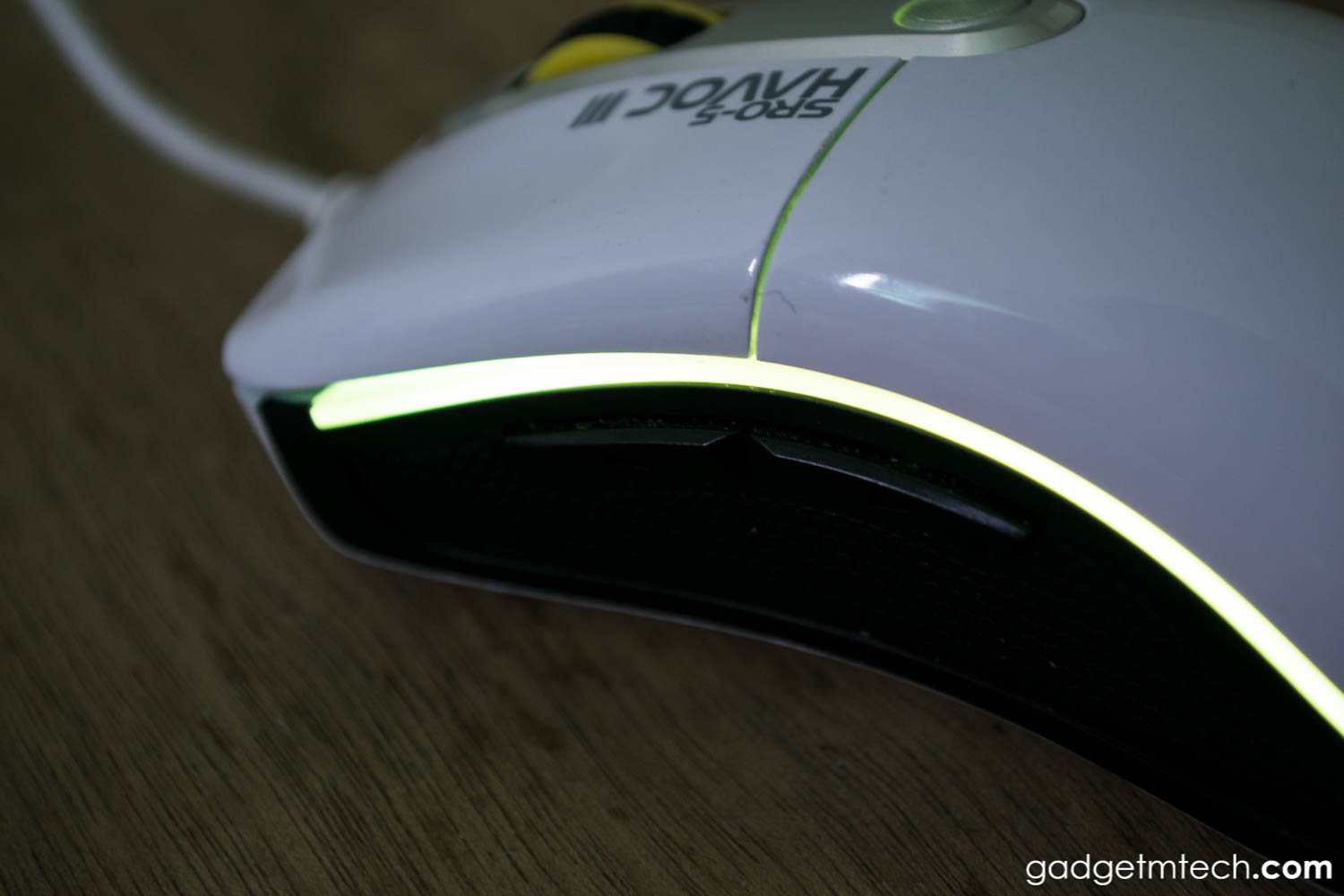 There are two side buttons on the left side of the mouse, with a nice rubber grip. There's nothing on the right, but still features rubber grip so you'll get comfortable.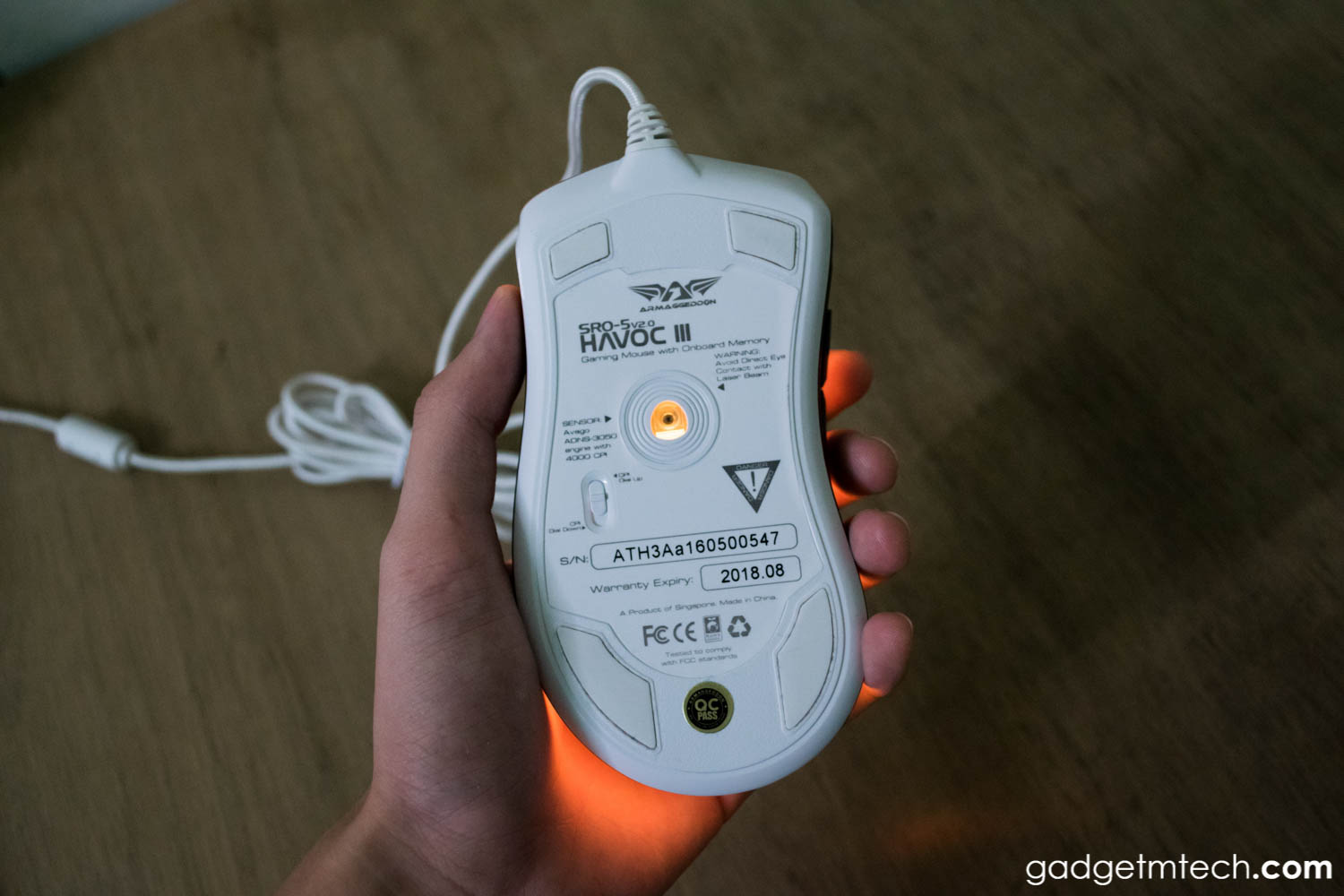 Flipping the mouse over, you'll see a lot of texts. There's a warning to avoid direct eye contact with a laser beam. Then, there are four Teflon feet at each corner of the mouse.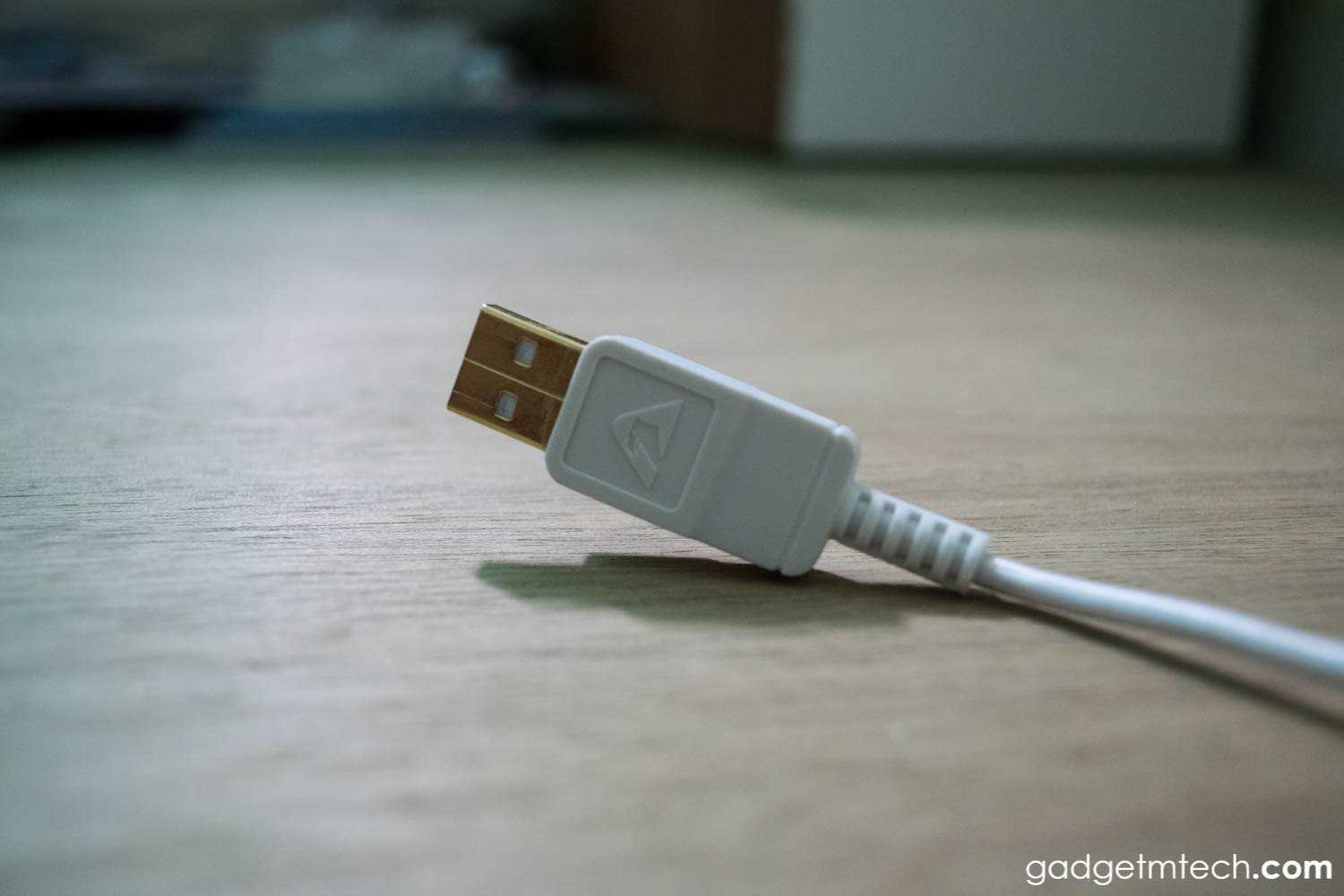 The mouse has a 1.8mm white braided cable, and its USB connector is gold-plated. Durability wise, so far so good, I haven't noticed any damage at the moment.
Comfortable to Use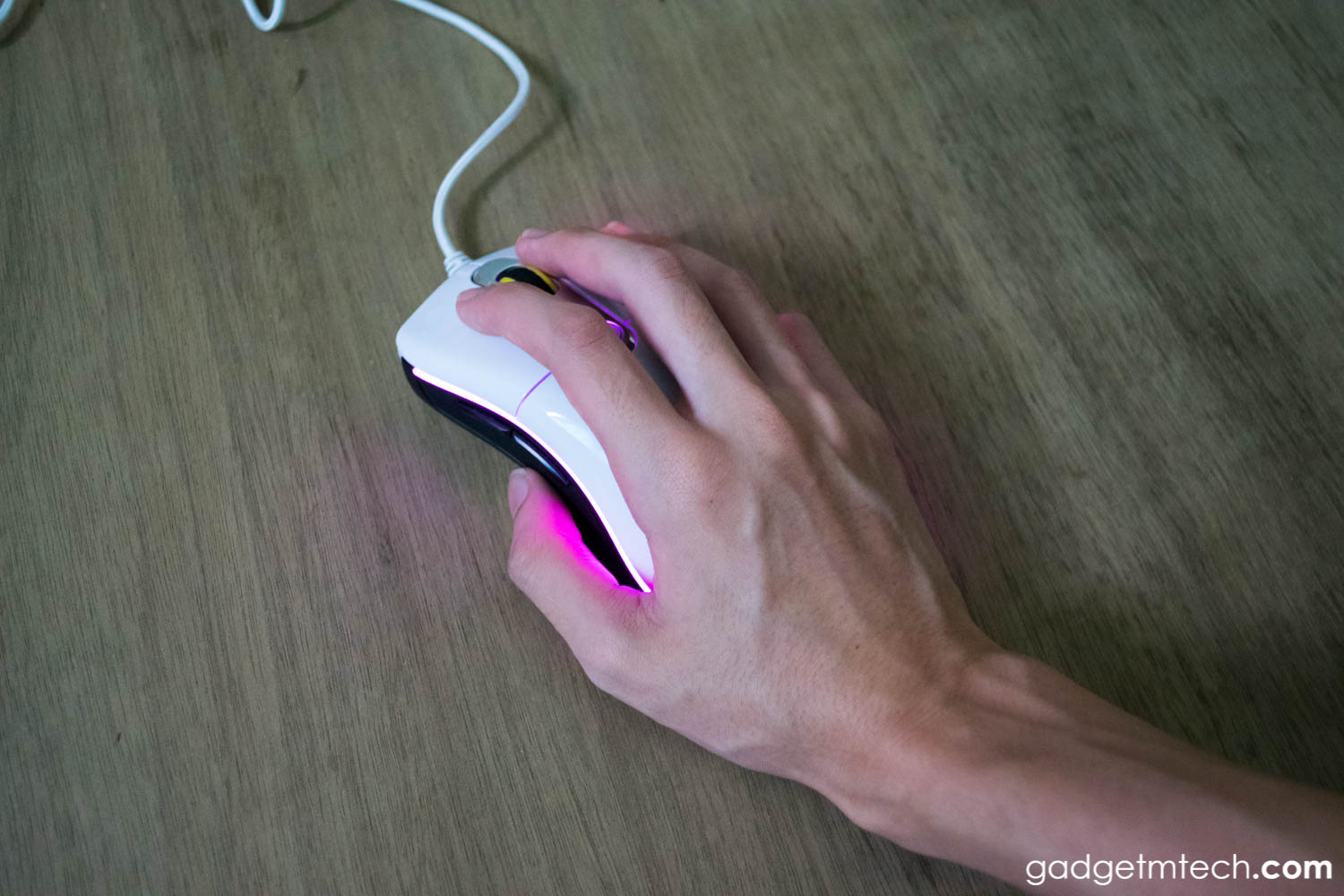 Before I start using the HAVOC III v2.0, I was using a wireless mouse. Well, I have to admit that using a wired mouse is so much better, because I don't need to worry about it running out of battery. I customized the side buttons as forward and backward buttons on browser, and I must say it's pretty handy to use, just that its side buttons feel mushy.
The click buttons aren't deep, they just feel like the wireless mouse that I was using. The scroll wheel isn't that smooth, but I actually prefer the way it feels. It feels like your car is moving on a road with many small bumps, to slow you down for scrolling too fast. The scroll wheel click isn't mushy at all, it gives a good amount of tactile feedback.
Software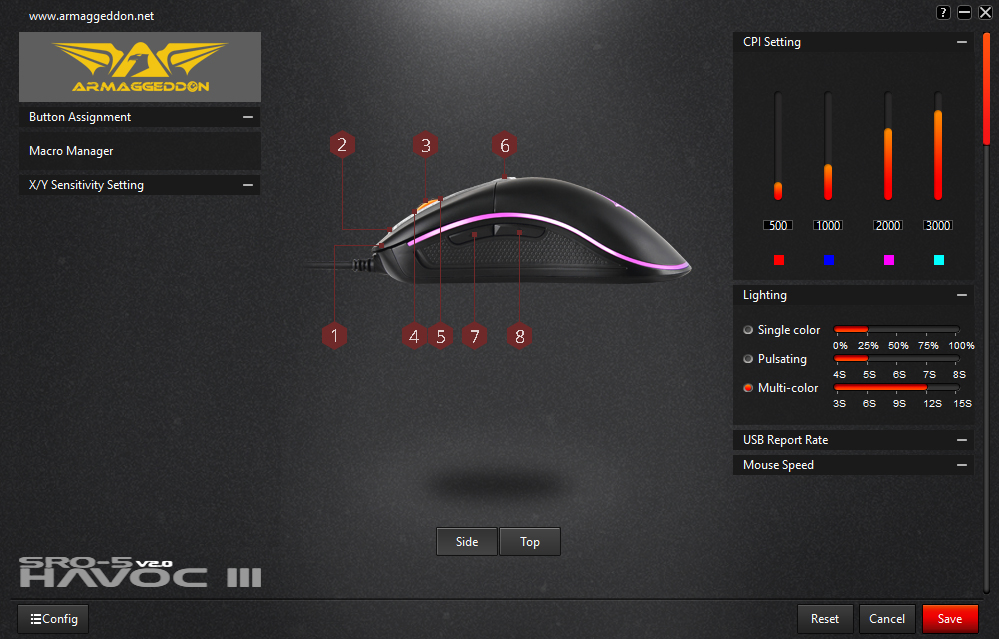 Software is something that Armaggeddon has to work hard on. The software is pretty easy to use, but it's rather confusing. Let's say if you want the mouse to display single color only, and you want to change color, you'll need to navigate to CPI settings and change the color of the current CPI value.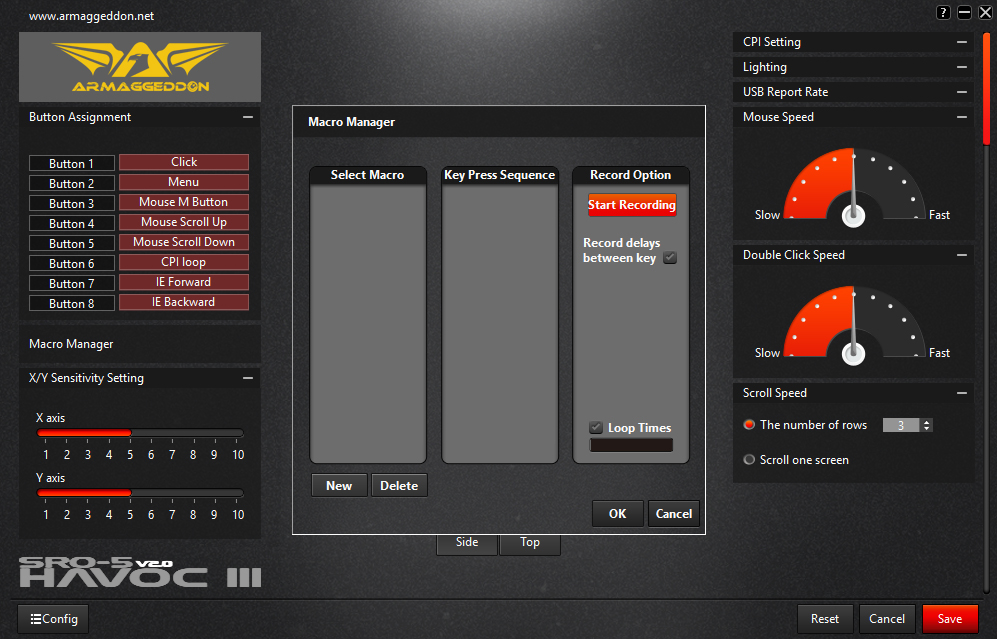 Don't get me wrong, it's still a good software. You can customize everything from the buttons to the speeds, it's just the lighting part is a little bit confusing, so I just switch to multi-color mode.
Final Words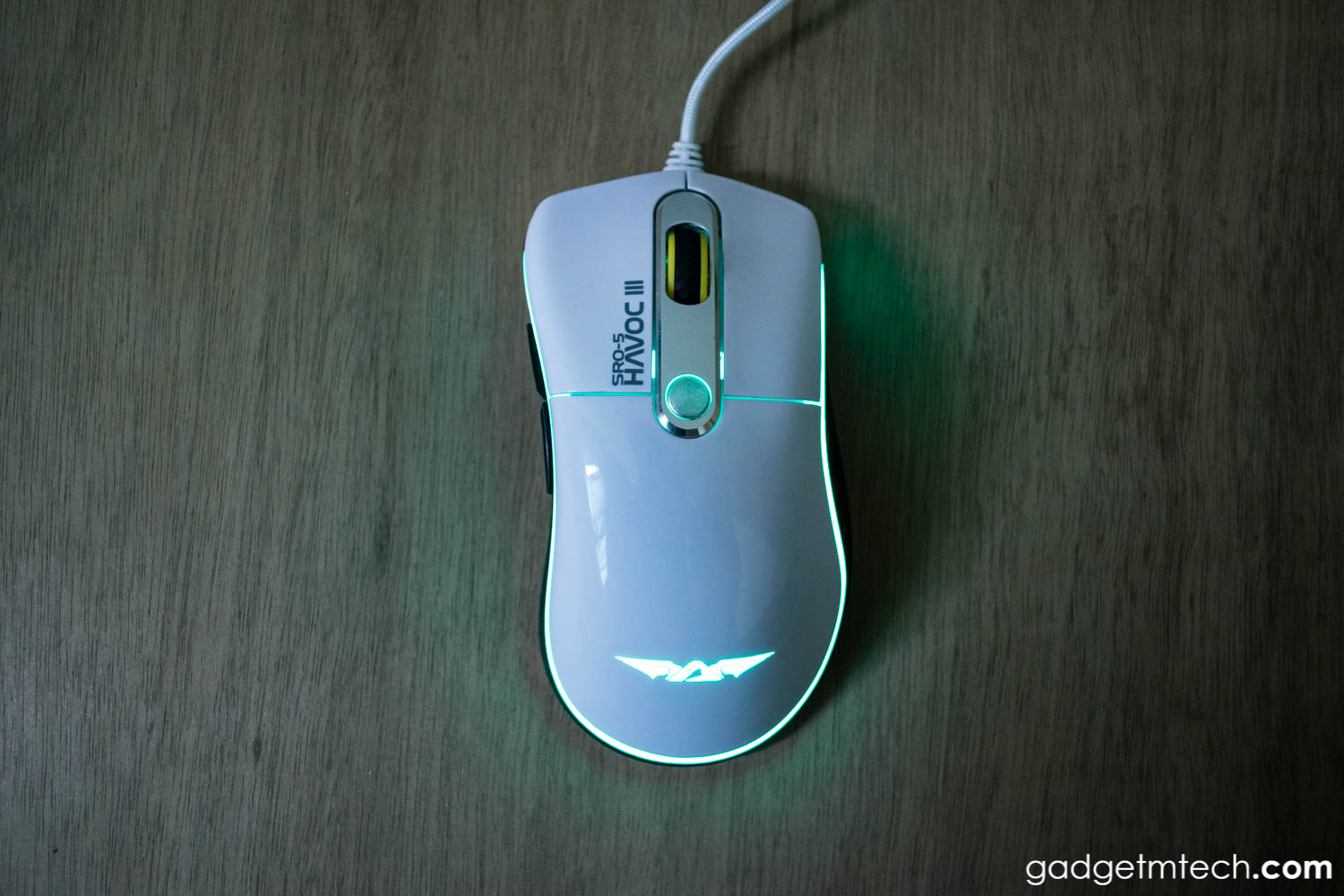 Pricing at RM119, the Armaggeddon SRO-5 HAVOC III v2.0 is an affordable gaming mouse with a comfortable ergonomic shape for right-handed people. So far I'm pretty satisfied with its performance and usability, I really hope that Armaggeddon can make the software more straightforward.
Yay
Affordable
Comfortable to use
RGB lighting
Nay
White finish gets dirty easily
Not for left-handed people
Confusing software user experience