Introduction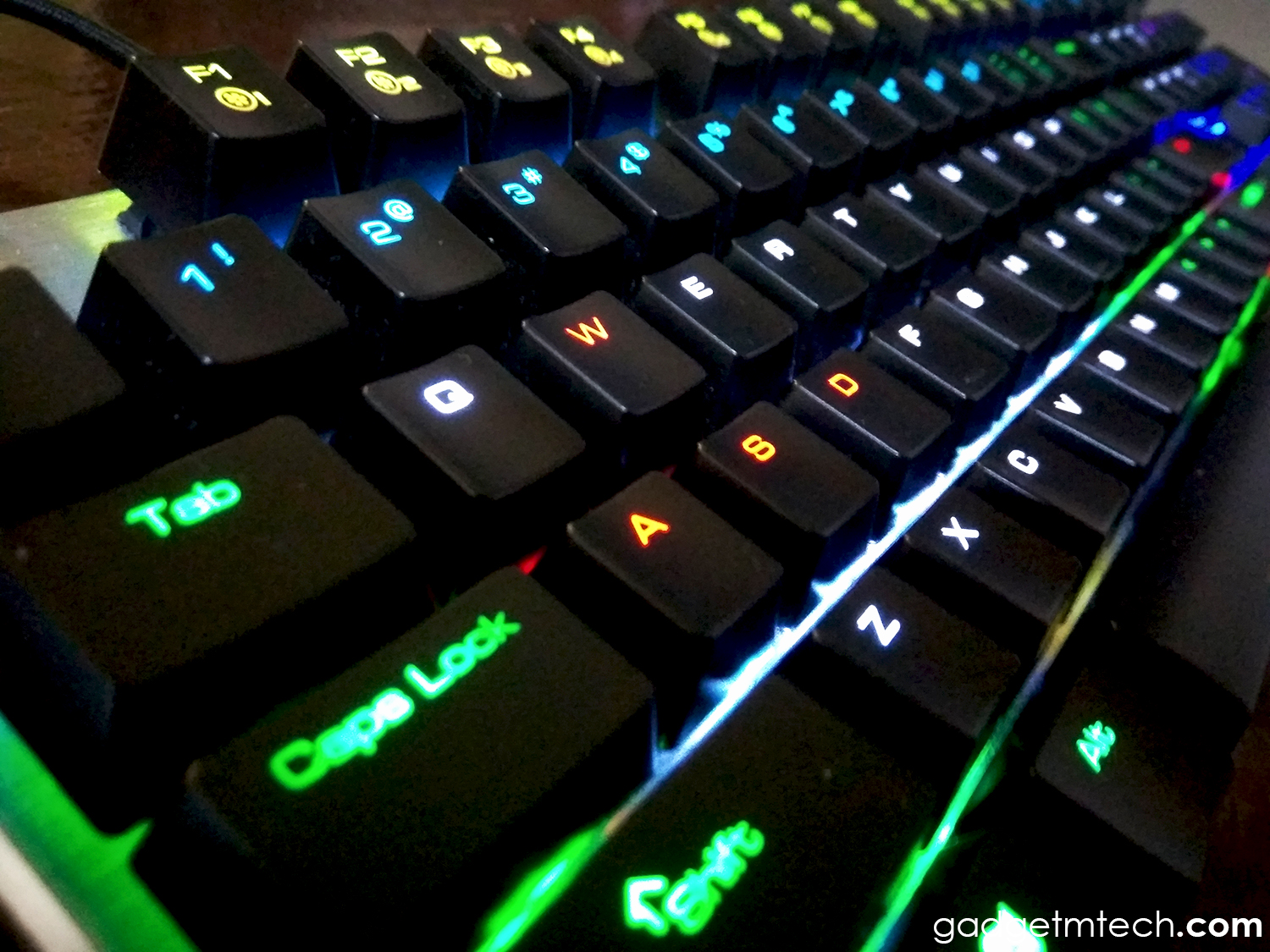 Mechanical keyboards are often an essential piece that every PC gamers would like to have at their gaming station. The Armaggeddon RGB Raptor MKA-11R is a keyboard that feels and sounds different than most mechanical keyboard. No worries as it is easy to get used to. The main selling point of this keyboard will have to be its amazing lighting effect with its aluminum panel, using reflections of lights with aluminum panel shows how this RGB keyboard stands out compared to other keyboards.
Unboxing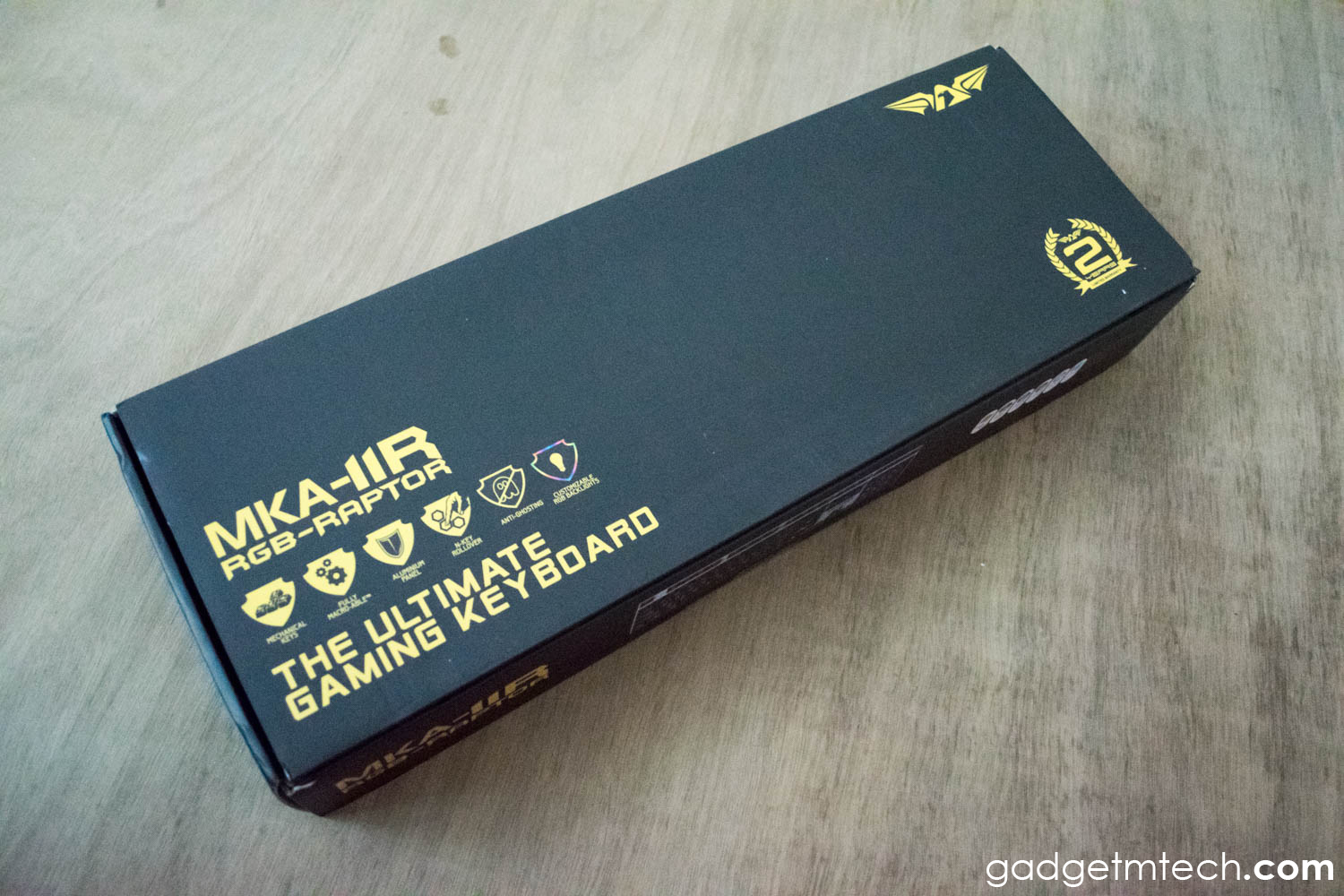 As usual, the box is in black and yellow color schemes, but it's noticeable thicker this time.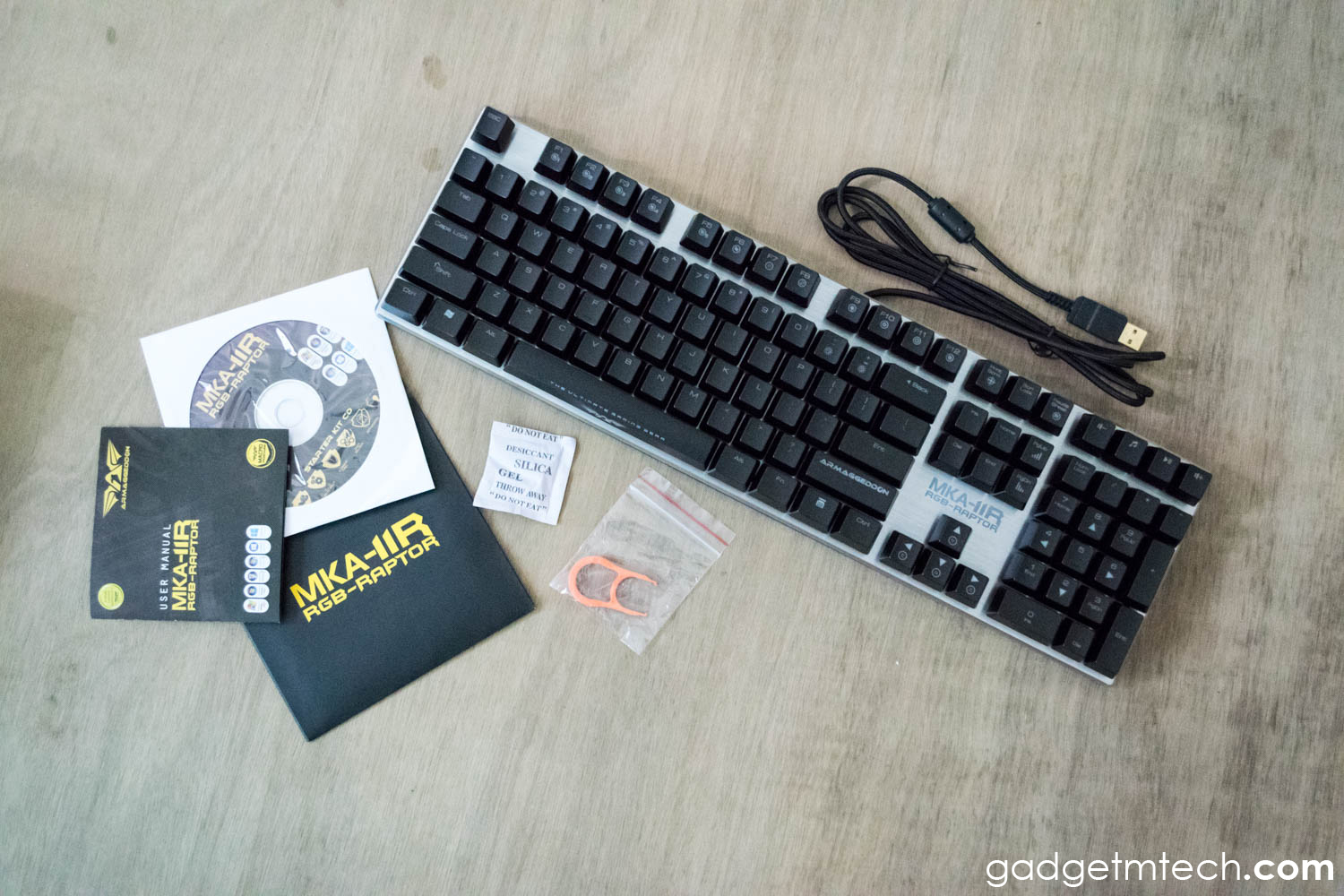 Inside the box contains a keycap remover, user manual, and a CD that contains the keyboard gaming software.
Design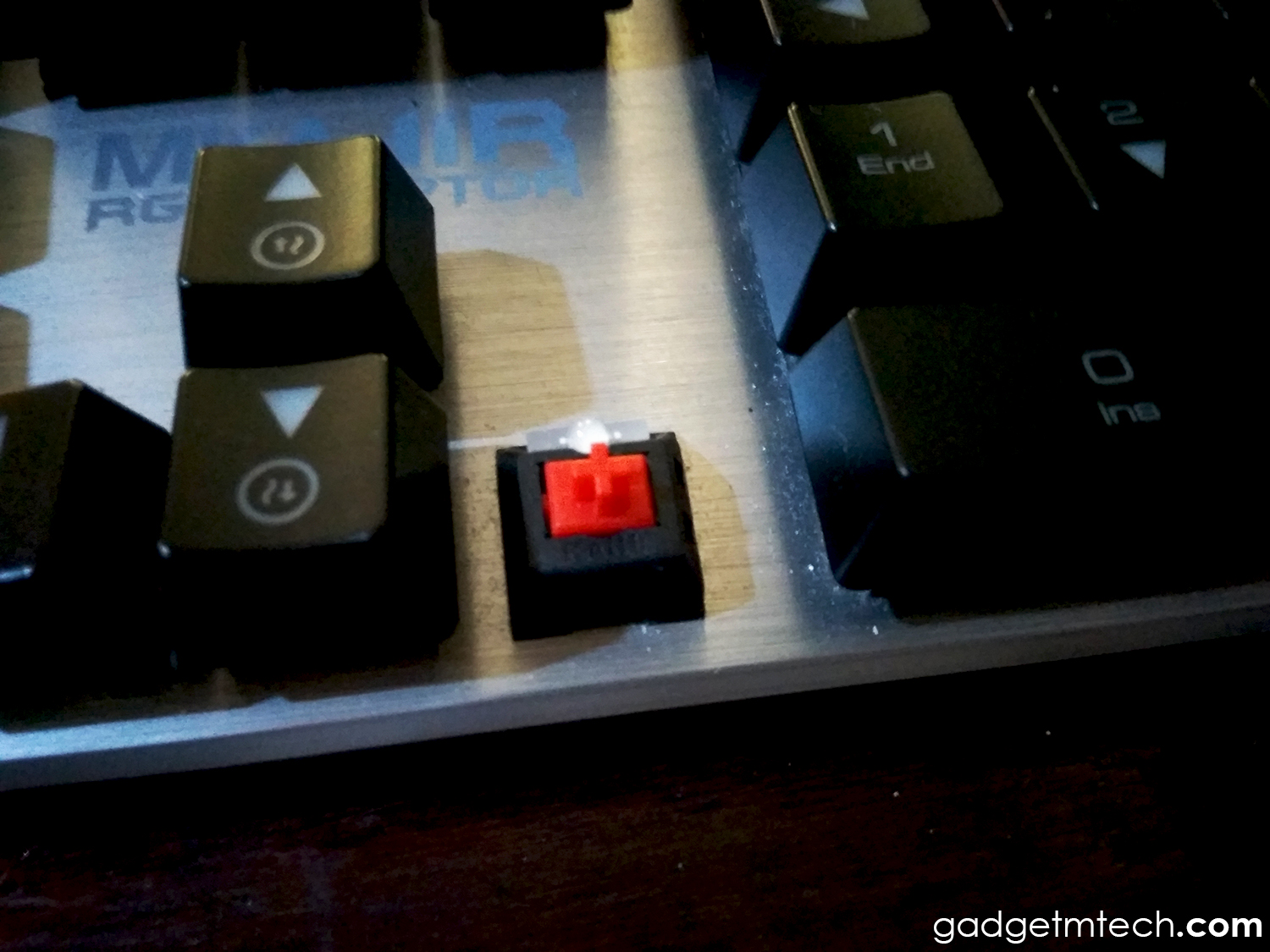 At first glance, this may seem like a simple mechanical keyboard with no exaggerating design, it actually looks really nice once you start using it with RGB backlights. The shiny aluminum panel may not be some people cup of tea but personally think it looks beautiful this way.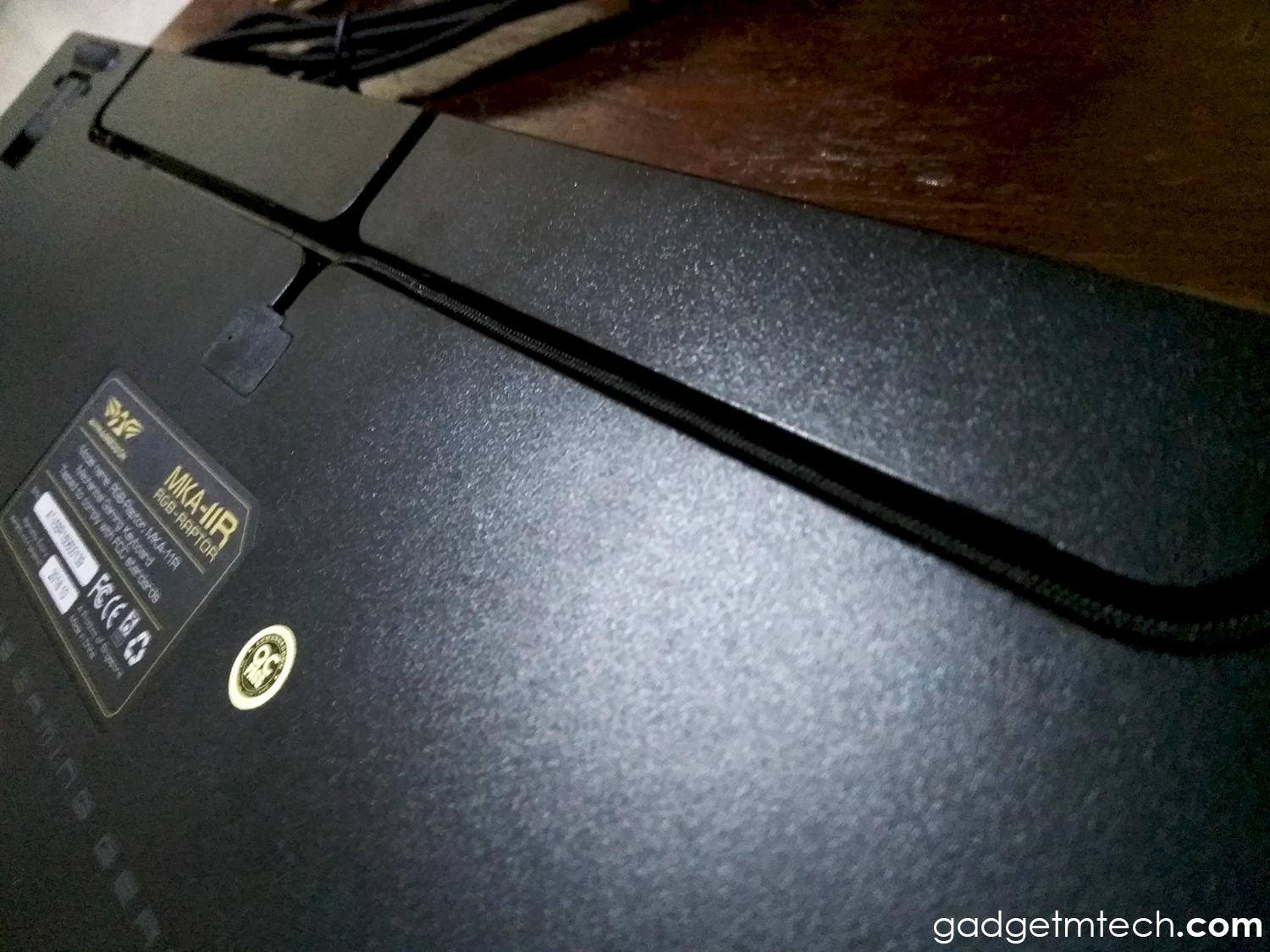 The MKA-11R comes with adjustable feet only at the top. It features a 1.8m of braided cable and there is a 3-way USB cable management. The 108 mechanical red switches are built-in with RGB backlight effects.
The lighting effects were functioning as it should be and being able to customize certain keys like the WASD keys to a different color is a plus one in my book. Armaggeddon also stated that this keyboard has anti-ghosting. Anti-ghosting helps keyboard to work when multiple keys are pressed at the same time. So far, none of the lights or switches are malfunctioning.
Typing Experience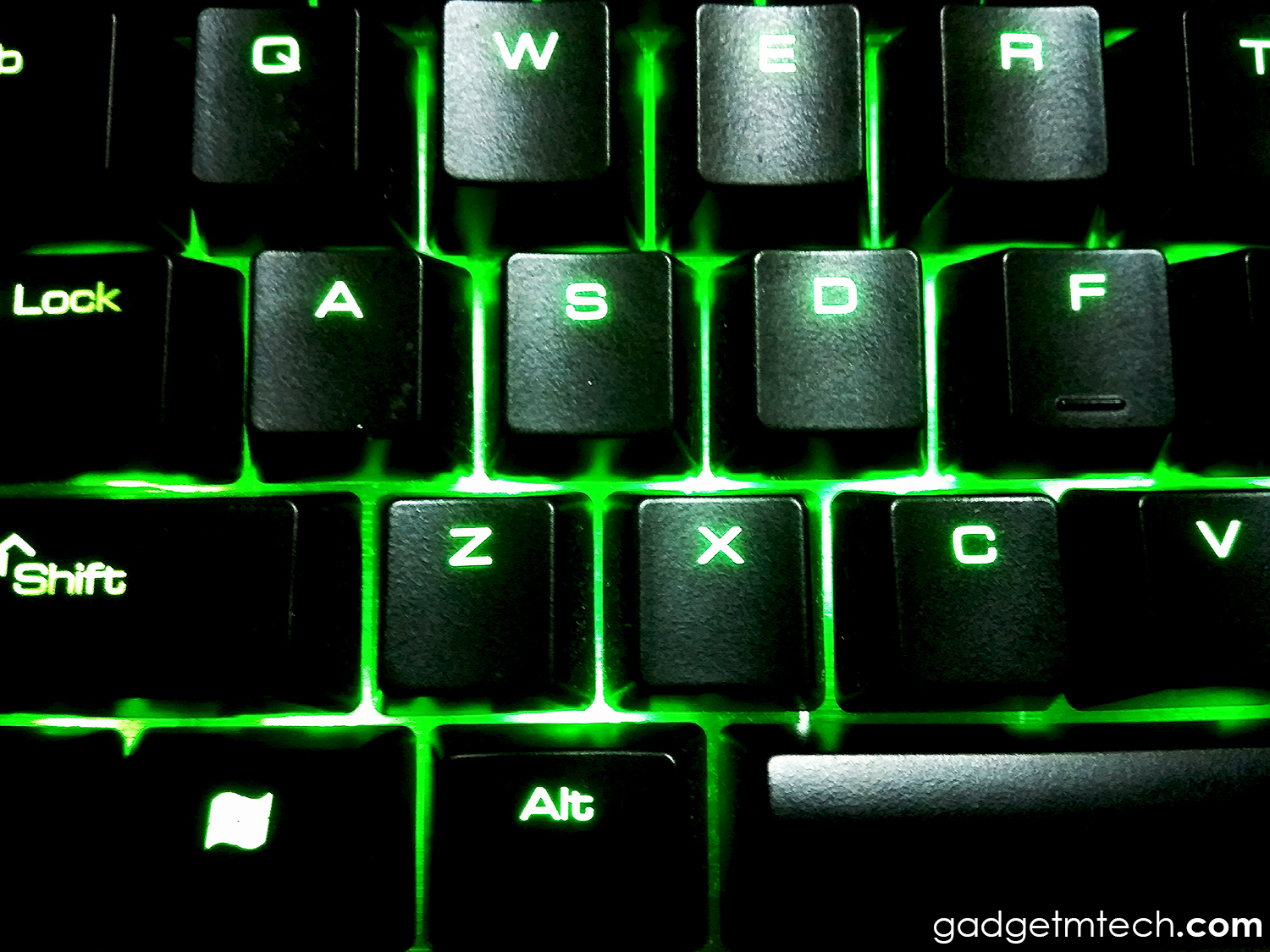 Clicky switches are great for reassuring that users actually had pressed the button, but if it sounds too loud or rough it may cause annoyance. The mechanical keys of this keyboard are a little clicky but not to the point where it is annoying after typing a long-time. I did find the keys on this keyboard relatively easy to press as it only needs an activation force of 45g. The actuation of the keys is just 2mm and 4mm to the bottom of the switch. I did notice a squeaky noise from the spacebar key when I was button mashing it in a game.
MKA-11R Gaming Software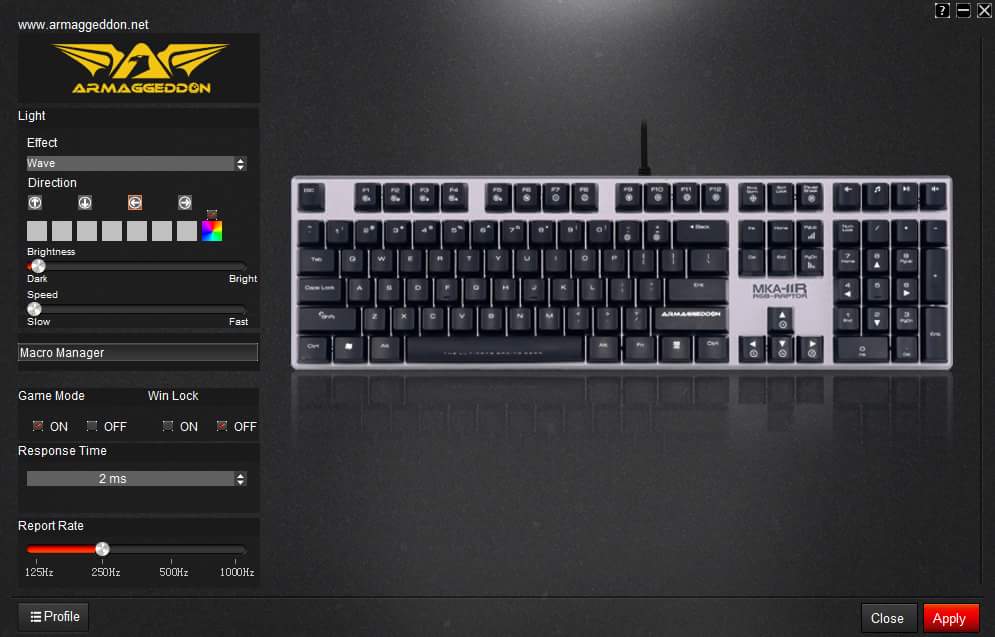 The gaming software allows users to customize the lighting effect of the keyboard. There is a total of 11 different RGB lighting effects, some interesting lighting effects are the ripple, reactive and the spotlight effect. Brightness, speed, color and response time are completely customizable to the user liking. Pressing Fn and F1-F5 for customized lighting or Fn and F6-F11 for the lighting effects. Armaggeddon also included a macro manager for script recording. The gaming software for this keyboard will take some time for some users to fully understand.
Final Words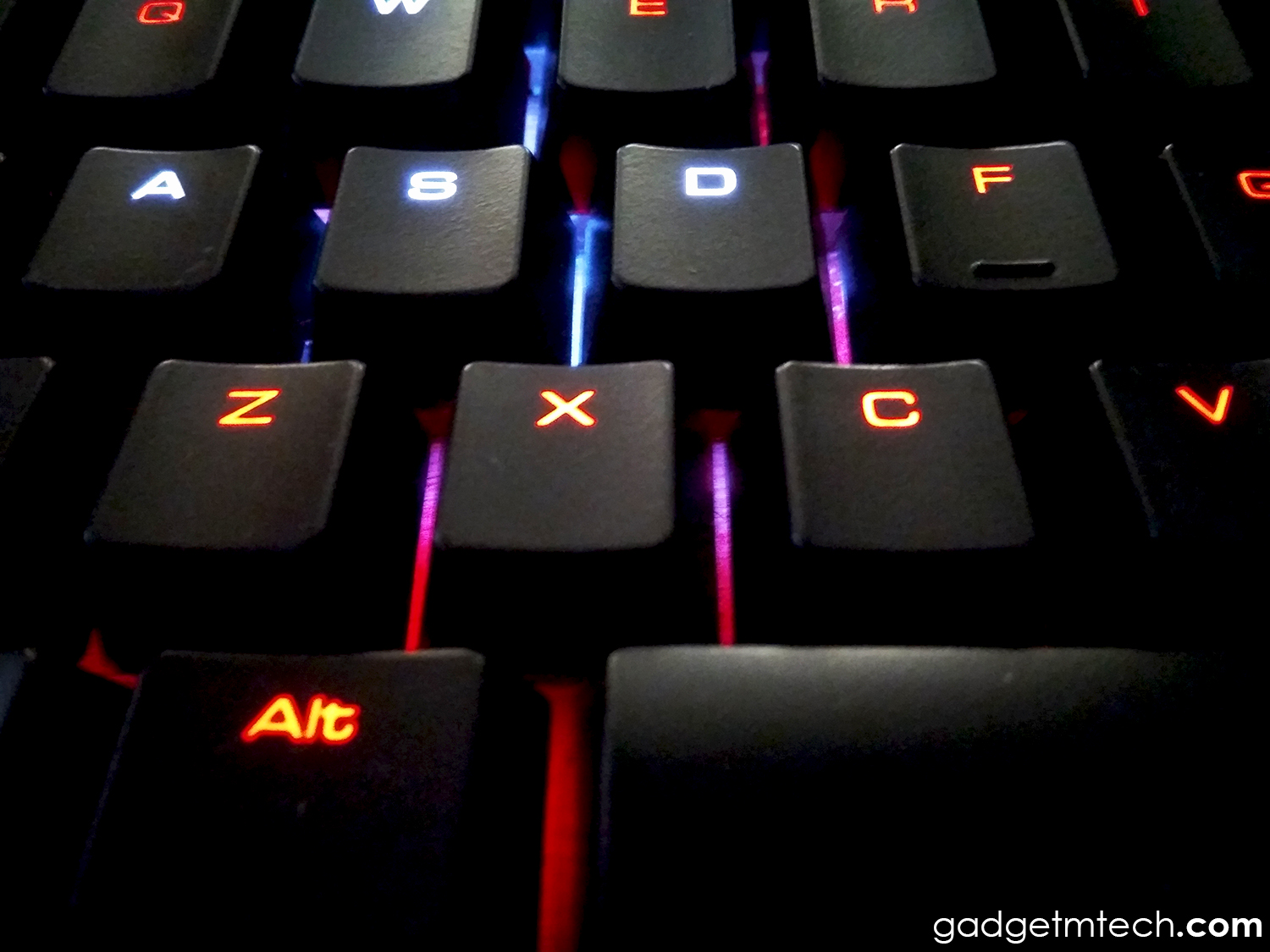 The Armaggeddon RGB Raptor MKA-11R is a solid keyboard if you are looking for an RGB keyboard under RM500. For a keyboard between RM400-RM500, I expected Armaggeddon to provide a wrist rest for the keyboard but unfortunately, it was not included in the package. The keyboard is now available on Lazada at the price of RM449 with a free joystick, notebook, and a mouse pad.
Yay
Beautiful design
Customizable lighting effects
3-way USB cable management
Anti-ghosting
Nay
Wrist rest not provided
No USB passthrough
Basic adjustable feet